Indian Stock Market News March 3, 2017
Dull End to the Week; Hindalco Soars 4.8%
Stock markets in India continued to trade flat in the afternoon session amid weak global markets as expectations of a US interest rate hike weighed on sentiment.
At the closing bell, the BSE Sensex stood lower by 7 points, while the NSE Nifty finished down by 2 points. Meanwhile, the S&P BSE Mid Cap finished & the S&P BSE Small Cap finished up by 0.2% and 0.3% respectively. Gains were largely seen in oil & gas stocks & realty stocks. While bank stocks, FMCG sector and auto sector witnessed most the selling activity.
GAIL share price finished up by 3.5% after the company signed a time-swap deal with Swiss trading firm, Gunvor to sell some of its U.S. liquefied natural gas. As per an article in The Economic Times, the deal equates to around 5% of India's 2015/16 LNG imports and will support a government push to promote the use of the cleaner fuel in the fertilizer sector and the power sector, even as India's local gas production is falling.
Asian stock markets finished lower today with shares in Hong Kong leading the losses. The Hang Seng was down 0.74% while Japan's Nikkei 225 fell 0.49% and China's Shanghai Composite was lower by 0.34%. European markets too are lower today with shares in Germany off the most. The DAX is down 0.37% while London's FTSE 100 is off 0.31% and France's CAC 40 is lower by 0.11%.
The rupee was trading at Rs 66.82 against the US$ in the afternoon session. Oil prices were trading at US$ 52.64 at the time of writing.
According to a leading financial daily, National Association of Software and Services Companies (NASSCOM), the domestic IT services and BPO industry body expects the IT industry to grow at 8-10% next financial year.
Although, the association will come out with a final projection in May. The association's chairman believed nothing had changed since November 2016 to change the projection. He further noted that many domestic IT companies may change their business strategies and regroup themselves owing to newer trends such as increasing automation, artificial intelligence, analytics, and digital disruption.
He added that the current growth rate would support 8-10% growth, which may be revised after analyzing the fourth quarter (2016-17) numbers. So, the industry body will comeback in May with forecast after a better understanding of primary data. Further, on the falling hiring trends, he said that the current trend suggests that job accretion will be at best half of its growth in recent years.
The previous twelve months have seen some of the biggest names in technology and e-commerce ranging from Microsoft and Cisco to Infosys and Flipkart taking decisions to downsize their workforce.
Job Loss Scenario in 2021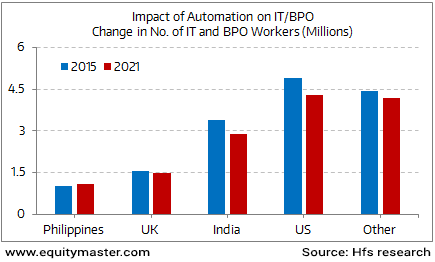 The industry body has not made any forecast for fiscal 2018, citing political uncertainties in the US and Europe, which has slowed down decision-making in the technology sector.
Moving on to news from stocks in aluminum sector. Hindalco share price surged 4.8% after it was reported that the company launched a US$ 500 million (around Rs 33 billion) share sale to institutional investors.
This could be the biggest equity capital offering so far, this year and Hindalco could take an advantage of a liquidity driven market rally. Proceeds of the transaction will be reportedly used for cutting burgeoning debt, general capex requirements, and acquisition opportunities.
The company is now focusing on reducing its leverage ratio by selling non-core assets and improving its operating profit. Surging domestic inflows and the post budget pick up in FII flows have led the BSE Sensex higher by 10% (in US$ terms) and 8% (absolute terms). India is the second-best-performing market in Asia so far, this year.
In another development, Nalco share price too surged by 3.7% in today's trade after the company 16.8% growth in Bauxite production up to February 2017 with a volume of 65.64 lakh tones (LT), the highest since its inception.
At its aluminum smelter, cast metal production grew by 3.79% and the aluminum metal sales grew by 2.68%. The company is planning to increase its cast metal production by 12% in the next fiscal.
The company plans to augment production of cast metal by 12% in the next financial year as the aluminum market has started firming up.
As base metal prices improved and the tide turned favorable, Nalco saw its stock price more than double over the last one year. Being the lowest-cost producer of alumina because its high-grade captive mines, Nalco continues to reap the benefits. In fact, improving sales volumes and realization from per-tonne sale in alumina segment drove Nalco's performance in Q3.
And here's a note from Profit Hunter:
The metal sector has been very generous to investors in the past one year. The Nifty Metal Index rallied 113% in a year, whereas the Nifty 50 Index is up only 27%.
The gains came on back of rising iron ore prices, and Hindalco Industries Limited contributed the most to the rally. The stock has soared 224% in just one year. It bottomed at Rs 60 in February 2016 and hit a five-year high of Rs 200 just a few days back. The stock found a strong resistance at Rs 200 from its previous high in July 2014.
Today, the stock rose 5% to make a high of Rs 199.75. With Hindalco again very close to the 200 mark, it will be interesting to see if the stock can overcome resistance this time around or if it's topping out at this level as it did in July 2014.
Hindalco Near its July 2014 High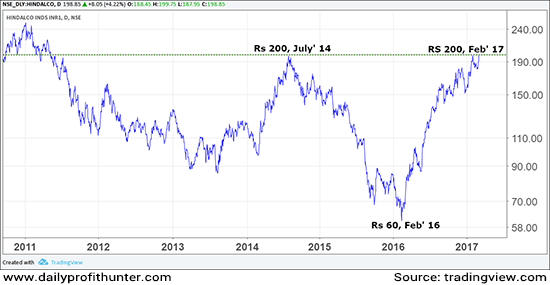 For information on how to pick stocks that have the potential to deliver big returns,
Read the latest Market Commentary