Indian Stock Market News March 7, 2017
Sensex Finishes Flat; BSE Metal Index Down 1.8%
Indian share markets finished the trading day well below the dotted line. At the closing bell, the BSE Sensex closed lower by 49 points, whereas the NSE Nifty finished lower by 17 points. The S&P BSE Midcap finished down up 0.1% while the S&P BSE Small Cap ended flat. Losses were largely seen in metal sector, auto sector, and healthcare sector.
Asian equity markets finished mixed as of the most recent closing prices. The Hang Seng gained 0.36% and the Shanghai Composite rose 0.26%. The Nikkei 225 lost 0.18%. European markets are mixed today. The DAX is up 0.15% while the FTSE 100 gains 0.15%. The CAC 40 is off 0.18%.
The rupee was trading at Rs 66.67 against the US$ in the afternoon session. Oil prices were trading at US$ 53.26 at the time of writing.
Metal stocks were under pressure in line with broader markets. Hindalco & Tata Steel together contributed almost 50% to the BSE Metal index fall. Tata Steel share price finished the day down by 2.2% as the company announced that it is still in talks with Germany's ThyssenKrupp AG about a potential merger of their European steel assets.
The statement was in response to reports in the British media that Tata Steel might be in the process of calling off a potential deal with the Germans.
Just Released: Multibagger Stocks Guide
(2017 Edition)
In this report, we reveal four proven strategies to picking multibagger stocks.
Well over a million copies of this report have already been claimed over the years.
Go ahead, grab your copy today. It's Free.
NO-SPAM PLEDGE
- We will NEVER rent, sell, or give away your e-mail address to anyone for any reason. You can unsubscribe from The 5 Minute WrapUp with a few clicks. Please read our
Privacy Policy
&
Terms Of Use
.
The merger talks had been revealed by Tata Steel last year as part of a major restructuring of its UK steel business. Such a deal with the German steel major could potentially lead to the formation of a European steel behemoth with blast furnaces in Wales, the Netherlands and Germany.
For Tata Steel, the deal with Thyssenkrupp has been hanging fire for over a year as there were complications in negotiations over its huge pension deficit in the UK. The situation improved in December, when Tata Steel UK made some progress with its trade unions to replace its defined benefit pension scheme, British Steel Pension Scheme (BSPS), with a defined contribution plan.
To know more about the company's financial performance, subscribers can access to Tata Steel's latest result analysis and Tata steel stock analysis on our website.
Moving on to the news from stocks in pharma sector. According to a report in a leading financial daily, India's National Pharmaceutical Pricing Authority (NPPA) has announced major price cuts for certain cancer drugs, up to 86% in some cases. This is the latest in a series of government price cuts that has reduced the costs of around 1,450 drugs since late 2016.
The highest reduction of 86% was in the price of AstraZeneca Pharma India's Iressa. It now costs Rs 3,977 from Rs 29,259 earlier. The price of Grafeel, manufactured by Dr Reddy's laboratories, was slashed by 41%. The company's Levin drug also saw a 25% reduction in its cost.
Moreover, the regulator announced that it had slashed the prices of drugs to treat diabetes, as well. Since March 2016, the prices of these drugs were lowered by 10% to 42%.
As per the NPPA, the downward price revisions were held for brands across pharma companies Dr Reddy's Lab, Abbot Healthcare, Micro Labs, Dabur India, Lupin and others.
Bhavita Nagrani, our pharma sector analyst has written about the regulatory system in India and various measures taken by the government to control the domestic drug prices (Subscription Required) in one of our premium editions of The 5 Minute WrapUp. Every year, more drugs are added to the price control list. The government has also begun to control the prices of medical devices.
In another development, it was reported that, Lupin has launched generic Paxil drug used for treatment of major depressive order in the US market. The generic drug has been launched in the extended release tablets of 12.5 mg, 25 mg and 37.5 mg, having received an approval from the United States Food and Drug Administration (USFDA) earlier.
Notably, US continues to be the principal growth engine for the company. Lupin's US business has grown at CAGR of 24% (Subscription Required) over the last five years. US contributes to about 44% of the company's revenues.
United States: Lupin's Largest Market
Currently, the company has a pipeline of 163 drugs awaiting for approval from USFDA. Lupin plans to launch 25-30 products in the US in FY17.
Lupin share price ended the day down by 1.4%.
And here's a note from Profit Hunter:
Lupin Ltd has been trading in a very narrow range since August 2016. A great indicator to watch when this happens is the Bollinger Band Width (BBW).
The indicator is easy to read. A high readings suggests high volatility. A low reading indicates the stock is experiencing low volatility. A low BBW reading or period of low volatility is often followed by a period of high volatility.
We wrote about Lupin's BBW indicator in an earlier note. The indicator was at 0.0817 then.
Today, it's at 0.0763 - the lowest level in Lupin's trading history. The compression has intensified, storing more energy like when we compress a spring. The more the spring is coiled and compressed, the higher it will jump on release.
We can expect a big jump from Lupin when the coiling ends. The only problem is the BBW indicator does not specify in which direction.
Since the stock is trading in a range of Rs 1400 to Rs 1520, a sustained break out on either side will help decide the stock's next big move. Keep a close watch to capture the big move before it occurs.
To identify big stock moves at an early stage, Apurva Sheth, research analyst, has launched a new trading service, Peak Profit Alert. He intends to capture longer-term trends using his proprietary trading system, SCOREFASTTM
Click here and know more about this service.
Lupin's Band Width Indicator at Lowest Level Ever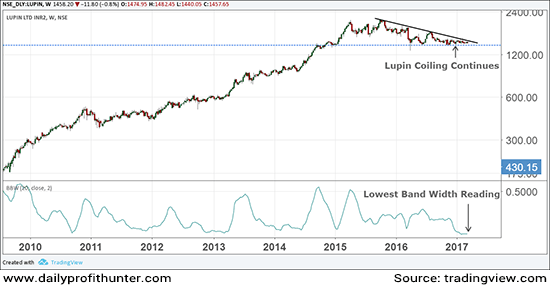 For information on how to pick stocks that have the potential to deliver big returns,
Read the latest Market Commentary
What else is happening in the markets today? Dig in...
Views on News
Mar 4, 2021
Inflation is the buzz word in the world of finance these days. It impacts all of us. Here's how it affects your investments.
Mar 4, 2021
Given the risks involved, we may witness a sort of 'W-shaped' recovery wherein we would dip again before moving up, explains Rounaq Neroy in this edition of the Daily Wealth Letter.
Mar 4, 2021
Join us in welcoming research analyst, Aditya Vora, to Equitymaster.
Mar 3, 2021
Can the rupee depreciate to 80 against the US dollar? In this video, I'll show you what the charts say.
Mar 3, 2021
PersonalFN analyses the features of Motilal Oswal Asset Allocation Passive Fund of Fund and explains the potential this fund has to offer to its investors.
More Views on News
Most Popular
Feb 24, 2021
Last time the smallcap index crossed 19k a big correction followed. Here's what makes it different this time.
Feb 25, 2021
In this video, I'll show you how to get started on the path to daily trading profits.
Feb 23, 2021
An Indian company founded three decades ago in a garage caught my attention...
Feb 22, 2021
In this video, I'll show you how to allocate your capital as a day trader.
More