Indian Stock Market News March 14, 2019
Sensex Trades Flat; FMCG & Power Stocks Drag
Share markets in India are presently trading on a flat note. Sectoral indices are trading mixed with stocks in the power sector and FMCG sector witnessing selling pressure while telecom stocks, healthcare stocks and finance stocks are witnessing buying interest.
The BSE Sensex is trading down by 7 points, while the NSE Nifty is trading down by 10 points. The BSE Mid Cap index is trading down by 0.3% and the BSE Small Cap index is trading down by 0.1%.
The rupee is trading at Rs 69.64 against the US$.
The domestic currency fell by 24 paise to 69.78 against the US dollar in opening trade today on increased demand for the greenback from importers and bank. A continuous rise in global crude oil prices also kept rupee under some pressure, restricting its gains.
The rise in oil prices has been supported by planned cuts to Saudi exports and a reduced forecast for US crude output.
On Wednesday, the Indian rupee registered its third straight session gains, to close at a fresh two-month high of 69.54 on sustained foreign fund flows.
In the latest developments from the IPO space, the initial public offering (IPO) of government-owned MSTC was subscribed 5% on the first day. As per an article in a leading financial daily, the issue received bids for 8,10,180 shares against 17 million shares on offer.
The government has proposed to offload 25%, of total paid-up equity in the largest B2B e-commerce company in India. The issue by the Kolkata-headquartered firm will be closed on March 15.
The company's three main business verticals are e-commerce, trading, and recycling.
With over 1,90,000 auctions serving over 1,10,000 users as of 31 December 2018, the company is the preferred service provider for various governments and government-controlled entities. The trading firm has conducted 28,600 auctions/events during 2017-18 and 30,500 auctions/event for nine months ended 31 December 2018.
To know more about the company, you can read our IPO analysis of MSTC (requires subscription).
Speaking of PSU companies, it's election time and PSU stocks are back in vogue.
The last election saw a short-term outperformance of the PSU Index compared to the Sensex.
Will history repeat itself? Have a look at the chart below to see how PSUs have performed the overall markets in the long run:
PSU Stocks - Perpetual Value Traps?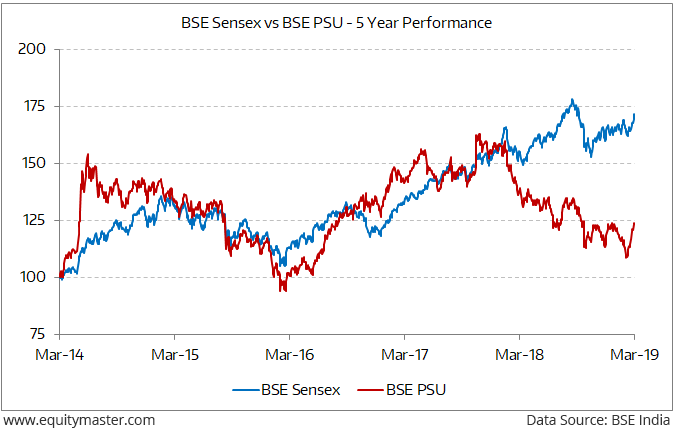 Here's what Tanushree Banerjee, Co-head of research at Equitymaster, wrote about it in today's edition of The 5 Minute WrapUp...
What we have seen from history, is that PSUs have underperformed the overall markets in the long run.

Non-performing assets (NPA) in the banking space and rising crude oil prices impacting oil marketing companies have all taken a toll in recent years.

On top of that, when the government is in desperate need of money, they turn to PSUs. This usually leaves minority shareholders shortchanged.

Not all companies in the sector can be ignored. But most of them turn out to be value traps.
She believes, a better alternative is to look at quality companies which are not restricted by regulatory hurdles.
Moving on to the news from the finance sector, DHFL share price is witnessing buying interest today on reports that National Housing Bank (NHB) has concluded its inspection of books for DHFL's alleged misappropriation of loans.
As per an article in The Economic Times, the four-member committee of the housing regulator checked the company's books of accounts in offices in New Delhi, Nagpur and Mumbai and is expected to submit its report in the next few weeks.
Here's an excerpt from the article:
A consortium of 33 lenders, led by Union Bank of India, is said to have given clean chit to DHFL after they heard TP Ostwal & Associates, the auditor, which cleared the company of allegations of wrongdoing.

Although the inspection is more of a routine job by NHB, this assumed significance as the housing regulator wanted to investigate the allegations levelled against the company.

NHB is said not to have identified any major deviation, but the final report is likely to be submitted soon.
In January, investigative portal Cobrapost accused DHFL's promoters of drawing off Rs 310 billion through shell companies, raising concerns among lenders and shareholders.
TP Ostwal examined the allegations and submitted its report, clearing the company of all such allegations. However, it spotted certain lapses and departures from standard operating procedures and policies laid down by the company.
Note that DHFL is also facing questions about its financial health after the IL&FS default pushed up the cost of funds for the mortgage lender and made borrowing difficult.
DHFL share price is presently trading up by 2.7%.
Speaking of non-banking financial companies (NBFCs), it is interesting to note that their credit growth has seen robust growth in recent years.
From 2013-2017, NBFCs grew by 13% as compared to 5.4% for banks. A major reason for this is the gain in market share from public sector banks (PSBs). The recent NPA woes of the PSBs has seen them tighten up their credit lines.
The NBFCs have stepped in, along with private sector banks, to fill this gap. But the recent liquidity crisis at IL&FS has raised concerns over how long this growth will continue.
It would be interesting to see how this all pans out. Meanwhile, we will keep you updated on the latest developments from this space.
For information on how to pick stocks that have the potential to deliver big returns,
Read the latest Market Commentary
Stock Market Updates
May 22, 2019 02:12 PM
INDUSIND BANK share price has surged by 5% and its current market price is Rs 1,536. The BSE BANKEX is up by 1.2%. The top gainers in the BSE BANKEX Index is INDUSIND BANK (up 5.3%). The top losers are YES BANK (down 1.2%) and PNB (down 1.6%).
May 22, 2019 02:06 PM
RELIANCE POWER share price has surged by 5% and its current market price is Rs 7. The BSE POWER is up by 0.4%. The top gainer in the BSE POWER Index is RELIANCE POWER (up 5.2%). The top losers are TORRENT POWER LTD (down 0.7%) and POWER GRID (down 0.8%).
May 22, 2019 01:24 PM
BHARAT ELECTRONICS share price has surged by 5% and its current market price is Rs 102. The BSE CAPITAL GOODS is up by 0.7%. The top gainers in the BSE CAPITAL GOODS Index is BHARAT ELECTRONICS (up 5.2%). The top losers are FINOLEX CABLES and V GUARD INDUSTRIES (down 0.1%).
May 22, 2019 01:16 PM
NAVA BHARAT VENTURES share price has surged by 12% and its current market price is Rs 105. The BSE 500 is up by 0.1%. The top gainers in the BSE 500 Index are NAVA BHARAT VENTURES (up 11.8%) and TIMKEN INDIA (up 20.0%). The top losers are BAJAJ HOLDINGS & INVESTMENT and SHOPPERS STOP .
May 22, 2019 01:16 PM
CAPLIN POINT share price has surged by 6% and its current market price is Rs 390. The BSE HEALTHCARE is up by 0.3%. The top gainers in the BSE HEALTHCARE Index are CAPLIN POINT (up 6.1%) and J.B.CHEMICALS (up 5.5%). The top losers are GLENMARK PHARMA and SUVEN LIFESCIENCES (down 0.4%).
May 22, 2019 12:30 pm
Indian share markets are trading on a positive note with the BSE Sensex up by 109 points and the NSE Nifty trading up by 17 points.
View More Indian Share Market News
Most Popular
May 10, 2019
The one critical element that has made Amazon a force to reckon with...
May 16, 2019
Tanushree Banerjee explains everything you need to know about the Rebirth of India and Sensex 100,000.
May 14, 2019
As markets continue to rattle amid earning season, upcoming elections, volatile crude price and US China trade war, it's a great idea to add some stability to your portfolio by adding dividend stocks.
May 9, 2019
A filtered, neat list of high-dividend stocks with all this dirty work already done for you.
May 14, 2019
These companies will help the Sensex more than double from current levels.
More