Indian Stock Market News March 18, 2019
Indian Indices Erase Gains; Auto Stocks Under Pressure
Share markets in India are presently trading on a flat note. Sectoral indices are trading mixed with stocks in the auto sector and telecom sector witnessing selling pressure while realty stocks, energy stocks and banking stocks are witnessing buying interest.
The BSE Sensex is trading up by 15 points, while the NSE Nifty is trading up by 12 points. The BSE Mid Cap index is trading down by 0.1% and the BSE Small Cap index is trading down by 0.2%.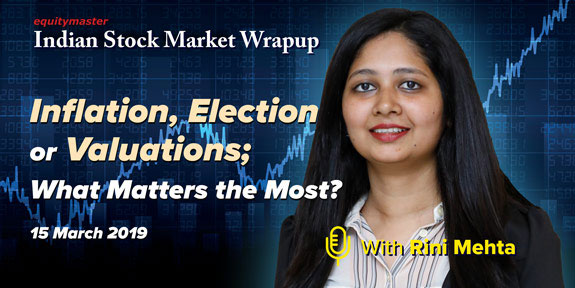 A lot of people in the market are playing the prediction game ahead of the elections these days.
A common theme is to sit on cash to escape the volatility ahead of the upcoming elections. In case there is an unexpected event, you can then get in post the correction.
But does timing the market work?
Not really, if you see the market performance in the year of the past three national elections (2004,2009 and 2014).
Downside of Timing The Stock Market
Looking at the returns in the above chart, staying out of the market to escape volatility would have been a costly affair every time.
The market gave above average returns in all three of those years.
This does not mean one can expect the same in the future.
But there's one thing for sure. Predicting short-term directions of the market is a futile and many a times a costly affair.
That's why we at Equitymaster, believe in picking safe stocks when they are actually 'safe' i.e. during such times of high pessimism and uncertainty.
Moving on, the rupee is currently trading at Rs 68.64 against the US$.
The rupee rose to its highest in more than 7 months, boosted by strong dollar inflows while broad weakness in the US currency over the previous week aided sentiment.
The domestic currency has gained past 69 mark for the first time since August 10, 2018.
In the news from the engineering space, L&T share price is in focus today as the company is likely to buy 20.4% stake held by Cafe Coffee Day (CCD) founder V.G. Siddhartha, followed by an open offer to buy an additional 31% stake in the company.
L&T has agreed to pay Rs 981 per share to buy the entire stake held by Siddhartha and two of his CCD firms.
An acquirer company is required to make an open offer to gain control of a listed firm only after acquiring 25% stake. However, in this case, L&T is set to use a section of the takeover code stipulated by the markets regulator.
According to market regulator's takeover rules, an acquirer can launch an open offer to gain control of a listed firm only it makes a public announcement to acquire more than 25% stake and voting rights in the listed firm eventually.
Shares of Mindtree are also in focus today as the company announced it will consider share buyback plan on March 20 to fend off attempts by engineering major Larsen & Toubro (L&T) from making a hostile takeover bid.
The announcement of a possible share repurchase has come amid reports of L&T's board giving the green signal to buy stake in Mindtree.
How this pans out remains to be seen. Meanwhile, we will keep you updated on all the developments from this space.
Moving on to the news from the automobiles sector, Maruti Suzuki share price is witnessing selling pressure today on reports of production cut due to slower demand.
As per an article in The Economic Times, Maruti is estimated to have cut production by 26.8% to about 126,000 units.
Here's an excerpt from the article:
A slowing demand in India's passenger vehicle market has prompted the car market leader, Maruti Suzuki India, to cut production by a quarter over March last year.

Slowing demand and uncertainties ahead of the elections pushed the production level this month to its lowest since March 2015.
Shares of India's top selling car maker fell as much as 4.4% on back of the above news. The fall marked their biggest daily percentage loss since January 25, 2019.
Speaking of automobiles sector, one thing we must keep in mind is that not all auto companies will make money over time. And also, you shouldn't stay away from auto stocks altogether.
Even Tanushree Banerjee, Co-head of research at Equitymaster, believes that there are businesses in this sector that you cannot ignore. She is particularly talking about the blue-chip auto stocks.
Here's Tanushree...
One out of every three household in India is a buyer of their products. They own some of the cult brands in Indian automobile space. They have formidable R&D teams. They have been through several economic cycles over decades. Few have even visited near-bankruptcy in the past and come out successful.

Yet, some of the biggest passenger car, commercial vehicle, and two-wheeler companies in India have seen a huge dent in valuations in recent times.

This could be the opportunity long term investors were waiting for.
To know what's moving the Indian stock markets today, check out the most recent share market updates here.
For information on how to pick stocks that have the potential to deliver big returns,
Read the latest Market Commentary
What else is happening in the markets today? Dig in...
Stock Market Updates
Mar 31, 2020 Closing
While the BSE Sensex closed higher by 1,028 points, NSE Nifty closed higher by 317 points.
Mar 31, 2020 03:33 PM
TTK PRESTIGE share price has surged by 17% and its current market price is Rs 5,154. The BSE CONSUMER DURABLES is up by 1.7%. The top gainers in the BSE CONSUMER DURABLES Index are TTK PRESTIGE (up 16.8%) and CROMPTON GREAVES CONSUMER ELEC. (up 10.4%). The top losers are TITAN (down 1.4%) and BAJAJ ELECTRICALS (down 1.8%).
Mar 31, 2020 03:33 PM
KEC INTERNATIONAL share price has surged by 6% and its current market price is Rs 187. The BSE CAPITAL GOODS is up by 1.3%. The top gainers in the BSE CAPITAL GOODS Index are KEC INTERNATIONAL (up 5.6%) and HONEYWELL AUTOMATION (up 7.8%). The top losers are THERMAX (down 1.7%) and LAKSHMI MACHINE (down 1.7%).
Mar 31, 2020 03:33 PM
HUL share price has surged by 5% and its current market price is Rs 2,312. The BSE FMCG is up by 5.4%. The top gainers in the BSE FMCG Index are HUL (up 5.2%) and GSK CONSUMER (up 5.9%). The top losers is JYOTHY LABS (down 2.9%).
Mar 31, 2020 03:33 PM
YES BANK share price has plunged by 10% and its current market price is Rs 26. The BSE BANKEX is up by 1.5%. The top gainers in the BSE BANKEX Index are CITY UNION BANK (up 5.4%) and SBI (up 4.8%). The top losers are YES BANK (down 10.5%) and INDUSIND BANK (down 14.8%).
Mar 31, 2020 03:33 PM
3M INDIA share price has surged by 10% and its current market price is Rs 19,301. The BSE 500 is up by 3.4%. The top gainers in the BSE 500 Index are 3M INDIA (up 10.4%) and TTK PRESTIGE (up 16.8%). The top losers are THE INDIAN HOTELS (down 0.1%) and FORTIS HEALTHCARE (down 0.1%).
View More Indian Share Market News
Most Popular
Mar 19, 2020
Coronavirus outbreak has made no impact on the long term prospects of my favourite smallcap. What it has indeed done is brought the company below my buy price, making it even more attractive investment at current price.
Mar 19, 2020
The way businesses operate will change in a major way post the coronavirus impact. Here's why India stands to benefit from this change...
Mar 25, 2020
I see a big opportunity to make fast profits on the horizon.
Mar 30, 2020
This man warned of an impending market correction while everyone else was celebrating the renewed optimism in early 2020...
Mar 24, 2020
Coronavirus crisis and panic selling has brought this quality smallcap to multiyear lows, making it a great bargain.
More