Indian Stock Market News March 18, 2019
Sensex Ends Marginally Higher; Realty and Energy Stocks Witness Buying
Indian share markets witnessed volatility during closing hours and ended their day marginally higher. Gains were largely seen in the realty sector and energy sector, while auto stocks and telecom stocks witnessed selling pressure.
At the closing bell, the BSE Sensex stood higher by 71 points (up 0.2%) and the NSE Nifty closed higher by 35 points (up 0.3%). The BSE Mid Cap index closed down by 0.2%, while the BSE Small Cap index ended the day down by 0.1%.
Asian stock markets finished on a positive note as of the most recent closing prices. The Hang Seng stood up by 1.4% and the Nikkei was trading up by 0.6%.
European markets were trading on a mixed note. The FTSE 100 was up by 0.7%. The DAX was trading down by 0.02%, while the CAC 40 was up by 0.1%.
The rupee was trading at 68.55 to the US$ at the time of writing.
Note that the rupee was trading on a positive note today against the US dollar on sustained foreign fund inflows amid buying in domestic equities. The dollar, on the other hand, was witnessing selling pressure after soft US data increased bets the Federal Reserve will cut interest rates later this year.
Speaking of Indian share markets, the current scenario in the Indian stock market looks very similar to what happened in 2013.
Back then, mid and small cap stocks witnessed a similar correction while the BSE Sensex stayed put.
Is It 2013 All Over Again?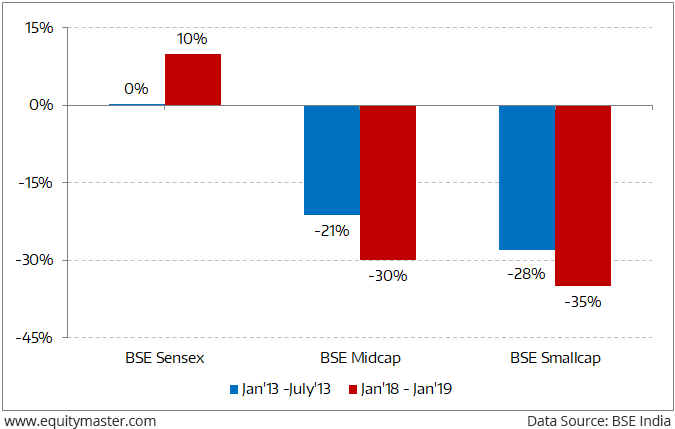 2018-19 has also followed a similar pattern.
As Sarvajeet Bodas writes in today's edition of The 5 Minute WrapUp...
These businesses Sarvajeet is talking about are businesses that have delivered earnings even in tough times.
These stocks are most likely to lead the next leg of the market rally when it happens.
From the finance space, DHFL share price was in focus today after the company in a BSE filing said it would be selling its entire 30.63% stake in Avanse Financial Services.
An article in The Economic Times first reported on February 26 that PE firms including Warburg Pincus, Kedaara Partners, CX Partners and Centrum Capital are in talks to acquire 80% stake in Avanse held by parent WGC Group and associate company Dewan Housing Finance Corporation Ltd (DHFL).
Moving on to the news from the aviation sector, Jet Airways share price was also in focus today. The stock of the company witnessed selling pressure on reports that the company is set to delay payment on interest on bonds due on March 19.
The stock was also in focus as the company founder and Chairman Naresh Goyal's self-imposed deadline to announce an update on the resolution plan gets over today.
On March 1, Goyal had written to the airline's pilots, appealing for continued support and assured them that the senior management will provide an update on the resolution plan by March 18.
Lenders to the company have also told Jet's strategic partner Eithad Airways that if the company is unable to accept the terms of revive the airline, it should exit so that a new investor can be bought in.
Note that reports had also suggested that the debt-laden airline could be staring at another default of US$ 109 million, which is to be paid by March 28 to the HSBC Bank Middle East as the second tranche of the US$ 140-million loan it had taken in 2014 and for which Etihad stood guarantor.
On March 11, Jet Airways defaulted on its external commercial borrowings (ECBs) of US$ 31 million, payable to HSBC and guaranteed by Etihad Airways.
In a letter to HSBC on March 11, the domestic airline had said it is going through a severe liquidity crunch and is working on a bank-led resolution plan for its revival.
Selling pressure is also seen on reports that Etihad Airways is unlikely to agree with the provisional debt resolution plan proposed by the lenders.
As per an article in a leading financial daily, a meeting of the board of Etihad in Abu Dhabi last Tuesday remained inconclusive, with several members expressing reservations about the terms proposed by the lenders that included adding two nominee directors from the promoter group of Jet Airways, led by founder Naresh Goyal.
As per the provisional pact, a 'new investor' was to inject between Rs 16 billion to Rs 19 billion for about 20% in Jet Airways and the Goyal-led promoter group's stake was to fall to 17.1%. At present, Etihad holds 24% stake in Jet, while promoter Goyal and his family own a controlling 51% stake.
Etihad's board is expected to meet again to discuss the revised terms.
An early resolution to the financial woes is crucial for crisis-hit Jet Airways as 61 of its 116 aircraft are currently grounded by lessors due to non-payment of lease rentals. It has also delayed salaries to pilots and interest payments on its debt.
Jet Airways had tried to lease or sell some of its owned aircraft to raise money that could help pare its over Rs 80 billion debt. But the plans, including a wet leasing deal with TruJet for its ATRs, got stuck.
As per an article in a leading financial daily, aircraft lessors have been supportive of the company's efforts in this regard. The company is also making all efforts to minimize disruption to its network due to the above and is proactively informing and re-accommodating its affected guests.
How all this pans out remains to be seen. Meanwhile, we will keep you updated on all the developments from this space.
To know what's moving the Indian stock markets today, check out the most recent share market updates here.
For information on how to pick stocks that have the potential to deliver big returns,
Stock Market Updates
Mar 18, 2019 03:44 PM
Here's a list of 5 stocks that gained the most in the BSE Mid-Cap Index today. It also includes information on BSE Mid-Cap index and the broader benchmark indices.
Mar 18, 2019 03:32 PM
J&K BANK share price has surged by 5% and its current market price is Rs 49. The BSE BANKEX is up by 1.1%. The top gainers in the BSE BANKEX Index is J&K BANK (up 5.0%). The top losers is FEDERAL BANK (down 0.1%).
Mar 18, 2019 03:24 PM
VODAFONE IDEA share price has plunged by 5% and its current market price is Rs 34. The BSE 500 is up by 0.2%. The top gainers in the BSE 500 Index are PRESTIGE ESTATES (up 16.2%) and BOMBAY DYEING (up 9.1%). The top losers are VODAFONE IDEA (down 5.0%) and IFB INDUSTRIES LTD (down 5.2%).
Mar 18, 2019 03:06 PM
TTK PRESTIGE share price has plunged by 5% and its current market price is Rs 8,598. The BSE CONSUMER DURABLES is up by 0.1%. The top gainers in the BSE CONSUMER DURABLES Index are SYMPHONY (up 1.2%) and VOLTAS (up 1.1%). The top losers is TTK PRESTIGE (down 5.2%)..
Mar 18, 2019 01:36 PM
IFB INDUSTRIES LTD share price has plunged by 5% and its current market price is Rs 980. The BSE CONSUMER DURABLES is up by 0.1%. The top gainers in the BSE CONSUMER DURABLES Index are VIP INDUSTRIES (up 1.3%) and SYMPHONY (up 1.2%). The top losers is IFB INDUSTRIES LTD (down 5.1%)..
Mar 18, 2019 12:30 pm
The BSE Sensex is trading up by 15 points, while the NSE Nifty is trading up by 12 points.
View More Indian Share Market News
Most Popular
Mar 8, 2019
History suggests the Nifty could make a big move in March. Are you prepared to benefit from this opportunity?
Mar 7, 2019
Did you just miss the smallcap rally? Or is there still time to catch up? Read on for answers and more...
Mar 7, 2019
India's defence sector is suddenly under the spotlight. Can this sector ride along India's long-term growth story?
Mar 6, 2019
Mid and Small Caps have underperformed large caps in the past year. Is the tide about to turn?
Mar 5, 2019
What happened to Jet Airways, once among top 3 airlines in India? Is it another Kingfisher in the making? Read on...
More