Indian Stock Market News March 20, 2020
Rollercoaster Ride for Indian Indices, Rupee at Fresh Record Low, and Top Cues in Focus Today
Editor's note: Dear reader, we are now on Telegram! Get our latest views on stock markets and more, instantly. Join our Telegram channel here!
---
It was a volatile day for India share markets yesterday.
The benchmark indices opened deep in the red, recovered sharply during noon hours, and again went to witness selling pressure during closing hours.
At the closing bell yesterday, the BSE Sensex stood lower by 581 points (down 2%) and the NSE Nifty stood down by 199 points (down 2.3%).
The BSE Mid Cap index ended the day down 3.7%, while the BSE Small Cap index stood down by 4.5%.
All sectoral indices ended deep in the red with stocks in the metal sector, auto sector and energy sector witnessing maximum selling pressure.
With the volatility we're witnessing amid the gloomy economy and coronavirus fears, what's next for the Indian stock markets?
You have the answer to this!
Participate in Equitymaster's "State of the Markets" poll and make your opinion count.
60 seconds is all that this anonymous poll will take.
Participate here: Equitymaster's "State of the Markets" Poll
And here's some futures and options data from Vijay Bhambwani, editor of Fast Income Alerts...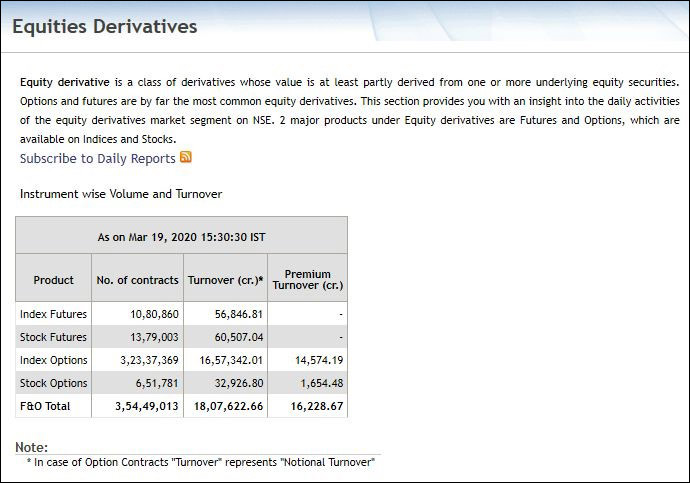 Here's what Vijay wrote about the same...
NSE F&O turnover Rs 18,07,623 Crs (previous Rs 10,10,921 Crs). The higher figure is due to weekly expiry of derivatives contracts. The figure is lower for a weekly expiry day.

The marketwide average MWPL was 18.31% (previous 18.63%). Unwinding bias continues.

Poor depth will cause sharp swings. Being a weekend, the final 60 minutes of trade will need careful watching.
Also, here's what Apurva Sheth, editor of Breakout Profits, wrote about the situation that's prevailing two months after the stock markets topped...
Nifty topped out on 20 January 2020 at 12,224. It's down 32% in two months.

However, there is a huge difference in performance of Nifty stocks. Here are the top 10 underperformers and outperformers in Nifty since it topped out.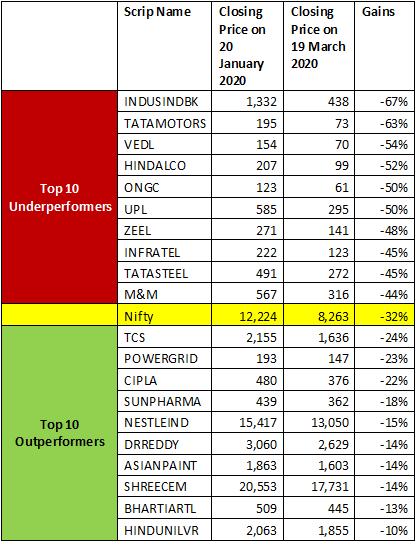 To track such data on a daily basis and get our latest views on stock markets and more, you can join our Telegram channel here.
Our Editor's Views on Coronavirus Pandemic, the Indian Economy, and Stock Markets...
Speaking of the ongoing coronavirus pandemic and the Indian economy, here's what Tanushree Banerjee wrote about the same in yesterday's edition of The 5 Minute WrapUp...
The coronavirus impact has woken everyone up. The dependence on one country and its dangers have been exposed to the whole wide world.

There are short-term and long-term impacts of this wake-up call.

The short-term impact is what we're seeing every day. Countries in lockdown, screening of travelers, quarantines, etc.

But what about the long-term impact?

We will see this once the crisis is over.

And this impact will be huge.
Also, talking of the Indian economy, 1991, in a lot of ways, can be termed as the turning point of India's economic story.
From being largely isolated from the outside world, India suddenly became a big part of the new global era.
Exports also became a big contributor to India's GDP. From contributing around 7% of GDP before 1991, exports contribute close to 20% of GDP now.
Is This the 1991 Moment for India Again?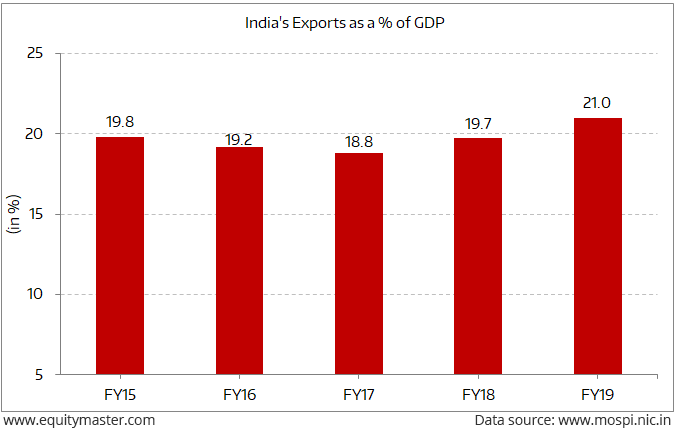 As per Tanushree, if things go India's way, as she believes they will, the aftereffect of the coronavirus will have an even bigger impact than 1991.
As per her, it will have a positive impact on what she calls the Rebirth of India.
She is focused on finding strong businesses with the capacity to take advantage of this huge opportunity.
And these businesses will create a lot of wealth in the long-term.
In the video below, Tanushree has also explained how buying such stocks at bargain prices is a once in a decade opportunity.
And here's what Richa Agarwal, our smallcap analyst at Equitymaster, has to say about the ongoing market crash and what it means for stock market participants...
...at a time when you see the Sensex and large cap stocks taking big knocks, you will be completely surprised at another feature of the market.

It has flown under the radar for most investors so far...

Small cap stocks, which were already cheap and attractive, have now become downright ridiculously priced!

Many of them offer massive gains to those who will buy at current prices.

And I'm not even talking about the weak companies...

I'm talking about strong companies with ultra-strong balance sheets. Businesses strong enough to weather the oncoming coronavirus storm - whatever it throws at them.

Looks like the perfect time for the opportunistic investor to pick up some good bargains!
Richa believes the best approach right now is to consider investing in stocks that are fundamentally strong and promise steady income along with strong upside in the long term.
She has identified one such stock that has the potential to return crores in the long term. To know more, click here for all the details.
You can also read one of Richa's latest articles here: You Think the Corona Crash Has Made Large Caps Attractive? Wait Till You See This Opportunity...
--- Advertisement ---
Corona Crash Alert: 7 Stocks You Absolutely Don't Want to Miss

Our Co-Head of Research, Tanushree Banerjee, has identified 7 stocks that could do exceedingly well in the coming years riding on a rare economic event.

And with the corona crash, this opportunity has only become even more exciting.

And she says those who get into these 7 stocks right now have the chance to make potentially LIFE-CHANGING returns in the long run.

So will you be among those who acts on this opportunity now? Or will you be among those who will kick yourself later not taking action now? The choice is yours.

Full details on these 7 stocks are included in Tanushree's special report. And by acting fast, you can claim a copy of this report virtually FREE.

Click here to find out how you can claim your FREE copy
------------------------------
Rupee Hits a Fresh Record Low; Slips Past 75 to US Dollar
The Indian rupee hit a fresh record low of 75.15 against the dollar yesterday. Losses were seen tracking slump in equities and currencies globally as market participants were concerned that support measures from governments and central banks may be insufficient to halt the economic damage caused by the coronavirus pandemic.
The downtrend also intensified amid sustained foreign fund outflows.
On Wednesday, the domestic currency had settled 2 paise lower at 74.26 against the greenback.
Foreign portfolio investors (FPIs) have withdrawn nearly Rs 700 billion on a net basis from the Indian markets in March so far as the coronavirus pandemic triggered fears of a global recession.
Data available showed that, investors pulled out a net sum of over Rs 362 billion from equities and Rs 320 billion from the debt segment so far this month.
Note that it was in August of 2018 that the currency had breached the 70 mark against the dollar for the first time.
How the rupee holds against the dollar in the coming days remains to be seen. Meanwhile, we will keep you updated on all the developments from this space. Stay tuned.
Rs 600 Billion Credit Support for Yes Bank
In news from the banking sector, Yes Bank share price will be in focus today as it was reported that the Reserve Bank of India (RBI) has given Yes Bank credit support of Rs 600 billion as the troubled private lender resumed full operation on Wednesday.
As per the news, the line of credit (LoC) was provided to ensure that Yes Bank is able to meet its obligations to depositors.
This was in line with RBI Governor Shaktikanta Das saying on March 16 that if required the central bank would provide necessary liquidity support and this should come as a comforting factor for depositors.
Moody's also raised Yes Bank's rating and upgraded its outlook to positive following the RBI presser.
The government on March 14 notified a rescue plan for Yes Bank, led by State Bank of India (SBI) and joined by other lenders, as it looked to shield the banking sector from a widespread crisis.
The so-called 'reconstruction scheme', cleared by the Union Cabinet, took effect on March 13.
As per the reports, most of Yes Bank's branches bore a deserted look today, partly amid fear of coronavirus infection.
On March 5, the RBI had imposed a moratorium on the private lender, restricting withdrawals to Rs 50,000 per depositor till April 3, in view of its poor financial health due to bad loans.
In one of the articles, we have written about the entire timeline of how YES Bank went from a stock market darling to a pariah.
You can read the entire article here: How the YES Bank Collapse Unfolded - 10 Points.
And to know what's moving the Indian stock markets today, check out the most recent share market updates here.
For information on how to pick stocks that have the potential to deliver big returns,
Read the latest Market Commentary
What else is happening in the markets today? Dig in...
Stock Market Updates
Mar 30, 2020 Closing
While the BSE Sensex closed lower by 1,375 points, NSE Nifty closed lower by 379 points.
Mar 30, 2020 03:34 PM
PROCTER & GAMBLE HEALTH share price has surged by 6% and its current market price is Rs 3,499. The BSE HEALTHCARE is up by 0.8%. The top gainers in the BSE HEALTHCARE Index are PROCTER & GAMBLE HEALTH (up 6.3%) and ABBOTT INDIA (up 8.2%). The top losers are CADILA HEALTHCARE (down 0.1%) and J.B.CHEMICALS (down 0.2%).
Mar 30, 2020 03:34 PM
SECURITY AND INTELLIGENCE SER. share price has plunged by 6% and its current market price is Rs 438. The BSE 500 is down by 3.6%. The top gainers in the BSE 500 Index are AIA ENGINEERING (up 14.5%) and BLUE DART EXPRESS (up 13.4%). The top losers are SECURITY AND INTELLIGENCE SER. (down 5.9%) and EICHER MOTOR (down 6.6%).
Mar 30, 2020 03:34 PM
PVR LTD share price has plunged by 6% and its current market price is Rs 1,271. The BSE 500 is down by 3.6%. The top gainers in the BSE 500 Index are AIA ENGINEERING (up 14.5%) and BLUE DART EXPRESS (up 13.4%). The top losers are PVR LTD (down 6.1%) and EICHER MOTOR (down 6.6%).
Mar 30, 2020 03:34 PM
CAPRI GLOBAL CAPITAL share price has plunged by 5% and its current market price is Rs 173. The BSE 500 is down by 3.6%. The top gainers in the BSE 500 Index are AIA ENGINEERING (up 14.5%) and BLUE DART EXPRESS (up 13.4%). The top losers are CAPRI GLOBAL CAPITAL (down 5.1%) and EICHER MOTOR (down 6.6%).
Mar 30, 2020 03:34 PM
G.E.SHIPPING share price has plunged by 6% and its current market price is Rs 201. The BSE 500 is down by 3.6%. The top gainers in the BSE 500 Index are AIA ENGINEERING (up 14.5%) and BLUE DART EXPRESS (up 13.4%). The top losers are G.E.SHIPPING (down 6.1%) and EICHER MOTOR (down 6.6%).
View More Indian Share Market News
Most Popular
Mar 19, 2020
Coronavirus outbreak has made no impact on the long term prospects of my favourite smallcap. What it has indeed done is brought the company below my buy price, making it even more attractive investment at current price.
Mar 19, 2020
The way businesses operate will change in a major way post the coronavirus impact. Here's why India stands to benefit from this change...
Mar 25, 2020
I see a big opportunity to make fast profits on the horizon.
Mar 24, 2020
Coronavirus crisis and panic selling has brought this quality smallcap to multiyear lows, making it a great bargain.
Mar 26, 2020
India's #1 trader, Vijay Bhambwani, talks about a hugely profitable trading opportunity which you must know about today!
More