Sensex Today Rises 250 Points | IT Stocks Fall Amid Worries Over Tech Spending | Bajaj Finance, Reliance & Titan Top Gainers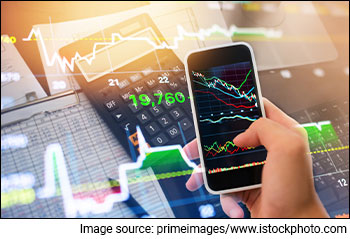 Asian share markets are trading higher today following gains on Wall Street as immediate concerns over the strength of the global financial system dissipated.
The Nikkei is down 1.4% while the Hang Seng is trading higher by 0.3%. The Shanghai Composite is trading higher by 0.2%.
Wall Street indices jumped on Monday after a deal to rescue Credit Suisse and central bank efforts to bolster confidence in the financial system relieved investors.
Investors also weighed the likelihood of a pause in rate hikes from the Federal Reserve this week.
The Dow Jones Industrial Average ended 1.2% higher while the tech heavy Nasdaq Composite gained 0.3%.
Here's a table showing how US stocks performed on Monday:
| Stock/Index | LTP | Change ($) | Change (%) | Day High | Day Low | 52-Week High | 52-Week Low |
| --- | --- | --- | --- | --- | --- | --- | --- |
| Alphabet | 101.93 | -0.53 | -0.52% | 102.58 | 100.79 | 144.16 | 83.45 |
| Apple | 157.40 | 2.40 | 1.55% | 157.82 | 154.15 | 179.61 | 124.17 |
| Meta | 197.81 | 2.20 | 1.12% | 199.36 | 193.64 | 236.86 | 88.09 |
| Tesla | 183.25 | 3.12 | 1.73% | 186.44 | 176.35 | 384.29 | 101.81 |
| Netflix | 305.13 | 1.63 | 0.54% | 307.50 | 296.00 | 396.50 | 162.71 |
| Amazon | 97.71 | -1.24 | -1.25% | 98.48 | 95.70 | 170.83 | 81.43 |
| Microsoft | 272.23 | -7.20 | -2.58% | 277.48 | 269.85 | 315.95 | 213.43 |
| Dow Jones | 32,244.58 | 382.60 | 1.20% | 32,280.07 | 31,872.33 | 35,492.22 | 28,660.94 |
| Nasdaq | 12,562.61 | 42.73 | 0.34% | 12,578.35 | 12,407.82 | 15,265.42 | 10,440.64 |
Source: Equitymaster
Back home, Indian share markets are trading on a positive note tracking the trend of global markets and SGX Nifty.
At present, the BSE Sensex is trading higher by 283 points. Meanwhile, the NSE Nifty is trading up by 79 points.
Bajaj FinanceHCL Technologies and Titan are among the top gainers today.
Tech Mahindra and Power Grid on the other hand are among the top losers today.
Broader markets are trading on a positive note. The BSE Mid Cap index is up 0.1% and the BSE Small Cap index trading higher by 0.2%.
--- Advertisement ---
Investment in securities market are subject to market risks. Read all the related documents carefully before investing

Before You Invest Your Money in EV Stocks

EV is a big opportunity. There is no doubt about it.

But not all EV stocks are good investment candidates.

Our co-head of research, Tanushree Banerjee, believes the biggest opportunity in Electric Vehicles is not where everyone is looking right now. It's hiding somewhere else.

Our latest research report on EVs covers all the details of this opportunity.

This report is titled, 2 Stocks to Ride India's EV Megatrend.

See a Quick Preview
Details of our SEBI Research Analyst registration are mentioned on our website - www.equitymaster.com
Sectoral indices are trading on a mixed note. Stocks in the consumer durable sector and telecom sector witness buying.
Meanwhile, stocks in IT sector and oil and gas sector witness selling.
Shares of KPIT Technologies and Siemens hit their 52 week high today.
The rupee is trading at Rs 82.63 against the US dollar.
In the commodity markets, gold prices are trading higher by Rs 109 at Rs 59,619 per 10 grams.
Meanwhile, silver prices are trading higher by 0.1% at Rs 68,892 per 1 kg.
Now track the biggest movers of the stock market using stocks to watch today section. This should help you keep updated with the latest developments...
Speaking of share markets, projecting a company's position and market share 10 years out or for that matter even 10 months ahead isn't an exact science.
However, with an unchallenged dominance in a particular segment, investors can look at certain companies which are unlikely to lose their leadership anytime soon and potentially find likely winners.
In the below video, Yazad Pavri talks about one such company.
M&M completes acquisition of MITRA Agro Equipments
Mahindra & Mahindra (M&M) on Monday, 20 March 2023, said the company's farm equipment sector (FES) completed the acquisition of MITRA Agro Equipments Private for Rs 617.1 million (m).
The company will increase its shareholding from the existing 47.3% to 100% in MITRA Agro Equipments.
--- Advertisement ---
Investment in securities market are subject to market risks. Read all the related documents carefully before investing

Small Businesses Set for Huge Potential Long-Term Growth

Would You Like Details on Such Stocks?

Discover More
Details of our SEBI Research Analyst registration are mentioned on our website - www.equitymaster.com
This will make MITRA a wholly-owned subsidiary of M&M with effect from 17 March 2023. As part of this acquisition, Mahindra fully bought out omnivore's stake in the business.
Founded in 2012 by Devneet Bajaj, MITRA is the Indian market leader in high-precision orchard sprayers and a trusted brand for farmers growing fruits like grapes, pomegranates and oranges.
Post-acquisition by Mahindra, MITRA plans to accelerate the expansion of its product portfolio alongside its network in India and the overseas markets.
MITRA was an early entrant in the then-nascent Indian agritech startup ecosystem. Omnivore, a venture capital firm that pioneered agritech investing in India, was one of its first institutional investors.
This news might finally bring relief for investors because as of late M&M share price was falling.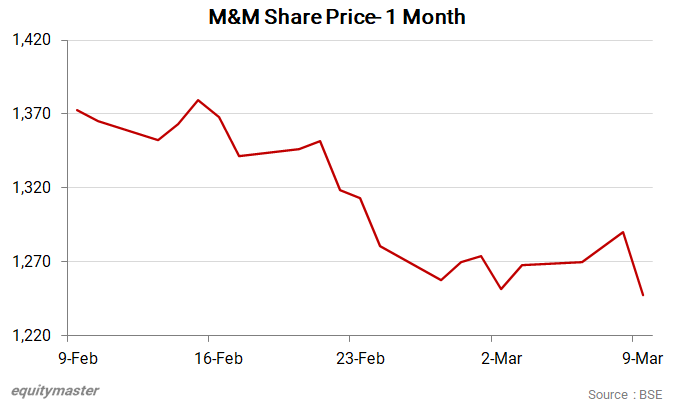 Warburg Pincus sells 2.5% stake in PVR Cinemas
Private equity company Warburg Pincus divested a 2.5% stake in multiplex-chain company PVR for Rs 3.8 billion (bn) through the open market transactions.
Warburg Pincus, through its affiliate Berry Creek Investment sold the shares in PVR.
According to the block deal data available with the BSE, Berry Creek Investment sold a total of 2,439,301 shares in three tranches, amounting to 2.5% stake in the firm.
The shares were disposed at an average price of Rs 1,559.4 apiece. ICICI Prudential Mutual Fund (MF), SBI MF and Societe Generale - ODI were the buyers of the shares.
Speaking of PVR, Research Analyst at Equitymaster Aditya Vora believes PVR is an all or nothing outcome, as the management tries to restructure its debt and expand operations. He believes it a daredevil stock for 2023.
--- Advertisement ---
Investment in securities market are subject to market risks. Read all the related documents carefully before investing

Want to Grow Your Wealth With Safe Stocks?

Access Our Premium 'Low Risk, High Return Potential' Stock Research at 50% Off

Full Details Here
Details of our SEBI Research Analyst registration are mentioned on our website - www.equitymaster.com
Lupin gets USFDA approval
India pharma company, Lupin on Monday said its alliance partner Caplin Steriles, has received United States Food and Drug Administration (USFDA) approval for its abbreviated new drug application Thiamine Hydrochloride injection USP, 200 mg/2 mL (100 mg/mL) multiple-dose vials.
According to IQVIA data for the 12-month period ending December 2022 Thiamine Hydrochloride injection USP had an annual sale of approximately US $ 36 m (about Rs 2,975.2 m) in the US (IQVIA MAT).
Thiamine Hydrochloride injection is used for the treatment of thiamine deficiency or beriberi whether of the dry (major symptoms related to the nervous system) or wet (major symptoms related to the cardiovascular system) variety.
Founded in 1968, Lupin is a fully vertically integrated company with the capability in manufacturing and marketing generic pharmaceuticals. The company has 15 manufacturing sites and 7 research centers.
Last week, Lupin Digital Health unveiled the results of digital therapeutics study with ACS Patients. During the same week, USFDA completed an inspection of Lupin's Bioresearch centre in Pune with no observations.
Speaking of USFDA approvals, Biocon share price is under pressure after USFDA issued a complete response letter (CRL) for its wholly owned subsidiary, Biocon Biologics.
To know more about what is a CRL and how it effects a company read out editorial on: why Biocon share price is falling.
And to know what's moving the Indian stock markets, check out the most recent share market updates here.
For information on how to pick stocks that have the potential to deliver big returns,
Read the latest Market Commentary