Indian Stock Market News March 23, 2020
Markets will remain closed on 10th April, 2020 on account of Good Friday.
Indian Indices Snap 4-Day Losing Streak, Rising Crude Oil Prices, and Top Cues in Focus Today
Editor's note: Dear reader, we are now on Telegram! Get our latest views on stock markets and more, instantly. Join our Telegram channel here!
---
On Friday, Indian share markets snapped their 4-day losing streak and ended 6% higher, as policymakers across the world launched fresh efforts to stem the economic fallout of the coronavirus pandemic.
Central banks in Europe, Japan, Australia and the United States launched a fresh wave of stimulus to help businesses battered by a near halt in economic activity due to the virus outbreak.
The NSE Nifty saw its best one-day gain in more than six months, However, both Nifty and Sensex logged their worst week since 2008.
The BSE Sensex closed higher by 1,628 points to end the day at 29,916. ONGC and Ultratech Cement were among the top gainers.
While the broader NSE Nifty ended up by 482 points to end at 8,745.
Among BSE sectoral indices, oil & gas stocks gained the most, followed by IT stocks and FMCG stocks.
--- Advertisement ---
The Biggest Opportunity Available Right Now

Today, coronavirus crisis has created a lot of fear and uncertainty.

But amid this fear and chaos... there is one thing which is certain.

As soon as the fears of coronavirus abate... there would be a massive rally in the stock markets.

You won't be able to grab the stocks... which are available at a throw away prices today.

This is the time to start loading up on fundamentally strong stocks.

Because the returns that one could potentially make from these prices could be mind-boggling.

Potentially Rs 1 crore or more in the long run.

And we've already shortlisted one stock having that potential.

Click here to know more about this stock
------------------------------
With the volatility we're witnessing amid the gloomy economy and coronavirus fears, what's next for the Indian stock markets?
You have the answer to this!
Participate in Equitymaster's "State of the Markets" poll and make your opinion count.
60 seconds is all that this anonymous poll will take.
Participate here: Equitymaster's "State of the Markets" Poll
And here's some futures and options data from Vijay Bhambwani, editor of Fast Income Alerts...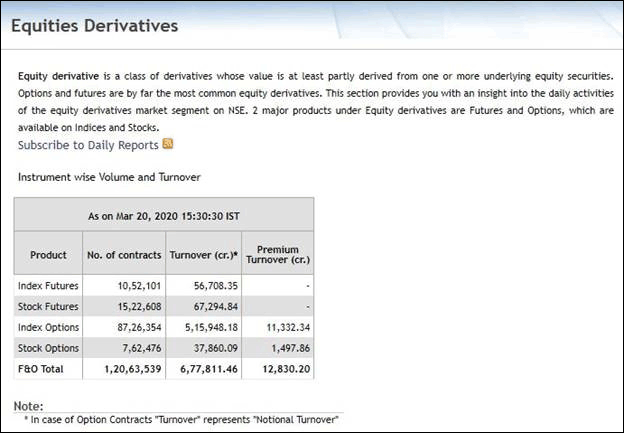 Here's what Vijay wrote about the same...
NSE f&o turnover was Rs 6,77,811 Crs (previous Rs 18,07,623 Crs) which is below average in recent times. The higher volatility I warned about yesterday played a part too.

Yesterday's turnover was high because of the weekly expiry of derivatives contracts. The base effect is therefore not truly comparable. Today's turnover is sharply lower compared to recent figures on Fridays.

The maketwide average MWPL stood at 18.42% (previous 18.31%) this implies a mild fresh build up of longs after a big gap.
Also, here's what Apurva Sheth, editor of Breakout Profits, wrote about the situation that's prevailing two months after the stock markets topped...
Nifty bounced back in style on Friday. It is the first time in last one month that Nifty has closed above previous day's highs. This could just be an early sign of a short-term reversal. Let's keep an eye.

It's worth noting that underperformers of last 2 months have gained the most today. Today's average gains of top 10 underperformers is 7.5% as against 6.6% of top 10 outperformers. Underperformers bounced back faster than outperformers today. Will this continue? Let's wait and watch...
Last 2 Month's Underperformers Gain the Most on Friday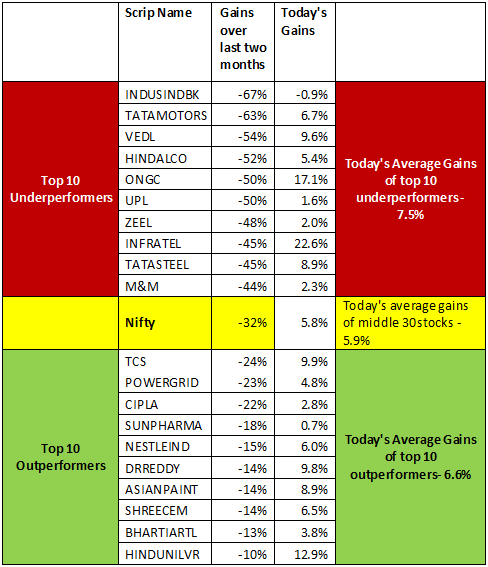 To track such data on a daily basis and get our latest views on stock markets and more, you can join our Telegram channel here.
--- Advertisement ---
This Lockdown Become a Pro Investor...FREE

We have great news for you.

For the duration of the lockdown – we are giving everybody completely free access to our two most popular learning courses.

Equitymaster's Secrets– an online course that will reveal the complete process behind our own stock–picking strategy.

DeriVantage – an online course that will teach you to trade derivatives – and develop your own trading strategy to create short–term and long–term wealth.

This is a one–time opportunity...with no strings attached. Access is absolutely free – no credit card required.

Just click below and we will instantly activate your free access to either or both courses.

Click Here for Free Access: Equitymaster's Secrets | DeriVantage
------------------------------
Our Editor's Views on Coronavirus Pandemic, the Indian Economy, and Stock Markets...
Speaking of the ongoing coronavirus pandemic and the Indian economy, here's what Tanushree Banerjee wrote about the same in a recent edition of The 5 Minute WrapUp...
The coronavirus impact has woken everyone up. The dependence on one country and its dangers have been exposed to the whole wide world.

There are short-term and long-term impacts of this wake-up call.

The short-term impact is what we're seeing every day. Countries in lockdown, screening of travelers, quarantines, etc.

But what about the long-term impact?We will see this once the crisis is over.

And this impact will be huge.
Also, talking of the Indian economy, 1991, in a lot of ways, can be termed as the turning point of India's economic story.
From being largely isolated from the outside world, India suddenly became a big part of the new global era.
Exports also became a big contributor to India's GDP. From contributing around 7% of GDP before 1991, exports contribute close to 20% of GDP now.
Is This the 1991 Moment for India Again?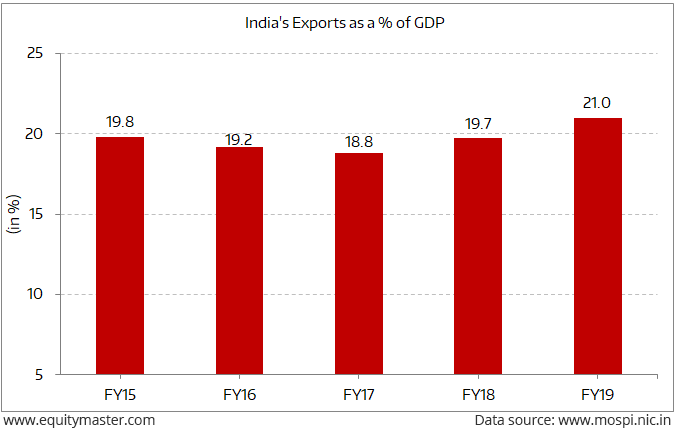 As per Tanushree, if things go India's way, as she believes they will, the aftereffect of the coronavirus will have an even bigger impact than 1991.
As per her, it will have a positive impact on what she calls the Rebirth of India.
She is focused on finding strong businesses with the capacity to take advantage of this huge opportunity.
And these businesses will create a lot of wealth in the long-term.
And here's what Richa Agarwal, our smallcap analyst at Equitymaster, has to say about the ongoing market crash and what it means for stock market participants...
...at a time when you see the Sensex and large cap stocks taking big knocks, you will be completely surprised at another feature of the market.

It has flown under the radar for most investors so far...

Small cap stocks, which were already cheap and attractive, have now become downright ridiculously priced!

Many of them offer massive gains to those who will buy at current prices.

And I'm not even talking about the weak companies...

I'm talking about strong companies with ultra-strong balance sheets. Businesses strong enough to weather the oncoming coronavirus storm - whatever it throws at them.

Looks like the perfect time for the opportunistic investor to pick up some good bargains!
Richa believes the best approach right now is to consider investing in stocks that are fundamentally strong and promise steady income along with strong upside in the long term.
She has identified one such stock that has the potential to return crores in the long term. To know more, click here for all the details.
You can also read one of Richa's latest articles here: You Think the Corona Crash Has Made Large Caps Attractive? Wait Till You See This Opportunity...
Top Stocks in Action Today
Escorts share price will be in focus today as reports state that US-based Kubota Tractor may acquire 15-20% stake in the company.
IDFC First Bank share price will also be in focus today as the bank's Managing Director and Chief Executive Officer (MD & CEO), V Vaidyanathan, on Friday, sold 27.56 million shares for approximately Rs 580 million to close ESOP loan availed by him.
The private lender informed the exchanges that Vaidyanathan intends to sell another about Rs 350 million worth of stocks today to entirely repay the residual ESOP (employee stock ownership plan) loan taken for exercising his ESOP shares to release his pledged shares.
Market participants will also track Dr Reddy's Lab share price. The drug maker has launched Pyrimethamine Tablets USP, 25 mg, a therapeutic equivalent and first-wave generic version of Daraprim (pyrimethamine) Tablets, approved by the US Food and Drug Administration (USFDA).
Cash Rich Companies Announce Buyback
Emami on Thursday said its board has approved a Rs 1,940.8 million share buyback offer at a maximum price of Rs 300 per share.
This represents 1.43% of the total number of equity shares of the company.
The promoters of Emami, including the Agarwal and Goenka families, hold a 52.74% stake in the company. Over 80% of the promoters' stake is pledged.
The board also declared payment of second interim dividend of Rs 2 per equity share for FY19-2020. The record date is set on 27 March 2020.
Note that many companies are looking to buy their shares back from investors to boost shareholder confidence amid the brutal sell-off in the market.
In the past two weeks, Sun Pharma, Thomas Cook, Supreme Petrochem, Emami and S.P. Apparels have announced or proposed buybacks.
Sun Pharma's board on Tuesday approved the buyback of 40 million shares representing 1.67% of the total equity capital of the company at Rs 425 per share.
Thomas Cook has also received board approval for a buyback of up to 26 million shares at Rs 57.50 apiece for a maximum aggregate amount of Rs 1.5 billion.
In last year's budget, finance minister Nirmala Sitharaman had imposed a share buyback tax of 20% on listed companies.
We will keep you updated on how these buybacks sail through. Stay tuned for more updates from this space.
From the Commodity Space...
Crude oil prices rose on Friday as the world's richest nations poured unprecedented aid into the global economy to stop a coronavirus-driven recession and US President Donald Trump hinted he may intervene in the price war between Saudi Arabia and Russia.
Reports state that US plans to buy up to 30 million barrels of crude for its emergency stockpile by the end of June and reports that regulators in Texas might curtail output.
At the time of writing, US crude was 7% higher at US$ 27 a barrel, up from a low of around US$ 20, while Brent crude stood at US$ 30.
US crude and Brent have both collapsed about 40% in the past two weeks since the breakdown of talks between the Organization of the Petroleum Exporting Countries (OPEC) and its allies, including Russia, leading Saudi Arabia to ramp up supply.
In a recent article, we have written the entire timeline showing economics of falling crude oil prices. You can check the same here: All About the 30% Crash in Crude Oil - 10 Points
To know what's moving the Indian stock markets today, check out the most recent share market updates here.
For information on how to pick stocks that have the potential to deliver big returns,
Read the latest Market Commentary
What else is happening in the markets today? Dig in...
Stock Market Updates
Apr 9, 2020 03:33 PM
VOLTAS share price has surged by 6% and its current market price is Rs 515. The BSE CAPITAL GOODS is up by 1.6%. The top gainers in the BSE CAPITAL GOODS Index are VOLTAS (up 6.0%) and HEG (up 10.0%). The top losers are THERMAX (down 0.6%) and KALPATARU POWER (down 0.6%).
Apr 9, 2020 03:33 PM
MARUTI SUZUKI share price has surged by 13% and its current market price is Rs 5,399. The BSE AUTO is up by 10.2%. The top gainers in the BSE AUTO Index are MARUTI SUZUKI (up 12.9%) and MRF LTD. (up 5.2%).
Apr 9, 2020 03:33 PM
LUPIN share price has surged by 13% and its current market price is Rs 798. The BSE HEALTHCARE is up by 3.4%. The top gainers in the BSE HEALTHCARE Index are LUPIN (up 12.7%) and DIVIS LABORATORIES (up 6.2%). The top losers are J.B.CHEMICALS (down 0.2%) and PROCTER & GAMBLE HEALTH (down 1.2%).
Apr 9, 2020 03:29 PM
TATA ELXSI share price has surged by 11% and its current market price is Rs 712. The BSE IT is up by 1.6%. The top gainers in the BSE IT Index are TATA ELXSI (up 11.1%) and FIRSTSOURCE SOL. (up 12.2%). The top losers is TECH MAHINDRA (down 2.4%).
Apr 9, 2020 03:29 PM
TITAN share price has surged by 12% and its current market price is Rs 1,040. The BSE 500 is up by 3.8%. The top gainers in the BSE 500 Index are TITAN (up 12.5%) and MARUTI SUZUKI (up 14.1%). The top losers are BLUE DART EXPRESS and UPL .
Apr 9, 2020 12:30 pm
The BSE Sensex is trading up by 1,035 points, while the NSE Nifty is trading up by 297 points.
View More Indian Share Market News
Most Popular
Mar 30, 2020
This man warned of an impending market correction while everyone else was celebrating the renewed optimism in early 2020...
Apr 1, 2020
A stock with strong moat is currently trading near 5-year lows.
Apr 2, 2020
The market crashc has made strong, established brands attractive. Here's a stock to make the most of this opportunity...
Mar 31, 2020
The promoters are buying these smallcaps amid the coronavirus outbreak.
Mar 27, 2020
This very useful indicator can spot a market bottom.
More