Indian Stock Market News March 27, 2020
Markets will remain closed on 6th April, 2020 on account of Mahavir Jayanti.
Indian Indices End Higher, Rs 1.7 Trillion Relief Package, and Top Cues in Focus Today
Indian share markets continued their rally yesterday and ended on a strong note.
Benchmark indices rallied for the third day, encouraged by stimulus packages by large economies in order to soften the economic blow from the lockdown of businesses and offices.
At the closing bell yesterday, the BSE Sensex stood higher by 1,411 points (up 4.9%) and the NSE Nifty closed higher by 336 points (up 4%).
The BSE Mid Cap index ended up by 3.5%, while the BSE Small Cap index ended up by 3.7%.
On the sectoral front, gains were largely seen in the telecom sector and banking sector.
With stock markets falling sharply worldwide, what is the best way to protect your investments?
Our special report, How to Trade the Coronavirus Crash, has the answer. Just claim your FREE copy here...
Also, a few days ago, we asked you to participate in Equitymaster's "State of the Markets" poll.
The poll asked you to vote on what holds next for the Indian stock markets amid the gloomy economy and coronavirus fears.
Many of you voted for the same and we thank you for participating. The numbers are in and here are the results.
Sitharaman Announces Rs 1.7 Trillion Relief Package Amid Corona Distress
Addressing the media during market hours yesterday, Finance minister Nirmala Sitharaman announced a slew of measures to deal with the economic distress caused due to the coronavirus pandemic and the subsequent lockdown announced to deal with the situation.
The FM announced the Prime Minister Gareeb Kalyan scheme worth Rs 1.7 trillion, which will have two parts - cash transfer and food security.
Here are some key takeaways from the press conference:
FM announced a Rs 1.7 trillion fiscal stimulus plan to aid the economy's fight against the rapidly spreading coronavirus pandemic. The relief measures included direct cash transfers and food security-related steps aimed at giving relief to the poor workers.
Under this plan, 800 million poor people in the country will get 5 kg of rice or wheat per month free of cost, in addition to the 5 kg they already get. In addition to rice or wheat, each household will get 1 kg of preferred dal for free for the next three months.
The government will pay EPF contribution, both of employer and employee, for 3 months for all those establishments with less than 100 employees out of which 90% earn less than Rs 15,000 per month.
Women Jan Dhan account holders will get an ex-gratia amount of Rs 500 per month for 3 months to run household during this period.
Farmers will get the first instalment of the PM-KISAN payment of Rs 2,000 soon. As per reports, this move will benefit 87 million farmers across the country.
Rs 310 billion welfare fund will be utilized for building and construction workers.
The FM also announced a medical insurance scheme for health workers. This Rs 5 million per individual insurance plan would be applicable to all health workers that includes sanitation and ASHA workers, paramedics, doctors, nurses.
Note that, the finance minister had already announced some measures earlier this week on Tuesday, that included extension of tax deadlines, easing minimum balance norms for savings account, and increasing threshold of insolvency filing to Rs 10 million from Rs 0.1 million.
Top Stocks in Focus Today
From the automobile sector, market participants will be tracking Mahindra & Mahindra (M&M) share price as the company is partnering with two public sector units (PSUs) to work with an existing manufacturer of high-spec ventilators to help them simplify design and scale up capacity, said Pawan Goenka, MD of the company.
This comes a few days after the company's chairman Anand Mahindra announced that the group will offer all possible support to deal with Covid-19 outbreak.
From the banking sector, IndusInd Bank share price will be in focus. The stock of the company rallied over 40% yesterday on expectation of huge stimulus package announcement by the government.
This was the stock's biggest-ever one-day gain.
Apart from IndusInd Bank, shares of most NBFCs and insurance companies rallied yesterday on back of the above news.
From the pharma sector, shares of Caplin Point will be in focus today. The stock was locked in the 20% upper circuit limit yesterday, after the company's arm Caplin Steriles received final approval from the US drug regulator for Verapamil Hydrochloride injection.
Cipla share price will also be in focus today as the company has received final approval for its Abbreviated New Drug Application (ANDA) for Esomeprazole for Oral Suspension 10mg, 20mg and 40mg from the United States Food and Drug Administration (USFDA).
The Case of Falling Rupee Amid Corona Crash
As the coronavirus (COVID-19) pandemic continues to haunt the global financial markets, the rupee remains under pressure after breaching the 75 as well as 76 levels against the US dollar in the past few sessions.
On Monday, the rupee depreciated past the 76-mark against the US currency for the first time ever and settled at 76.16 for the day - within two days of hitting 75 for the very first time.
The rupee had taken 17 months to breach the 75-mark after hitting 74 against the greenback for the first time. In other words, the October 2018 low of 74.48 was not breached until Thursday, March 19.
But how far is the 77-mark against the greenback?
As per the reports, the rupee is now the Rs 76/US$ stage and the next testing point will be 77, which is expected soon. The reason for this is more on the global side with the dollar strengthening and other currencies weakening.
Note that, stock markets the world over have seen a sharp fall. Indian share markets have declined sharply as well.
The Sensex saw its biggest one-day fall on Monday 23 March.
Is this the Future of Stock Trading?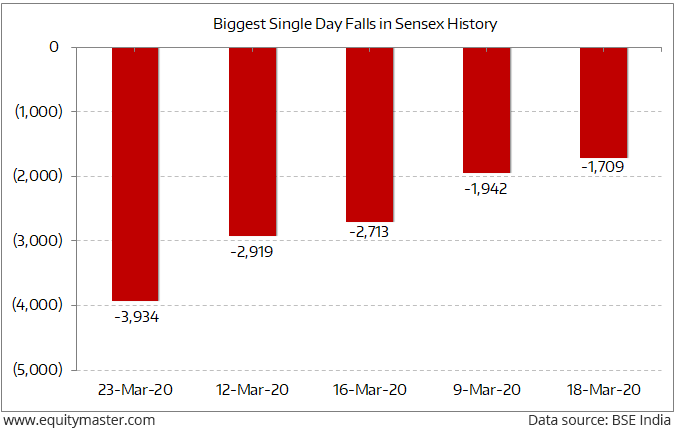 The coronavirus pandemic has created a sense of fear among investors and traders worldwide.
What is different about this market crash unlike others before it, is the pace of fall.
The Indian share market has fallen more than 35% from its peak in just over a month, which is the fastest crash in history.
The sharp decline can be attributed to algorithmic trading as well as foreign institutional investor (FII) outflows.
Co-head of Research, Tanushree Banerjee believes, in this new era of sharp declines, the rebound rally can be equally sharp and quick as well. It is important to remember this.
A part of this decline is due to the coronavirus impact, a part of it is due to external factors as well.
One should look at fundamentally strong stocks in this market correction. She believes, these stocks will likely rebound the fastest when the coronavirus threat passes.
To know what's moving the Indian stock markets today, check out the most recent share market updates here.
For information on how to pick stocks that have the potential to deliver big returns,
Read the latest Market Commentary
What else is happening in the markets today? Dig in...
Stock Market Updates
Apr 3, 2020 03:33 PM
NOCIL share price has plunged by 5% and its current market price is Rs 68. The BSE 500 is down by 1.8%. The top gainers in the BSE 500 Index are GUJARAT ALKALIES (up 13.9%) and LUPIN (up 13.4%). The top losers are NOCIL (down 5.2%) and 3M INDIA (down 5.0%).
Apr 3, 2020 03:31 PM
INDIAN ENERGY EXCHANGE LTD share price has surged by 5% and its current market price is Rs 137. The BSE POWER is down by 0.3%. The top gainers in the BSE POWER Index are INDIAN ENERGY EXCHANGE LTD (up 5.4%) and RELIANCE INFRA (up 5.0%). The top losers are KALPATARU POWER (down 0.1%) and TORRENT POWER LTD (down 0.3%).
Apr 3, 2020 03:27 PM
LIC HOUSING share price has plunged by 5% and its current market price is Rs 234. The BSE 500 is down by 1.8%. The top gainers in the BSE 500 Index are LUPIN (up 14.0%) and RAJESH EXPORTS (up 11.7%). The top losers are LIC HOUSING (down 5.2%) and MARUTI SUZUKI (down 5.4%).
Apr 3, 2020 03:27 PM
AJANTA PHARMA share price has plunged by 5% and its current market price is Rs 1,414. The BSE HEALTHCARE is up by 3.5%. The top gainers in the BSE HEALTHCARE Index are LUPIN (up 14.0%) and SUN PHARMA (up 9.4%). The top losers are AJANTA PHARMA (down 5.1%) and STRIDES PHARMA SCIENCE (down 5.3%).
Apr 3, 2020 03:25 PM
PERSISTENT SYSTEMS share price has plunged by 7% and its current market price is Rs 545. The BSE IT is down by 2.7%. The top gainers in the BSE IT Index are ORACLE FINANCIAL (up 5.0%) and ECLERX SERVICES (up 3.0%). The top losers are PERSISTENT SYSTEMS (down 7.0%) and L&T TECHONOLOGY (down 6.0%).
Apr 3, 2020 12:30 pm
Indian share markets are trading on a negative note with the BSE Sensex down by 507 points, while NSE Nifty is trading lower by 134 points.
View More Indian Share Market News
Most Popular
Mar 30, 2020
This man warned of an impending market correction while everyone else was celebrating the renewed optimism in early 2020...
Mar 26, 2020
India's #1 trader, Vijay Bhambwani, talks about a hugely profitable trading opportunity which you must know about today!
Mar 25, 2020
I see a big opportunity to make fast profits on the horizon.
Mar 24, 2020
Coronavirus crisis and panic selling has brought this quality smallcap to multiyear lows, making it a great bargain.
Apr 1, 2020
A stock with strong moat is currently trading near 5-year lows.
More