Sensex Today Trades Flat, Nifty Above 17,000 | Kalyan Jewellers Tanks 10% on Block Deal | IndusInd Bank & TCS Top Gainers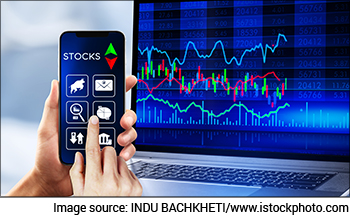 Asian share markets are trading higher today after US markets rose as fears of broader contagion from the banking turmoil eased.
The Nikkei is down 0.1% while the Hang Seng is trading higher by 0.7%. The Shanghai Composite is trading flat.
The S&P 500 ended slightly higher on Monday as a deal for Silicon Valley Bank's assets helped to boost bank shares, while a decline in technology-related stocks limited the day's gains.
The Dow Jones Industrial Average ended 0.6% higher while the tech heavy Nasdaq Composite was down 0.7%.
Here's a table showing how US stocks performed on Monday:
| Stock/Index | LTP | Change ($) | Change (%) | Day High | Day Low | 52-Week High | 52-Week Low |
| --- | --- | --- | --- | --- | --- | --- | --- |
| Alphabet | 103.06 | -3 | -2.83% | 105.4 | 102.63 | 144.16 | 83.45 |
| Apple | 158.28 | -1.97 | -1.23% | 160.77 | 157.87 | 179.61 | 124.17 |
| Meta | 202.84 | -3.17 | -1.54% | 205.86 | 201.36 | 236.86 | 88.09 |
| Tesla | 191.81 | 1.4 | 0.74% | 197.39 | 189.94 | 384.29 | 101.81 |
| Netflix | 327.66 | -0.73 | -0.22% | 336.44 | 324.41 | 396.5 | 162.71 |
| Amazon | 98.04 | -0.09 | -0.09% | 99.34 | 97.08 | 170.83 | 81.43 |
| Microsoft | 276.38 | -4.19 | -1.49% | 281.46 | 275.52 | 315.95 | 213.43 |
| Dow Jones | 32,432.08 | 194.55 | 0.60% | 32,564.00 | 32,276.72 | 35,492.22 | 28,660.94 |
| Nasdaq | 12,673.07 | -93.98 | -0.74% | 12,839.42 | 12,647.94 | 15,265.42 | 10,440.64 |
Data source: Equitymaster
Back home, Indian share markets are trading on a flat note tracking the trend of global markets and SGX Nifty.
At present, the BSE Sensex is trading higher by 61 points. Meanwhile, the NSE Nifty is trading up by 5 points.
IndusInd Bank and TCS are among the top gainers today.
--- Advertisement ---
Investment in securities market are subject to market risks. Read all the related documents carefully before investing

Before You Invest Your Money in EV Stocks

EV is a big opportunity. There is no doubt about it.

But not all EV stocks are good investment candidates.

Our co-head of research, Tanushree Banerjee, believes the biggest opportunity in Electric Vehicles is not where everyone is looking right now. It's hiding somewhere else.

Our latest research report on EVs covers all the details of this opportunity.

This report is titled, 2 Stocks to Ride India's EV Megatrend.

See a Quick Preview
Details of our SEBI Research Analyst registration are mentioned on our website - www.equitymaster.com
Asian Paints and Bharti Airtel on the other hand are among the top losers today.
Broader markets are trading on a negative note. Both the BSE Mid Cap index and the BSE Small Cap index are trading lower by 0.5%.
Sectoral indices are trading on a negative note with the exception of metal sector and financial sector. Stocks in the oil and gas sector and power sector witness most of the selling.
Shares of Ultratech Cement hit their 52 week high today.
The rupee is trading at Rs 82.2 against the US dollar.
In the commodity markets, gold prices are trading higher by Rs 90 at Rs 58,616 per 10 grams.
Meanwhile, silver prices are trading higher by 0.1% at Rs 70,017 per 1 kg.
Now track the biggest movers of the stock market using stocks to watch today section. This should help you keep updated with the latest developments...
Speaking of stock markets, investors used to believe that they have to choose between high dividend paying stocks and high growth stocks, as these were perceived as two distinct types of investments.
High dividend stocks were typically viewed as defensive investments, offering steady income but limited growth potential, while high growth stocks were seen as more volatile investments, with greater potential for capital appreciation but lower dividend yields.
However, there are some companies that offer both high dividend yields and strong growth potential. Yazad Pavri talks about such companies in the below video.
Tune in to know more
SJVN secures green financing
In news from the energy sector, hydroelectric power generation company SJVN on Monday said it has secured global action for reconciling economic growth and environmental preservation financing from Japan Bank for International Cooperation (JBIC) worth 15 billion (bn) yen, (about Rs 9.2 bn).
The loan is co-financed with Japanese private financial institutions.
The renewable energy company will use the funds to finance the 90 MW Omkareshwar Floating solar power project in Madhya Pradesh and the 100 MW Raghanesda solar power project in Gujarat, having a combined estimated cost of Rs 12.8 bn.
--- Advertisement ---
Investment in securities market are subject to market risks. Read all the related documents carefully before investing

Small Businesses Set for Huge Potential Long-Term Growth

Would You Like Details on Such Stocks?

Discover More
Details of our SEBI Research Analyst registration are mentioned on our website - www.equitymaster.com
Further in news from the energy sector, the Nifty Energy index has corrected over 16% in the first two months of 2023 but the recovery in the month of March 2023 indicates that a reversal is on the cards.
On the weekly chart, the index is trading at the confluence of support.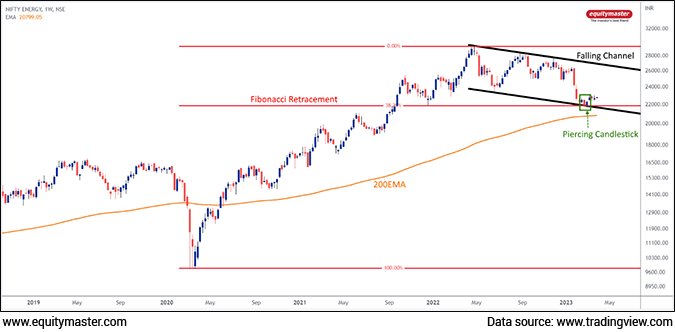 Chartist Brijesh Bhatia explains the above chart in editorial on Nifty energy index: bulls capitalizing on technical support.
Aditya Birla Capital sells stake in subsidiary
Aditya Birla Capital, a company under the Aditya Birla group, announced on Monday the sale of its entire stake in Aditya Birla Insurance Brokers, which is a non-material subsidiary of the company.
In an exchange filing, the company said, the sale involves the transfer of 2.6 m shares of Rs. 10 each, representing around 50% of the issued and paid-up share capital of Aditya Birla Insurance Brokers, to Edme Services, which is part of the Samara Capital group and an affiliate of Samara Alternate Investment Fund.
Infocyber India, the other shareholder of the insurance broker, will also sell its entire stake in the company to the Edme Services.
The sale of Aditya Birla Insurance Brokers is part of parent Aditya Birla Capital's strategy to reorganize its financial services operations and divest from businesses that have limited growth potential under its management.
Adani Enterprises completes acquisition of Qunitillion Business Media
Billionaire Gautam Adani's AMG Media Networks has acquired about a 49% stake in Raghav Bahl-curated digital business news platform Quintillion Business Media for about Rs 480 m.
In a stock exchange filing, Adani Enterprises said its subsidiary AMG Media Networks has completed the acquisition which was originally announced in May last year.
Quintillion Business Media runs the news platform Bloomberg Qunit, now called BQ Prime.
Adani group had set up AMG Media Networks for its foray into businesses of publishing, advertising, broadcasting, distribution of content over different types of media networks.
In May last year, it had signed a shareholders' agreement with Quintillion Media. In September 2021, it hired veteran journalist Sanjay Pugalia to lead its media company Adani Media Ventures.
Allcargo Logistics to acquire stake in Gati - Kintetsu Express
Gati announced that Allcargo Logistics (Parent Company) has signed the share purchase agreement on 27 March 2023 with Kintetsu World Express (KWE) and Kintetsu Express (India) for acquisition of 30% stake in Gati-Kintetsu Express (GKEPL).
Post completion of this transaction, Allcargo Logistics will continue to hold the existing 70% stake in GKEPL, the material subsidiary company.
Allcargo Logistics is a Mumbai-based Indian logistics company. It is known to offer multi-modal integrated logistics and transportation services worldwide.
--- Advertisement ---
Investment in securities market are subject to market risks. Read all the related documents carefully before investing

Want to Grow Your Wealth With Safe Stocks?

Access Our Premium 'Low Risk, High Return Potential' Stock Research at 50% Off

Full Details Here
Details of our SEBI Research Analyst registration are mentioned on our website - www.equitymaster.com
The company is carrying out contract logistics business through its joint venture viz. Avvashya CCI Logistics.
It is among the leading players in the global LCL consolidation market, with a strong network across 160+ countries and 300+ offices covering over 4,000 port pairs across the world.
To know what's moving the Indian stock markets, check out the most recent share market updates here.
For information on how to pick stocks that have the potential to deliver big returns,
Read the latest Market Commentary