Indian Stock Market News April 11, 2017
Sensex Continues Momentum; FMCG Stocks Witness Buying
After opening the day marginally higher, Indian share markets have continued their momentum and are presently trading in the green. Sectoral indices are trading on a positive note with stocks in the FMCG sector and IT sector leading the gains.
The BSE Sensex is trading up 164 points (up 0.6%) and the NSE Nifty is trading up 39 points (up 0.4%). The BSE Mid Cap index is trading up by 0.2%, while the BSE Small Cap index is trading up by 0.6%. The rupee is trading at 64.56 to the US$.
The recent farm loan waiver in Uttar Pradesh has made farmers of other states demand loan waivers. As per an article in Livemint, farmers from Tamil Nadu, Karnataka, Madhya Pradesh, and Rajasthan have made protests for farm loan waiver from the government.
Furthermore, Punjab is likely to announce a loan waiver. As per the news, the Congress had promised to write-off loans and the Amarinder Singh-led government is under pressure to stick to this commitment.
Just Released: Multibagger Stocks Guide
(2017 Edition)
In this report, we reveal four proven strategies to picking multibagger stocks.
Well over a million copies of this report have already been claimed over the years.
Go ahead, grab your copy today. It's Free.
NO-SPAM PLEDGE
- We will NEVER rent, sell, or give away your e-mail address to anyone for any reason. You can unsubscribe from The 5 Minute WrapUp with a few clicks. Please read our
Privacy Policy
&
Terms Of Use
.
All of this comes as the Yogi Adityanath-led BJP government in Uttar Pradesh recently announced writing off crop loans of up to Rs 1 lakh for about 21.5 million small and marginal farmers. The total waiver for this stood at Rs 363 billion and is recorded as one of the highest waiver promised by a state.
What one shall understand is that farm loan waiver is one of the key ways through which state government appeases farmers. While this can help farmers and enable them to seek new loans from the banks, loan waivers do not help economic growth. This is because loan waivers are only focused on the short term and the expenditure on loan waivers leaves the government with less fiscal space for productive infrastructure spending.
But apart from the monetary impact, there is also the question of moral hazard in loan waivers.
Our big picture expert Vivek Kaul explains it succinctly in his Diary:
The economist Alan Blinder in his book After the Music Stopped writes that the "central idea behind moral hazard is that people who are well insured against some risk are less likely to take pains (and incur costs) to avoid it."

This basically means that once the farmer sees a loan being waived off today, he will wait for elections in the future for the newer loans he takes on to be waived off as well. Essentially, he will see little incentive in repaying loans that he takes on in the future.
The above practice of loan waiver by state governments could very well trigger this moral hazard and hurt the economic growth in the long run.
But this is just one of the trends that is set to hurt the Indian economy. If you have been a reader of The Vivek Kaul's Diary you already know that he has identified an underlying trend that holds the potential to derail the Indian economy.
And this trend is growing worse by the day.
Vivek believes it could trigger a crisis having a big impact on all of us. And he has revealed it all in his latest book. We've made it extremely easy for you to claim a copy.
On a separate note, the above decision of farm loan waiver will weigh on the profitability of banks.
The move will mean loss of revenue for the banks. This is because banks will only be paid back the principal amount by the state, and thus will forego the interest income. Also, as the waiver will be returned to banks after a few months, the banks will sacrifice the interest revenue they would have earned during this period.
The most affected here will be the public sector banks, that are already facing rise in provisions on surging bad loans and sluggish interest income growth on poor credit offtake.
But despite their precarious financial condition, banking stocks have surged, purely on hopes of another government bail-out. This can be seen in the following chart:
Soaring Stocks...Eroding Balance Sheets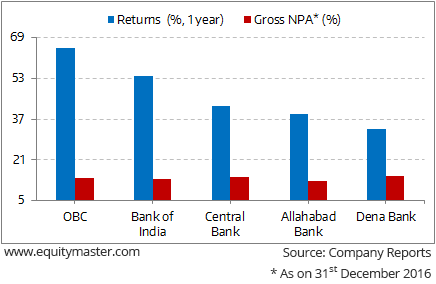 In the past one year, stocks such as Oriental Bank, Bank of India, Central Bank, Allahabad Bank and Dena Bank have yielded returns of over 30%. But a look at their financial scorecard shows that they are lame ducks waiting for disaster to happen. The bad loans of these banks have shot up to alarming proportions such that out of every Rs 100 lent out by them a minimum of Rs 10 has gone dud.
In fact, the huge provisions have pushed these banks in the red. This in turn has hit their balance sheet strength with most of them hovering close to the minimum capital adequacy required.
It goes without saying that these banks will require capital infusion to remain afloat and grow in future.
For information on how to pick stocks that have the potential to deliver big returns,
Read the latest Market Commentary