Indian Stock Market News April 16, 2020
Gold Hits Record High, IMF's Worst Downturn Prediction, and Top Cues in Focus Today
Indian share markets opened on a positive note yesterday.
Apart from positive global cues, government's move to ease lockdown rules starting April 20 boosted sentiment.
The government has permitted industries to operate in rural areas, and manufacturing to start in Special Economic Zones. Restrictions have also been eased for the construction sector.
However, the rally didn't last long as Indian benchmark indices witnessed selling pressure during closing hours and ended on a negative note.
This was seen as concerns over the rise in Covid-19 cases across the nation and worldwide kept domestic investors cautious.
Sectoral indices ended on a mixed note with stocks in the banking sector, finance sector and energy sector witnessing most of the selling pressure, while FMCG stocks witnessed buying interest.
At the closing bell yesterday, the BSE Sensex stood lower by 310 points and the NSE Nifty closed down by 69 points.
The BSE MidCap index ended up by 1.3% and the BSE SmallCap index ended up by 1.2%.
Note that the coronavirus impact has shaken markets worldwide. Indian stock markets have felt the full impact too.
For the BSE Sensex, FY20 was the second worst year post FY08, the year of the global financial crisis.
Good Time to Start Investing Now?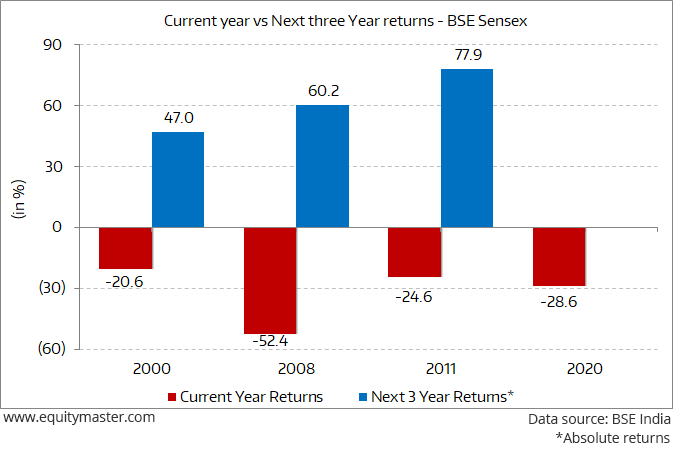 Naturally, there is an atmosphere of fear all round.
Is it time to sell stocks now? Will the correction get worse?
History has shown that after years like the one we had just now, the next 3 years are good for the markets.
In fact, these corrections are the rare times when you find businesses with solid fundamentals at reasonable valuations.
If you can find good businesses that can survive the current crisis, you will do well in the long run.
Top Stocks in Focus Today
From the pharma sector, Lupin share price will be in focus today as the company's Mandideep Unit II facility received Establishment Inspection Report (EIR) from the US health regulator.
The company informed exchanges that it received EIR report after the closure of the US Food and Drug Administration (USFDA) inspection of its Mandideep Unit II facility, classifying the inspection as Voluntary Action Indicated (VAI).
From the retail sector, Titan share price will be in focus today as according to a latest regulatory filing, Rakesh Jhunjhunwala and wife Rekha Jhunjhunwala have reduced their stake in the company to 5.53% in the March quarter (Q4FY20).
As of December 31, 2019, Jhunjhunwalas held 6.7% stake in the company. They together sold 10.3 million shares during the March quarter.
Foreign portfolio investors (FPIs) have also cut their stake in the company to 17.74% in Q4FY20 from 18.31% in December quarter (Q3FY20).
Gold Prices Touch New Highs
Domestic gold prices touched new highs yesterday, crossing the Rs 46,700 level per 10 gram in futures market.
On Multi Commodity Exchange (MCX), June gold futures rose as much as 1% to a new high of Rs 46,785 per 10 gram.
Earlier this week, prices had surged over 2% to Rs 46,255 per 10 gram, hitting a new high of Rs 46,385.
Tracking gold, silver prices also rose 1.4% to Rs 44,350 per kg.
In global markets, gold prices traded near seven-year highs yesterday.
Gold exchange traded funds (ETFs) also continued their uptrend. The holdings SPDR Gold Trust, the world's largest gold-backed exchange-traded fund, rose 0.8% to 1,017.59 tonnes on Tuesday.
Speaking of gold, in his latest video, Vijay Bhambwani explains why the bull market in gold may get bumpy going ahead.
You can check the same here: A Timely Warning About Gold
Rupee Hits Fresh Record Low
The Indian rupee continued its downtrend yesterday and settled at a fresh record low of 76.44 against the US dollar.
As the Coronavirus pandemic continues to haunt the global financial markets, the rupee has been hit badly.
In a recent article, we dive deeper and look at the factors behind rupee's depreciation. You can check the same here: The Sharp Fall in Indian Rupee: 6 Points to Know
We reached out to Vijay Bhambwani, editor of Weekly Cash Alerts, who is closely tracking the Indian rupee in the current scenario. Here's what he has to say...
The onset of Corona virus has not been kind to the INR.

The Rupee futures (USDINR ) opened in March at 72.36 and have closed at 76.61 on April 09 2020. That is a decline of 5.87% in 6 short weeks.

The implications of the same will be widespread. India is a net importing Country. Everything that we import will now be more expensive. Approximately two thirds of all our imports are fossil fuels. Fuels are what we call multiplier effect commodities. If fuel prices rise at the petrol pumps, everything from fruits, vegetables, grains to dairy and poultry products get expensive.

That impact will be felt at a later date. I expect the trickle down effect to start appearing in prices after the April-June quarter is over.

I have already factored in this aspect in my statistical data model and plan to identify such events to generate profitable trading opportunities for my WCA plan subscribers.
Crude Oil Witnesses 5% Fall
In other news, crude oil prices fell 5% to around US$28 a barrel yesterday. The selling pressure was due to reports suggesting persistent oil oversupply and collapsing demand due to ongoing coronavirus-related lockdowns.
The International Energy Agency (IEA) yesterday forecasted a 29 million barrel per day (bpd) dive in April oil demand to levels not seen in 25 years and said no output cut could fully offset the near-term falls facing the market.
The IEA report added to downward pressure caused by rising inventories.
Industry group the American Petroleum Institute said on Tuesday that US crude inventories rose by 13.1 million barrels.
Note that the Organization of the Petroleum Exporting Countries (OPEC), along with Russia and other producing countries - a grouping known as OPEC+ - has partnered with other oil-pumping nations like the United States for a record supply-cutting agreement.
How this development pans out remains to be seen. Meanwhile, we will keep you updated on all the news from this space.
Speaking of crude oil, in the video below, Ajit Dayal, founder of Quantum group, shares his views on the impact of the Coronavirus crisis and the oil price war on the Indian economy and the stock market.
He also talks about the market crash and how to invest your hard-earned money across various assets in these difficult times.
Tune in to find out more...
IMF Predicts Worst Downturn Since the Global Depression
As the global economy seems to be slipping into a recession due to the coronavirus outbreak, the International Monetary Fund (IMF) has predicted a GDP growth rate of 1.9% this year for India.
While this performance will be India's worst economic performance since 1991, the IMF has placed India as one among the two major countries in the world which will have a positive economic growth this year.
The other country is China, whose growth rate has been projected at 1.2% despite sizable fiscal support.
Most countries are expected to experience a fall in the growth rate this year, with United States of America at 5.9%, Japan at 5.2%, United Kingdom at 6.5%, Germany at 7%, France at 7.2%, Italy at 9.1% and Spain at 8%.
In Asia, Indonesia is expected to receive a 0.5% boost while Thailand is set to rise exponentially by 6.7%.
Several countries have been forecast to experience a slowdown in their economies such as Latin America (5.2%), Brazil (5.3%), Mexico (6.6%), emerging European countries (5.2%) and Russia (5.5%).
The Middle East and Central Asia (2.8%), Saudi Arabia (2.3%) and Iran are expected to contract, while sub-Saharan Africa (1.6%), Nigeria (3.4%) and South Africa (5.8%) are expected to grow.
IMF has projected global growth in 2021 to rebound to 5.8% on the assumption that the pandemic will fade in the second half of 2020.
India's projected growth rate for next year is 7.4%, while China's is 9.2%. USA has been predicted to grow at 4.5%, Japan at 3%.
To know what's moving the Indian stock markets today, check out the most recent share market updates here.
For information on how to pick stocks that have the potential to deliver big returns,
Read the latest Market Commentary
What else is happening in the markets today? Dig in...
Stock Market Updates
Mar 2, 2021 12:35 PM
BASF INDIA share price is trading up by 11% and its current market price is Rs 2,120. The BSE 500 is up by 0.6%. The top gainers in the BSE 500 Index are BASF INDIA (up 11.5%) and SYMPHONY (up 11.7%). The top losers are THE RAMCO CEMENTS and ESCORTS LIMITED (down 0.1%).
Mar 2, 2021 12:22 PM
MINDTREE share price is trading up by 5% and its current market price is Rs 1,715. The BSE IT is up by 1.9%. The top gainers in the BSE IT Index is MINDTREE (up 5.0%). The top losers are PERSISTENT SYSTEMS (down 0.8%) and TATA ELXSI (down 1.4%).
Mar 2, 2021 12:15 PM
INDIABULLS REAL EST share price has hit a 52-week high. It is presently trading at Rs 102. BSE 500 Index is up by 0.5% at 19,896. Within the BSE 500, INDIABULLS REAL EST (up 6.0%) and SHIPPING CORP (up 16.3%) are among the top gainers, while top losers are DEEPAK FERTILISERS and HINDUSTAN COPPER.
Mar 2, 2021 12:09 PM
JAI CORP share price is trading up by 10% and its current market price is Rs 102. The BSE METAL is up by 0.1%. The top gainers in the BSE METAL Index is JAI CORP (up 10.5%). The top losers are COAL INDIA (down 0.1%) and NALCO (down 0.3%).
Mar 2, 2021 11:11 AM
THERMAX share price has hit an all time high at Rs 1,444 (up 2.6%). The BSE CAPITAL GOODS Index is up by 1.0%. Among the top gainers in the BSE CAPITAL GOODS Index today are THERMAX (up 2.6%) and HONEYWELL AUTOMATION (up 1.4%). The top losers include SOLAR INDUSTRIES and AIA ENGINEERING (down 0.2%).
Mar 2, 2021 09:30 am
Indian share markets open higher. The BSE Sensex opened up by 481 points, while the Nifty is trading higher by 137 points.
View More Indian Share Market News
Most Popular
Feb 24, 2021
Last time the smallcap index crossed 19k a big correction followed. Here's what makes it different this time.
Feb 25, 2021
In this video, I'll show you how to get started on the path to daily trading profits.
Feb 19, 2021
In this episode, ace trader Brijesh Bhatia talks to us about the best investments of 2021, his profitable trading system, and much more.
Feb 23, 2021
An Indian company founded three decades ago in a garage caught my attention...
More