Indian Stock Market News April 19, 2018
Sensex Ends Day Marginally Higher; Tata Steel Surges 3.5%
After opening the day in green, share markets in India witnessed volatile trading activity throughout the day and ended the day in green. Sectoral indices were mixed, with stocks in the metal sector and stocks in the capital goods sector leading the gains.
At the closing bell, the BSE Sensex stood higher by 95 points (up 0.3%) and the NSE Nifty closed up by 39 points (up 0.4%). The BSE Mid Cap index ended the day up 0.7%, while the BSE Small Cap index ended the day up by 0.6%.
Asian stock markets too finished in green. As of the most recent closing prices, the Hang Seng was up by 1.4% and the Shanghai Composite was up by 0.9%. The Nikkei 225 was up by 0.2%. Meanwhile, European markets were trading on a mixed note. The FTSE 100 was up by 0.1%, The DAX, was down by 0.1% while the CAC 40 was up by 0.2%.
The rupee was trading at Rs 65.74 against the US$ in the afternoon session. Oil prices were trading at US$ 68.79 at the time of writing.
In news from stocks in the banking sector. Indusind Bank share price ended the day on a dull note after the bank declared its results for the quarter ended 31 March 2018 (Q4).
--- Advertisement ---


A Proven Way to Profit from This Market Crash

The news might tell you that it is time to panic and start selling your stocks.

But how would you feel if we told you that there is a proven way to profit from these uncertain times?

Well, we have discovered 5 Safe Stocks that could potentially profit from this market meltdown.

We are sure you are intrigued.

Click here to find out which stocks we are talking about.
------------------------------
Indusind Bank's Q4 net profit jumped over 26.7% yoy to Rs 9.53 billion backed by a stable asset quality.
Net profit for the year 2017-18 rose by a similar 26% to Rs 36.1 billion compared with Rs 28.7 billion in 2016-17.
IndusInd Bank, which is the sixth largest private sector lender, also reported a 20% increase in net interest income at Rs 200 billion in the fourth quarter.
For the whole of 2017-18, its net interest income grew 24% to Rs 749.7 billion.
Meanwhile, gross bad loans as a percentage of total loans stood at 1.17% at end-March, compared with 1.16% in the previous quarter and 0.93% a year earlier.
Indusind Bank share price ended the day down by 0.6%.
Top Performing Stocks Can Give No Returns for Years
The history of top performing stocks further emphasises the need for patience. Top performing stocks from the indices have gone through a period where there have been no returns for a long time.
In fact, the best performing stocks in the Indian market have gone through a period of two to four years without giving any return whatsoever.
Stocks like HDFC Bank known as an 'evergreen buy' had periods where investors had to wait for more than 800 days to get any return. Similarly, Indusind Bank had to wait well over 1800 days to move the ticker.
But patience has definitely paid off for such investors. Even including the 800 odd days of no return, the stock of HDFC Bank has delivered a 27% annualised return for more than a decade, while Indusind managed 40% annualised over the same period.
Moving on to news from the steel sector. Tata Steel share price was in focus today after a leading financial daily reported that the Tata Group company is likely to acquire a 75% stake in debt ridden Bhushan Steel.
Tata Steel plans to acquire three-fourths of Bhushan Steel's share capital by an equity infusion in it while lenders would also raise their stake by converting a part of the outstanding loans into stock.
The company will be paying Rs 1.8 billion to acquire 75% of the paid-up share capital by issuing 1.2 billion new shares as part of its plan to salvage the debt-laden steel company.
Tata Steel will also have room to buy an additional 45 billion at Rs 2 a piece that may take its holding to 98%. The issue of new shares will take the total share outlay to 5.3 times the existing number of scrips.
Lenders who already hold 6.5% by way of shares pledged to them by the promoters, will also add another 6.5% to their kitty by converting Rs 15 crore of loans into equity. In the event of additional purchase of shares by Tata Steel, the remaining 2% will be held between lenders, shareholders and promoters.
However, if Tata Steel chooses to not exercise its right to buy additional shares, Bhushan Steel's shareholding pattern will feature 75% to Tata Steel, 13% to lenders, 10% to public and remaining 2% to promoters.
For the quarter ending March 2018, the promoter and promoter group held 43.9% of the share capital, down from 57.82% at the end of December.
The rest was held by public whose shareholding increased from 42.18% in December to 56.1% for March. The intrinsic value of shares in a distressed asset becomes zero after the announcement of haircuts by secured lenders.
Following the news, Tata Steel share price ended the day up by 3.4%.
And here's a note from Profit Hunter:
The metal sector is trailblazing up the charts today. The Nifty metal index is up 5%. All its constituents are trading in the green. Hind copper (+12%), Hindalco (+9%), and Nalco (+9%) are the top gainers in the index.
The last time we reviewed Nalco, it had broken below the head and shoulder pattern and experienced a pullback rally to the neckline of the pattern.
The neckline usually acts as a resistance post break out. As a result, the stock slipped nearly 20% to touch a low of 61 in less than a month.
But the stock found a strong support from the horizontal support line placed at 60. It bounced up from this support and rallied nearly 48% to touch a high of 90 in today's session. It also broke above the falling trendline (blue line) indicating strength.
So given the strong momentum, can the stock make a new 52-week high? Let's wait and watch...
National Aluminum Roars 8% for the Day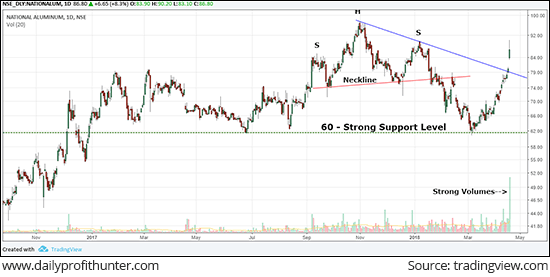 For information on how to pick stocks that have the potential to deliver big returns,
Read the latest Market Commentary
Stock Market Updates
Jan 16, 2019 05:02 PM
Here's a list of most active small-cap stocks today. It also includes information on BSE Smallcap index and the broader benchmark indices.
Jan 16, 2019 05:02 PM
Here's a list of 5 stocks that gained the most in the BSE Mid-Cap Index today. It also includes information on BSE Mid-Cap index and the broader benchmark indices.
Jan 16, 2019 03:18 PM
GUJ. STATE PETRONET share price has surged by 5% and its current market price is Rs 179. The BSE OIL & GAS is up by 0.6%. The top gainers in the BSE OIL & GAS Index is GUJ. STATE PETRONET (up 5.5%). The top losers are HPCL (down 0.5%) and OIL INDIA LTD. (down 0.7%).
Jan 16, 2019 02:50 PM
ERIS LIFESCIENCES LIMITED share price has surged by 10% and its current market price is Rs 727. The BSE HEALTHCARE is up by 0.5%. The top gainers in the BSE HEALTHCARE Index is ERIS LIFESCIENCES LIMITED (up 10.3%). The top losers are FORTIS HEALTHCARE (down 0.1%) and ABBOTT INDIA (down 0.1%).
Jan 16, 2019 02:08 PM
APL APOLLO TUBES share price has surged by 5% and its current market price is Rs 1,175. The BSE CAPITAL GOODS is up by 0.7%. The top gainers in the BSE CAPITAL GOODS Index are APL APOLLO TUBES (up 5.4%) and GRAPHITE INDIA (up 8.3%). The top losers are CARBORUNDUM UNIVERSAL and LAKSHMI MACHINE (down 0.1%).
View More Indian Share Market News
Most Popular
Jan 9, 2019
For the first time, we have recommended a bluechip stock in Smart Money Secrets.
Jan 11, 2019
The reasons that make these six stocks in Sumeet Nagar's portfolio so compelling
Jan 4, 2019
Following a super investor can certainly help build a portfolio and create wealth in the long term.
Jan 10, 2019
My first trading recommendation for 2019 is a bluechip auto stock. Find out everything about it right away.
Jan 4, 2019
The stock of HDFC Bank has continued to reward shareholders.
More