Indian Stock Market News April 20, 2018
Indian Indices End Flat; IT Sector Ends 4.8% Higher
After opening their day on a negative note, Indian share markets witnessed choppy trades and ended their session on a flat note. Barring the IT sector, most of the sectoral indices ended the day lower with realty sector and banking sector witnessing maximum selling pressure.
At the closing bell, the BSE Sensex stood lower by 12 points and the NSE Nifty closed flat. The BSE Mid Cap index ended the day down by 0.4%, while the BSE Small Cap index stood flat.
Asian financial markets slipped on Friday as a warning on smartphone demand from the world's largest contract chipmaker slugged the tech sector, while high oil prices stirred inflation fears and undermined sovereign bonds. Asian stock markets finished on a negative note as of the most recent closing prices. The Hang Seng was down 0.9% and the Nikkei was trading up by 0.1%. The Shanghai Composite stood down by 1.5%.
The rupee was trading at 66.04 to the US$ at the time of writing.
In the news from global financial markets during the week, UK inflation slowed to the weakest in a year in March.
Consumer prices rose 2.5% from a year earlier, down from 2.7% in February. Core inflation cooled to 2.3%, the lowest rate seen in a year.
The above data raised questions about how quickly the Bank of England (BoE) will increase its interest rates.
From the US, researchers at the Federal Reserve Bank of New York said that the new tariffs laid by President Donald Trump are likely to lead to a net loss in US employment, at least in the short to medium run. They noted that although it is difficult to say exactly how many jobs will be affected, given the history of protecting industries with import tariffs, the 25% steel tariff is likely to cost more jobs than it saves.
--- Advertisement ---


Our Latest Special Report That Could Keep You Safe from This Market Crash

Have you claimed your virtually free copy of our latest Special Report: The Top 5 Safe Stocks in This Market Crash, yet?

This report talks about 5 stocks that have caught research analyst Tanushree Banerjee's eye…

And have the potential to not only keep you afloat…but also profit from this market crash!

So, if you haven't claimed your copy yet…

Don't waste another second.

Click here to grab a copy…
------------------------------
Market participants also closely followed the outcome of a Joint Organization of the Petroleum Exporting Countries (OPEC) and non-OPEC ministerial monitoring committee (JMMC) meeting.
As per the news, the meeting is likely to boost compliance with the production pact and even discuss how they would like crude near US$ 100.
How this pans out remains to be seen. We will keep you updated on all the developments from this space.
Note that crude oil prices have been witnessing a rising trend of late. However, this is not good news from India's perspective.
As we wrote in one of the editions of The 5 Minute WrapUp...
Fiscal revenues are at risk. Particularly if the government is forced to consider a cut in fuel excise duties due to a rally in oil prices. In recent times, a sharp jump in excise collections has helped indirect tax collections. Any risk to revenues and subsequent threat to the fiscal deficit target at 3.2% of GDP would require tighter spending cuts.

Secondly, the impact on inflation needs to be monitored. This narrowing the central bank's scope for further rate cuts.

Lastly, low crude prices were a positive growth impetus through higher discretionary incomes for households and lower input costs for manufacturers and farmers. Part of this benefit is likely to be eroded as retail fuel costs rise. As for corporations, expansion in gross margins caused by falling commodity prices is also likely to wane, pressurising profitability.
You can read the entire article here.
Back home, state-run oil companies have raised petrol and diesel prices only marginally this week despite higher international rates anticipating that political considerations may bring back price controls in fuel prices. This has triggered a fall in shares of the big refiners.
TCS share price witnessed buying interest today as the company reported a 4.5% year-on-year (yoy) rise in consolidated net profit at Rs 69 billion for the March quarter. The IT services, consulting and business solutions firm had reported Rs 66.1 billion profit in the same quarter last year. It had reported negative profit growth in the previous three quarters of the financial year.
Eveready Industries share price witnessed selling pressure today after the Competition Commission of India (CCI) imposed a fine of Rs 2.15 billion on Eveready, Indo National, industry grouping AIDCM and their officials for cartelisation in the pricing of zinc-carbon dry cell batteries.
In the news from hotel sector, stock market participants are betting on hotel companies ahead of the summer holiday season as growing demand and supply constraints have pushed occupancy to its highest in at least eight years.
Note that there is a very interesting trend happening in the hotel industry right now. It has caused the recent rally in hotel stocks. Most of these stocks are making life-time highs.
To dig a little deeper, we pulled out data on hotel occupancy across the country.
Why Are Hotel Stocks Rallying?
According to an HVS report, the hotel industry's occupancy rate was at 65% in the year ended March 2017. That was the highest since 2008 and was seen on the back of a decline in supply of rooms.
The occupancy rate (number of rooms utilised/ the total rooms available), peaked in 2007-08 and started declining.
The declining occupancy led to the poor health of hotel industry. Lower occupancy lead to lower profitability.
However, over the last few years there hasn't been much addition capacity and the occupancy rate now is inching towards its previous peak of 2007-08.
The current rally in the stocks is on the hope that the occupancy levels will inch up further and the hotel industry will start making good profits.
And here's a note from Profit Hunter:
IT stocks are on fire today. The Nifty IT index is up 5%. The top five gainers in the Nifty 50 index are from the IT sector - TCS (+7%), Tech M (+4.65%), INFY (+4.15%), HCL Tech (+3.80%), and Wipro (+2%).
TCS reported its Q4FY18 results yesterday after the market hours. And today, the stock is up 6.5%. It seems like traders are quite happy with the results.
The last time we reviewed TCS, it had corrected more than 12% from its life-time high, as we had expected it to.
But we observed the stock approaching its crucial support level of 2,780. This level which had acted as a strong resistance on the way up was expected to act as a strong support.
As a result, the stock touched a low of 2,781 and reversed up. It is now up nearly 22% from the 2,780 support level and it had touched a fresh life-time high of 3,407 in today's session. The volumes for the day were also strong.
But the rally from 2,780 to 3,407 was almost vertical. So can the stock maintain the bullish momentum or is it due for a correction? Let's keep a track of it...
TCS Soars 7% for the Day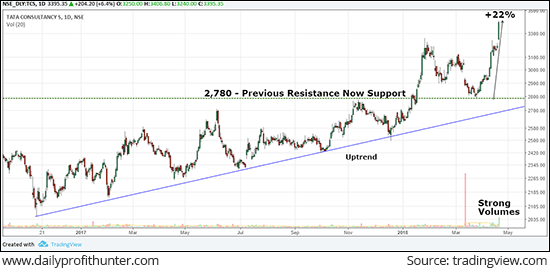 For information on how to pick stocks that have the potential to deliver big returns,
Read the latest Market Commentary
Stock Market Updates
Jan 18, 2019 Closing
The BSE Sensex ended the day up by 13 points, while the NSE Nifty stood flat.
Jan 18, 2019 12:30 pm
The BSE Sensex is trading down by 81 points, while the NSE Nifty is trading down by 26 points.
Jan 18, 2019 11:24 AM
SUN TV share price has plunged by 5% and its current market price is Rs 568. The BSE 500 is down by 0.3%. The top gainers in the BSE 500 Index are SREI INFRA FINANCE (up 3.7%) and HIND. CONSTRUCTION (up 3.6%). The top losers are SUN TV (down 5.2%) and BHARTI AIRTEL (down 5.8%).
Jan 18, 2019 11:16 AM
VODAFONE IDEA share price has plunged by 5% and its current market price is Rs 37. The BSE 500 is down by 0.2%. The top gainers in the BSE 500 Index are SREI INFRA FINANCE (up 4.2%) and HIND. CONSTRUCTION (up 4.1%). The top losers are VODAFONE IDEA (down 5.2%) and BHARTI AIRTEL (down 5.6%).
Jan 18, 2019 11:10 AM
BHARTI AIRTEL share price has plunged by 5% and its current market price is Rs 332. The BSE 500 is down by 0.2%. The top gainers in the BSE 500 Index are SREI INFRA FINANCE (up 4.2%) and HIND. CONSTRUCTION (up 4.1%). The top losers are BHARTI AIRTEL (down 5.1%) and HSIL LTD (down 5.9%).
Jan 18, 2019 10:54 AM
HIND. CONSTRUCTION share price has surged by 7% and its current market price is Rs 14. The BSE REALTY is down by 0.0%. The top gainers in the BSE REALTY Index is HIND. CONSTRUCTION (up 6.6%). The top losers are HOUSING DEV. INFRA (down 0.4%) and INDIABULLS REAL EST (down 0.5%).
View More Indian Share Market News
Most Popular
Jan 9, 2019
For the first time, we have recommended a bluechip stock in Smart Money Secrets.
Jan 11, 2019
The reasons that make these six stocks in Sumeet Nagar's portfolio so compelling
Jan 10, 2019
For the first time ever, a majority of Indian households, will start to benefit from stock market wealth.
Jan 10, 2019
My first trading recommendation for 2019 is a bluechip auto stock. Find out everything about it right away.
Jan 7, 2019
Following a super investor can certainly help build a portfolio that can create significant wealth in the long term.
More