Indian Stock Market News April 20, 2018
Sensex Trades in Red; IT Stocks Top Gainers
After opening the day in red, share markets in India witnessed choppy trading activity throughout the day and are presently below the dotted line. Sectoral indices are trading mixed with stocks in the PSU sector and stocks in the realty sector trading in red. While stocks in the consumer durables sector are trading in green.
The BSE Sensex is down by 55 points (down 0.2%) and the NSE Nifty is trading down by 20 points (down 0.2%). Meanwhile, the BSE Mid Cap index is trading down by 0.5%, while the BSE Small Cap index is trading down by 0.1%. The rupee is trading at 66.02 to the US$.
Among the most active stocks in the BSE Sensex today are TCS (up 6.3%), Infosys (up 3.9%) and Wipro (up 2%). Among the BSE 500 stocks, the most active stocks include Chambal Fertilisers (up 6.7%), TCS (up 6.3%) and Sterlite Tech (up 6%).
While this should do for the wrap on active stocks, we notice that many of you are tracking low priced shares as well. Low priced shares are not necessarily cheap or attractive. But then, there's a lot of interest in them.
Go ahead, have a look at the most active ones here:
NSE Rs 10 to 20 most active stocks
BSE Rs 10 to 20 most active stocks
NSE above Rs 20 most active stocks
BSE above Rs 20 most active stocks
In news from stocks in the telecom sector. According to a leading financial daily, The Aditya Birla Group plans to sell a minority stake of anywhere between 15% and 20% in its Idea Payments Bank.
--- Advertisement ---


Our Latest Special Report That Could Keep You Safe from This Market Crash

Have you claimed your virtually free copy of our latest Special Report: The Top 5 Safe Stocks in This Market Crash, yet?

This report talks about 5 stocks that have caught research analyst Tanushree Banerjee's eye…

And have the potential to not only keep you afloat…but also profit from this market crash!

So, if you haven't claimed your copy yet…

Don't waste another second.

Click here to grab a copy…
------------------------------
The group plans to raise over Rs 2 billion, valuing the two month old payments bank at Rs 10 billion.
The payments bank, in which group companies Idea Cellular and Aditya Birla Nuvo own 51% and 49%, respectively, will use the money to expand its operations. India's second-largest mobile phone-owned payments bank has been facing headwinds in setting up and launching operations, as it is facing tough competition from small finance banks.
Idea's payments bank, which is the latest entrant in this space, started its operations in February 2018, after the RBI issued licenses to 12 firms in 2015.
With the objective of deepening financial inclusion, RBI, in 2015 kicked off an era of differentiated banking by allowing SFBs (small finance banks) and PBs (payments banks) to start services. A total of 21 entities were given in-principle nod last year, including 12 for payments banks.
Payments banks can accept deposits from individuals and small businesses up to a maximum of Rs 100,000 per account.
Payments banks aren't allowed to lend, but can take deposits, facilitate remittances and dispense payments to recipients. The RBI had devised payments banks and small finance banks as tools to take formal banking to the unbanked.
For telecom companies like Idea and Bharti Airtel, this offered a new business opportunity as they already have extensive networks across the country and a huge potential customer base for the banking services in their existing users.
Telecom Sector: A decade of Underperformance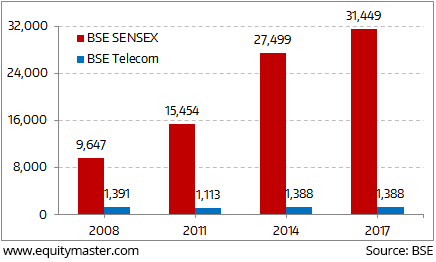 However, the whole telecom business has been an underwhelming story so far. While the telecom subscriber base has increased from 300 million in 2008 to 1.2 billion in 2017, investors have little to cheer. The BSE Sensex has gone up 3.25 times in nine years, but the BSE Telecom Index has not moved an inch from its levels of 2008.
Telecom companies are straddled with high debt, intense competition, and lack of pricing power. High spectrum costs and regulatory issues have hampered the sector. While consumers have benefited from low costs and new players fighting for their share, investors have suffered.
With the entry of Reliance Jio, the competition has intensified further. Reliance Jio's low cost offerings and strategy of capturing market share will further dent the sector. The sector has been a classic 'valuet trap'. While it always looks cheap compared to other sectors, it has failed to provide any reasonable returns. We also believe the situation is unlikely to change in the near future. For an investor, it's important to differentiate between 'value' and 'value traps'.
Moving on to news about the economy. Minutes from the Reserve Bank of India's (RBIs) monetary policy committee meeting show that the central banker is leaning towards a rate hike.
At the April 4-5 policy meeting, RBI Deputy Governor Viral Acharya said there was a revival in investment activity and an improvement in capacity utilization, which boded well for the economy. As a result, he was switching from a neutral stance to shift decisively to vote for a beginning of withdrawal of accommodation in the next monetary policy meeting in June.
Minutes of the policy meeting this month showed most members of India's monetary policy committee are optimistic that Asia's third-largest economy will rebound this year with the output gap closing, a factor that is likely to boost inflation in coming months.
The RBI is forecasting inflation for April to September at 4.7-5%, slower than 5.1-5.6% made just two months back. It expects the second half inflation to ease to 4.4%, having earlier estimated it at 4.5-4.6%.
The central bank's goal is to keep headline inflation close to 4% over the medium term.
Rate hike or not, we do not attempt to predict how and when macroeconomic developments will unfold. Instead, we focus on the fundamentals and the underlying business strength of companies. The ValuePro team is always on the lookout for all-weather stocks whose fortunes are not tied to economic cycles.
For information on how to pick stocks that have the potential to deliver big returns,
Read the latest Market Commentary
Stock Market Updates
May 25, 2018 09:26 AM
TCS share price has hit an all time high at Rs 3,668 (up 1.59%). The BSE IT Index is up by 1.27%. Among the top gainers in the BSE IT Index today are TCS (up 1.59%) and ORACLE FINANCIAL SERVICES (up 1.36%). The top losers include NIIT LTD (down 0.41%) and ECLERX SERVICES (down 3.02%).
May 25, 2018 Pre-Open
Key Earnings Results, Oil Prices, US China Trade Worries and Other Top Cues in Action Today.
View More Indian Share Market News
Most Popular
May 16, 2018
The markets seem confused. They're neither going up nor down. What should investors do? Consider Safe Stocks. Here's the top 5 Safe Stocks in the market today.
May 17, 2018
A mutual fund regulation could cause small cap prices to tank - If you haven't been paying attention to your small caps - now is the time to catch the opportunities that start pouring in.
May 17, 2018
Home loans continue to grow, despite falling sales. What explains this phenomenon?
May 22, 2018
2017 was a great year for the market. You were rewarded for taking excessive risk. But Ajit Dayal believes 2018 will be different. You will be rewarded for doing the opposite. Read on to know more...
May 17, 2018
The stock of Vakrangee helps us understand why it's a bad idea to chase high-flying stocks.
More