Indian Stock Market News April 23, 2019
Sensex Ends Marginally Lower; Banking and Automobile Stocks Witness Selling
After opening the day on a strong note, Indian share markets witnessed selling pressure during closing hours and ended their trading session marginally lower. Sectoral indices ended on a mixed note with telecom stocks and automobile stocks witnessing maximum selling pressure while consumer durable stocks and energy stocks witnessed buying interest.
At the closing bell, the BSE Sensex stood lower by 80 points (down 0.2%) and the NSE Nifty closed down by 19 points (down 0.2%). The BSE Mid Cap index ended the day up 0.1% and the BSE Small Cap index ended the day down by 0.1%.
Asian stock markets finished on a mixed note. As of the most recent closing prices, the Hang Seng was down 0.1% and the Shanghai Composite was down by 0.5%. The Nikkei 225 was up 0.2%.
Speaking of markets, the mood in the Indian stock market here changes in a matter of months.
Till February 2019, mutual fund inflows were on a steady decline.
And that's when Tanushree had asked her readers to stay put and not give into the panic.
Holding and buying quality businesses during times of extreme pessimism goes a long way in creating long-term wealth.
The mutual fund data from the March 2019 certainly proves this point.
Rising Mutual Fund Inflows - Is the Market Correction Over?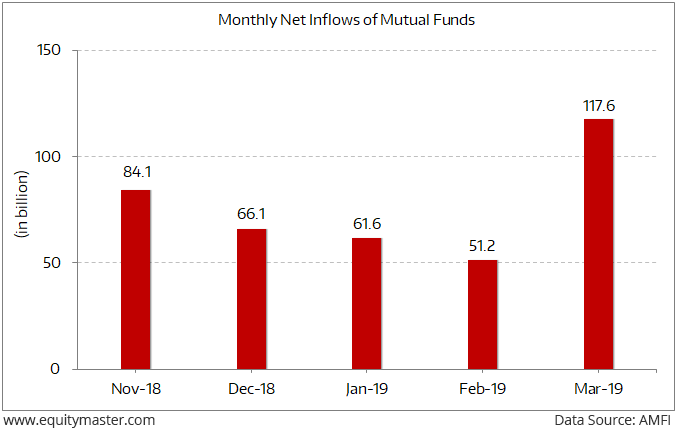 As can be seen from the chart above, the net inflows into Equity fund in March 2019 (Rs 117 billion) are its highest levels since October 2018.
The reason could be people believing the Modi government will return to power.
Here's what Tanushree wrote about this in one of the recent editions of The 5 Minute WrapUp...
While we recommended to not give into panic in February 2019, this time its euphoria we're recommending against.

Don't fall into the greed trap.

Hold on to your safe stocks and don't go looking for overvalued stocks. Maintaining your calm when everyone is losing theirs will help you build long-term wealth.
In the news from the currency space, the rupee was trading at 69.80 against the US$.
The domestic currency continued to weaken against the US dollar, extending its fall to the fourth day out of five as oil prices extended their rally.
Global oil prices jumped to six-month highs as the US tightened sanctions on Iran. Brent crude oil futures rose above US$ 74.5 per barrel, their highest since November, after Washington said it was ending all sanctions waivers for countries buying Iranian oil.
So far this year, global oil prices are up around 40% as OPEC and its partners cut output to curtail a global glut.
Moving on, market participants were tracking ACC share price, Indiabulls Real Estate share price, and ICICI Securities share price as these companies announced their Q4FY19 results today.
You can also read our recently released Q4FY19 results: HDFC Bank, Mahindra Lifespace, Reliance Industries.
In the news from the banking sector, State bank of India (SBI) has launched 'SBI green car loan' (electric vehicle) scheme which provide a discounted loan for buyers of electric vehicles pricing 20 basis points lower than its existing auto loans.
Reportedly, the scheme would act as a change agent in the auto loan segment and encourage customers to switch to electric vehicles which can improve overall air quality and lower carbon emissions.
The scheme comes with the longest repayment period of up to eight years is a strategic inclusion to the bank's auto loan segment offered with zero processing fee for the first six months of the launch.
In other news, Syndicate Bank and BEML share price have signed a memorandum of understanding (MoU) for financing Earth Moving & Construction Equipment manufactured by BEML.
Under the MoU, BEML will nominate the lender as a preferred financer for financing its customers. The customers under the tie-up arrangement will be provided loans in the range of Rs 2 million to Rs 30 million and preferential pricing by Syndicate Bank.
SBI share price and Syndicate bank share price ended the day down by 1.2% & 1.4%, respectively.
Moving on to the news from the pharma sector, Suven Life Sciences share price was in focus today.
Reports state that the company has completed the purchase of the assets of Rising Pharmaceuticals and Rising's subsidiaries to Shore Suven Pharma, Inc.
This brings closure of the purchase process for the assets of Rising Pharmaceuticals and paves the way for a seamless transition of the portfolio, customer programs and manufacturing and drug development relationships to Shore Suven Pharma Inc.
Last week, the company received approval from a US bankruptcy court to buy assets of Rising Pharmaceuticals through its joint venture partner Shore Suven Pharma Inc.
The company has completed a 'stalking horse agreement' as mandated by a bankruptcy court to buy the assets of Rising Pharmaceuticals. A stalking horse agreement refers to an initial bid for a bankrupt company's assets and sets the lower limit in a bankruptcy auction.
Speaking of pharma sector, note that the BSE Healthcare Index has been on a roller coaster ride in the past few years. The period from 2012 to 2015 saw the index go up more than three times.
We believe that pharma companies that invest in creating a pipeline of complex generics or building competencies in alternative dosage forms are better equipped to tackle the changing dynamics in the US generics market as well as in the overall industry.
For information on how to pick stocks that have the potential to deliver big returns,
Read the latest Market Commentary
Stock Market Updates
May 22, 2019 02:12 PM
INDUSIND BANK share price has surged by 5% and its current market price is Rs 1,536. The BSE BANKEX is up by 1.2%. The top gainers in the BSE BANKEX Index is INDUSIND BANK (up 5.3%). The top losers are YES BANK (down 1.2%) and PNB (down 1.6%).
May 22, 2019 02:06 PM
RELIANCE POWER share price has surged by 5% and its current market price is Rs 7. The BSE POWER is up by 0.4%. The top gainer in the BSE POWER Index is RELIANCE POWER (up 5.2%). The top losers are TORRENT POWER LTD (down 0.7%) and POWER GRID (down 0.8%).
May 22, 2019 01:24 PM
BHARAT ELECTRONICS share price has surged by 5% and its current market price is Rs 102. The BSE CAPITAL GOODS is up by 0.7%. The top gainers in the BSE CAPITAL GOODS Index is BHARAT ELECTRONICS (up 5.2%). The top losers are FINOLEX CABLES and V GUARD INDUSTRIES (down 0.1%).
May 22, 2019 01:16 PM
NAVA BHARAT VENTURES share price has surged by 12% and its current market price is Rs 105. The BSE 500 is up by 0.1%. The top gainers in the BSE 500 Index are NAVA BHARAT VENTURES (up 11.8%) and TIMKEN INDIA (up 20.0%). The top losers are BAJAJ HOLDINGS & INVESTMENT and SHOPPERS STOP .
May 22, 2019 01:16 PM
CAPLIN POINT share price has surged by 6% and its current market price is Rs 390. The BSE HEALTHCARE is up by 0.3%. The top gainers in the BSE HEALTHCARE Index are CAPLIN POINT (up 6.1%) and J.B.CHEMICALS (up 5.5%). The top losers are GLENMARK PHARMA and SUVEN LIFESCIENCES (down 0.4%).
View More Indian Share Market News
Most Popular
May 16, 2019
Tanushree Banerjee explains everything you need to know about the Rebirth of India and Sensex 100,000.
May 10, 2019
The one critical element that has made Amazon a force to reckon with...
May 14, 2019
As markets continue to rattle amid earning season, upcoming elections, volatile crude price and US China trade war, it's a great idea to add some stability to your portfolio by adding dividend stocks.
May 17, 2019
A structurally strong Indian Steel Industry will help India achieve 8%+ GDP growth in the coming years.
May 14, 2019
These companies will help the Sensex more than double from current levels.
More