Indian Stock Market News April 25, 2019
Indian Share Markets Open Flat; Rupee Hits 70-Mark Again
Asian stock markets are lower today as Chinese and Hong Kong shares fall. The Shanghai Composite is off 0.5% while the Hang Seng is flat. The Nikkei 225 is trading up by 0.4%. Meanwhile, The S&P 500 slipped on Wednesday after ending the previous session with a record and the Nasdaq failed to hold all-time highs reached earlier in the day while investors waited for more earnings reports.
Back home, India share markets opened on a flat note. The BSE Sensex is trading down by 32 points while the NSE Nifty is trading down by 6 points. Both, the BSE Mid Cap index and BSE Small Cap index opened up by 0.1%.
Except telecom and IT stocks, all sectoral indices have opened the day in green with power stocks and bank stocks leading the gainers.
The rupee is currently trading at 69.95 against the US$.
The broad-based dollar rally continued to hammer the rupee, indicating that the local currency could face further downward pressure.
The rupee closed at 69.87 a dollar on Wednesday, down from its previous close of 69.62.
A day after the successful dollar-rupee swap auction, the second in as many months, the rupee is looking a tad fragile again.
The rising crude and the subsequent fear of inflation creeping back have cast a shadow on the rupee.
Through the auction, Reserve Bank of India (RBI) had offered to buy US$5 billion from banks to improve rupee liquidity during the election season but received an overwhelming response with bids worth US$18.7 billion.
The spurt in crude price has left the rupee on a roller-coaster. On Wednesday, it slipped further to 69.98 a dollar, but regained some lost ground by the close. Brent crude futures dropped a little but are still hovering over US$74 a barrel.
Crude oil prices for spot delivery have already hit a six-month high after the US said it would end all exemptions for sanctions against Iran, asking countries such as India and China to halt oil imports from Tehran from May or face punitive action from Washington.
Reportedly, any further increase in crude oil prices will put pressure on India's exchequer. A US$10 a barrel increase in oil prices impacts India's current account deficit by around US$15 billion (50 basis points of GDP). That will, in turn, put more pressure on the rupee.
Notably, crude oil prices have quietly creeped up.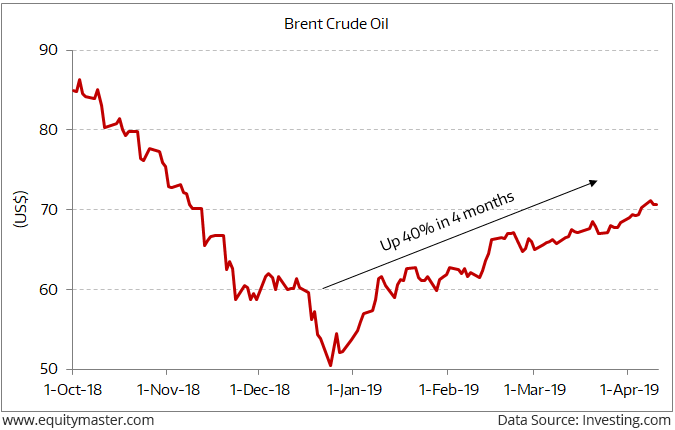 Oil prices jumped as much as 3.2% to their highest level since late 2018.
As you know, rising crude oil prices have a big impact on the country's economy as India imports over 70% of its energy needs.
Rise in crude oil increases input costs for dependent firms. It also means rising inflation. Rising inflation means rising interest rates.
It also puts pressure on the government to cut excise duty, thereby impacting its revenues. We have already seen that happening.
Research Analyst, Richa Agarwal believes that this has the potential to bring down sentiments in the domestic markets. She further believes that, if oil prices continue their upward march in a tight global environment, a broader correction in the sentiment fueled domestic market cannot be ruled out.
Now how this pans out going forward remains to be seen.
Moving on to the news from pharma sector. As per an article in a leading financial daily, IPCA Laboratories has entered into an agreement to acquire Ramdev Chemical for Rs 1.1 billion (US$15.5 million) in a cash deal aimed at growing its active pharmaceutical ingredients (API) business.
Palghar-based Ramdev Chemical is engaged in the business of manufacturing and marketing of advanced drug intermediates, fine chemicals and custom synthesis molecules. Incorporated in 1999, Ramdev Chemical exports its products to countries including the US, UK, Japan, Germany and Canada.
IPCA said that the buyout will boost its products basket with the possibility of forward-integrating them with its dosage formulations business.
Ipca Labs manufactures branded and generic formulations, and bulk drugs. Its investors include private equity firm ChrysCapital and multi-stage investor SAIF Partners.
The six-decade-old company had last October acquired an 80% stake in US drug marketing company Bayshore Pharmaceuticals LLC for US$10.2 million (Rs 750 million) in cash to commercialize its registered generic drugs in the US.
Earlier in the year, it had bought American pharmaceutical company Pisgah Labs for US$9.7 million.
In 2015, the company had acquired a 19% stake in Hyderabad-headquartered Krebs Biochemicals & Industries Ltd. The year before, the company had acquired a manufacturing plant in Indore from Alpa Labs for Rs 717.1 million (US$12 million at the time).
As per the reports, ChrysCapital had first bought a stake in IPCA in 2013. It increased its stake in 2015.
To know more about the company, you can access to IPCA's Q3FY19 result analysis and IPCA's Stock Analysis on our website.
IPCA Labs share price opened the day up by 0.1%.
And to know what's moving the Indian stock markets today, check out the most recent share market updates here.
For information on how to pick stocks that have the potential to deliver big returns,
Read the latest Market Commentary
Stock Market Updates
May 24, 2019 03:34 PM
ICICI BANK share price has hit an all time high at Rs 434 (up 5.2%). The BSE BANKEX Index is up by 2.7%. Among the top gainers in the BSE BANKEX Index today are ICICI BANK (up 5.2%) and HDFC BANK (up 1.4%).
May 24, 2019 03:34 PM
VENKYS (I) LIMITED share price has surged by 10% and its current market price is Rs 1,809. The BSE 500 is up by 1.8%. The top gainers in the BSE 500 Index are VENKYS (I) LIMITED (up 10.4%) and HEG (up 11.2%). The top losers are TCS (down 0.1%) and TORRENT POWER LTD (down 0.1%).
May 24, 2019 03:32 PM
KNR CONSTRUCTIONS share price has surged by 5% and its current market price is Rs 275. The BSE REALTY is up by 4.1%. The top gainers in the BSE REALTY Index are KNR CONSTRUCTIONS (up 5.3%) and DLF (up 6.2%).
May 24, 2019 03:24 PM
PNB share price has surged by 6% and its current market price is Rs 88. The BSE BANKEX is up by 2.8%. The top gainers in the BSE BANKEX Index are PNB (up 5.6%) and ICICI BANK (up 5.3%).
May 24, 2019 03:22 PM
TAKE SOLUTIONS share price has surged by 5% and its current market price is Rs 147. The BSE IT is up by 0.2%. The top gainers in the BSE IT Index are TAKE SOLUTIONS (up 5.2%) and INTELLECT DESIGN (up 5.9%). The top losers are ORACLE FINANCIAL (down 0.1%) and TCS (down 0.3%).
May 24, 2019 12:30 pm
The BSE Sensex is trading up by 343 points, while the NSE Nifty is trading up by 101 points.
View More Indian Share Market News
Most Popular
May 16, 2019
Tanushree Banerjee explains everything you need to know about the Rebirth of India and Sensex 100,000.
May 14, 2019
As markets continue to rattle amid earning season, upcoming elections, volatile crude price and US China trade war, it's a great idea to add some stability to your portfolio by adding dividend stocks.
May 17, 2019
A structurally strong Indian Steel Industry will help India achieve 8%+ GDP growth in the coming years.
May 17, 2019
Despite the commodity nature of their businesses, these two stocks have rewarded shareholders well.
May 14, 2019
These companies will help the Sensex more than double from current levels.
More