Indian Stock Market News April 26, 2019
Sensex Opens in Green; Tata Steel and Axis Bank Top Gainers
Asian stock markets are lower today as Japanese and Hong Kong shares fall. The Nikkei 225 is off 0.7% while the Hang Seng is down 0.1%. The Shanghai Composite is trading down by 0.6%. Meanwhile, the S&P 500 closed just barely lower on Thursday, as a dive in industrial stocks and concerns about slowing global growth eclipsed gains in Facebook and Microsoft.
Back home, India share markets opened on a positive note. The BSE Sensex is trading up by 114 points while the NSE Nifty is trading up by 50 points. Both, the BSE Mid Cap index and BSE Small Cap index opened up by 0.2%.
Except consumer durables and automobile stocks, all sectoral indices have opened the day in green with metal stocks and telecom stocks leading the gainers.
The rupee is currently trading at 70.13 against the US$.
With the elections fast approaching, what can market participants look forward to now?
Note that stock markets have remained volatile in the pre-election period.
It has certainly turned out that way again.
Good Times Ahead for Indian Stock Markets?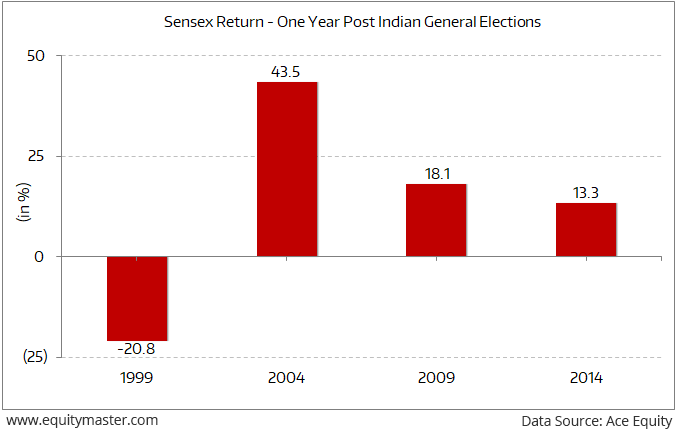 It started with the long-term capital gains tax.
Then corporate governance issues at various companies followed.
Then we had the IL&FS impact.
All this has ensured a rough ride for Indian investors.
Now with Indo-Pak tensions escalating, volatility can rise even further.
History of the past few elections paints a rosy picture.
Despite governments changing hands in 2004 and 2014, the Sensex gave returns of 44% and 13% in a year respectively.
Even in 2009, when the same government retained power, Sensex was up by 18% in a year.
So, do you think there are good times ahead for Indian stock markets? We will keep you updated on the developments.
Meanwhile, look out for the stocks that will rise fast when the tide of the market turns up.
In the news from the steel sector. Tata Steel share price will be in focus after it posted an 84% drop in fiscal fourth quarter consolidated net profit mainly because the year-earlier profit was boosted by a one-time gain.
Tata Steel's consolidated net profit figure for Q4 FY19 is not directly comparable to Q4 FY18 as it does not include NATSteel Holding and Tata Steel Thailand as they are classified as Asset Held for Sales.
Net profit in the quarter ended 31 March fell to Rs 23 billion, from Rs 146.9 billion a year earlier. Consolidated net profit for FY19 declined 49% to Rs 91 billion.
Tata Steel had a one-time exceptional gain of Rs 113.8 billion in Q4 FY18 due to restructuring of a UK pension scheme, which boosted profit in the year-earlier period.
Consolidated revenue climbed 25% in the March quarter to Rs 424.2 billion, from Rs 337.1 billion a year earlier. Consolidated revenue for FY19 increased 27% to about Rs 1.6 trillion from Rs 1.2 trillion a year earlier.
In FY19, the company's revenue from Indian operations increased by 47% year-on-year to Rs 889.9 billion, driven by higher volumes and better realizations, while the adjusted Ebitda for the year increased by 56% y-o-y to Rs 238.8 billion. Ebitda margin stood at 26.8% and adjusted Ebitda per tonne was at Rs 14,687. Ebitda is earnings before interest, tax, depreciation and amortization.
Reportedly, the boards of both Tata Steel and Tata Steel BSL (Bamnipal Steel), formerly Bhushan Steel, have proposed a merger.
Last May, Tata Steel acquired bankrupt Bhushan Steel for Rs 352 billion.
FY19 consolidated steel production, as well as deliveries, rose 17% year-on-year to 27.11 million tonnes and 26.8 million tonnes, respectively. Local production alone surged 35% year-on-year to 16.81 million tonnes, while deliveries grew 33% year-on-year to 16.26 million tonnes following the acquisition of Bhushan Steel and ramping up of capacity at the Kalinganagar plant.
Sales were driven by industrial products which grew 42% year-on-year, while branded and retail products grew 30%.
March quarter production was up 26% from the year-ago period to 7.21 million tonnes.
Moving on to the news from pharma sector. Biocon reported a 64% jump in consolidated net profit to Rs 2.1 billion for the fourth quarter ended March 2019, mainly on account of robust growth in biologics and research services segments.
The company had posted a net profit of Rs 1.3 billion for the corresponding period of the previous fiscal.
Consolidated total income of the company rose to Rs 15.6 billion for the March quarter. It was Rs 12.4 billion for the same period a year ago.
For the fiscal year ended March 2019, the company's net profit grew over two-fold to Rs 9.1 billion as against Rs 3.7 billion earlier.
Consolidated total income for the last fiscal year stood at Rs 56.6 billion. It was Rs 43.4 billion in the previous financial year.
To know more about the company, you can access to Biocon's Q3FY19 result analysis and Biocon's Stock Analysis on our website.
Biocon share price opened the day up by 0.1%.
And to know what's moving the Indian stock markets today, check out the most recent share market updates here.
For information on how to pick stocks that have the potential to deliver big returns,
Read the latest Market Commentary
Stock Market Updates
May 22, 2019 02:12 PM
INDUSIND BANK share price has surged by 5% and its current market price is Rs 1,536. The BSE BANKEX is up by 1.2%. The top gainers in the BSE BANKEX Index is INDUSIND BANK (up 5.3%). The top losers are YES BANK (down 1.2%) and PNB (down 1.6%).
May 22, 2019 02:06 PM
RELIANCE POWER share price has surged by 5% and its current market price is Rs 7. The BSE POWER is up by 0.4%. The top gainer in the BSE POWER Index is RELIANCE POWER (up 5.2%). The top losers are TORRENT POWER LTD (down 0.7%) and POWER GRID (down 0.8%).
May 22, 2019 01:24 PM
BHARAT ELECTRONICS share price has surged by 5% and its current market price is Rs 102. The BSE CAPITAL GOODS is up by 0.7%. The top gainers in the BSE CAPITAL GOODS Index is BHARAT ELECTRONICS (up 5.2%). The top losers are FINOLEX CABLES and V GUARD INDUSTRIES (down 0.1%).
May 22, 2019 01:16 PM
NAVA BHARAT VENTURES share price has surged by 12% and its current market price is Rs 105. The BSE 500 is up by 0.1%. The top gainers in the BSE 500 Index are NAVA BHARAT VENTURES (up 11.8%) and TIMKEN INDIA (up 20.0%). The top losers are BAJAJ HOLDINGS & INVESTMENT and SHOPPERS STOP .
May 22, 2019 01:16 PM
CAPLIN POINT share price has surged by 6% and its current market price is Rs 390. The BSE HEALTHCARE is up by 0.3%. The top gainers in the BSE HEALTHCARE Index are CAPLIN POINT (up 6.1%) and J.B.CHEMICALS (up 5.5%). The top losers are GLENMARK PHARMA and SUVEN LIFESCIENCES (down 0.4%).
View More Indian Share Market News
Most Popular
May 16, 2019
Tanushree Banerjee explains everything you need to know about the Rebirth of India and Sensex 100,000.
May 10, 2019
The one critical element that has made Amazon a force to reckon with...
May 14, 2019
As markets continue to rattle amid earning season, upcoming elections, volatile crude price and US China trade war, it's a great idea to add some stability to your portfolio by adding dividend stocks.
May 17, 2019
A structurally strong Indian Steel Industry will help India achieve 8%+ GDP growth in the coming years.
May 14, 2019
These companies will help the Sensex more than double from current levels.
More