Indian Stock Market News May 25, 2018
Sensex Opens Firm; IT & Power Stocks Lead
Asian share markets are lower today as Japanese and Hong Kong shares fall. The Nikkei 225 is off 0.1% while the Hang Seng is down 0.4%. The Shanghai Composite is trading down by 0.3%. US stocks closed lower Thursday after President Donald Trump announced that the highly-anticipated summit next month with North Korea was cancelled.
Back home, India share markets opened the day on a positive note. The BSE Sensex is trading up by 125 points while the NSE Nifty is trading up by 35 points. The BSE Mid Cap index and BSE Small Cap index opened the day up by 0.3% & 0.2% respectively.
Barring FMCG stocks, healthcare stocks and consumer durables stocks, all sectoral indices have opened the day in green with information technology stocks and power stocks witnessing maximum buying interest. The rupee is trading at 68.39 to the US$.
GAIL share price surged 4% in the morning trade as investors cheered a four-fold jump in its profits for the March quarter. The state gas utility major reported a net profit of Rs 10.2, up 293% from Rs 2.6 billion in the same period of last fiscal.
Telecom stocks opened the day on a mixed note with Bharti Airtel & Idea Cellular leading the gainers. As per an article in a leading financial daily, the telecom department (DoT) cleared Idea Cellular's sale of nearly 9,000 standalone towers to a local arm of American Tower Corp (ATC) for Rs 40 billion.
This marks the conclusion of the US tower company's two-stage buyout of Vodafone India and Idea's near 20,000-odd combined standalone towers for Rs 78.5 billion. Last month, the government had cleared Vodafone India's sale of its 10,926 captive towers to ATC for Rs 38.5 billion.
--- Advertisement ---


Something Like This May Never Happen Again!

Imagine an opportunity where multiple high-quality small caps become affordable at the same time.

Yes! An unexpected and sudden ruling by the market regulatory body is likely to open up an unexpected chance to potentially profit BIG from solid small caps for regular investors.

But this opportunity could last for a very short time only. So hurry!

Click here for full details on this time-sensitive opportunity
------------------------------
India's third-largest telco, Idea, and the second-ranked Vodafone India, which are combining to form the country's biggest phone company by revenue and subscribers, are expected to close their merger next month.
Meanwhile, acquisition of Vodafone and Idea's captive towers will boost ATC's towers portfolio in India to nearly 80,000, taking it closer to market leader Indus Towers and Bharti Infratel who own over 1,23,000 and 91,000 towers, respectively.
Last November, Vodafone India and Idea had announced plans to sell their respective standalone towers to a local ATC arm for Rs 78.5 billion (US$1.2 billion) in cash, in a move aimed at paring debt in the run of their mega merger.
Vodafone India and Idea have also said that on conclusion of their merger, some 6,300 tenancies of both carriers co-located on the towers being sold to ATC would get converted into single tenancies over two years without the payment of exit penalties.
Idea Cellular share price opened the day up by 1%.
Speaking of difficult businesses, the whole telecom business has been an underwhelming story so far. While the telecom subscriber base has increased from 300 million in 2008 to 1.2 billion in 2017, investors have little to cheer.
The BSE Sensex has gone up 3.25 times in nine years, but the BSE Telecom Index has not moved an inch from its levels of 2008.
Telecom Sector: A decade of Underperformance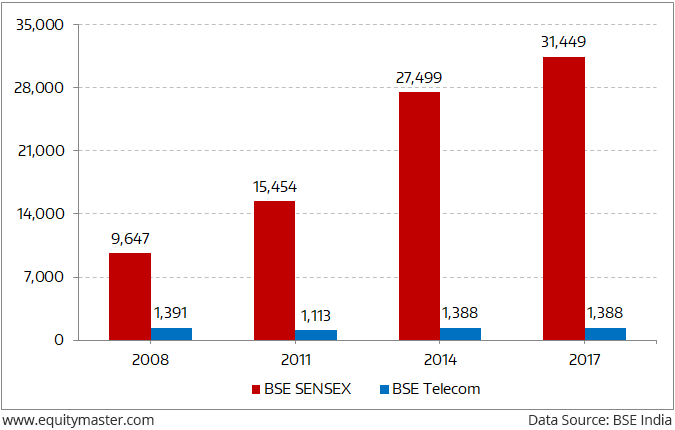 Telecom companies are straddled with high debt, intense competition, and lack of pricing power. High spectrum costs and regulatory issues have hampered the sector.
While consumers have benefited from low costs and new players fighting for their share, investors have suffered.
Going forward, whether the situation will change in the future will be the key thing to watch out for.
Moving on to the news from the economy. As per a report by CARE Ratings, India's GDP growth will accelerate to 7.5% this financial year, from 6.6% in the last fiscal, on better performance from the industrial and agricultural sectors.
Headline inflation, lending rates, fiscal prudence, current account deficit (CAD) and exchange rates, however, are the areas of concern.
The estimates in the report have been made assuming that crude oil does not spiral over the present US$80 per barrel and settles down at up to US$75. The exchange rate will slip further to the 67-68 levels against the US dollar by the end of FY19, the report stated, adding that the reserves will grow marginally to US$435 billion, from US$425 billion at present.
For the current account deficit (CAD), it said the wider trade deficit, an estimated slowdown in the portfolio flows and increased oil prices will result in the gap widening to up to 2.5% of GDP for FY19, from the 1.7% for the first nine months of FY18.
The agency expects farm sector growth to inch up to 4%, from the 3% in the year-ago period, and industrial output growth to go up to 6%, from 4.3% in the previous year.
The consumer price inflation will go up to 5.5% for the fiscal, from the 3.6% in FY18, which may result in rate hikes of up to 0.5% by the inflation-focused Reserve Bank of India during the year.
The report, however, said that the NPA-saddled banking sector will have an "upward bias" with credit growth estimated to go up to 12% and deposits to swell by 10%, adding NPAs will be a "major challenge" for lenders.
The agency feels meeting the wider 3.3% target on the fiscal deficit will be difficult and adherence will depend on achievement of the Rs 800-billion divestment target, GST collections and tax receipts.
We, at Equitymaster, we do not attempt to predict how and when macroeconomic developments will unfold. Instead, we focus all our energy on understanding the underlying business strength of companies.
In such an environment, it makes sense for investors to be selective while buying stocks. Focus on value and the underlying fundamentals of the business. Then, they need not worry about the market.
So, what is key to identifying potential multibagger stocks? How does one pick them at the right time and ride them to their full potential? How many multibaggers do you really need to achieve the big riches that you desire?
Most importantly, are there any stocks right now that could turn out to be multibaggers? Click here to know everything that you need to know right now about mutlibagger stocks...
For information on how to pick stocks that have the potential to deliver big returns,
Read the latest Market Commentary
Stock Market Updates
Jun 19, 2018 03:24 PM
LA OPALA RG share price has plunged by 5% and its Current Market Price is Rs 257. The BSE 500 is down by 0.88%. The top gainers in the BSE 500 Index are MAHINDRA LIFESPACE (up 11.47%) and JAIPRAKASH ASSO. (up 9.74%). The top losers are LA OPALA RG (down 5.02%) and AVANTI FEEDS (down 6.09%).
Jun 19, 2018 03:22 PM
UCO BANK share price has surged by 6% and its Current Market Price is Rs 20. The BSE BANKEX is down by 0.66%. The top gainers in the BSE BANKEX Index is UCO BANK (up 5.77%). The top losers are ICICI BANK (down 0.10%) and YES BANK (down 0.18%).
Jun 19, 2018 02:34 PM
The BSE METAL Index Down at 13,209 (down 2.0%). Among the top losers in the BSE METAL Index today are JSW STEEL, COAL INDIA and HINDUSTAN ZINC. Meanwhile, the BSE Sensex has plunged 0.72% to 35,552.
Jun 19, 2018 12:30 pm
The BSE Sensex is trading down by 227 points, while the NSE Nifty is trading down by 77 points.
Jun 19, 2018 11:29 AM
SHREE RENUKA SUGARS share price has plunged by 6% and its Current Market Price is Rs 15. The BSE 500 is down by 0.67%. The top gainers in the BSE 500 Index are GATEWAY DISTRIPARKS (up 6.30%) and MARKSANS PHARMA. (up 4.45%). The top losers are SHREE RENUKA SUGARS (down 5.83%) and CG POWER & INDUSTRIAL SOLUTIONS LTD (down 7.10%).
Jun 19, 2018 11:17 AM
JAIPRAKASH ASSO. share price has plunged by 5% and its Current Market Price is Rs 15. The BSE REALTY is down by 1.10%. The top gainers in the BSE REALTY Index is SOBHA LIMITED (up 1.24%). The top losers is JAIPRAKASH ASSO. (down 5.19%).
View More Indian Share Market News
Most Popular
Jun 8, 2018
The change in auditing regulations can bring a big change in corporate governance behaviour in the mid and small-cap space.
Jun 6, 2018
An almost zero-loss strategy that works best when markets correct. Don't let the current volatility overwhelm you. Focus on the fundamentals and long term, and buy stocks where quality meets value.
Jun 13, 2018
Though it will bring transparency in their pricing and that in itself will be a welcome move.
Jun 11, 2018
The yield spread is an effective barometer that can indicate the direction the markets are headed.
Jun 8, 2018
After several quarters of stress in the aftermath of demonetisation and the rollout of GST, this data is pointing towards revival in the India's rural FMCG industry.
More