Indian Stock Market News June 1, 2023
Sensex Today Trades Flat | HUL & Asian Paints Top Gainers | Coal India Tanks 5%
Thu, 1 Jun 10:30 am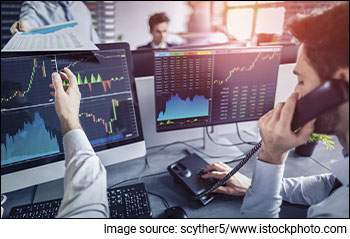 Asian shares markets are trading higher today amid the release of manufacturing data of several Asian countries, including China.
The Nikkei is trading higher by 0.7% and the Hang Seng index is trading higher 0.8%. The Shanghai Composite is up 0.4%.
US stocks closed lower on Wednesday as a deal to raise the federal debt ceiling headed for a crucial vote in Congress, while unexpectedly strong labour market data rattled investors who fear the Federal Reserve might hike interest rates again in June.
The Dow Jones Industrial Average ended 0.4% lower and the tech heavy Nasdaq Composite ended down 0.7%.
Here's a table showing how US stocks performed on Wednesday:
| Stock/Index | LTP | Change ($) | Change (%) | Day High | Day Low | 52-Week High | 52-Week Low |
| --- | --- | --- | --- | --- | --- | --- | --- |
| Alphabet | 123.37 | -1.27 | -1.02% | 124.9 | 123.1 | 127.05 | 83.45 |
| Apple | 177.25 | -0.05 | -0.03% | 179.35 | 176.76 | 179.35 | 124.17 |
| Meta | 264.72 | 2.2 | 0.84% | 265 | 258.45 | 268.65 | 88.09 |
| Tesla | 203.93 | 2.77 | 1.38% | 203.95 | 195.12 | 314.67 | 101.81 |
| Netflix | 395.23 | 2.25 | 0.57% | 396.26 | 388.91 | 405.11 | 164.28 |
| Amazon | 120.58 | -1.08 | -0.89% | 122.04 | 119.17 | 146.57 | 81.43 |
| Microsoft | 328.39 | -2.82 | -0.85% | 335.94 | 327.33 | 335.94 | 213.43 |
| Dow Jones | 32,908.27 | -134.51 | -0.41% | 32,984.83 | 32,739.73 | 34,712.28 | 28,660.94 |
| Nasdaq | 14,254.09 | -100.9 | -0.70% | 14,375.38 | 14,216.16 | 14,520.17 | 10,440.64 |
Source: Equitymaster
Back home, Indian share markets are trading on a flat note following the trend on SGX Nifty.
At present, the BSE Sensex is trading 71 points higher. Meanwhile, the NSE Nifty is trading up by 27 points.
HUL and Asian Paints are among the top gainers today.
Bharti Airtel and Kotak Mahindra Bank on the other hand are among the top losers today.
Check out the NSE Nifty heatmap to get the complete list of gainers and losers.
Broader markets are trading on a positive note. The BSE Mid Cap index is trading higher 0.4% and the BSE Small Cap index is up 0.7%.
Sectoral indices are trading on a positive note with the exception of energy sector, metal sector and banking sector. Stocks in the realty sector and health sector witness buying.
Shares of CRISIL and Sundaram Fasteners hit their 52-week high today.
The rupee is trading at Rs 82.43 against the US dollar.
--- Advertisement ---
Investment in securities market are subject to market risks. Read all the related documents carefully before investing

Our Co-head of Research Recommends Buying 2 Non-Nifty Stocks

These 2 stocks are not in the Nifty50 index today.

But they have a high chance of entering the index in the coming years.

If you buy these stocks now, then in the next five to ten years you can potentially capture hundreds of percentage points in gains...

See full details
Details of our SEBI Research Analyst registration are mentioned on our website - www.equitymaster.com
----------------------------------------------
In commodity markets, gold prices are trading lower by Rs 329 to Rs 59,834 per 10 grams today.
Meanwhile, silver prices are trading lower by 0.3% at Rs 71,856 per 1 kg.
Now track the biggest movers of the stock market using stocks to watch today section. This should help you keep updated with the latest developments...
Speaking of stock markets, banking stocks have had a great run but is there trouble ahead?
Financials as a group have been among the top performing stocks in the market. Banking stocks in particular have done very well recently.
However, the technical charts are signalling caution. Why is that so?
Chartist Brijesh Bhatia answers the question in the below video.
Vedanta clears debt obligations
Vedanta Resources, the parent of listed Vedanta on Wednesday has cleared all its debt obligations for the ongoing quarter, which were estimated to be US $ 1.7 billion (bn) (about Rs 140.1 bn).
The metal company's statement comes days after it pledged a 4.4% stake in Vedanta to Glencore International AG for a US $ 250 million (m) (about Rs 20,598.5 m) loan. Glencore International is one of the world's largest natural resource companies and can be considered a rival of Vedanta Group.
The London-based holding company's gross debt now stands at US $ 6.4 bn (about Rs 527.2 bn) compared with US $ 9.7 bn (about Rs 799 bn) at the end of March 2022.
The minerals and mining major has thus pared debt of Rs 271.8 bn within 15 months of setting a target to deleverage by Rs 329.5 bn in three years. The company plans to reduce its debt burden over the course of this financial year and ultimately have zero debt on its books.
--- Advertisement ---
Investment in securities market are subject to market risks. Read all the related documents carefully before investing

Value for Money Stocks?

You see, most stocks are either trading at super-expensive valuations... or they are trading way below their true worth because they are actually worthless stocks...

There are very few stocks in the market that you can call 'value for money' stocks.

But these 'value for money' stocks are some of the safest stocks available in the market... that you can buy at bargain prices.

If you're interested in these stocks where your downside is limited... but upside potential is huge... then it is highly recommended that you check out our 'value for money' stocks research...

See Details Here
Details of our SEBI Research Analyst registration are mentioned on our website - www.equitymaster.com
--------------------------------------------
This will be aided by the company's expectations of robust demand particularly in India, coupled with strong operational performance from its asset base.
According to reports, Vedanta Resources has about Rs 247.1 bn of debt maturities in financial year 2024, of which Rs 140 bn falls in the April-June quarter. Other maturities in financial year 2024 include Rs 41.2 bn loan repayments in quarter ending December 2023, and a Rs 82.4 bn bond maturing in January 2024.
The Vedanta Group has been in the news lately over concerns of Vedanta Resources meeting its multiple debt obligations in a tight liquidity environment. The group has never defaulted on its loans.
Lately, Vedanta share price was under pressure. The loan repayment news might finally pull-out Vedanta share price out of its downward trajectory.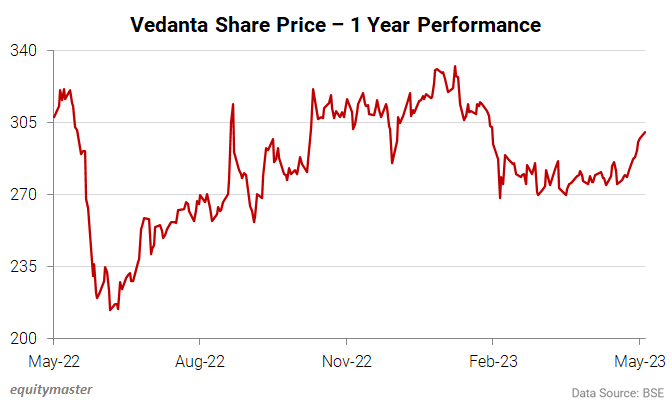 To know more, read our editorial on why Vedanta share price is falling.
Government to sell stake from Coal India
The Central government is planning to sell up to 3% stake in Coal India through an offer for sale (OFS).
The Union ministry of coal on Wednesday informed the exchanges that the floor price for the OFS would be Rs 225 per share. At that floor price, the overall offer size adds up to over Rs 41 bn.
The OFS would be open for both retail and non-retail investors on 1 June and 2 June. The exchange filing showed that the offer consists of up to 1.5% equity stake and in case of oversubscription, another 1.5% stake would be put on the block.
Retail investors can bid on Friday. Government will divest 3% equity including a Green Shoe option of 1.5%.
The coal ministry said in its letter to the exchanges that up to 5% shares of the total offer may be offered to employees as well.
The Centre currently holds 66.13% in the public sector undertaking (PSU).
Earlier this month, the company reported a consolidated net profit of Rs 55.3 bn for the fourth quarter of financial year 2023, down 18% YoY from Rs 67.2 bn logged in the corresponding quarter of financial year 2022.
Its revenue from operations in the January-March quarter rose 17% to Rs 381.5 bn.
Did you know that Coal India is one of the 5 high dividend yield stocks?
To know what's moving the Indian stock markets, check out the most recent share market updates here.
For information on how to pick stocks that have the potential to deliver big returns,
Read the latest Market Commentary