Indian Stock Market News June 7, 2023
Sensex Today Trades Higher | Torrent Power Rallies 9% | Nestle India & Power Grid Top Gainers
Wed, 7 Jun 10:30 am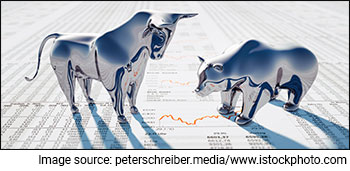 Asian shares markets are trading higher today with hopes for stimulus in China, a positive sign in geopolitics and hints of more broad-based strength in US shares bolstering sentiment.
The Nikkei is trading lower by 0.8% and the Hang Seng index is trading higher 1%. The Shanghai Composite is up marginally.
US stocks closed higher on Tuesday, helped by some advances in economically sensitive sectors, as investors awaited inflation data and the Federal Reserve's policy meet next week.
Both the Dow Jones Industrial Average and the tech heavy Nasdaq Composite ended flat
Here's a table showing how US stocks performed on Tuesday:
| Stock/Index | LTP | Change ($) | Change (%) | Day High | Day Low | 52-Week High | 52-Week Low |
| --- | --- | --- | --- | --- | --- | --- | --- |
| Alphabet | 127.91 | 1.28 | 1.01% | 128.88 | 125.97 | 128.88 | 83.45 |
| Apple | 179.21 | -0.37 | -0.21% | 180.12 | 177.43 | 184.95 | 124.17 |
| Meta | 271.12 | -0.27 | -0.10% | 276.57 | 269.69 | 276.57 | 88.09 |
| Tesla | 221.31 | 3.70 | 1.70% | 221.91 | 212.53 | 314.67 | 101.81 |
| Netflix | 399.29 | -4.25 | -1.05% | 405.12 | 396.93 | 413.86 | 164.28 |
| Amazon | 126.61 | 1.31 | 1.05% | 127.40 | 125.00 | 146.57 | 81.43 |
| Microsoft | 333.68 | -2.26 | -0.67% | 335.37 | 332.17 | 338.56 | 213.43 |
| Dow Jones | 33,573.28 | 10.42 | 0.03% | 33,631.25 | 33,399.69 | 34,712.28 | 28,660.94 |
| Nasdaq | 14,558.10 | 1.60 | 0.01% | 14,593.50 | 14,476.99 | 14,662.95 | 10,440.64 |
Source: Equitymaster
Back home, Indian share markets are trading on a positive note following the trend on SGX Nifty.
At present, the BSE Sensex is trading 156 points higher. Meanwhile, the NSE Nifty is trading up by 63 points.
Nestle and Power Grid are among the top gainers today.
Kotak Mahindra Bank and HCL Technologies on the other hand are among the top losers today.
Check out the NSE Nifty heatmap to get the complete list of gainers and losers.
--- Advertisement ---
Investment in securities market are subject to market risks. Read all the related documents carefully before investing

Our Co-head of Research Recommends Buying 2 Non-Nifty Stocks

These 2 stocks are not in the Nifty50 index today.

But they have a high chance of entering the index in the coming years.

If you buy these stocks now, then in the next five to ten years you can potentially capture hundreds of percentage points in gains...

See full details
Details of our SEBI Research Analyst registration are mentioned on our website - www.equitymaster.com
----------------------------------------------
Broader markets are trading on a positive note. The BSE Mid Cap index is trading higher 0.8% and the BSE Small Cap index is up 0.9%.
Sectoral indices are trading on a positive note. Stocks in the healthcare sector and telecom sector witness buying.
Shares of 3M India and ZF Commercial hit their 52-week high today.
The rupee is trading at Rs 82.55 against the US dollar.
In commodity markets, gold prices are trading lower by Rs 22 at Rs 59,963 per 10 grams today.
Meanwhile, silver prices are trading lower marginally at Rs 71,920 per 1 kg.
Now track the biggest movers of the stock market using stocks to watch today section. This should help you keep updated with the latest developments...
Speaking of stock markets, PFC share price was on a roll over the last three quarters. In fact, it has almost doubled in that period.
So, will the bull run continue? Or will the rally come to an end?
Chartist Brijesh Bhatia explains what the charts say about the stock in the below video.
Bank of Baroda faces legal action
The debenture holders of Reliance Home Finance have issued a legal notice to state-owned Bank of Baroda (BoB), accusing it of engaging in foul play, and disregarding the directives issued in a recent Supreme Court ruling.
The notice implicates serious allegations on the public sector bank.
According to the notice, BoB, the lead bank of the inter-creditor agreement consortium, not only participated but also ensured the Supreme Court order is breached with impunity and retail debenture holders are duped of rightful entitlement of redemption at full face value.
--- Advertisement ---
Investment in securities market are subject to market risks. Read all the related documents carefully before investing

Value for Money Stocks?

You see, most stocks are either trading at super-expensive valuations... or they are trading way below their true worth because they are actually worthless stocks...

There are very few stocks in the market that you can call 'value for money' stocks.

But these 'value for money' stocks are some of the safest stocks available in the market... that you can buy at bargain prices.

If you're interested in these stocks where your downside is limited... but upside potential is huge... then it is highly recommended that you check out our 'value for money' stocks research...

See Details Here
Details of our SEBI Research Analyst registration are mentioned on our website - www.equitymaster.com
--------------------------------------------
All debenture holders with investments of up to Rs 500,000 were entitled to receive 100% of their principal investment under the resolution plan approved by the apex court in its order dated 3 March 2023.
The notice was issued by those who had subscribed to the non-convertible debentures issued by Reliance Home Finance but did not get the redemption amount.
Since then, these investors have been locked in a legal tussle with the public sector bank as well as Reliance Home Finance before various courts and tribunals.
This, the debenture holders alleged, involved submission of incorrect information to the Supreme Court which led to over 17,109 retail debenture holders getting paid 100% of their dues, whereas 2,311 retail debenture holders did not get their dues.
This notice might cast a shadow of doubt on BoB's share price rally.
For the past one-year BoB share price was on a roll. It rallied 83.3% in last one year.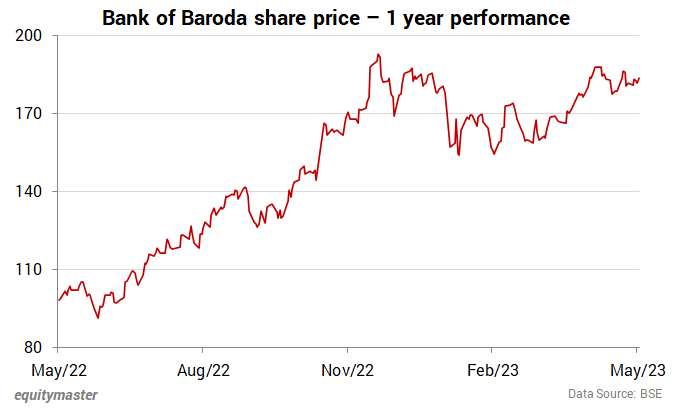 BoB is one of the 5 banks that posted record high profits in FY23.
GMR Airports Infrastructure divests stake from warehouse
GMR Hyderabad International Airport has divested approximately 0.8 million (m) square feet warehouse facility at the airport to ILP Core Ventures for Rs 1,880 m.
GMR Hyderabad International Airport is a stepdown subsidiary of GMR Airports Infrastructure and ILP Core Ventures I is a step-down subsidiary of Indospace Core.
IndoSpace Core is a joint venture between logistics and industrial real estate investor, developer and operator IndoSpace and investor Canada Pension Plan Investment Board. Its national network consists of 50 logistics parks with 57 m square feet delivered or under development across 10 cities.
The resulting cash- flows will help in deploying capital in expansion facilities and other growth opportunities at the Hyderabad airport land development portfolio.
The divestment got concluded by means of divestment of 100% equity stake of GMR Hyderabad Airport Assets, a special purpose vehicle that owned this warehouse facility.
ILP Core Ventures owns 100% shareholding of 11 Indian special purpose vehicles, which hold fully developed and leased industrial and warehousing asset portfolio of 8.1 m square feet in India.
Torrent Power signs MoU with Maharashtra government
NHPC and Torrent Power have signed an MoU with the government of Maharashtra for the development of pumped hydro storage projects.
According to state-run NHPC, its MoU with the state government, the hydropower major envisages the development of four pumped storage projects aggregating to 7350 MW namely Kalu (1150 MW), Savitri (2250 MW), Jalond (2400 MW) and Kengadi (1550 MW) and other renewable energy source projects in the state.
Torrent Power also has tied up to develop three pumped hydro storage projects in the state.
To know what's moving the Indian stock markets, check out the most recent share market updates here.
For information on how to pick stocks that have the potential to deliver big returns,
Read the latest Market Commentary