Indian Stock Market News June 8, 2023
Sensex Today Trades Higher | Paytm Jumps 7% | NTPC & Power Grid Top Gainers
Thu, 8 Jun 10:30 am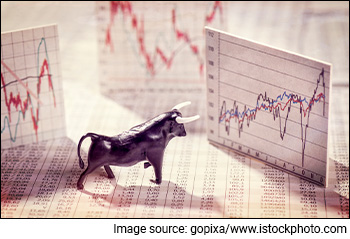 Asian shares markets are trading mixed today as yields on government bonds opened higher in Australia and Japan while Treasuries held most of their sharp move from the previous session as investors reassessed the risks from inflation.
The Nikkei is trading lower by 1.1% and the Hang Seng index is trading lower 0.4%. The Shanghai Composite is down marginally.
The S&P 500 and Nasdaq closed in negative territory on Wednesday as investors took profits after a months-long megacap stocks run and ahead of key economic and policy events next week.
The Dow Jones Industrial Average ended 0.3% higher and the tech heavy Nasdaq Composite ended 1.8% lower.
Here's a table showing how US stocks performed on Wednesday:
| Stock/Index | LTP | Change ($) | Change (%) | Day High | Day Low | 52-Week High | 52-Week Low |
| --- | --- | --- | --- | --- | --- | --- | --- |
| Alphabet | 122.94 | -4.97 | -3.89% | 129.55 | 122.63 | 129.55 | 83.45 |
| Apple | 177.82 | -1.39 | -0.78% | 181.21 | 177.32 | 184.95 | 124.17 |
| Meta | 263.6 | -7.52 | -2.77% | 274.25 | 262.8 | 276.57 | 88.09 |
| Tesla | 224.57 | 3.26 | 1.47% | 230.83 | 223.2 | 314.67 | 101.81 |
| Netflix | 399.77 | 0.48 | 0.12% | 418.95 | 399.23 | 418.95 | 164.28 |
| Amazon | 121.23 | -5.38 | -4.25% | 127.37 | 120.63 | 146.57 | 81.43 |
| Microsoft | 323.38 | -10.3 | -3.09% | 334.49 | 322.5 | 338.56 | 213.43 |
| Dow Jones | 33,665.02 | 91.74 | 0.27% | 33,708.78 | 33,546.11 | 34,712.28 | 28,660.94 |
| Nasdaq | 14,303.29 | -254.81 | -1.75% | 14,647.91 | 14,283.89 | 14,662.95 | 10,440.64 |
Data source: Equitymaster
Back home, Indian share markets are trading on a positive note following the trend on SGX Nifty.
At present, the BSE Sensex is trading 129 points higher. Meanwhile, the NSE Nifty is trading up by 36 points.
--- Advertisement ---
Investment in securities market are subject to market risks. Read all the related documents carefully before investing

Our Co-head of Research Recommends Buying 2 Non-Nifty Stocks

These 2 stocks are not in the Nifty50 index today.

But they have a high chance of entering the index in the coming years.

If you buy these stocks now, then in the next five to ten years you can potentially capture hundreds of percentage points in gains...

See full details
Details of our SEBI Research Analyst registration are mentioned on our website - www.equitymaster.com
----------------------------------------------
NTPC and Power Grid are among the top gainers today.
Kotak Mahindra Bank and Sun Pharma on the other hand are among the top losers today.
Check out the NSE Nifty heatmap to get the complete list of gainers and losers.
Broader markets are trading on a positive note. The BSE Mid Cap index is trading higher marginally and the BSE Small Cap index is up 0.3%.
Sectoral indices are trading on a mixed note. Stocks in the power sector and utilities sector witness buying.
On the other hand, stocks in the realty sector and IT sector witness selling.
Shares of Nestle India and UltraTech Cement hit their 52-week high today.
The rupee is trading at Rs 82.58 against the US dollar.
In commodity markets, gold prices are trading lower by Rs 16 at Rs 59,487 per 10 grams today.
Meanwhile, silver prices are trading higher by 0.2% at Rs 71,896 per 1 kg.
Now track the biggest movers of the stock market using stocks to watch today section. This should help you keep updated with the latest developments...
Speaking of stock markets, PFC share price was on a roll over the last three quarters. In fact, it has almost doubled in that period.
So, will the bull run continue? Or will the rally come to an end?
Chartist Brijesh Bhatia explains what the charts say about the stock in the below video.
Wipro and Cisco launch private 5G service
The US-based Cisco Systems and Indian system integrator Wipro Technologies have partnered to deploy private fifth generation (5G) networks to enterprise customers worldwide.
--- Advertisement ---
Investment in securities market are subject to market risks. Read all the related documents carefully before investing

Value for Money Stocks?

You see, most stocks are either trading at super-expensive valuations... or they are trading way below their true worth because they are actually worthless stocks...

There are very few stocks in the market that you can call 'value for money' stocks.

But these 'value for money' stocks are some of the safest stocks available in the market... that you can buy at bargain prices.

If you're interested in these stocks where your downside is limited... but upside potential is huge... then it is highly recommended that you check out our 'value for money' stocks research...

See Details Here
Details of our SEBI Research Analyst registration are mentioned on our website - www.equitymaster.com
--------------------------------------------
The two companies have launched managed private 5G-as-a-service for enterprise customers.
Reportedly, Wipro is partnering with Cisco where the two companies will work closely to tap private 5G business globally, initially focussing on the US, Canada, and European markets where spectrum has no challenge.
The Indian multinational will buy network gear and custom solutions from Cisco, and is additionally exploring a revenue-share model, based on pay-as-you-go subscription.
Azim Premji-owned company that has opened its American headquarters in New Jersey, is already in discussions with a few large enterprise customers in the retail chain space as well as airports and stadiums.
From a customer point of view, 5G will be an add-on technology. According to the reports, Wipro already has Wi-Fi, local area network (LAN) and software-defined wide area network (SD-WAN).
The reports further stated that Cisco will be a technology provider, and Wipro will deliver platform and services orchestrated and managed for enterprises.
The New York-based Verizon is also banking on 5G captive network business outside the US market, and earlier said that it offers an entire lifecycle from strategy and planning to architecture design, deployment and management services.
In India, telecom companies argue that it is their expertise to deploy wireless networks, and warn that any move allowing non-telco entities would not only alter market dynamics, but would also hurt financial well-being of the industry.
The partnership news might just be the much-needed boost for Wipro share price. Lately, not only Wipro but all IT stocks are falling. Not only the fundamental but also technical view of IT stocks look dicey.
Here's the current situation of IT stocks from a technical perspective.
Nifty IT Index, Daily Chart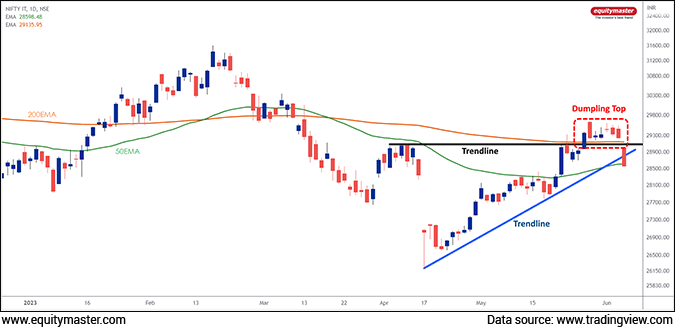 To understand in details what the chart tells you read our editorial on why IT stocks are falling. A technical view.
Lemon Tree Hotels to build a new hotel
Lemon Tree Hotels share price is on the rise today as the hotel chain signed a licence agreement for a 60-room property in Andhra Pradesh.
The property in Rajamundry, which will operate under the Lemon Tree Hotel brand, is expected to be in business by the third quarter of financial year 2025.
Carnation Hotels, a wholly owned subsidiary and the hotel management arm of the company, will operate the property, which will also have a restaurant, a banquet hall, meeting rooms, a swimming pool, a gym and other public areas, the company said.
Earlier this month, Lemon Tree announced the opening of Lemon Tree Hotels in Agra and Bhopal.
Tata Elxsi partners with ISRO
Tata Elxsi has partnered with the Indian Space Research Organization (ISRO) for the upcoming Gaganyaan Mission. The leading global engineering company has designed and developed the crew module recovery models (CMRM) for the recovery team training of the space mission.
ISRO's Gaganyaan project envisions a demonstration of human spaceflight capability by launching the crew into a 400-kilometer orbit for a three-day mission and safely bringing them to Earth by landing in Indian sea waters.
One of the key requirements of this project is the safe recovery of the crew, which must be carried out with minimum lapse of time.
This is where the crew recovery models come into use. For recovery team training, CMRMs designed and fabricated by the Tata group company simulated the mass, centre of gravity, outer dimensions, interfaces and externals of the actual crew module.
To know what's moving the Indian stock markets, check out the most recent share market updates here.
For information on how to pick stocks that have the potential to deliver big returns,
Read the latest Market Commentary