Indian Stock Market News June 9, 2023
Sensex Today Trades Flat | Bank of Maharashtra Slips 6% | Tata Steel & Infosys Top Losers
Fri, 9 Jun 10:30 am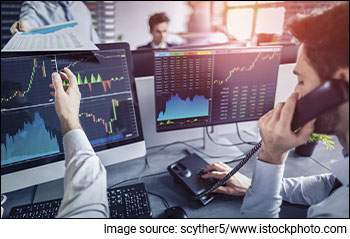 Asian shares markets are trading higher today after a rally in IT stocks pushed the S&P 500 into a bull market with a gain of more than 20% from its October 2022 low.
The Nikkei is trading higher by 1.9% and the Hang Seng index is trading higher 0.3%. The Shanghai Composite is up marginally.
US stocks closed higher on Thursday regaining some of their momentum thanks to a rebound by technology stocks, while volatility dropped to record lows ahead of an eventful economic and policy calendar next week.
The Dow Jones Industrial Average ended 0.5% higher and the tech heavy Nasdaq Composite ended 1.3% higher.
Here's a table showing how US stocks performed on Thursday:
| Stock/Index | LTP | Change ($) | Change (%) | Day High | Day Low | 52-Week High | 52-Week Low |
| --- | --- | --- | --- | --- | --- | --- | --- |
| Alphabet | 122.67 | -0.27 | -0.22% | 123.73 | 122.01 | 129.55 | 83.45 |
| Apple | 180.57 | 2.75 | 1.55% | 180.84 | 177.46 | 184.95 | 124.17 |
| Meta | 264.58 | 0.98 | 0.37% | 267.65 | 258.88 | 276.57 | 88.09 |
| Tesla | 234.86 | 10.29 | 4.58% | 235.23 | 223.01 | 314.67 | 101.81 |
| Netflix | 409.37 | 9.60 | 2.40% | 409.54 | 396.34 | 418.95 | 164.28 |
| Amazon | 124.25 | 3.02 | 2.49% | 125.63 | 122.26 | 146.57 | 81.43 |
| Microsoft | 325.26 | 1.88 | 0.58% | 326.64 | 323.35 | 338.56 | 213.43 |
| Dow Jones | 33,833.61 | 168.59 | 0.50% | 33,873.81 | 33,630.04 | 34,712.28 | 28,660.94 |
| Nasdaq | 14,484.54 | 181.26 | 1.27% | 14,503.31 | 14,314.69 | 14,662.95 | 10,440.64 |
Source: Equitymaster
Back home, Indian share markets are trading on a flat note.
At present, the BSE Sensex is trading 28 points lower. Meanwhile, the NSE Nifty is trading down by 3 points.
IndusInd Bank and Axis Bank are among the top gainers today.
M&M and Tata Steel on the other hand are among the top losers today.
Check out the NSE Nifty heatmap to get the complete list of gainers and losers.
--- Advertisement ---
Investment in securities market are subject to market risks. Read all the related documents carefully before investing

Our Co-head of Research Recommends Buying 2 Non-Nifty Stocks

These 2 stocks are not in the Nifty50 index today.

But they have a high chance of entering the index in the coming years.

If you buy these stocks now, then in the next five to ten years you can potentially capture hundreds of percentage points in gains...

See full details
Details of our SEBI Research Analyst registration are mentioned on our website - www.equitymaster.com
----------------------------------------------
Broader markets are trading on a positive note. The BSE Mid Cap index is trading higher 0.3% and the BSE Small Cap index is up 0.2%.
Sectoral indices are trading on a positive note. Stocks in the realty sector and telecom sector witness buying.
On the other hand, stocks in the metal sector and IT sector witness selling.
Shares of Britannia Industries and Hindustan Aeronautics hit their 52-week high today.
The rupee is trading at Rs 82.48 against the US dollar.
In commodity markets, gold prices are trading lower by Rs 31 at Rs 59,860 per 10 grams today.
Meanwhile, silver prices are trading lower by marginally at Rs 73,610 per 1 kg.
Now track the biggest movers of the stock market using stocks to watch today section. This should help you keep updated with the latest developments...
Speaking of stock markets, PFC share price was on a roll over the last three quarters. In fact, it has almost doubled in that period.
So will the bull run continue? Or will the rally come to an end?
Chartist Brijesh Bhatia explains what the charts say about the stock in the below video.
HDFC Bank may select Arvind Kapil for post-merger mortgage business
HDFC Bank has shortlisted veteran Arvind Kapil, its current retail assets head, to spearhead the home loans business after its mega-merger with India's biggest mortgage financier Housing Development Finance Corporation (HDFC).
Reportedly, Arvind Kapil, who has worked at one of the most valuable banks for almost a quarter of a century, recently met executives at the mortgage lender to discuss plans for the loan book post-merger.
--- Advertisement ---
Investment in securities market are subject to market risks. Read all the related documents carefully before investing

Value for Money Stocks?

You see, most stocks are either trading at super-expensive valuations... or they are trading way below their true worth because they are actually worthless stocks...

There are very few stocks in the market that you can call 'value for money' stocks.

But these 'value for money' stocks are some of the safest stocks available in the market... that you can buy at bargain prices.

If you're interested in these stocks where your downside is limited... but upside potential is huge... then it is highly recommended that you check out our 'value for money' stocks research...

See Details Here
Details of our SEBI Research Analyst registration are mentioned on our website - www.equitymaster.com
--------------------------------------------
If he gets the role, he will lead a mammoth mortgage business, that currently includes gross individual loans of Rs 5 trillion (tn) at HDFC and over Rs1 tn at HDFC Bank, according to the firms' latest statements.
Note that, HDFC Bank is one that has always adapted to changing times.
HDFC Bank wanted to transform itself from a leader in the physical banking to a leader in online banking. Since then, HDFC Bank has constantly focused on going digital.
In 2004, only 10% of customer transactions were initiated through internet and mobile. The number has gone up to 92% in 2019.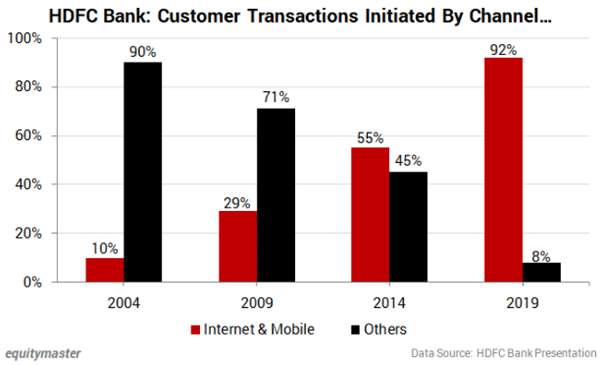 It is a great example of a company which has taken advantage of its scale and embraced disruption rather than fear it.
These are traits that one should look for in picking stocks. They not only withstand the disruption but also gain from it in the long-run.
Canada Pension Fund to sell stake in Kotak Mahindra Bank
Kotak Mahindra Bank shares are trading choppy today following news that the government-run Canada Pension Fund would probably sell a portion of its stake in the private lender bank through block deals today.
The Canadian Pension Fund will sell a 1.7% stake in Kotak Mahindra Bank, according to media reports. As of 30 March 2023, the Canada Pension Fund owned 4.3% of the bank. As per reports, the 1.7% share held by the fund is worth US $ 754 million (m) (about Rs 62,180.3 m).
Reports further stated that the fund is selling the shares at a price range of Rs 1,792- Rs 1,886 per share, which equates to up to a 5% discount from the current market price (CMP).
Following the transaction, Canadian Pension Fund Investments' stake in the bank will decrease from 4.3% at the end of March 2023 to 2.7%.
On the strength of rising interest income and rising non-interest revenue, Kotak Mahindra Bank's Q4 net profit exceeded street's expectations.
The private bank's net profit for the three months ending in March was Rs 34.9 bn, up 26.3% from the prior-year period.
The bank's net interest income, referred to as core revenue, increased 35% from the prior year to Rs 61 bn.
Tata Power bags a new contract
Tata Power Renewable Energy through its subsidiary TP Vardhaman Surya, has been granted the letter of award (LOA) to develop a 966 Mega Watt (MW) round-the-clock (RTC) hybrid renewable power project for Tata Steel, the company said in a statement on Thursday.
Tata Power Renewable Energy is a wholly owned subsidiary of Tata Power.
This project, combining solar and wind power, stands as one of the largest industrial RTC power purchase agreements (PPAs) under the group captive segment in India.
The project will comprise a solar capacity of 379 MW and a wind capacity of 587 MW.
Tata Steel, a prominent global steel producer with an annual crude steel capacity of 35 m tonnes, seeks to meet a significant portion of its green energy requirements through this initiative. The project is anticipated to curtail carbon dioxide (CO2) emissions by approximately 2,389,160 tons each year.
To know what's moving the Indian stock markets, check out the most recent share market updates here.
For information on how to pick stocks that have the potential to deliver big returns,
Read the latest Market Commentary