Indian Stock Market News June 10, 2017
Global Share Markets End the Week on a Flat Note
Global financial markets ended the week on a flat note with an upward boost from Chinese share markets, which were up 1.7%. While the US markets ended the week marginally higher by 0.3%, major European indices like German Dax and London's FTSE 100 share markets ended the week on a flat note with a negative bias.
In the news from global financial markets, as per the IMF, a lack of clarity about the size of an expected US fiscal stimulus and China's rapid domestic credit growth are among risks that cloud Asia's economic outlook.
The above comments come days after ratings agency Moody's reported that China's structural reforms will not be enough to arrest its rising debt. It also said that another credit rating downgrade for the country is possible if the country doesn't get its ballooning credit in check.
Moody's Investors Service has recently downgraded China's sovereign ratings by one notch to A1. The agency expects the financial strength of the world's second-largest economy to erode in coming years as growth falters and debt continues to rise.
Many economists are of the view that central bank stimulus measures are masking the deeper problems of industrial overcapacity and high levels of corporate debt in China.
One of the major developments happened last week was Saudi Arabia, Egypt, the United Arab Emirates and Bahrain cutting their ties with Qatar. The nations accused Qatar of meddling in their internal affairs and backing terrorism.
Many are of the view that the above tensions will lead to supply disruptions and therefore affect crude oil prices.
Just Released: Multibagger Stocks Guide
(2017 Edition)
In this report, we reveal four proven strategies to picking multibagger stocks.
Well over a million copies of this report have already been claimed over the years.
Go ahead, grab your copy today. It's Free.
NO-SPAM PLEDGE
- We will NEVER rent, sell, or give away your e-mail address to anyone for any reason. You can unsubscribe from The 5 Minute WrapUp with a few clicks. Please read our
Privacy Policy
&
Terms Of Use
.
All eyes are now set to see if Qatar, a member of the Organization of the Petroleum Exporting Countries (OPEC), decides to disrupt the production cutback deal.
One shall note that at a meeting last week in Vienna, OPEC and some non-OPEC producers agreed to extend supply cuts of 1.8 million barrels per day until the end of the first quarter of 2018.
If Qatar opts out of this deal, it would lead to a fall in crude oil prices. More so, it can also compel other producers to get off the deal. If this happens to be the case, there will be a rise in crude oil supplies which will weigh on crude oil prices.
The European Central Bank (ECB) kept interest rates unchanged in its monetary policy meet.
The decision comes as ECB President Mario Draghi and his fellow governing council members are yet to be convinced that the recent rebound in inflation in the eurozone is durable because wage growth remains sluggish.
What was remarkable was the bank did not mention the possibility of further interest rate cuts. This indicated that the ECB is aiming to end its ultra-easy monetary policy.
The ECB has been pouring money into the eurozone to boost inflation from a near-deflationary level.
In other news, as per the 2017 Global Retail Development Index (GRDI), India has surpassed China to secure the top position among 30 developing countries on ease of doing business.
The GRDI cited India's rapidly expanding economy, relaxation of FDI rules and a consumption boom as the key drivers for the above reported progress.
The GRDI ranks the top 30 developing countries for retail investment worldwide and analyses 25 macroeconomic and retail-specific variables.
Key World Markets During the Week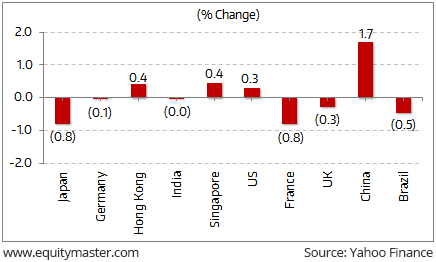 Back home, Indian stock markets continued their positive momentum and hovered around record highs at the during the week. Disappointing GDP data was offset by expectations of a good monsoon and the impending GST implementation. Consumer Durables rallied during the week as they expect to benefit the most from GST implementation. Pharma stocks continued to see a recovery after they took a beating for many weeks. The BSE Healthcare index closed the week up by 2.5%. The Indian stock market ended the week on a flat note with a negative bias.
BSE Indices During the Week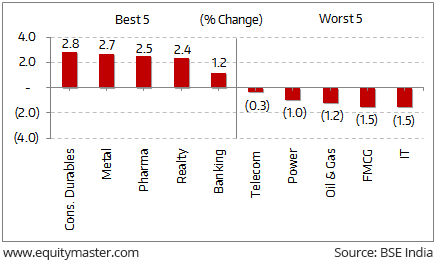 Now let us discuss some key economic and industry developments during the week gone by.
The Reserve Bank of India's Monetary Policy Committee kept key interest rates unchanged but softened its hawkish stance owing to the fall in retail inflation to a record low and lower-than-expected economic growth.
While the repo rate, at which the central bank infuses liquidity in the banking system, has been kept unchanged at 6.25%, the RBI lowered its inflation forecast for the current fiscal. The MPC has projected headline inflation at 2.0-3.5% in the first half of the year and 3.5-4.5% in the second half. This is an indication that the RBI may be accommodative on the future course of rates in a bid to revive economic growth.
In news from economic sector, terming Goods and Services Tax (GST) regime as the biggest tax reform since independence, NITI Aayog CEO Amitabh Kant has expressed confidence that the new tax regime would help the Indian economy to achieve 9% growth rate.
Kant's comments come against the backdrop of India losing the fastest growing economy tag to China for the March quarter with the gross domestic product (GDP) growth slipping to 6.1%.
Kant further said that Prime Minister Narendra Modi's vision of GST implementation which is scheduled to be rolled out from July 1 will bring a big revolution in India's taxation structure. He added that GST will simplify the county's taxation system and help deal with tax evasion cases.
The GST Council has finalised tax rates on almost all goods and services. All goods and services have been put in slabs of 5, 12, 18 and 28 per cent, apart from gold and precious metals, which will attract 3% GST, and rough diamond at 0.25% GST.
India's crude steel output for the period April-May 2017 climbed to 16.39 million tonne (MT). The production for the same period last year stood at 15.68 MT, meaning a growth of 4.5% yoy (year-on-year).
However, on month-on-month basis, it was down 0.8% over April, when the country had produced 8.23 MT. Production for sale of total finished steel during the two-month period rose 6.7%
Several measures, including the government's infrastructure push, along with 'Make in India' and other initiatives are set to bode well for the sector.
However, the government has consistently resorted to protectionist measures as regards the steel sector, to protect steel companies from international competition.
Consequently, India's steel imports dropped 36% in 2016-17 to 7.4 million tonnes (MT). Meanwhile, steel exports in 2016-17 registered a growth of 102%. But, the steel makers are chasing imports out by ramping up production. In the April-May period, domestic steel output rose as large private steel producers such as Tata Steel and JSW Steelramped up output.
India has become a net exporter of steel in 2016-17 as imports fell gradually. It has remained a net exporter in the two-month period between April-May.
According to an article in The Financial Express, India's coal imports in May declined by 6% to 18.15 million tonne (MT), year-on- year due to lackluster demand from the power sector and sufficient supply of domestic fuel. The government is planning to cut coal imports for power PSUs to zero in the ongoing fiscal.
Reportedly, government is aiming to bring down to zero thermal coal imports of power PSUs like NTPC in the current fiscal, a move that would reduce the country's import bill by around Rs 170 billion.
India's services sector activity increased at its fastest pace in four months in May led by a faster rise in new business inflows, according to the Nikkei Services Purchasing Managers' Index (PMI) survey by Markit.
The Services PMI is the reading of the country's services sector output and is updated monthly. A reading above 50 indicates expansion, while any score below the mark denotes contraction.
The services PMI for May grew at its fastest pace in four months and finished at 52.2, signaling a noteworthy expansion in services sector activity.
The predominant sector of the economy expanded for a fourth consecutive month in May, higher than the 50.2 figure seen in April.
Movers and Shakers During the Week
Source: Equitymaster
Some of the key corporate developments in the week gone by.
As per an article in a leading financial daily, state-run oil companies, Indian Oil Corporation (IOC) Ltd, Bharat Petroleum Corporation Ltd (BPCL) and Hindustan Petroleum Corporation Ltd (HPCL), will revise petrol and diesel prices every day in sync with international rates, beginning 16 June.
The policy of daily revision in prices is being rolled out after the successful implementation of the policy as a pilot in five cities across the country since 1 May 2017.
Presently, the oil marketing companies review and revise retail fuel prices after every fortnight on the basis of global crude oil prices.
Reportedly, daily revision in oil prices will make retail prices more reflective of the current market conditions, besides leading to increased transparency in the system.
As per an article in a leading financial daily, State Bank of India (SBI) closed its Qualified Institutional Placement (QIP), On 8 June 2017 after raising Rs 150 billion from domestic and foreign institutional investors.
SBI had offered 522.19 million shares to institutional investor with a price band of Rs 275.76-287.25 per share. The issue had opened on June 5.
One must note that, SBI needs the capital to meet Basel-III requirements under Indradhanush plan.
As per an article in a leading financial daily, Yes Bank has secured shareholders' approval to raise Rs 200 billion this financial year.
The shareholders approved through special resolution the proposal to borrow/raise funds in Indian/foreign currency by issue of debt securities including but not limited to non-convertible debentures, medium term notes and bonds.
It can be noted that the bank was found to have under reported non-performing assets by over Rs 40 billion in financial year 2015-16 by the Reserve Bank (RBI).
The bank had to disclose the divergence as per a recent directive of the central bank and this had led to concerns among investors.
Coal India Ltd is awaiting a response from the Mozambique government for exploration rights for new prospective coal blocks in the African country.
Coal India Africana Limitada, a wholly-owned subsidiary of Coal India was granted prospecting licenses for two coal blocks, covering a total area of 224 sq km by the Ministry of Mineral Resources, Government of Mozambique.
Coal India is also looking to diversify its operations in the face of long-term uncertainty for coal because of the government's thrust on renewable energy and considering entering mining of metals and minerals.
As per an article in a leading financial daily, Cipla Ltd has fulfilled the closing condition in relation to the divestment of Cipla Agrimed Proprietary (Cipla Agrimed), South Africa and Cipla Vet Proprietary (Cipla Vet), South Africa.
Earlier in March, the company had entered into an agreement, through its wholly owned subsidiary Inyanga Trading 386 Proprietary (Inyanga), with the group companies of Ascendis Health, South Africa for divesting its animal health business in South Africa and Sub-Saharan Africa.
Consequently, Cipla Vet and Cipla Agrimed have ceased to be subsidiaries of Inyanga Trading 386 Proprietary with effect from 1 June 2017.
And here's an update from our friends at Daily Profit Hunter...
The Nifty 50 Index ended the week on a flattish note. On Monday, it opened its weekly session slightly higher and traded with a positive bias. The upside momentum continued until next day opening as the index opened gap up to hit a new life high of 9,709. But it couldn't sustain for long and slipped to close Tuesday's session 40 points negative.
The first two days formed a a bearish engulfing candlestick pattern on the daily chart. This is a short-term reversal pattern that indicates a minor correction on the cards.
The index traded on a flattish note for the next two days. Finally, on Friday, it opened gap down and traded negatively for the first half of the session but turned positive coming into second half and closed the weekly session up marginally.
The negative divergence with the RSI Indicator, as you can see in the chart below, might drag the index towards its 20-day exponential moving average (EMA), which is acting as good support on every minor correction. You can read the detailed market update here...
Nifty Index Trades on a Flattish Note for the Week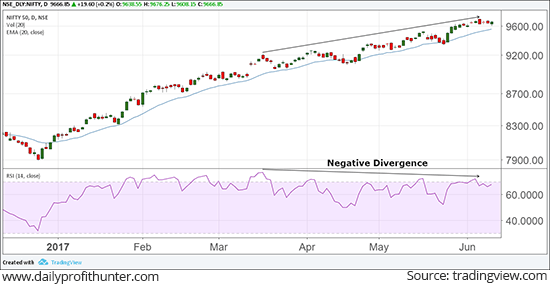 For information on how to pick stocks that have the potential to deliver big returns,
Read the latest Market Commentary