Indian Stock Market News June 19, 2019
Indian Indices Turn Volatile; Yes Bank Slips 5%
Share markets in India are presently trading marginally higher. Sectoral indices are trading on a mixed note with stocks in the consumer durables sector and banking sector witnessing maximum buying interest, while telecom stocks and healthcare stocks are trading in red.
The BSE Sensex is trading up by 141 points while the NSE Nifty is trading up by 19 points. The BSE Mid Cap index is trading down by 0.3% and the BSE Small Cap index is trading down by 0.9%.
Speaking of Indian benchmark indices, note that overall, the Sensex PE ratio has been in expansion mode over the last five years.
Between the election results of 2014 and 2019, the Sensex PE expanded by 52%.
The chart below shows the change in the Sensex price to earnings (PE) multiple over the last five years of Modi government.
Sensex Rally Driven by PE Expansion in Modi's First Term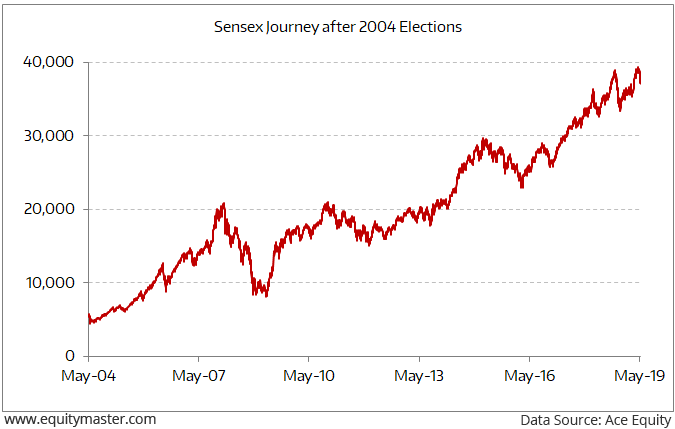 What this means is that most of the gains in Modi's first term have come mostly from an expansion of valuation multiples and only partially due to earnings growth.
What are the implications for investors in Modi's second term?
Ankit Shah answers this question in one of the latest edition of The 5 Minute WrapUp. Here's an excerpt of what he wrote...
In my view, what worked in Modi's first term may not necessarily work in the second one. Back in 2014, you could have put your finger on a random set of stocks, and there were good chances you would make money.

But right now, the circumstances are quite different. The overall markets are trading at elevated valuation multiples. The economy has been showing signs of fatigue. The financial sector is still in a mess. Unemployment levels are high.

For much of Modi's first term, the global markets were in a bull run. However, global economic conditions are not as favourable now. There are growing fears of an impending global slowdown. There has been an escalation in the US-China trade war.

Given all these factors, do not expect the markets to have a broad-based bull run in Modi's second term.
With the elections done, the markets will now move based on earnings visibility, economic policies, global sentiments, and so on.
So, look out for the stocks that will rise fast when the tide of the market turns up.
In the news from the engineering sector, shares of Jain Irrigation tanked over 20% after rating agency India Ratings and Research (Ind-Ra) downgraded the company's long-term issuer rating to 'IND BBB' from IND A-" with negative outlook.
Shares of the company were trading at their lowest levels since February 2005. The trading volumes more-than-doubled with a combined 53 million shares changing hands on the counter.
The rating agency said the downgrade reflects deterioration in the liquidity profile of the company on account of a delay in the realization of its receivables from its micro-irrigation systems (MIS) segment.
Here's an excerpt:
The rating watch negative reflects the risk of delay in the company's deleveraging plans or a further increase in its working capital requirement, resulting in further worsening of its liquidity position.
Reports state that Jain Irrigation had around 74% of its long-term debt obligations in foreign currency. The company hedges only a small portion of this debt, while profitability from overseas operations and derivatives help in mitigating the foreign exchange risk to an extent.
In the past four trading sessions, the stock has tanked 45% on reports of debt default.
However, the company denied and clarified last week that it "has not defaulted on any of its debt obligations and it is growth oriented, profit making, dividend paying entity".
Also, the company has decided to reduce the debt by Rs 20 billion through corporate action as intimated earlier post board meeting on May 30.
How this pans out remains to be seen. Meanwhile, we will keep you updated on all the developments from this space.
Moving on to the news from the aviation space, the domestic air passenger traffic saw a rebound in May 2019 as it rose by 2.96% after a slump in April.
According to the Directorate General of Civil Aviation (DGCA) data, domestic airlines flew 12.2 million passengers in May 2019, as against 11.9 million passengers carried in the same month of last year.
In April 2019, domestic air traffic dipped 4.5% year-on-year which was the sharpest decline in at least five years. Suspension of operations by Jet Airways on April 17 due to lack of funds was one of the primary reasons why domestic air traffic saw a fall in that month.
In terms of market share, InterGlobe Aviation (IndiGo) share price maintained its lead position with 49% share of the domestic passenger market in May.
SpiceJet's market share increased from 13.1% in April to 14.8% in May, giving it the number two spot. The passenger load factor for SpiceJet share price was 93.9% in May.
Speaking of aviation industry, looking at the current demand-supply scenario, air passenger traffic is slowing down.
A slowdown in passenger growth is due to several factors. These include frequent flight cancellations due to grounding of fund-starved Jet Airways' aircraft, pilot shortages faced by IndiGo, NOTAMs (notice to airmen) at various airports, and a rise in airfare etc.
In the last 5 years, we saw a surge of middle-class travelling by plane. But when the ticket price goes up, many of them prefer an alternate mode of transportation.
This can impact revenue and margin of airports at a time when many of them are undertaking large capex. The decline in passenger traffic follows the increase in airfares due to lower number of flights.
To know what's moving the Indian stock markets today, check out the most recent share market updates here.
For information on how to pick stocks that have the potential to deliver big returns,
Read the latest Market Commentary
Stock Market Updates
Jul 19, 2019 Closing
The BSE Sensex ended the day down by 560 points, while the NSE Nifty closed down by 177 points.
Jul 19, 2019 03:34 PM
TUBE INVESTMENTS OF INDIA LTD share price has plunged by 6% and its current market price is Rs 428. The BSE CAPITAL GOODS is down by 1.2%. The top gainers in the BSE CAPITAL GOODS Index are CG POWER & INDUSTRIAL (up 3.0%) and SUZLON ENERGY (up 2.3%). The top losers are TUBE INVESTMENTS OF INDIA LTD (down 5.7%) and HEG (down 9.4%).
Jul 19, 2019 03:34 PM
L&T FINANCE HOLDINGS share price has plunged by 6% and its current market price is Rs 118. The BSE 500 is down by 1.5%. The top gainers in the BSE 500 Index are KAVERI SEED (up 7.5%) and RELIANCE COMMUNICATIONS (up 4.7%). The top losers are L&T FINANCE HOLDINGS (down 5.5%) and HEG (down 9.4%).
Jul 19, 2019 03:34 PM
The BSE AUTO Index Down at 16,914 (down 3.1%). Among the top losers in the BSE AUTO Index today are EXIDE INDUSTRIES, MOTHERSON SUMI and M&M. Meanwhile, the BSE Sensex has plunged 1.3% to 39,059.
Jul 19, 2019 03:32 PM
The BSE BANKEX Index Down at 34,342 (down 2.0%). Among the top losers in the BSE BANKEX Index today are YES BANK, INDUSIND BANK and BANK OF BARODA. Meanwhile, the BSE Sensex has plunged 1.4% to 39,059.
Jul 19, 2019 03:32 PM
COFFEE DAY ENTER. share price has plunged by 5% and its current market price is Rs 215. The BSE 500 is down by 1.5%. The top gainers in the BSE 500 Index are KAVERI SEED (up 7.8%) and RELIANCE COMMUNICATIONS (up 4.7%). The top losers are COFFEE DAY ENTER. (down 5.4%) and HEG (down 9.4%).
View More Indian Share Market News
Most Popular
Jul 9, 2019
As the sense of normalcy returns to the markets, the rebound in the quality smallcaps could be huge.
Jul 12, 2019
Despite the current fear prevailing in the markets, both these stocks have the potential to deliver in 4-5 years.
Jul 8, 2019
A new 'definition' of the stock universe that triggered the smallcap sell-off is back with the latest list...
Jul 10, 2019
There are some great buying opportunities in the market right now - and the small cap space is your best bet.
Jul 10, 2019
Affordable housing is one of the most straightforward growth stories in India. This will help the real estate sector to come out of the slump.
More