Indian Stock Market News June 21, 2018
Sensex Ends Volatile Day in Red; Pharma Stocks Lose Most
After opening the day in green, share markets in India witnessed volatile trading activity throughout the day and ended the day on a negative note. Sectoral indices traded in red, with stocks in the capital sector and stocks in the pharma sector, leading the losses.
At the closing bell, the BSE Sensex stood lower by 115 points (down 0.3%) and the NSE Nifty closed down by 30 points (down 0.3%). The BSE Mid Cap index ended the day down 0.5%, while the BSE Small Cap index ended the day down by 0.8%.
The rupee was trading at Rs 68.11 against the US$ in the afternoon session. Oil prices were trading at US$ 73.29 at the time of writing.
Asian stock markets finished mixed. As of the most recent closing prices, the Hang Seng was down by 1.4% and the Shanghai Composite was down by 1.4%. The Nikkei 225 was up by 0.6%. Meanwhile, European markets, were trading on a negative note. The FTSE 100 was flat. The DAX, was down by 1% while the CAC 40 was down by 0.5%
In news from the energy sector. According to a leading financial daily, India's solar capacity grew by more than 70% in 2017-18 as compared to the previous year.
India's total solar installation was 10.4 GW, the rest comprising rooftop solar plants and off-grid solutions, taking the country's cumulative solar capacity to 24.4 GW.
Solar capacity addition in 2017-18 was higher than that of all other energy sources, both conventional and renewable, combined, the report notes. In comparison coal and wind only added 4.6 GW and 1.7 GW respectively.
Renewable Energy Generation Target Over the Years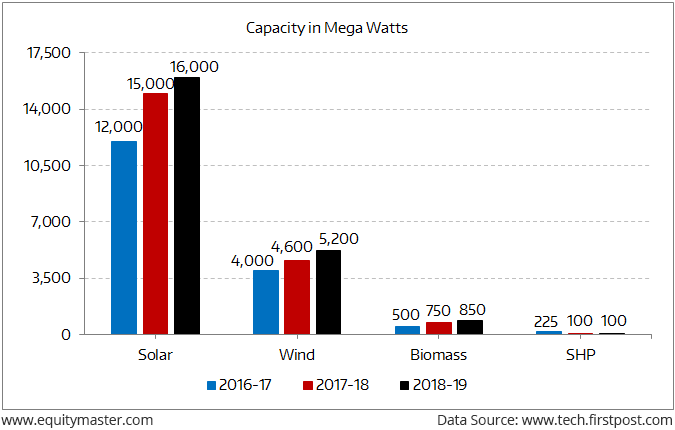 In 2018-19, the government is eyeing 22,150 MW power capacity addition from renewables, including 16,000 MW (solar), 5,200 MW (wind), 850 MW (biomass) and 100 MW from small hydro power (of up to 25 MW). Moreover, the increased use of indigenous renewable resources is expected to reduce India's dependence on expensive imported fossil fuel.
Of the many industries facing disruption, energy sector tops the list. It's not just the oil and gas prices. The rise of renewable energy, especially solar energy, is an emerging threat for conventional energy companies.
--- Advertisement ---


SMART MONEY ALERT: New Recommendation Report Releasing Soon…

We are just a few days away from releasing our latest Smart Money Secret Recommendation Report.

So, if you act today and take us up on our Special '30-Day Trial subscription at Just Rs 99' invitation, you will get this report, as soon as it's released, right in your inbox.

PLUS, you will also get 2 Special Guides (Worth Rs 950 each) and our latest views on 12 Guru-based stocks we have already recommended in the past…

Yes, this is one of the BEST offers we have designed for you to try Smart Money Secrets…and it will expire very soon. So, do not delay…

All you have to pay is Rs 99 and we'll activate your trial subscription right away.

Click here for full details…
------------------------------
Does this mean every direct player in solar sector stands to gain?
We don't think so. In India itself, solar tariffs are dropping to record lows. Solar developers recently bid a record low tariff of Rs 2.44 per unit. With average tariffs for thermal plants hovering at Rs 3.2 per unit, solar tariffs are nearly 25% cheaper.
As the solar developers get aggressive to win bids, we wonder if the projects are even viable at these ultra-low rates.
This is another example where rise in an industry may not benefit the direct players. That said, there could be some indirect players that could gain from the government's ambition to add 100 GW of solar power capacity till 2022.
These indirect companies, that stand to gain from supplying to a rising trend or direct players are what Hidden Treasure team hunts for.
Moving on to news from the aviation sector. In an effort to meet the rising demand, the government is considering several ways to boost infrastructure in the Indian aviation sector.
Reportedly, the government is looking at ways to build new airports, which include massive investment of around Rs 1 trillion and development of airports within smaller parcels of land.
The government is facing issues in procuring land for airports due to growing air traffic.
This could be seen as a boost for airlines as it would open up new destinations for domestic carriers to fly to.
Air travel has recorded double-digit growth for 40 consecutive months, thanks to low fares, the addition of new flights/destinations, and overall growth in the economy.
What's foreseeable for India's aviation traffic in 2018 is some pressure on the back of the consistent rise in crude oil prices. Earlier this month, Brent crude oil briefly breached US$80 per barrel and touched its highest level since December 2014. Crude prices have been driven up by production curbs in OPEC nations and Russia, as well as by robust demand on the back of healthy global economic growth.
Oil prices are closely monitored by the Indian air carriers, as aviation turbine fuel is their single largest input cost. A sharp rise in the cost of fuel puts pressure on margins, and consequently an increase in air fares.
Although air travel is becoming the new normal, investors need to understand the industry dynamics before buying up aviation stocks.
For information on how to pick stocks that have the potential to deliver big returns,
Read the latest Market Commentary
Stock Market Updates
Nov 20, 2018 01:11 PM
INDIABULLS VENTURES share price has plunged by 6% and its current market price is Rs 446. The BSE 500 is down by 0.5%. The top gainers in the BSE 500 Index are ITI LTD (up 12.1%) and AEGIS LOGISTICS (up 4.8%). The top losers are INDIABULLS VENTURES (down 6.3%) and YES BANK (down 5.8%).
Nov 20, 2018 01:11 PM
The BSE METAL Index Down at 12,689 (down 2.2%). Among the top losers in the BSE METAL Index today are HINDALCO, JINDAL STEEL & POWER and TATA STEEL. Meanwhile, the BSE Sensex has plunged 0.4% to 35,732.
Nov 20, 2018 12:29 PM
BEML LTD. share price has surged by 5% and its current market price is Rs 767. The BSE CAPITAL GOODS is up by 0.1%. The top gainers in the BSE CAPITAL GOODS Index is BEML LTD. (up 5.1%). The top losers are ABB INDIA LTD. (down 0.2%) and LAKSHMI MACHINE (down 0.2%).
Nov 20, 2018 11:55 AM
FORBES & CO. LTD. share price has surged by 10% and its current market price is Rs 2,247. The BSE CAPITAL GOODS is up by 0.1%. The top gainers in the BSE CAPITAL GOODS Index is FORBES & CO. LTD. (up 9.7%). The top losers are SKF INDIA (down 0.2%) and ABB INDIA LTD. (down 0.2%).
Nov 20, 2018 11:47 AM
AU SMALL FINANCE BANK share price has plunged by 5% and its current market price is Rs 604. The BSE BANKEX is down by 0.5%. The top gainers in the BSE BANKEX Index are INDUSIND BANK (up 1.9%) and KOTAK MAH. BANK (up 0.1%). The top losers is AU SMALL FINANCE BANK (down 5.2%).
Nov 20, 2018 09:30 am
Indian share markets open in red with Sensex down by 72 points, while the Nifty is trading down by 32 points.
View More Indian Share Market News
Most Popular
Nov 9, 2018
All blue chip companies are large caps but all large caps are not blue chips.
Nov 12, 2018
A brand new technology and a stock that could soar with the upcoming 5G rollout.
Nov 15, 2018
NBFC and IL&FS crisis have worsened the realty sector woes. Is there a light at the end of the tunnel for real estate sector?
Nov 9, 2018
Investing in large caps is not always safe. Consider the right metrics to judge the safety and quality of large caps.
Nov 19, 2018
PersonalFN explains the care to take when investing in small-cap funds and the approach to follow.
More