Indian Stock Market News June 26, 2019
Indian Indices Trade Marginally Higher; Sun Pharma Gains 3%
Share markets in India are presently trading on a positive note. Sectoral indices are trading on a mixed note with stocks in the power sector, capital goods sector and realty sector witnessing buying interest, while IT stocks and telecom stocks are trading in red.
The BSE Sensex is trading up by 78 points while the NSE Nifty is trading up by 19 points. The BSE Mid Cap index is trading up by 0.7%, while the BSE Small Cap index is trading up by 0.4%.
Speaking of Indian benchmark indices, note that overall, the Sensex PE ratio has been in expansion mode over the last five years.
Between the election results of 2014 and 2019, the Sensex PE expanded by 52%.
The chart below shows the change in the Sensex price to earnings (PE) multiple over the last five years of Modi government.
Sensex Rally Driven by PE Expansion in Modi's First Term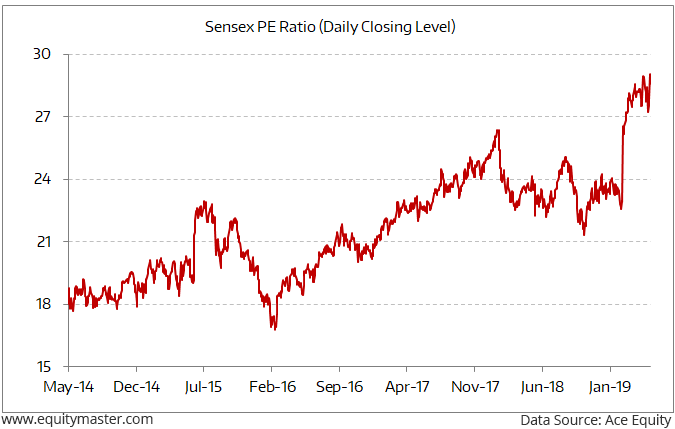 What this means is that most of the gains in Modi's first term have come mostly from an expansion of valuation multiples and only partially due to earnings growth.
What are the implications for investors in Modi's second term?
Ankit Shah answers this question in one of the latest edition of The 5 Minute WrapUp. Here's an excerpt of what he wrote...
In my view, what worked in Modi's first term may not necessarily work in the second one. Back in 2014, you could have put your finger on a random set of stocks, and there were good chances you would make money.

But right now, the circumstances are quite different. The overall markets are trading at elevated valuation multiples. The economy has been showing signs of fatigue. The financial sector is still in a mess. Unemployment levels are high.

For much of Modi's first term, the global markets were in a bull run. However, global economic conditions are not as favourable now. There are growing fears of an impending global slowdown. There has been an escalation in the US-China trade war.

Given all these factors, do not expect the markets to have a broad-based bull run in Modi's second term.
With the elections done, the markets will now move based on earnings visibility, economic policies, global sentiments, and so on.
So, look out for the stocks that will rise fast when the tide of the market turns up.
SBI Life Insurance share price is in focus today. Stock of the company hit a 52-week high of Rs 715 per share, up 6% intra-day, on the BSE with heavy buying seen at the counter in response to excessive bids being received for stake sale.
The firm, which has put Rs 16.3 billion worth of shares under offer for sale (OFS), received bids for nearly 86 million shares against 25 million shares on offer.
Most of the bids came at Rs 670 per share, higher than the base price of Rs 650 set for the OFS, the data provided by stock exchanges showed. The two-day OFS opened on Tuesday for non-retail investors and today for retail investors.
Foreign partner of SBI Life Insurance, BNP Paribas Cardif proposed to sell up to 25 million shares, representing 2.5% stake in the insurance company. Following the sale, its holding will drop to 5.2% from 7.7% now.
Meanwhile, state-owned Life Insurance Corporation of India (LIC) has sold over 19.2 million shares, representing about 2% stake of Asian Paints, through open market transaction.
With this transaction, LIC's stake in Asian Paints has now come down to 3% from 5% earlier.
Reportedly, the total sale value could not be ascertained as the insurer sold the shares over a period of time between January 9-June 24, 2019.
Moving on to the news from the aviation space, shares of SpiceJet gained as much as 5% today after the low-cost carrier said it would launch eight new daily international flights from Mumbai and Delhi in July.
The company in a regulatory filing said, "SpiceJet will service Mumbai-Riyadh-Mumbai, Mumbai-Dhaka-Mumbai, Delhi-Dhaka-Delhi and Delhi-Jeddah-Delhi with daily non-stop flights".
Reports state that SpiceJet will use its 168-seater Boeing 737-800 aircraft on all these routes. The airline currently operates 597 average daily flights to 62 destinations, including 53 domestic and 9 international locales.
In other news, as per an article in The Economic Times, Jet Airways' employees have been shunted out of the airline's corporate headquarters in suburban Mumbai by its owners as the airline failed to renew its lease agreement.
Here's an excerpt from the article:
Siroya Centre, located in Andheri in the western suburbs of the city, had been leased to Jet and been its workplace for close to a decade. The evacuation moves happened last night. The property has been already put up for lease through commercial real estate services firm JLL, its website showed.

A team of insolvency professionals headed by Grant Thornton's Ashish Chhawchharia had also been working out of Jet's office space in addition to what remains of Jet's management. They will now either file a complaint to the police or get a court order as a remedial action to stall the evacuation.
The move may attract legal action as the cash-strapped airline is undergoing an insolvency resolution process directed by National Company Law Tribunal (NCLT).
The insolvency resolution process started after the NCLT last Thursday admitted a plea by Jet's biggest lender the State Bank of India on repeated loan repayment defaults by the airline.
Note that Jet Airways has a debt of nearly Rs 85 billion on its books with total liabilities of around Rs 250 billion.
Jet stopped flying on April 17, running out of funds to stay afloat and failing to raise cash. Its lenders have unsuccessfully been trying to find it a new investor.
How this pans out remains to be seen. Meanwhile, we will keep you updated on all the developments form this space.
And to know what's moving the Indian stock markets today, check out the most recent share market updates here.
For information on how to pick stocks that have the potential to deliver big returns,
Stock Market Updates
Jun 26, 2019 12:16 PM
DISHMAN CARBOGEN AMCIS LTD share price has surged by 5% and its current market price is Rs 229. The BSE HEALTHCARE is up by 1.0%. The top gainers in the BSE HEALTHCARE Index is DISHMAN CARBOGEN AMCIS LTD (up 5.2%). The top losers are SHILPA MEDICARE and ABBOTT INDIA .
Jun 26, 2019 12:14 PM
ALLAHABAD BANK share price has surged by 5% and its current market price is Rs 45. The BSE BANKEX is up by 0.4%. The top gainers in the BSE BANKEX Index is ALLAHABAD BANK (up 5.1%). The top losers are SBI (down 0.1%) and INDUSIND BANK (down 0.3%).
Jun 26, 2019 11:56 AM
JAIPRAKASH ASSO. share price has surged by 5% and its current market price is Rs 3. The BSE REALTY is up by 1.4%. The top gainers in the BSE REALTY Index is JAIPRAKASH ASSO. (up 5.5%). The top losers are PHOENIX MILL (down 0.3%) and GODREJ PROPERTIES (down 1.7%).
Jun 26, 2019 11:42 AM
V GUARD INDUSTRIES share price has surged by 5% and its current market price is Rs 250. The BSE CAPITAL GOODS is up by 1.0%. The top gainers in the BSE CAPITAL GOODS Index are V GUARD INDUSTRIES (up 5.2%) and DILIP BUILDCON LTD (up 7.5%). The top losers are SCHAEFFLER INDIA LTD (down 0.2%) and THERMAX (down 0.3%).
Jun 26, 2019 10:48 AM
V GUARD INDUSTRIES share price has hit a 52-week high. It is presently trading at Rs 249. BSE 500 Index is up by 0.3% at 15,314. Within the BSE 500, V GUARD INDUSTRIES (up 4.7%) and RELIANCE INFRA (up 9.7%) are among the top gainers, while top losers are RELIANCE COMMUNICATIONS and PC JEWELLER.
Jun 26, 2019 09:30 am
Indian share markets open on a positive note with Sensex up by 60 points, while the Nifty is trading up by 12 points.
View More Indian Share Market News
Most Popular
Jun 13, 2019
We are living in an era of disruption. Are your stocks well equipped to adapt to changes that disruption will bring along?
Jun 14, 2019
Smallcaps have gone nowhere even as the Sensex makes new all-time highs. Find out why Richa believes this a good opportunity to invest in smallcaps.
Jun 21, 2019
Andrade gives his take on agriculture, an industry from which we have already recommended two stocks.
Jun 20, 2019
The next big opportunity that has the potential to make you both rich and healthy.
Jun 19, 2019
This month's Smart Money Secrets recommendation is from global super investor - Aberdeen Standard Investments.
More