Indian Stock Market News June 26, 2019
Sensex Opens Marginally Higher; Capital Goods & Power Stocks Lead
Asian share markets slipped on Wednesday and the dollar pulled back from three-month lows after Federal Reserve officials tempered expectations in the markets for aggressive monetary easing.
Fed Chair Jerome Powell on Tuesday said the central bank is "insulated from short-term political pressures," pushing back against US President Donald Trump's demand for a significant rate cut.
The Shanghai Composite is off 0.9%, while the Hang Seng is up 0.1%. The Nikkei 225 is trading down by 0.5%.
Back home, India share markets have opened the day on a positive note. The BSE Sensex is trading up by 60 points while the NSE Nifty is trading up by 12 points. The BSE Mid Cap index and the BSE Small Cap index have opened the day on a flat note.
Sectoral indices have opened the day on a mixed note with stocks in the power sector and capital goods sector witnessing buying interest, while IT stocks and realty stocks are trading in red.
The rupee is trading at Rs 69.45 against the US$.
---

Advertisement

---
Nearly 2,000 Copies Claimed So Far…Virtually For FREE!
Nearly 2,000 copies of Tanushree's new hardbound book have been claimed so far.

It's selling on Amazon for Rs 1,950 right now.

But you could claim your copy now…virtually FREE!

Click here to find out how…

------------------------------
In the news from the finance sector, mortgage lender Dewan Housing Finance Corporation (DHFL) said it is yet to repay Rs 2.3 billion out of the total Rs 3.8 billion of commercial paper to a dozen investors. On Tuesday, the company in a regulatory filing said it has repaid Rs 1.5 billion so far.
This is the second time this month that the company has missed the repayment deadline on a set of outstanding bonds.
Earlier this month, DHFL defaulted on interest payment of Rs 8.5 billion on its non-convertible debentures, following which its credit rating was downgraded to default or 'D' by rating agencies CRISIL and ICRA.
The delay in repayment comes ahead of the meeting of lenders to be held in the first week of July to hammer out a rescue package that includes loan restructuring, fresh working capital support, inducting a new financial investor, and a new management team.
On June 17, The Economic Times reported that the Employees' Provident Fund Organisation (EPFO) had sought details of DHFL's plans for cash generation amid mounting concerns of default. The largest domestic institutional investor in debt assets sought to redeem half of its DHFL investments exercising the 'put option', an exit route given to investors before scheduled maturities.
EPFO invested about Rs 13 billion in debt securities sold by DHFL. When EPFO made the investment in 2014-15, the company's debt was rated 'AAA' by CARE. As per rules, EPFO cannot invest in any debt securities rated below 'AA+'. But pension and insurance funds such as EPFO are not required to show mark-to-market losses.
Over the past few months, the company has sold retail loans worth Rs 300 billion via securitization. It has also sold several of its strategic retail assets, including affordable housing arm Aadhar Housing Finance, educational loan business Avanse and DHFL Pramerica Asset Managers.
In January, DHFL sold Rs 13.8 billion of wholesale loans to foreign alternative investment management fund Oaktree Capital, which buys distressed loan portfolios at a discount.
Data showed that State Bank of India (SBI) is the largest lender to DHFL with a total exposure of around Rs 100 billion. DHFL has repaid around Rs 400 billion of its financial obligations since September and remains committed to meeting all debt obligations in a timely manner, the company said in its regulatory filing on Tuesday.
Speaking of NBFC space, the liquidity crisis, a slew of corporate defaults, and the bloodbath in many stocks from this sector has left investors in deep fear and panic.
However, it is not that all NBFCs have fared badly.
In a recent edition of The 5 Minute WrapUp, Ankit Shah has picked the top three NBFC gainers and losers (in terms of market capitalisation) over the last one year.
As can be seen in the chart below, while several NBFCs have suffered badly and destroyed investor wealth, there have also been quality NBFC stocks that have been wealth creators.
NBFC Crisis - Top Gainers and Losers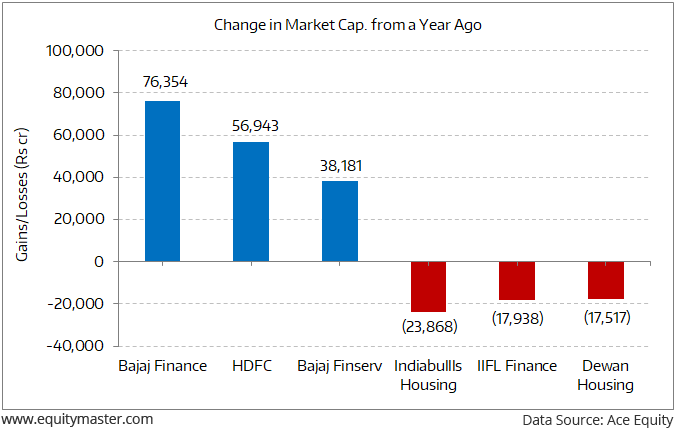 So, as Ankit shares, the key takeaway here is to never write off an entire sector and to always stay on the lookout for quality stocks in sectors going through temporary headwinds.
In fact, in Ankit's premium newsletter Insider, one of his cherry-picked housing finance stock has performed quite well despite the NBFC crisis.
Moving on to the news from the IT sector, Persistent Systems' subsidiary - Persistent Systems Germany GmbH has entered into a share purchase agreement to acquire 100% share capital of Youperience GmbH, a salesforce certified gold partner in Germany.
The acquisition is subject to customary closing conditions which are expected to be completed within 2 weeks.
Reportedly, the proposed acquisition strengthens the company's salesforce practice in Europe and in the salesforce marketing cloud domain.
Persistent System share price has opened the day up by 1.5%.
To know more about the company, you can read the company's latest result analysis on our website.
For information on how to pick stocks that have the potential to deliver big returns,
Read the latest Market Commentary
Stock Market Updates
Jul 19, 2019 Closing
The BSE Sensex ended the day down by 560 points, while the NSE Nifty closed down by 177 points.
Jul 19, 2019 03:34 PM
TUBE INVESTMENTS OF INDIA LTD share price has plunged by 6% and its current market price is Rs 428. The BSE CAPITAL GOODS is down by 1.2%. The top gainers in the BSE CAPITAL GOODS Index are CG POWER & INDUSTRIAL (up 3.0%) and SUZLON ENERGY (up 2.3%). The top losers are TUBE INVESTMENTS OF INDIA LTD (down 5.7%) and HEG (down 9.4%).
Jul 19, 2019 03:34 PM
L&T FINANCE HOLDINGS share price has plunged by 6% and its current market price is Rs 118. The BSE 500 is down by 1.5%. The top gainers in the BSE 500 Index are KAVERI SEED (up 7.5%) and RELIANCE COMMUNICATIONS (up 4.7%). The top losers are L&T FINANCE HOLDINGS (down 5.5%) and HEG (down 9.4%).
Jul 19, 2019 03:34 PM
The BSE AUTO Index Down at 16,914 (down 3.1%). Among the top losers in the BSE AUTO Index today are EXIDE INDUSTRIES, MOTHERSON SUMI and M&M. Meanwhile, the BSE Sensex has plunged 1.3% to 39,059.
Jul 19, 2019 03:32 PM
The BSE BANKEX Index Down at 34,342 (down 2.0%). Among the top losers in the BSE BANKEX Index today are YES BANK, INDUSIND BANK and BANK OF BARODA. Meanwhile, the BSE Sensex has plunged 1.4% to 39,059.
Jul 19, 2019 03:32 PM
COFFEE DAY ENTER. share price has plunged by 5% and its current market price is Rs 215. The BSE 500 is down by 1.5%. The top gainers in the BSE 500 Index are KAVERI SEED (up 7.8%) and RELIANCE COMMUNICATIONS (up 4.7%). The top losers are COFFEE DAY ENTER. (down 5.4%) and HEG (down 9.4%).
View More Indian Share Market News
Most Popular
Jul 9, 2019
As the sense of normalcy returns to the markets, the rebound in the quality smallcaps could be huge.
Jul 12, 2019
Despite the current fear prevailing in the markets, both these stocks have the potential to deliver in 4-5 years.
Jul 8, 2019
A new 'definition' of the stock universe that triggered the smallcap sell-off is back with the latest list...
Jul 10, 2019
There are some great buying opportunities in the market right now - and the small cap space is your best bet.
Jul 10, 2019
Affordable housing is one of the most straightforward growth stories in India. This will help the real estate sector to come out of the slump.
More