Indian Stock Market News June 27, 2017
Sensex Finishes in Red for Fifth Consecutive Session; PSU Bank Stocks Tumble
Indian share markets continued to witness selling pressure in the afternoon session and finished the trading day in red for fifth consecutive session.
At the closing bell, the BSE Sensex closed lower by 180 points, while the NSE Nifty closed lower by 64 points. Meanwhile, the S&P BSE Mid Cap and the S&P BSE Small Cap finished down by 0.8% and 1.6% respectively. Losses were largely seen in realty stocks, bank stocks and capital goods stocks.
PSU banks plunged as lenders took a hit following a report that the country's central bank has demanded higher provisioning for loans submitted under the insolvency process. As per a leading financial daily, the Reserve Bank of India (RBI) has asked banks to set aside at least 50% of the loan amount for accounts referred to bankruptcy courts. The move could hurt banks' earnings to the tune of 500 billion rupees.
SBI share price plunged 3.3%, while PNB share price slipped 4.7%. Indian Bank share price & Canara Bank share price finished down by 4.5% respectively.
Asian stock markets finished mixed as of the most recent closing prices. The Nikkei 225 gained 0.36% and the Shanghai Composite rose 0.18%. The Hang Seng lost 0.12%. European markets are lower today with shares in France off the most. The CAC 40 is down 0.53% while Germany's DAX is off 0.28% and London's FTSE 100 is lower by 0.08%.
The rupee was trading at Rs 64.34 against the US$ in the afternoon session. Oil prices were trading at US$ 43.78 at the time of writing.
Just Released: Multibagger Stocks Guide
(2017 Edition)
In this report, we reveal four proven strategies to picking multibagger stocks.
Well over a million copies of this report have already been claimed over the years.
Go ahead, grab your copy today. It's Free.
NO-SPAM PLEDGE
- We will NEVER rent, sell, or give away your e-mail address to anyone for any reason. You can unsubscribe from The 5 Minute WrapUp with a few clicks. Please read our
Privacy Policy
&
Terms Of Use
.
ONGC share price finished the trading day up by 1.3% on the BSE after it was reported that the company has received environmental clearance for drilling five wells to explore shale gas and oil in the KG basin of Andhra Pradesh at an estimated cost of Rs 2.17 billion.
Since the KG basin holds significant promise for additional reserve accretion, the petroleum ministry is keen on continuing the exploratory activity. The current production of oil and gas is 750-800 tonnes per day and 2.5-3 million cubic metres of gas, respectively, from various facilities in this area.
In another development, as per a leading financial daily, the GST Council may decide to include natural gas in the Goods and Services Tax (GST) regime as a measure to provide some relief to the oil and gas sector.
Currently, crude oil, petrol, diesel, jet fuel or aviation turbine fuel and natural gas are not included in the new indirect tax structure.
This essentially means that various goods and services procured by the oil and gas industry will be subject to GST, but the sale and supply of oil, gas and petroleum products will continue to attract earlier taxes like excise duty and VAT.
If natural gas is included, GST paid on inputs and services used for producing natural gas can be set off against taxes on its sale. This would cut the losses to the industry by one-fifth.
The move will benefit companies like ONGC as well as gas retailers like IGL.
Oil & Gas stocks finished mixed with BPCL and Oil India leading the losses.
Moving on to news from mining sector. As per an article in The Economic Times, Vedanta is planning to invest US$ 6-7 billion on expanding overall capacity in 3-4 years. The company are looking for at least 60% capacity addition in their businesses.
At the same time, the company's chairman plans to anchor more natural resources companies in India. The company is aspiring to produce 50% of India's oil production as "it wants to cut on huge import bills.
Vedanta Ltd is also looking at 1.2 million tonnes (mt) of zinc capacity and wants to take it to 1.5 MT later. About silver, the company wants to double the output to 1,000 tonnes.
Vedanta Ltd share price finished the day up by 0.1%
In another development, SAIL is eyeing coal import from countries like South Africa and Canada as the company plans to cut down its dependence on Australian firm BHP Billiton for coking coal import.
As per the reports, SAIL is a buyer of around 12 mt. Out of this, 9-10 mt come from Australia (BHP Billiton). Other than Australia, SAIL sources coking coal from countries like New Zealand, Mozambique and the US. In 2017-18, the state-owned company is planning to import around 10-12 mt of coking coal, a vital ingredient in the steel-making process.
SAIL share price finished down by 1.7% on the BSE.
In news from pharma sector, Sun Pharmaceutical Industries and National Institute of Virology (NIV) today signed a pact to test new medicines developed by the company to combat zika, chikungunya and dengue diseases.
The latest agreement with NIV follows Sun Pharma's MoU with Indian Council of Medical Research (ICMR) for conducting joint scientific research and innovation for testing of drugs, biosimilars and vaccines and disease control and elimination programs.
Sun Pharma share price finished flat.
Is the Worst Over for all the Pharma Stocks?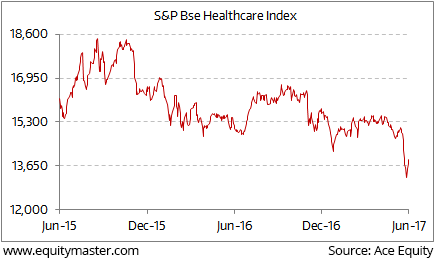 Recently, Girish, our pharma analyst wrote about some of his views on pharma sector in general in our edition of Research Digest (subscription required).
There's price control regulations in many countries to worry about. There's the well-documented USFDA issues. Then there's something you've probably not heard about yet...

Did you know pharmacies in the US are consolidating? That is, they're getting bigger through mergers and acquisitions? This has resulted in greater bargaining power when buying drugs from pharma firms.

The list of pharma sector woes is long. Is there light at the end of the tunnel? Girish thinks there is.

It doesn't make sense to paint all pharma stocks with the same brush. The leaders of the industry will certainly survive this phase. And just like IT, there are interesting, niche pharma stocks that are worth your attention.
His deduction was markets are irrationally punishing everyone. Such gloom and doom scenarios are bound to create opportunities in select stocks.
And here's a note from Profit Hunter
The PSU banks have had a healthy rally from February 2016 until last month. The State Bank of India (SBI) rallied 110% during this period, from a low of Rs 149 to a high of Rs 315.
During this rally, the stock has encountered strong resistance at Rs 282. The 282 level has acted as an important support and resistance several times in the past.
The stock broke above this level to a hit a high of Rs 299 in March. It then slipped towards 282 level in April but resumed its up move to a high of Rs 315 in May.
But the stock again slipped towards the 282 level. Then, after a bounce, the stock broke below 282 with heavy volumes in today's session.
The past three months' price action has formed a head and shoulder pattern with 282 as the neckline.
Since the stock closed below the neckline today, it has opened up lower levels for itself. But on the flipside, if it recovers to close above the neckline, the bulls might be back in action.
SBI Formed Head and Shoulder Pattern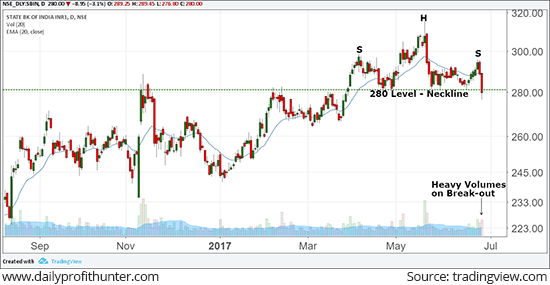 For information on how to pick stocks that have the potential to deliver big returns,
Read the latest Market Commentary
What else is happening in the markets today? Dig in...
Views on News
Apr 20, 2021
Here's the rundown on the company's latest quarterly results.
May 12, 2021
Find out what I think about cryptos and what I think about trading them.
May 12, 2021
Extra cash can be a boon or a curse in disguise.
May 11, 2021
PersonalFN explains whether you should buy gold during Akshaya Tritiya 2021.
May 11, 2021
The worst sector in the stock market according to the charts.
More Views on News
Most Popular
Apr 30, 2021
Price is the only due diligence one might require to buy this business.
Apr 30, 2021
In this video, I'll show you why I favour smallcaps over the Nifty.
May 6, 2021
Why are markets discounting the economic impact of Covid?
May 7, 2021
I've used this trading technique for many years with great success. I'm sharing it with you today.
More