Indian Stock Market News June 29, 2017
Markets will remain closed on May 13, 2021 on account of Id-Ul-Fitr (Ramzan Id).
Sensex Trims Early Gains to Finish Flat; Indigo Slips 2.3%
Indian share markets trimmed its early gains in the afternoon session to finish just above the dotted line amid mixed global cues. At the closing bell, the BSE Sensex stood higher by 23 points, while the NSE Nifty finished up by 13 points. Meanwhile, the S&P BSE Mid Cap & the S&P BSE Small Cap finished up by 0.3% and 1% respectively. Gains were largely seen in metal stocks, realty stocks and FMCG stocks.
Indigo share price slipped 2.3% in afternoon trade after it was reported that the company has expressed unsolicited interest in Air India.
IndiGo is the first company that has shown interest in buying stake in Air India, Aviation Ministry said on Thursday. The ministry expects more airlines to approach to buy stake in Air India.
The government, on Wednesday, gave approval to privatise debt-laden Air India, the first step of a process that could see the government offload an airline struggling to turn a profit in the face of growing competition from low-cost rivals.
The Modi government has infused nearly Rs 160 billion since coming to office in 2014 and the central exchequer is no longer keen on keeping the airline afloat with little sign of a revival.
India's aviation industry is on a high-growth trajectory. India's domestic air passenger traffic has almost doubled in the past six years. This is on the back of strong economic growth and emergence of low-fare airlines. Indian carriers have now set their sights on International traffic. Indian carriers have been slowly increasing their market share. It is important to note that foreign carriers still dominate international traffic to and from India.
Domestic Airlines Fly High in Foreign Skies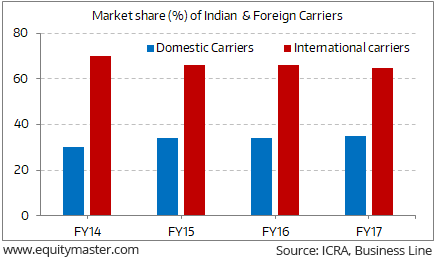 As per the report by rating agency ICRA, the share of domestic airlines in India's international traffic increased from 30.1% in FY14 to 35.1% in FY17. In the coming years, this share is expected to increase as the government replaced the 5/20 rule with 0/20 rule. The 5/20 rule mandates that airlines need to fly at least 5 years domestically and should possess 20 aircraft. The new 0/20 rule does away with the five-year requirement, but carriers will still need to demonstrate a fleet of 20 aircraft.
It is important to note that certain industries have relatively dull economics compared to others. And investors would do well to keep this in mind, particularly in the case of aviation. Investors need to understand the industry dynamics before buying up aviation stocks.
Asian stock markets finished broadly higher today with shares in Hong Kong leading the region. The Hang Seng is up 1.10% while China's Shanghai Composite is up 0.47% and Japan's Nikkei 225 is up 0.45%. European markets are mixed. The FTSE 100 is higher by 0.30%, while the CAC 40 is leading the DAX lower. They are down 0.48% and 0.16% respectively.
The rupee was trading at Rs 64.47 against the US$ in the afternoon session. Oil prices were trading at US$ 44.95 at the time of writing.
Just Released: Multibagger Stocks Guide
(2017 Edition)
In this report, we reveal four proven strategies to picking multibagger stocks.
Well over a million copies of this report have already been claimed over the years.
Go ahead, grab your copy today. It's Free.
NO-SPAM PLEDGE
- We will NEVER rent, sell, or give away your e-mail address to anyone for any reason. You can unsubscribe from The 5 Minute WrapUp with a few clicks. Please read our
Privacy Policy
&
Terms Of Use
.
In news from economic sector, raising concerns over the recent spate of declarations of farm loan waivers across the country, the credit rating agency, Fitch Ratings in its latest report has said that these moves could have a significant impact on state government finances and might undermine efforts to bring down general government debt. The rating agency noted that the farm loan waivers will also lead to further fiscal slippage at the state level or will reduce the funds available for public investment.
While the central government has indicated that it will not participate in the waivers, the report pointed that the combined finances of the states - which are included in general government debt and deficits - have been under pressure.
Besides, the agency said that public pay hikes, election spending and higher interest costs stemming from the UDAY scheme - under which state governments have taken on debt from power distribution companies - are all likely to add to expenditure.
Fitch rating highlighted that banks could also be affected by the waiver schemes, but it could benefit banks if they offload farm loans with weak repayment prospects to state governments. The agency also indicated uniform farm loan waivers could lead to moral hazard and weaken the general repayment culture among financially healthy farmers, but they will still have an incentive to repay loans to retain access to future funding.
Moving on to news from bank stocks. Axis bank share price surged 3.5% in today's trade after the bank clarified to the exchanges that its 80% insolvent loans are secured.
This move is seen positive because provisioning requirement on secured loans is lower as compared to unsecured loans. The bank had exposure to eight out of the 12 stressed accounts that the Reserve Bank of India advised initiating insolvency process on.
As per Livemint, the total fund-based outstanding from these eight accounts is Rs 50.7 billion. Non-fund-based outstanding was Rs 2.12 billion. Against this outstanding, the provision held was Rs 24.97 billion.
In news from FMCG sector, as per an article in The Economic Times, the cumulative sales of ITC's non-cigarette FMCG brands has crossed the US$2-billion mark in the fiscal ending March 2017, at Rs 140 billion growing by 16% over the previous year.
Aashirvaad which operates in packaged atta, ghee, spices and instant meals is the largest brand at Rs 35 billion growing by over 16% followed by Sunfeast, which is into biscuits at over Rs 30 billion.
Reportedly, the company is gearing up to meet new consumer trends such as emergence of health and wellness products, increasing preference for products rooted to 'Indianness' and with regional or cultural connect, growth in demand for 'on-the-go' consumption formats and rising influence of social media and digitalisation on consumer preferences.
While ITC's packaged food business is already profitable, the other FMCG businesses are yet to become profitable. The foods business is expected to be the majority contributor to its goal of achieving a turnover of Rs 1 trillion from its non-cigarette FMCG businesses by 2030.
ITC share price finished the trading day up by 1.1% on the BSE.
And here's a note from Profit Hunter:
The Nifty 50 Index ends its June expiry today. Let's have a look how the index performed during the expiry.
The index traded on a volatile note during the expiry. In the initial days, the index traded with a positive bias to hit a new life high of 9,709. But the buying interest did not last long and the index dragged to a low of 9,560 during the mid-expiry. It bounced strongly to retest its life high, but the bears continued to dominate and the index slipped to a low of 9,475 in the last week of expiry.
Today, the index rallied 85 points but again slipped sharply during the second half of the session to end the June expiry flat.
Towards the end of the expiry, the index broke below its 20-day exponential moving average (EMA), which has acted as strong support since January. The RSI indicator also broke below 50, which had acted as support during declines.
Does this indicate end of the bull rally? The rollover of the Nifty might give us a clearer picture. Watch out for the rollover report in tomorrow's Profit Hunter newsletter in the Market Notes section.
Nifty 50 Index Ends June Expiry Flat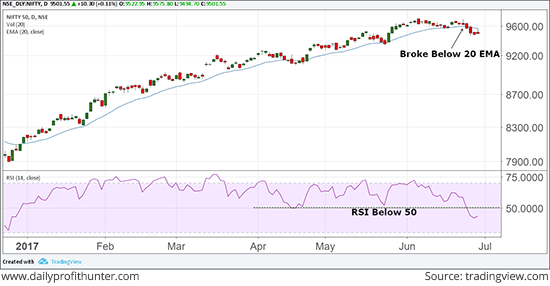 For information on how to pick stocks that have the potential to deliver big returns,
Read the latest Market Commentary
What else is happening in the markets today? Dig in...
Views on News
May 12, 2021
So far in 2021, IPOs in India have raised nearly US$ 3 bn, the best start to the year since 2018.
Apr 20, 2021
Here's the rundown on the company's latest quarterly results.
May 13, 2021
Do you think you have what it takes to be an intraday trader? Find out in this video.
May 13, 2021
Analyse the business models of EV stocks before investing in them.
May 12, 2021
The company's share price hits upper circuit after 59% jump in Q4 profit.
More Views on News
Most Popular
Apr 30, 2021
Price is the only due diligence one might require to buy this business.
Apr 30, 2021
In this video, I'll show you why I favour smallcaps over the Nifty.
May 6, 2021
Why are markets discounting the economic impact of Covid?
May 7, 2021
I've used this trading technique for many years with great success. I'm sharing it with you today.
More