Indian Stock Market News July 1, 2017
Central Bank's Tightening Monetary Policy Talk Sends Global Markets Down
Mario Draghi, president of the European Central Bank hinted at a change in the direction of monetary policy. This set a sell-off in most major global markets in anticipation of increase in interest rates. A sharp increase in crude oil prices also spooked financial markets.
The decline in oil prices over the last three years has been one of the major drivers of global stock markets. Higher crude oil prices mean higher inflation for the US economy which approached 3% during the first part of 2017. US markets ended lower by 0.2% this week.
Meanwhile, Brazilian markets rose higher this week as shares of state-controlled oil company Petroleo Brasileiro SA rose higher along with crude oil prices. Brazilian markets have been volatile lately owing to uncertainty related to the country's political crisis. Brazilian president Michel Temer was under a political storm after bribery allegations surfaced against him earlier this year. The Brazilian market closed the week up by 2.7%.
Key World Markets During the Week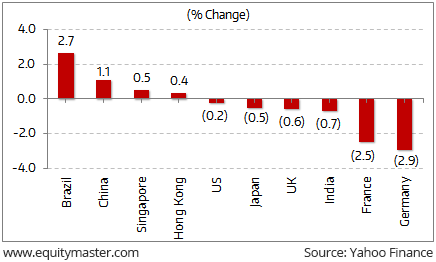 Back home, Indian share markets concluded a historic week with the nationwide launch of GST at the stroke of midnight today. Implementation of GST promises to transform India into a single common market and there are many sectors which will gain immensely from this transition. The implementation of the same is bound to bring more companies under the new tax regime, thus providing a level playing field to organized players that face huge competition from the unorganized segment. Although, markets are bound to be turbulent due to short term uncertainty across sectors as the GST is implemented. The Indian stock market ended the week lower by 0.7%.
BSE Indices During the Week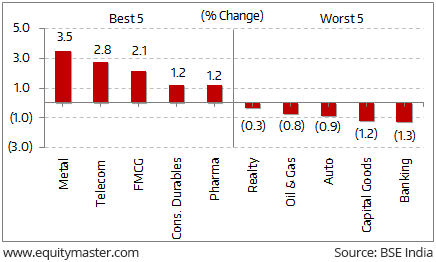 Now let us discuss some key economic and industry developments during the week gone by
The Bharatiya Janata Party (BJP)-led Maharashtra government announced a major farm loan waiver scheme that will see debt of up to Rs 0.15 million per farmer being written off, costing the exchequer Rs 340 billion.
The government has also announced a special package for regular loan payers, by giving them a bonus of Rs 25,000 or 25% of the loan paid, whichever is higher.
As per CM Devendrs Fadnavis, the waiver will add to the state's financial burden, and this could affect development projects. But as per him the government will tie-up with banks for a staggered loan.
Other than Maharashtra, different state governments have also announced large and small loan waivers for farmers. The Yogi Adityanath government in April had announced a Rs 360 billion farm loan waiver in Uttar Pradesh.
Notably, RBI Governor Urjit Patel had expressed his displeasure at the spate of loan waiver announcements in different states. It would impact credit discipline and incentives for future borrowers to repay. In other words, waivers would engender a moral hazard.
In other news from the economy, just few days before the implementation of GST, Finance Minister Arun Jaitley has said that people may have to face some difficulty initially during the Goods and Services Tax (GST) is rolled out, but in the long run the new indirect tax regime would help cut tax evasion and check price rise. He also said that the GST Council will look at bringing real estate within the GST net by next year and revisit taxing of petroleum products under the new regime in 1-2 years.
He added that while negotiating with the states on GST there were some tough issues like petroleum and potable alcohol on which states were unwilling to leave their taxation powers. He said "If we insisted on that, then the deal would have been broken. The Constitution amendment provides that petroleum products can be taxed under GST as and when GST Council decides. And once GST is implemented, in 1-2 years once again the Council will get opportunity to revisit it.
Just Released: Multibagger Stocks Guide
(2017 Edition)
In this report, we reveal four proven strategies to picking multibagger stocks.
Well over a million copies of this report have already been claimed over the years.
Go ahead, grab your copy today. It's Free.
NO-SPAM PLEDGE
- We will NEVER rent, sell, or give away your e-mail address to anyone for any reason. You can unsubscribe from The 5 Minute WrapUp with a few clicks. Please read our
Privacy Policy
&
Terms Of Use
.
Further, the government has deferred implementation of a provision that required ecommerce players to deduct tax on payments made to their vendors from July 1, under the new Goods and Service Tax (GST) regime. Also, the government notified that small businesses that sell through these ecommerce platforms don't have to register themselves immediately.
One shall note that the GST Council has stuck to the scheduled rollout of the new tax regime.
The panel has relaxed the time for filing initial invoice wise returns for the first two months. The hospitality industry has got a breather with five-star restaurants getting parity with other AC restaurants at 18% GST and the Rs 5,000 room rent limit moving up to Rs 7,500.
As per an article in the Economic Times, Finance minister Arun Jaitley has expressed the hope that the government will not have to use the anti-profiteering provision of the goods and services tax (GST) and said prices should drop overall under the new regime to be put in place on July 1.
The Finance Ministry has started notifying various provisions of law relating to interest calculation, input tax credit and valuation under the GST regime.
Also, provisions in the Central GST Act (CGST), Integrated GST (IGST) Act and Union Territory GST Act and rules under them are being notified.
Implementation of GST promises to transform India into a single common market and there are many sectors which will gain immensely from this transition.
Movers and Shakers During the Week
Source : Equitymaster
Some of the key corporate developments in the week gone by
In news from oil & gas sector, ONGC share price received environmental clearance for drilling five wells to explore shale gas and oil in the KG basin of Andhra Pradesh at an estimated cost of Rs 2.17 billion.
Since the KG basin holds significant promise for additional reserve accretion, the petroleum ministry is keen on continuing the exploratory activity. The current production of oil and gas is 750-800 tonnes per day and 2.5-3 million cubic metres of gas, respectively, from various facilities in this area.
In another development, as per a leading financial daily, the GST Council may decide to include natural gas in the Goods and Services Tax (GST) regime as a measure to provide some relief to the oil and gas sector.
Currently, crude oil, petrol, diesel, jet fuel or aviation turbine fuel and natural gas are not included in the new indirect tax structure.
This essentially means that various goods and services procured by the oil and gas industry will be subject to GST, but the sale and supply of oil, gas and petroleum products will continue to attract earlier taxes like excise duty and VAT.
If natural gas is included, GST paid on inputs and services used for producing natural gas can be set off against taxes on its sale. This would cut the losses to the industry by one-fifth.
The move will benefit companies like ONGC as well as gas retailers like IGL.
Moving on to news from mining sector. As per an article in The Economic Times, Vedanta is planning to invest US$ 6-7 billion on expanding overall capacity in 3-4 years. The company are looking for at least 60% capacity addition in their businesses.
At the same time, the company's chairman plans to anchor more natural resources companies in India. The company is aspiring to produce 50% of India's oil production as "it wants to cut on huge import bills.
As per an article in a leading financial daily, the government's policy think-tank Niti Ayog proposed that India should split the seven units of state-controlled Coal India Ltd into independent companies to make it more competitive.
Fresh coal production should come from private sector mines, the government think-tank NITI Aayog said, adding that the move called for reforms in allocating coal blocks to independent companies specialised in coal mining.
NITI Aayog has hence batted for comprehensive reforms in allocating coal blocks on commercial lines to independent companies specialised in coal mining.
While the Centre has been successful in auctioning coal mines to private companies for captive usage, commercial mining is yet to see the light of the day, mostly owning to subdued demand. In the past, similar suggestions have been shot down by the Centre citing efficient operations of Coal India and all its subsidiaries.
About 70% of India's power generation is fired by coal. The country is the world's third-largest producer and third-biggest importer of coal, which the government wants to change by boosting local coal production.
In other news, Vedanta Ltd is also looking at 1.2 million tonnes (mt) of zinc capacity and wants to take it to 1.5 MT later. About silver, the company wants to double the output to 1,000 tonnes.
In another development, SAIL is eyeing coal import from countries like South Africa and Canada as the company plans to cut down its dependence on Australian firm BHP Billiton for coking coal import.
As per the reports, SAIL is a buyer of around 12 mt. Out of this, 9-10 mt come from Australia (BHP Billiton). Other than Australia, SAIL sources coking coal from countries like New Zealand, Mozambique and the US. In 2017-18, the state-owned company is planning to import around 10-12 mt of coking coal, a vital ingredient in the steel-making process.
In news from pharma sector, Sun Pharmaceutical Industries and National Institute of Virology (NIV) today signed a pact to test new medicines developed by the company to combat zika, chikungunya and dengue diseases.
The latest agreement with NIV follows Sun Pharma's MoU with Indian Council of Medical Research (ICMR) for conducting joint scientific research and innovation for testing of drugs, biosimilars and vaccines and disease control and elimination programs.
Moving on to news from the banking sector. Credit rating agency said banks will have to sacrifice nearly 60% of the value of the loans extended to the 12 indebted companies they have referred to the NCLT at the instance of the Reserve Bank of India (RBI).
Last week, the RBI's internal advisory committee sent the list of 12 accounts to bankers for immediate reference under the Insolvency and Bankruptcy Code (IBC).
These 12 accounts are led by SBI (six of them), PNB, ICICI Bank, Union Bank, IDBI Bank and Corporation Bank.
According to RBI, these 12 accounts owe Rs 2.5 trillion to the system, which constitutes around 25% of gross bad loans.
The above development marks a significant step in the long overdue process of recovery of loans choking the banking system.
Bad loan recovery has gathered momentum after years of hesitation since the government empowered RBI to direct banks to take big defaulters through the process prescribed under the Insolvency and Bankruptcy Code (IBC) that specifies timebound resolution.
While these are steps in the right direction for better accountability in the sector, the RBI has a lot to do if it plans to strengthen India's banking sector, which is reeling under large non-performing assets (NPAs).
India is going through a severe bad loan problem. Major banks have reported poor numbers in the recent earnings season.
The problem of bad loans is indeed quite severe and when we compare it with other global peers it looks daunting.
Out of the ten major economies facing NPA problems, India is ranked seventh.
The overhang of bad debts has not only hit the bank's profitability, but has also restricted their loan book growth.
In news from automobile sector, TVS Motor Company has entered into partnership with Abans Auto a leading distributor in Sri Lanka. Through this tie-up, TVS King, the 200 cc passenger three-wheeler, will be launched in the Sri Lankan market.
As a part of the agreement, the Company will leverage Abans Auto's network of over 200 showrooms and appointed dealers in strategic locations around Sri Lanka. Furthermore, Abans Finance will provide finance schemes to the customers of TVS Motor Company at affordable rates.
Meanwhile, TVS Motor Company and Royal Enfield have become the latest to pass on expected benefit of goods and services tax (GST) to customers by lowering prices of their vehicles.
Taxes on motorcycles are expected to reduce in most states with the implementation of GST from 1 July 2017, although benefits vary from state to state.
Under GST, most of the two-wheelers will attract a tax rate of 28%, lower than total tax incidence of around 30% at present. Motorcycles with engine capacity of over 350 cc, however, will attract an additional cess of 3%.
And here's an update from our friends at Daily Profit Hunter...
The Nifty 50 Index ends its June expiry this week. Let's have a look how the index performed during the expiry.
The index traded on a volatile note during the expiry. In the initial days, the index traded with a positive bias to hit a new life high of 9,709. But the buying interest did not last long and the index dragged to a low of 9,560 during the mid-expiry. It bounced strongly to retest its life high, but the bears continued to dominate and the index slipped to a low of 9,475 in the last week of expiry. Finally, it ended the expiry flat.
Towards the end of the expiry, the index broke below its 20-day exponential moving average (EMA), which has acted as strong support since January. The RSI indicator also broke below 50, which had acted as support during declines.
Does this indicate end of the bull rally? The rollover of the Nifty might give us some clue. Watch out for the rollover report in Profit Hunter newsletter in the Market Notes section.
You can read the detailed market update here...
Nifty 50 Index Ends June Expiry Flat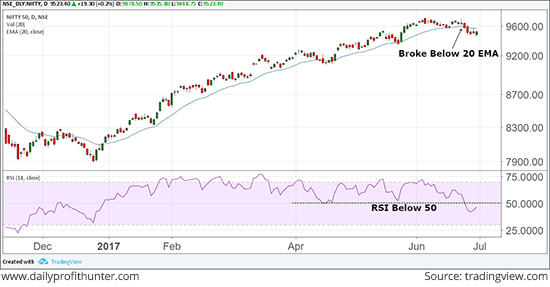 For information on how to pick stocks that have the potential to deliver big returns,
Read the latest Market Commentary