Indian Stock Market News July 4, 2019
Sensex Ends 69 Points Higher; Telecom and Realty Stocks Witness Buying
Indian share markets traded on a positive note throughout the day and ended marginally higher. Sectoral indices ended on a mixed note with stocks in the telecom sector, realty sector and FMCG sector witnessing buying interest while consumer durable stocks witnessed selling pressure.
At the closing bell, the BSE Sensex stood higher by 69 points and the NSE Nifty closed up by 30 points. The BSE Mid Cap index ended the day down by 0.2%, while the BSE Small Cap index ended up by 0.1%.
Asian stock markets finished on a mixed note. As of the most recent closing prices, the Hang Seng was down 0.2% and the Shanghai Composite stood lower by 0.3%. The Nikkei 225 was up 0.3%.
The rupee is trading at 68.55 against the US$.
In the news from macroeconomic space, a day before the Union Budget of 2019, Finance Minister Nirmala Sitharaman tabled the Economic Survey 2018-19 in the Parliament today.
Here are some of the important pointers from the survey:
The Indian economy is at a 5-year low of 6.8% in 2018-19 and the fourth quarter growth has slumped to 5.8% which is a 17-quarter low.
The Chairman of the Economic Advisory (CEA) Council to the Prime Minister (EAC-PM), Bibek Debroy, welcomed the Economic Survey's emphasis on fiscal consolidation and fiscal discipline and investments, especially private investments, as the growth driver.
---

Advertisement

---

Our Most Successful Summit EVER

We are glad to inform you that this time we break all our past records.

10,064 people watched Richa Agarwal's One Stock Crorepati Summit LIVE.

At the Summit, Richa talked about some stocks that have made a select group of people Crorepatis. They invested in just one stock and ended up becoming Crorepatis in the long run.

At the Summit, Richa also revealed her formula to identify such potential RARE stocks.

Plus, she also released her special report, 'One Stock Crorepati: How to Get Rich With This Little-Known Indian Stock'.

But what does surprise us is that you missed it.

Anyway, you are in luck…

We've arranged for you to watch the recording of the MEGA Summit right now…

Not only that…you can claim all the benefits you have missed.

But you must hurry…because this recording can be pulled back at any moment.

Watch now…
------------------------------
The CEA announced to let private investment increase. This is said to make firms more productive, bringing jobs and increasing exports, making firms able to compete in international markets. Furthermore, as per the CEA, this will increase demand and further investment.
NITI Aayog vice chairman Rajiv Kumar said the Economic Survey reflects the government's resolve to maintain fiscal stability while pushing up GDP growth rates by measures to accelerate private investment.
The Economic Survey showed that those states which were rigid in respect of their labour laws have not only suffered in all dimensions but have also been unable to create enough employment. These states have also failed to attract adequate capital investment which is necessary for job creation.
Jotting down some data, here are a few important numbers from the Economic Survey...
FY20 GDP growth is seen at 7% on stable macroeconomic factors. General fiscal deficit is seen at 5.8% in FY19. GDP growth averaged at a high of 7.5% in last five years.
Farmers may have produced less in FY19 on fall in food prices. And declining non-performing assets (NPAs) should help push capex cycle. The survey is prepared by Chief Economic Adviser Krishnamurthy Subramanian. The Economic Survey projects the state of health of the Indian economy and outlines the challenges.
Prime Minister Narendra Modi said the Economic Survey 2019 outlines a vision to achieve a US$5 trillion economy by 2025.
GST, Jandhan, Aadhaar, Digitisation and Bankruptcy Act could become the pillars to lay the foundation of a US$ 5 trillion economy.
But to double India's GDP within five years, the government will have to be on an overdrive rather than resting on its laurels.
Reforms in agriculture and building infrastructure across the agriculture value chain would be necessary to address the biggest pain points of the economy.
The direct tax mop-up in fiscal 2018, at 6% of GDP, touched a decadal high. But increasing India's tax payer base consistently would be necessary to rid the economy of fiscal paralysis.
Improving Taxpayer Base Necessary for a US$ 5 Trillion Economy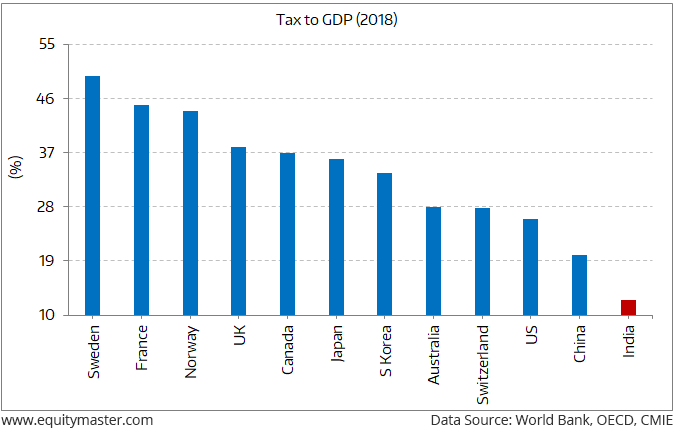 That's not all.
As per Tanushree Banerjee, there are several goals that the government will need to work on to achieve the US$ 5 trillion mark. You can read about them here: The Trade to Make the Most of India's US$ 5 Trillion Potential
Also, Tanushree states what would the above goal of the government mean for the stock markets. Here's what she wrote...
It is certainly wishful thinking to believe that all these goals would be seamlessly achieved. Or that India's GDP would be perched above the US$ 5 trillion mark by the next elections.

But I believe being anchored to India' GDP goals could be the biggest mistake that stock market investors could make.

You would rather focus on the plan, progress and execution.

To put it differently, it is neither the upcoming Budget nor the timeframe for India's US$ 5 trillion GDP goal that should worry you.

Instead look for stocks that could be the biggest beneficiaries of the economic tailwinds over the next five years. Be it manufacturing, agriculture, defence or even financial sector cleanup, a few businesses will stand head and shoulders above the rest.

And buying those stocks as and when the stock markets goes through temporary turbulence could be your best wealth creating bet. Not just for the next five years, but possibly for a lifetime.
This is an opportunity to act on what Tanushree calls the Rebirth of India. Something that investors seeking to create permanent wealth for a lifetime simply cannot afford to miss.
In this latest video below, she has talked about the Rebirth of India phenomenon and how 3 specific trends are racing ahead even in these gloomy times...
You can read more on these 3 opportunities here: Defence boom, Infrastructure sector reforms and Electric Vehicle Disruption.
In the news from the finance space, DHFL share price was in focus today as the mortgage lender is planning to ask banks to lend Rs 15 billion (US$217 million) every month to help revive the company.
As per the news, the financier, which has about Rs 800 billion of obligations, will submit the resolution plan on July 10 to a consortium of seven lenders led by state-run Union Bank of India.
The other proposals by the lender include increasing the tenor of some loans and converting part of its debt into equity.
Earlier this week, large lenders to the debt-laden firm agreed to sign an inter-creditor agreement (ICA) on July 5 and considered a resolution plan for the beleaguered firm.
Bankers to DHFL met on Monday and agreed in principle to sign an ICA which is mandatory for any revival plan according to the new framework for restructuring of stressed loans which came into effect from June 7.
It would be interesting to see how this pans out ahead for DHFL. Meanwhile, we will keep you updated on all the developments from this space.
To know what's moving the Indian stock markets today, check out the most recent share market updates here.
For information on how to pick stocks that have the potential to deliver big returns,
Read the latest Market Commentary
What else is happening in the markets today? Dig in...
Stock Market Updates
Aug 3, 2020 03:23 PM
ASHOKA BUILDCON share price is trading up by 5% and its current market price is Rs 53. The BSE REALTY is down by 1.1%. The top gainers in the BSE REALTY Index is ASHOKA BUILDCON (up 5.1%). The top losers are GODREJ PROPERTIES (down 0.3%) and PHOENIX MILL (down 1.6%).
Aug 3, 2020 02:37 PM
ADVANCED ENZYME TECHNOLOGIES share price is trading up by 12% and its current market price is Rs 212. The BSE HEALTHCARE is up by 0.9%. The top gainers in the BSE HEALTHCARE Index are ADVANCED ENZYME TECHNOLOGIES (up 11.6%) and BLISS GVS PHARMA (up 14.4%). The top losers are CIPLA (down 1.0%) and FORTIS HEALTHCARE (down 1.1%).
Aug 3, 2020 02:37 PM
STERLITE TECH. share price is trading down by 5% and its current market price is Rs 123. The BSE 500 is down by 0.9%. The top gainers in the BSE 500 Index are BLISS GVS PHARMA (up 14.4%) and JUBILANT LIFE SCIENCES (up 9.7%). The top losers are STERLITE TECH. (down 5.1%) and APOLLO HOSPITALS (down 5.2%).
Aug 3, 2020 02:27 PM
GUJARAT GAS share price is trading up by 5% and its current market price is Rs 304. The BSE OIL & GAS is down by 0.6%. The top gainers in the BSE OIL & GAS Index is GUJARAT GAS (up 5.1%). The top losers are CASTROL INDIA and INDRAPRASTHA GAS (down 1.1%).
Aug 3, 2020 02:11 PM
APOLLO HOSPITALS share price is trading down by 5% and its current market price is Rs 1,702. The BSE 500 is down by 1.0%. The top gainers in the BSE 500 Index are BLISS GVS PHARMA (up 10.1%) and JUBILANT LIFE SCIENCES (up 10.0%). The top losers are APOLLO HOSPITALS (down 5.4%) and UPL (down 5.4%).
Aug 3, 2020 12:30 pm
The BSE Sensex is trading down by 397 points, while the NSE Nifty is trading down by 103 points.
View More Indian Share Market News
Most Popular
Jul 22, 2020
HDFC Bank's results point to a gaping hole in Indian financial sector. Possibly even a global contagion.
Jul 23, 2020
India's interest rates are lower than the inflation rate. Here are the best trades for this situation.
Jul 21, 2020
I believe this smallcap niche leader could deliver a non-linear payoff.
Jul 24, 2020
Silver and gold are both vying for your attention. Which is the better trade today?
More