Indian Stock Market News July 5, 2019
Sensex Ends 394 Points Lower after Budget 2019; Metal and Auto Stocks Drag
India share markets continued to witness selling pressure during closing hours and ended their day in deep in the red.
At the closing bell, the BSE Sensex stood lower by 394 points (down 1%) and the NSE Nifty closed down by 135 points (down 1.1%).
The BSE Mid Cap index ended the day down 1.4%, while the BSE Small Cap index ended the day down 1.3%.
Sectoral indices ended on a negative note with stocks in the metal sector, power sector, auto sector and realty sector witnessing most of the selling pressure.
The rupee was trading at 68.50 against the US$.
Asian stock markets finished on a mixed note. As of the most recent closing prices, the Hang Seng was down by 0.07% and the Shanghai Composite was up by 0.19%. The Nikkei 225 was up 0.20%.
---

Advertisement

---

Get This Special Report Worth Rs 1,950 Virtually FREE Today!

This special report below reveals 7 stocks that could go up substantially in the coming years.

And you could get the report worth Rs 1,950 virtually FREE today.

Click here to find out how!
------------------------------
European markets were trading on a negative note. The FTSE 100 was down by 0.29%. The DAX was trading down by 0.26%, while the CAC 40 was down by 0.38%.
The Modi government today presented the Union Budget 2019.
Finance Minister Nirmala Sitharaman today announced no changes in personal income tax rates, hikes excise duty on fuel, increased tax rate for super rich and provide additional tax relief for home loan holders.
On the taxes front, there's no change in personal income tax rates. There's increase in surcharge on super rich with 3% surcharge on Rs 2 crore income and 7% on Rs 5 crore and above.
Additional Rs 1.5 lakh tax relief is announced on home loans.
Here are some other key takeaways from the Budget 2019:
From US$ 1.85 trillion in 2014, the economy has reached US$ 2.7 trillion.
The Indian economy will grow to become a US$ 3 trillion economy in the current year itself.
India's FDI flows in 2018-19 remained strong at US$ 54.2 billion. This was 6% higher than last year.
The government proposed to allocate Rs 700 billion for PSU Bank recapitalisation.
Pension benefits will be offered to 30 million shop owners with annual turnover of less than Rs 15 million under new scheme called Pradhan Mantri Karamyogi Mandhan Scheme.
The project of Bharatmala will enhance road connectivity and Sagarmala will help port and waterways connectivity. These along with other such initiatives such as Udaan scheme will improve India's infrastructure and enable connectivity and bridge the rural and urban divide.
Enhanced disinvestment target of Rs 1,050 billion in FY20 as against Rs 900 billion set in the Interim Budget.
Multiple measures will be taken to deepen the corporate bond market, and there is also a proposal to increase minimum public shareholding in companies to 35% from 25%.
The government plans to allow FPIs to subscribe to listed debt papers of REITs and there is also a proposal to merge NRI portfolio route with FPI routes.
Nearly 19.5 million houses are proposed to be provided to eligible beneficiaries under the Pradhan Mantri Awas Yojana. Under Pradhan Mantri Gram Sadak Yojana, nearly 1,25,000 kms of roads will be upgraded at estimated cost of Rs 802 billion.
Liberalize FDI in aviation, media, animation and insurance intermediaries.
Ensuring farmers access to safe and adequate water is another important initiative the government will work towards.
Nirmala Sitharaman also said that our country is well within its capacity to become a US$5 trillion-dollar economy in the next five years.
Note that yesterday's Economic Survey 2019 also outlined a vision to achieve a US$ 5 trillion economy by 2025. GST, Jandhan, Aadhaar, Digitization and Bankruptcy Act could become the pillars to lay the foundation of a US$ 5 trillion economy.
But to double India's GDP within five years, the government will have to be on an overdrive rather than resting on its laurels.
As per Tanushree Banerjee, there are several goals that the government will need to work on to achieve the US$ 5 trillion mark. You can read about them here: The Trade to Make the Most of India's US$ 5 Trillion Potential
Also, Tanushree states what would the above goal of the government mean for the stock markets. Here's what she wrote...
It is certainly wishful thinking to believe that all these goals would be seamlessly achieved. Or that India's GDP would be perched above the US$ 5 trillion mark by the next elections.

But I believe being anchored to India' GDP goals could be the biggest mistake that stock market investors could make.

You would rather focus on the plan, progress and execution.

To put it differently, it is neither the upcoming Budget nor the timeframe for India's US$ 5 trillion GDP goal that should worry you.

Instead look for stocks that could be the biggest beneficiaries of the economic tailwinds over the next five years. Be it manufacturing, agriculture, defence or even financial sector cleanup, a few businesses will stand head and shoulders above the rest.

And buying those stocks as and when the stock markets goes through temporary turbulence could be your best wealth creating bet. Not just for the next five years, but possibly for a lifetime.
This is an opportunity to act on what Tanushree calls the Rebirth of India. Something that investors seeking to create permanent wealth for a lifetime simply cannot afford to miss.
In this latest video below, she has talked about the Rebirth of India phenomenon and how 3 specific trends are racing ahead even in these gloomy times...
You can read more on these 3 opportunities here: Defence boom, Infrastructure sector reforms and Electric Vehicle Disruption.
The Budget also had many major developments on the NBFC front. The Finance Minister announced that the government will lend a helping hand to top-rated entities and take steps to ease the ongoing stress in the NBFC sector.
To enhance liquidity access for the sector, the government will provide one-time 6-month partial guarantee of Rs 1 lakh crore to state-run banks for purchasing consolidated high-rated pooled assets of financially-sound NBFCs. This will cover their first loss of up to 10 percent.
Note that the financial markets have been in flux ever since Infrastructure Leasing & Financial Services (IL&FS) defaulted on its payments in September. This lead to a liquidity squeeze on NBFCs.
Subsequently, mutual funds shut out many NBFCs and HFCs to which they had been lending earlier, leading to a fire sale of assets to meet payment obligations.
This led to the rise in the cost of funds for shadow lenders despite falling policy rates.
NBFCs were flush with funds from banks, insurance companies, and asset management companies i.e. mutual funds in 2016.
You can see this clear as day in the chart below...
One Chart that Predicted the NBFC and Mutual Fund Crisis Back in 2016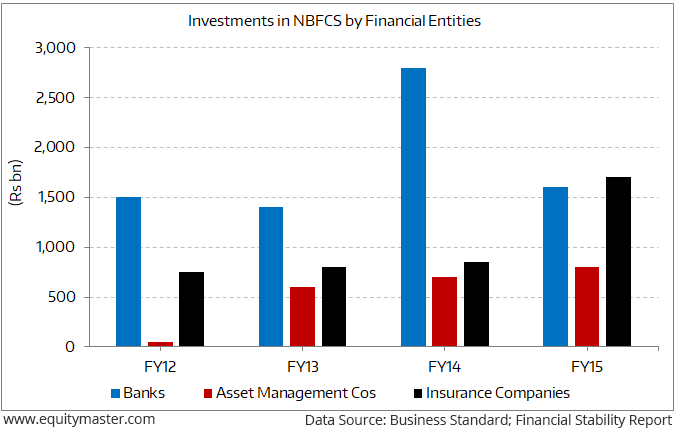 And with these funds and without the necessary restrictions, NBFCs become reckless in deploying the funds.
As per Tanushree, the problem in the NBFC sector is far from over.
But she believes the good quality NBFCs, and housing finance companies will continue to flourish and you can make the most of the opportunity by buying the safest NBFCs.
Moving on to the news from oil & gas sector, HPCL share price, IOL share price, and BPCL share price were in focus today. The stock of these companies witnessed selling pressure after imposition of special additional excise duty on petrol and diesel.
In the Budget, the government has proposed to put special additional excise duty of Re 1 per litre and road cess of Re 1 per litre on petrol and diesel.
The special additional excise duty will increase government's gross revenue collections from petroleum products. This will help the Centre to keep fiscal deficit in check and fund expenditure.
Eveready Industries share price was also in focus today as Yes Bank acquired 9.47% stake in the company.
To know what's moving the Indian stock markets today, check out the most recent share market updates here.
For information on how to pick stocks that have the potential to deliver big returns,
Read the latest Market Commentary
Stock Market Updates
Aug 16, 2019 Closing
The BSE Sensex ended the day up by 39 points, while the NSE Nifty closed up by 18 points.
Aug 16, 2019 03:34 PM
PIDILITE INDUSTRIES share price has hit an all time high at Rs 1,373 (up 1.7%). The BSE FMCG Index is up by 0.4%. Among the top gainers in the BSE FMCG Index today are PIDILITE INDUSTRIES (up 1.7%) and P&G HYGIENE (up 0.2%). The top losers include AVANTI FEEDS (down 0.1%) and COLGATE (down 0.1%).
Aug 16, 2019 03:32 PM
APL APOLLO TUBES share price has surged by 6% and its current market price is Rs 1,350. The BSE CAPITAL GOODS is down by 0.1%. The top gainers in the BSE CAPITAL GOODS Index are APL APOLLO TUBES (up 6.4%) and SUZLON ENERGY (up 6.7%). The top losers are LAKSHMI MACHINE (down 0.2%) and HONEYWELL AUTOMATION (down 0.4%).
Aug 16, 2019 03:30 PM
CANARA BANK share price has surged by 5% and its current market price is Rs 237. The BSE BANKEX is up by 0.8%. The top gainers in the BSE BANKEX Index is CANARA BANK (up 5.2%). The top losers is HDFC BANK (down 0.2%).
Aug 16, 2019 03:30 PM
ECLERX SERVICES share price has plunged by 5% and its current market price is Rs 519. The BSE IT is down by 0.8%. The top gainers in the BSE IT Index are FIRSTSOURCE SOL. (up 3.5%) and ORACLE FINANCIAL (up 3.2%). The top losers is ECLERX SERVICES (down 5.5%).
Aug 16, 2019 03:22 PM
DR. LAL PATHLABS LTD share price has surged by 7% and its current market price is Rs 1,201. The BSE HEALTHCARE is down by 0.3%. The top gainers in the BSE HEALTHCARE Index are DR. LAL PATHLABS LTD (up 7.1%) and APOLLO HOSPITALS (up 8.1%). The top losers are STRIDES PHARMA SCIENCE (down 0.1%) and SANOFI INDIA (down 0.2%).
View More Indian Share Market News
Most Popular
Aug 5, 2019
Credit growth is likely to accelerate in India in the next decade. Here's how you can benefit from this megatrend.
Aug 8, 2019
This debt-free, well-managed company is all set to soar.
Aug 7, 2019
As markets continue to rattle amid earning season, upcoming elections, volatile crude price and US China trade war, it's a great idea to add some stability to your portfolio by adding dividend stocks.
Aug 12, 2019
My experience at the recent AGM of this smallcap company which has financials of any FMCG major.
Aug 9, 2019
Qatar has turned around after the Saudi embargo. This is good news for India.
More