Indian Stock Market News July 8, 2017
Global Markets End on a Mixed Note
Crude oil prices fell by 4.5% during the week. The correction took place post the US government data reflecting that the production of crude oil and rig counts had risen. This data comes at a time where the oil production of Organization of the Petroleum Exporting Countries (OPEC) have hit a 2017 high. The world economy is facing a situation of oil oversupply. An increase in production by the US, will not bode down well for the crude oil prices.
To keep a tab on the movements in crude oil and other commodities, you can read the stock market commentary from the Daily Profit Hunter team. Their commentary tracks the developments in the global economy as well as stock, currency and commodity markets.
Benchmark indices in the US ended the week marginally higher by 0.3%. Minutes from the Federal Reserve's last meeting released showed a lack of consensus on the future pace of US interest rate increases. Fed policymakers were increasingly split on the outlook for inflation and the economic growth in the US.
US Federal Reserve rate hikes generally have a negative impact on emerging economies. But India is currently seen as better equipped than other emerging markets to ride the impact of higher US interest rates. That's largely because of its stronger economic growth and impressive foreign exchange reserves of more than US$300 billion.
Only time will tell whether the Fed will increase their interest rates further or not. Meanwhile, we'll keep you posted on the latest developments on this front.
Apart from the Fed, the European Central Bank (ECB) also released the minutes of their latest meeting on Thursday. As per the minutes, ECB policymakers are open to a further step toward reducing their monetary stimulus. However, they are likely to move slowly on this decision out of fear of causing market turmoil. The stock markets in Germany and France gained by 0.5% and 0.5% respectively during the week.
Key World Markets During the Week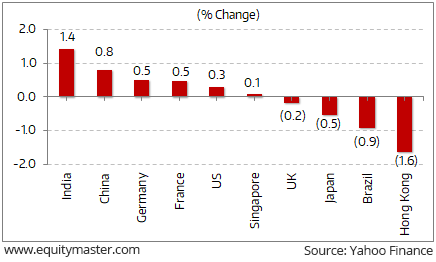 Back home, S&P BSE Sensex gained 1.4% during the week. Major sectoral indices ended the week on a positive note with realty sector rallying the most and gaining 5.5% during the week.
BSE Indices During the Week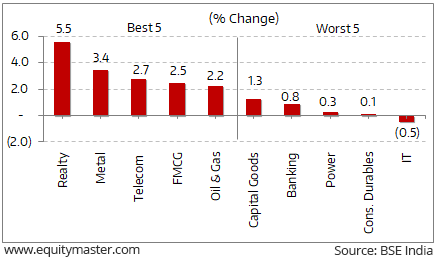 Now let us discuss some key economic and industry developments during the week gone by
As per the global rating agency Moody's, the Goods and Services Tax (GST) regime will be positive for India's credit profile as it will contribute to productivity gains and higher GDP growth as well as support higher government revenue generation through improved tax compliance.
Moody's positive reaction on GST will come as a shot in the arm of government as there are concerns that the initial teething problem will impact economic growth in the short term.
Moody's has a 'Baa3' rating on India with a positive outlook. Meanwhile, industry body Confederation of Indian Industry (CII) said that going forward, GST will contribute to ease of doing business and accelerate new business ventures.
Rahul Shah-Managing Editor of Microcap Millionaires, too is of the view that GST will be a long term positive for the economy. In one of his recent articles he stated how the organized sector is set to benefit in a huge way from this reform. Click here to read this excellent piece.
Just Released: Multibagger Stocks Guide
(2017 Edition)
In this report, we reveal four proven strategies to picking multibagger stocks.
Well over a million copies of this report have already been claimed over the years.
Go ahead, grab your copy today. It's Free.
NO-SPAM PLEDGE
- We will NEVER rent, sell, or give away your e-mail address to anyone for any reason. You can unsubscribe from The 5 Minute WrapUp with a few clicks. Please read our
Privacy Policy
&
Terms Of Use
.
Initial Public Offer (IPO) have caught the frenzy of investor. There are almost a couple of IPO's hitting the market every month. However, are IPO's a sure shot way to make money in the stock markets?
According to Hindu Business Line, till June 2016, only 40% of the IPOs launched between 2004 and 2011 were trading above their issue price, as can be seen from the chart below. So the best way to invest in IPOs is by evaluating each IPO on its merits by considering its fundamentals, and most importantly, the valuations. And this is particularly important when the hype surrounding IPOs is at its peak.
If you're new to the 'lovely' world of IPOs, we have something for you...
Our new and completely free report - How to Get Rich with IPOs - will tell you how to find those money spinning IPOs and avoid the disasters in the coming year and beyond.
The growth in India's manufacturing sector fell to a four-month low in June amidst a slowdown in new order and production ahead of the implementation of the goods & services tax (GST). The Nikkei India Manufacturing Purchasing Managers' Index (PMI) slipped to 50.9 in June from 51.6 in May. A reading above 50 implies an expansion, while one below 50 denotes a contraction.
PMI data highlighted a slowdown in growth across India's manufacturing sector during June. As per the survey report, challenging economic conditions, water shortages and the implementation of the GST reportedly hampered growth.
However, this is not surprising given the way businesses were struggling with the GST implementation. As the 1 July deadline approached, there were reports of destocking and supply-chain disruption in various sectors. Thus, an adverse impact on production cycles was largely expected.
On a brighter side, the PMI survey showed strong foreign demand for Indian-manufactured products in June. With the impact of demonetisation largely over, Pollyanna De Lima, Economist at IHS Markit and the author of the report, does not expect GST to derail consumer spending and has forecast real GDP growth at 7.3% for 2017-18.
Stocks in the pharmaceuticals sector are going through a rough patch. A downgrade in the earnings estimates has led to a sell-off in pharma stocks. And this, in turn, has led to a contraction in the price to earnings ratio (PE ratio) of pharma index.
One other reason for the above sell-off is increasing USFDA alerts on Indian pharma companies during the past few years. USFDA alerts on Indian pharma companies have increased over the past few years. Regulators used to visit the plants every two years. Now they come every eight months. Increasing inspections has led to a total of 41 import alerts in the past eight years - 33 of them (80%) in just the last four years (2013-16). This clearly signifies increased USFDA scrutiny on Indian pharma firms. If that wasn't enough, increasing pricing pressure in the generics segment has dented realizations.
However, the recent development of USFDA expediting the drug approval process can bring some respite for Indian pharma companies. This comes as drug approvals for Indian companies have gone up 50% in the period from January to June 2017. With the above developments, we believe, companies with strong R&D capabilities and compliant plants (subscription required) will do well over the long term.
In the latest issue of The India Letter (subscription required), we have identified a pharma stock which we believe will outlast others in the long run.
Movers and Shakers During the Week
Source : Equitymaster
Some of the key corporate developments in the week gone by
Sun Pharmaceutical Industries has entered into a strategic long-term manufacturing agreement with Samsung Biologics for Tildrakizumab. The agreement was entered into by Sun Pharma's wholly-owned subsidiary and Samsung Biologics. According to the agreement, Sun Pharma has appointed Samsung BioLogics to manufacture Tildrakizumab, an investigational IL-23p19 inhibitor being evaluated for the treatment of moderate to severe plaque psoriasis.
Filings for this novel investigational biologic has been accepted for review by the US Food and Drug Administration (USFDA) and the European Medicines Agency (EMA). As per the reports, the approximate value of the contract will be US$ 55.5 million.
As per an article in The Economic Times, Hero Motocorp has decided to put a complete halt on royalty payments to its former joint venture partner Honda. Since the termination of the Hero Honda joint venture in 2010, the company has forked out a total of Rs 3.88 billion to Honda in annual royalties. The two-wheeler giant will now tap its in-house R&D unit - the Centre of Innovation and Technology (CIT) in Jaipur, Rajasthan for all technology requirements.
Going forward, the company will have enhanced focus on the premium segment and scooters, with a slew of launches lined up over the next 8-12 months. The traction from domestic demand coupled with demand from its international operations will play a key role going forward.
Ashok Leyland reported its sales numbers for the month ended June 2017. The auto major registered sales growth of 11% on a year-on-year (YoY) basis to 12,330 units for the month of June 2017.
It had suffered a decline of 8% in total sales during May 2017 on the back of the downslide in medium and heavy commercial vehicles.
During June 2017, the growth is led by light commercial vehicles at 29% with sales of 3,128 units.
The total sales in the April-June 2017 period stood at 28,495 as compared to 31,165 units in the year-ago period, declining by 9%. Further, the company's M&HCV sales in June 2017 was also up by 6%.
Notably, the company has in recent years, expanded its network rapidly to cater to its wide range of customers. At the end of FY17, its network had expanded to 2,678 touch points with plans to grow it rapidly during FY18.
As per an article in a leading financial daily, Bharat Heavy Electrical (BHEL) has entered into a Technology Collaboration Agreement with Kawasaki Heavy Industries, Japan for the manufacture of stainless steel coaches and bogies for metros.
The agreement covers establishing state-of-the-art design, engineering and manufacturing facilities at BHEL.
The Agreement has been signed in the backdrop of our Prime Minister's "Make in India" initiative, and will enable BHEL to produce stainless steel coaches indigenously and help in bringing technology upgrades in its expanding portfolio.
For BHEL, the alliance is a key step in its efforts to diversify from its traditional business. It will also expand the company's business of supplying electric and diesel locomotives to the Indian Railways.
As markets hit historical highs, the benchmark index, S&P BSE Sensex, is trading at a price to earnings of 22.3 times. Valuations seem to be a bit stretched. Unless earnings pick up in the coming quarters, a correction to the index seems likely. In such times, it's important to be extremely disciplined about the businesses you buy. Compromising on quality could prove fatal.
And here's an update from our friends at Daily Profit Hunter...
The Nifty 50 Index ended the week on a strong note. On Monday, it opened with 67-point gap up and continued to trade in an uptrend throughout the week. On Friday, the index witnessed minor profit booking on the back of weak trends in global markets. The index ended the week with 1.46% gains.
Last week, the index closed below its 20-day exponential moving average (EMA), which was acting as good support since January 2017. The RSI indicator also slipped below its 50 level, which had offered support during declines.
But the bulls did not give up as the index regained strength by closing above its 20 EMA and the RSI again trading in bullish territory above 50.
But the 9,700 level is now acting as resistance for the index. It slipped twice from this level in June and this week it corrected after hitting a high of 9,700. We have also noticed the highest open interest built up in 9,700 strike, which means that this level will offer a strong resistance, as we indicated in our rollover report. You can read the detailed market update here...
The 9,700 Level - Near-Term Hurdle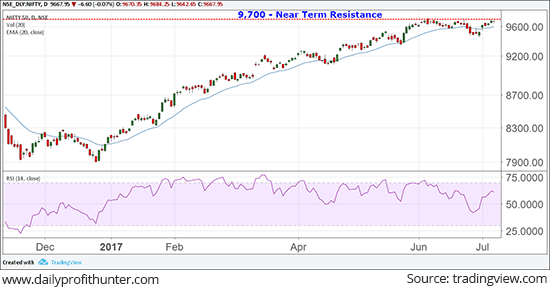 For information on how to pick stocks that have the potential to deliver big returns,
Read the latest Market Commentary
What else is happening in the markets today? Dig in...
Views on News
Mar 5, 2021
This could be the biggest wealth creator of the decade.
Mar 4, 2021
Inflation is the buzz word in the world of finance these days. It impacts all of us. Here's how it affects your investments.
Mar 4, 2021
Given the risks involved, we may witness a sort of 'W-shaped' recovery wherein we would dip again before moving up, explains Rounaq Neroy in this edition of the Daily Wealth Letter.
Mar 4, 2021
Join us in welcoming research analyst, Aditya Vora, to Equitymaster.
Mar 3, 2021
Can the rupee depreciate to 80 against the US dollar? In this video, I'll show you what the charts say.
More Views on News
Most Popular
Feb 24, 2021
Last time the smallcap index crossed 19k a big correction followed. Here's what makes it different this time.
Feb 25, 2021
In this video, I'll show you how to get started on the path to daily trading profits.
Feb 23, 2021
An Indian company founded three decades ago in a garage caught my attention...
Feb 22, 2021
In this video, I'll show you how to allocate your capital as a day trader.
More