Indian Stock Market News July 8, 2020
Sensex Trades on a Volatile Note; HCL Technologies & Bajaj Finance Top Losers
Share markets in India are presently trading on a volatile note, tracking mixed global cues as coronavirus cases continue to surge across the world.
Sectoral indices are trading on a mixed note with stocks in the IT sector and consumer durables sector witnessing most of the selling pressure.
Healthcare stocks, on the other hand, are witnessing buying interest.
The BSE Sensex is trading down by 108 points (down 0.3%), at 36,500 levels.
Meanwhile, the NSE Nifty is trading down by 25 points (down 0.2%).
The BSE Mid Cap index is trading up by 0.2%. The BSE Small Cap index is trading up by 0.4%.
Gold prices are currently trading down by 0.1% at Rs 48,749.
The rupee is trading at 75.01 against the US$.
--- Advertisement ---
Rs 24,950 From Just 1 Trade...

Imagine making Rs 15,150 in just 10 minutes...

Or Rs 17,650 in 3 hours...

Or even Rs 24,950 in another 3 hours...
*these are mock trades. Not Equitymaster recommendations.

Could you ever imagine making that kind of money investing in stocks? Probably not.

Neither would we.

But for the benefit of our readers – we're inviting India's #1 expert on profitable trading to show you exactly how to potentially make tens of thousands, without ever buying a single stock.

On the 1Oth July, he will join us – boot up his PC – share his screen with us...

And show our readers exactly how those payouts were generated.

Register to watch this event now – there is no charge for our readers.
------------------------------
Speaking of the current stock market scenario, investors and traders who are new to stock markets have had a superb experience over past three months as almost any and every stock has given them phenomenal returns.
The problem is that this experience may not be lasting unless investors now take a careful look at their portfolio and literally sanitize them to get rid of the unwanted elements.
In her latest video, co-head of Research at Equitymaster, Tanushree Banerjee shows three charts that every investor must see today, irrespective of whether you are an investor or a day trader, a novice or an expert in the stock markets.
Tune in to find out more...
Moving on, market participants are tracking chemical stocks today.
Shares of companies in the chemicals, commodities and specialty chemicals space are witnessing buying interest today amid reports that the government is planning to offer tax incentives to promote 'Make in India' for the chemical sector.
Shares of Tamilnadu Petroproducts, IG Petrochemicals, Thirumalai Chemicals, Sudarshan Chemical Industries, Himadri Speciality Chemical, National Peroxide, GHCL and Nocil are trading up in the range of 5-15%. These stocks had rallied up to 20% yesterday.
--- Advertisement ---
Our FREE Guide: Small Caps That Will Race Ahead of the Sensex

Richa Agarwal, our head of smallcap research, recently released her special guide:


Small Caps That Will Race Ahead of the Sensex

And she has agreed to make it available for free for a limited time.

If you've not claimed your free copy, then do so now. It might not remain free for long. One more thing...

Richa has also discovered one stock from a fast growing Rs 4 trillion industry... which she strongly believes has the potential to make one a crore or more.

She'll reveal more details about this stock in her 'One Stock Crorepati MEGA Summit'

We expect this to a huge event... with more than 10,000 people attending it LIVE.

You simply can't miss it.

Click Here to Download the Guide & Block Your Seat Now. It's Free.
------------------------------
Meanwhile, shares of Navin Fluorine, Neogen Chemicals and Ultramarine & Pigments hit their respective 52-week highs today.
As per media reports, the government is expected to offer tax incentives of 100% for the first five years while the same will be limited to 75% for the next five years and 50% for five years thereafter.
The government may also infuse capital between 10% and 20%.
Moving on to news from the FMCG sector, Hindustan Unilever (HUL) and Emami are among the top buzzing stocks today.
FMCG major HUL has got a temporary relief from the Bombay High Court after Emami was told to give HUL seven days of advance notice before initiating legal proceedings on its trademark "Glow and Handsome".
HUL moved the court after Emami said it would take legal action against the company as it already owns "Emami Fair and Glow" brand.
HUL had recently dropped the word "fair" from its skin cream, replacing it with "Glow" Glow & Lovely for women and Glow & Handsome for men.
Justice BP Colabwalla, while hearing the HUL application filed under the Trade Marks Act, said that it appeared prima facie that HUL had applied for the trademark application in September 2018 and later on June 20 this year.
HUL in its application said the defendant should give it at least seven days prior written notice before initiating any legal proceedings in any court or claiming any interim relief against HUL as threatened in the statements made by Emami.
The court directed Emami to grant seven days to HUL before starting legal proceedings. The matter was further scheduled to July 27.
Earlier this month on July 2, Emami held a press conference accusing HUL for violating the trademark law. The company also said it would take legal action against HUL as it already owns "Emami Glow and Handsome" skincare brand.
Note that this isn't the first the time the two companies are at loggerheads over their men's personal care portfolio.
Last year, HUL filed a petition against Emami for disparaging its Fair & Lovely cream in a television commercial.
In a 2018 injunction order against HUL, Emami sought to restrain HUL from publishing a TVC for the Fair & Lovely Men's brand over claims that it intends to "demean, disparage or denigrate Emami's product, Fair and Handsome Fairness Cream for Men, thus, interfering into the direct goodwill and business loss for the company".
How this pans out remains to be seen. Meanwhile, we will keep you updated on the latest developments from this space.
Here's an interesting data of HUL, until 2013, the company had products and categories customized for Indian market. That made it difficult for the company to sell its overseas products in the country. Nor could it reach out enough to a global customer base with Indian products.
A change of strategy suddenly opened up Unilever's global markets to HUL for both sourcing and selling.
The result was evident in profit growth and stock price over the next few years.
Stock of HUL Had the Crorepati Trigger in 2013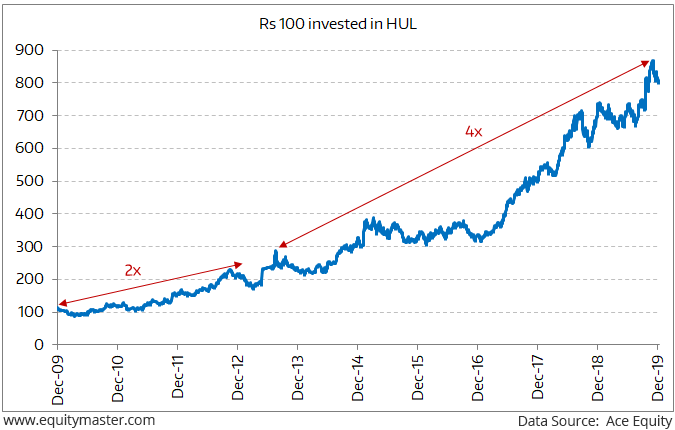 Which is the next Indian crorepati stock with such a trigger? Watch this space as Tanushree tracks these crorepati stocks.
To know what's moving the Indian stock markets today, check out the most recent share market updates here.
For information on how to pick stocks that have the potential to deliver big returns,
What else is happening in the markets today? Dig in...
Stock Market Updates
Jul 8, 2020 03:32 PM
SUNTECK REALTY share price is trading down by 5% and its current market price is Rs 189. The BSE REALTY is down by 2.1%. The top gainers in the BSE REALTY Index are INDIABULLS REAL EST (up 4.6%) and SOBHA LIMITED (up 0.6%). The top losers are SUNTECK REALTY (down 5.1%) and PRESTIGE ESTATES (down 5.6%).
Jul 8, 2020 03:32 PM
BAJAJ FINANCE share price is trading down by 5% and its current market price is Rs 3,409. The BSE 500 is down by 0.9%. The top gainers in the BSE 500 Index are MMTC LTD (up 19.9%) and SAIL (up 8.8%). The top losers are BAJAJ FINANCE (down 5.1%) and BHARAT DYNAMICS (down 5.5%).
Jul 8, 2020 03:24 PM
IRCON INTERNATIONAL share price is trading down by 5% and its current market price is Rs 101. The BSE CAPITAL GOODS is down by 1.1%. The top gainers in the BSE CAPITAL GOODS Index are FINOLEX CABLES (up 5.2%) and SADBHAV ENGINEERING (up 2.7%). The top losers is IRCON INTERNATIONAL (down 5.3%).
Jul 8, 2020 03:22 PM
P&G HYGIENE share price is trading up by 6% and its current market price is Rs 10,990. The BSE FMCG is up by 0.8%. The top gainers in the BSE FMCG Index are P&G HYGIENE (up 6.3%) and GSK CONSUMER (up 5.1%). The top losers are GODFREY PHILLIPS (down 0.2%) and NESTLE (down 0.5%).
Jul 8, 2020 03:20 PM
DISHMAN CARBOGEN AMCIS LTD share price is trading down by 6% and its current market price is Rs 147. The BSE HEALTHCARE is up by 0.5%. The top gainers in the BSE HEALTHCARE Index are SHILPA MEDICARE (up 4.4%) and ALKEM LABORATORIES (up 3.9%). The top losers is DISHMAN CARBOGEN AMCIS LTD (down 5.5%)..
Jul 8, 2020 09:30 am
Indian share markets open mildly higher. The BSE Sensex opened up by 58 points, while the Nifty is trading up by 20 points.
View More Indian Share Market News
Most Popular
Jul 2, 2020
In the first of two videos, I'll show you how to identify the best stocks for intraday trading.
Jun 25, 2020
The stability in crude oil prices will not last much longer. Be ready to make fast profits when the time comes to short crude.
Jul 2, 2020
Why we have recommended two agriculture stocks for our Hidden Treasure subscribers. Read on...
Jul 3, 2020
This is why I believe smallcaps are the place to be in the near future.
More