Indian Stock Market News July 12, 2018
Sensex Ends at All-time High; Energy Stocks Top Gainers
After opening the day in green, share markets in India witnessed positive trading activity throughout the day and ended the day at all-time high levels. Sectoral indices too ended the day in green, with stocks in the energy sector and stocks in the banking sector leading the gains.
At the closing bell, the BSE Sensex stood higher by 282 points (up 0.7%) and the NSE Nifty closed up by 75 points (up 0.7%). The BSE Mid Cap index ended the day down 0.5%, while the BSE Small Cap index ended the day down by 0.1%.
Asian stock markets too finished in green. As of the most recent closing prices, the Hang Seng was up by 0.6% and the Shanghai Composite was up by 2.2%. The Nikkei 225 was up by 1.2%. Meanwhile, European markets too were trading on a positive note. The FTSE 100 was up by 0.8%, The DAX, was up by 0.6% while the CAC 40 was up by 0.7%.
The rupee was trading at Rs 68.53 against the US$ in the afternoon session. Oil prices were trading at US$ 74.45 at the time of writing.
In news from stocks in the telecom sector. Bharti Airtel share price was in focus today, after the telecom leader's payments bank - Airtel Payments Bank received renewed approvals from the Reserve Bank of India (RBI).
Notably, the RBI had stopped Airtel Payments Bank getting new customers on board after it allegedly opened savings accounts for existing customers without their express permissions. These accounts allegedly led to government LPG subsidies worth Rs 1.68 billion being transferred to Airtel Payments Bank accounts even as many of the customers weren't aware of that.
--- Advertisement ---


Don't Buy Any Blue Chip Before Reading This…

We both know that Blue Chips are some of the safest stocks in the stock market…

And we also know that for BIGGER Gains, the answer lies in solid small caps…

But what if you could take some risk and get both?

Yes, we are talking about a Special category of small caps which are effectively GIANTS in their small niche and thus, offer a lot more safety than other small caps. PLUS, they also offer the great money-making potential that lies in small caps…

We call such small caps - Junior Blue Chips - And we have 3 Junior Blue Chips you could consider adding to your portfolio right away.

Click here for full details…
------------------------------
However, the RBI has now granted approvals to add new accounts. Also, the Unique Identification Authority of India (UIDAI) has allowed it to use the 12-digit Aadhaar-based e-KYC.
With the objective of deepening financial inclusion, RBI, in 2015 kicked off an era of differentiated banking by allowing SFBs (small finance banks) and PBs (payments banks) to start services. A total of 21 entities were given in-principle nod last year, including 12 for payments banks.
Payments banks can accept deposits from individuals and small businesses up to a maximum of Rs 100,000 per account.
Payments banks aren't allowed to lend, but can take deposits, facilitate remittances and dispense payments to recipients. The RBI had devised payments banks and small finance banks as tools to take formal banking to the unbanked.
For telecom companies like Idea and Bharti Airtel, this offered a new business opportunity as they already have extensive networks across the country and a huge potential customer base for the banking services in their existing users.
Telecom Sector: A decade of Underperformance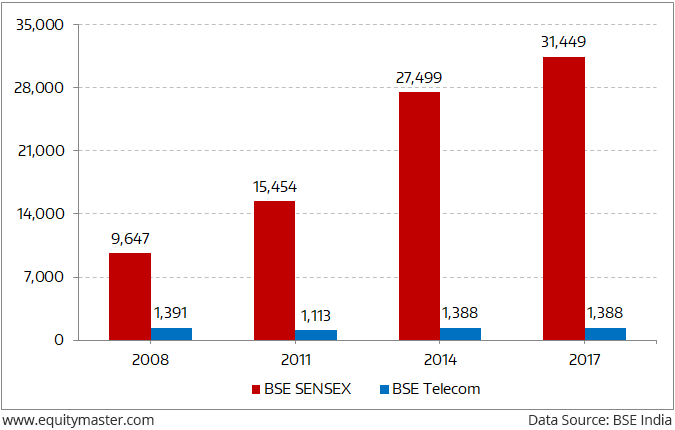 However, the whole telecom business has been an underwhelming story so far. While the telecom subscriber base has increased from 300 million in 2008 to 1.2 billion in 2017, investors have little to cheer. The BSE Sensex has gone up 3.25 times in nine years, but the BSE Telecom Index has not moved an inch from its levels of 2008.
Telecom companies are straddled with high debt, intense competition, and lack of pricing power. High spectrum costs and regulatory issues have hampered the sector. While consumers have benefited from low costs and new players fighting for their share, investors have suffered.
With the entry of Reliance Jio, the competition has intensified further. Reliance Jio's low cost offerings and strategy of capturing market share will further dent the sector. The sector has been a classic 'valuet trap'. While it always looks cheap compared to other sectors, it has failed to provide any reasonable returns. We also believe the situation is unlikely to change in the near future. For an investor, it's important to differentiate between 'value' and 'value traps'.
Moving on to news from stocks in the pharma sector. Novartis share price was in focus today after the Indian drug regulator ordered a recall of the company's painkiller drug.
The Drug Controller General of India (DCGI) ordered the withdrawal of the popular diclofenac painkiller injection marketed by Novartis India Ltd and made by Themis Medicare Ltd, following safety concerns raised by a health ministry panel.
The DCG) directed the state drug controller in Dehradun, Uttarakhand, and the drug licensing authority of Daman and Diu to cancel the manufacturing licence granted to Themis Medicare for diclofenac sodium injectionusing Transcutol-P.
Diclofenac injection is marketed by Novartis under the brand name Voveran.
India's pain management drugs market is around Rs 20 billion, of which diclofenac injection is Rs 2.6 crore. As per pharmaceutical market research firm AIOCD Pharma Trac, Troikaa and Novartis together command over 60% market share of diclofenac.
Novartis share price ended the day down 1.6%.
For information on how to pick stocks that have the potential to deliver big returns,
Read the latest Market Commentary
Stock Market Updates
Mar 18, 2019 03:44 PM
Here's a list of 5 stocks that gained the most in the BSE Mid-Cap Index today. It also includes information on BSE Mid-Cap index and the broader benchmark indices.
Mar 18, 2019 03:32 PM
J&K BANK share price has surged by 5% and its current market price is Rs 49. The BSE BANKEX is up by 1.1%. The top gainers in the BSE BANKEX Index is J&K BANK (up 5.0%). The top losers is FEDERAL BANK (down 0.1%).
Mar 18, 2019 03:24 PM
VODAFONE IDEA share price has plunged by 5% and its current market price is Rs 34. The BSE 500 is up by 0.2%. The top gainers in the BSE 500 Index are PRESTIGE ESTATES (up 16.2%) and BOMBAY DYEING (up 9.1%). The top losers are VODAFONE IDEA (down 5.0%) and IFB INDUSTRIES LTD (down 5.2%).
Mar 18, 2019 03:06 PM
TTK PRESTIGE share price has plunged by 5% and its current market price is Rs 8,598. The BSE CONSUMER DURABLES is up by 0.1%. The top gainers in the BSE CONSUMER DURABLES Index are SYMPHONY (up 1.2%) and VOLTAS (up 1.1%). The top losers is TTK PRESTIGE (down 5.2%)..
Mar 18, 2019 01:36 PM
IFB INDUSTRIES LTD share price has plunged by 5% and its current market price is Rs 980. The BSE CONSUMER DURABLES is up by 0.1%. The top gainers in the BSE CONSUMER DURABLES Index are VIP INDUSTRIES (up 1.3%) and SYMPHONY (up 1.2%). The top losers is IFB INDUSTRIES LTD (down 5.1%)..
Mar 18, 2019 12:30 pm
The BSE Sensex is trading up by 15 points, while the NSE Nifty is trading up by 12 points.
View More Indian Share Market News
Most Popular
Mar 8, 2019
History suggests the Nifty could make a big move in March. Are you prepared to benefit from this opportunity?
Mar 7, 2019
Did you just miss the smallcap rally? Or is there still time to catch up? Read on for answers and more...
Mar 7, 2019
India's defence sector is suddenly under the spotlight. Can this sector ride along India's long-term growth story?
Mar 6, 2019
Mid and Small Caps have underperformed large caps in the past year. Is the tide about to turn?
Mar 5, 2019
What happened to Jet Airways, once among top 3 airlines in India? Is it another Kingfisher in the making? Read on...
More