Indian Stock Market News July 15, 2017
Global Markets End on a Positive Note
Global financial markets ended the week on a positive note with an upward boost from Brazil, Hong Kong and Indian share markets, which were up 5%, 4.1% and 2.1% respectively. While the US markets ended the week marginally lower by 0.2%, major European indices like German Dax and London's FTSE 100 share markets also ended the week on a positive note.
In the news from global financial markets, Markets participants were closely monitoring Fed Chair Janet Yellen's testimony to congress this week.
Yellen indicated the Fed would gradually increase interest rates and begin to reduce its US$4 trillion portfolio of treasury bonds and mortgage-backed securities this year. Ms Yellen also said that 'rates won't have to rise much further to get to neutral'.
Inflation remains a major concern in the US. It's still a bit below the Fed's 2% target.
Meanwhile in eurozone, the ECB policymakers suggested Quantitative easing will continue for another couple of years. This lead to a sharp drop in the euro on Thursday.
Last week, the ECB noted that it might end its easy money policies. But this week, policymakers gave conflicting opinions.
Most of the economic problems we see today have been fueled by the easy money policies that central banks have adopted around the world. However, sooner or later, we hope to see the end of easy money.
On the commodities front Crude oil traded in an uptrend during the week. After witnessing a volatile start to the week, the commodity ended the week on a positive note and was up 5.5%. The traction in the crude was in response to a fall in US fuel inventories and a cut in the US government's forecast for crude output next year.
Key World Markets During the Week
Back home, Indian stock markets continued their positive momentum and ended the week on a record high level. The BSE Sensex was up 2.10% and the NSE Nifty was up 2.28%.
The data for retail inflation for the month of June came at 1.54% which is lowest in last five years, largely due to falling food prices. The Reserve Bank, which mainly factors in retail inflation to arrive at its monetary policy, is slated to meet in early August to announce the next bi-monthly policy rate. The market rallied on both the positive cues from the global markets and expectation of a rate cut by RBI.
BSE Indices During the Week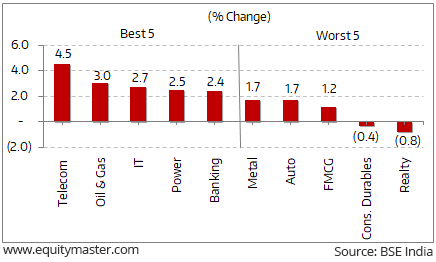 Now let us discuss some key economic and industry developments during the week gone by
India's annual retail inflation eased in June to its slowest pace in more than five years, as food prices fell.
The consumer price index rose 1.54% in the 12 months through June, down from an increase of 2.18% in the previous month.
This is the lowest inflation rate since India started releasing retail inflation data in January 2012 based on a combined CPI index for rural and urban consumers.
Elsewhere in Asia, China's annual consumer prices remained subdued at 1.5% in June.
The Reserve Bank, which mainly factors in retail inflation to arrive at its monetary policy, is slated to meet in early August to announce the next bi-monthly policy rate.
In its last policy in June, the central bank had kept the key lending rate unchanged citing risk to inflation.
But given that the June inflation is way below the RBI's projection of 2-3.5% for the first half of this fiscal, the clamour for rate cuts has only gotten stronger.
Just Released: Multibagger Stocks Guide
(2017 Edition)
In this report, we reveal four proven strategies to picking multibagger stocks.
Well over a million copies of this report have already been claimed over the years.
Go ahead, grab your copy today. It's Free.
NO-SPAM PLEDGE
- We will NEVER rent, sell, or give away your e-mail address to anyone for any reason. You can unsubscribe from The 5 Minute WrapUp with a few clicks. Please read our
Privacy Policy
&
Terms Of Use
.
Merger and acquisition activity in India is on a high. The value of M&As that have taken place this year - at US$ 69.75 billion - is the highest on record for the country. This even beats the previous record of US$ 66.96 billion set in 2007.
Especially, the M&A activity in the Indian pharma space has been on the rise in recent times. At the end of the day, whether the company is able to derive value from the acquisitions and augment the overall performance will be the key thing to watch out for.
As per a leading financial daily, Prime Minister Narendra Modi is going to hold a high-profile meeting to review India's foreign direct investment (FDI) policy today. The meeting is aimed at boosting fund inflow and job creation in India and also discuss further easing of restrictions.
Earlier, last month, the government had decided to clear all FDI proposals requiring approval. It stated that proposals will be approved within a maximum of 10 weeks after the receipt of an application as per the standard operation procedure which replaces Foreign Investment Promotion Board (FIPB), which is abolished by the government.
The above measures by the government are aimed at improving investment climate in India.
In another development, India Ratings (Ind-Ra) has said that growth of coal consumption in India may remain tepid as plant load factor of thermal power plants (PLF) is likely to drop in the current fiscal. It has estimated that prices for the benchmark Newcastle coal with 5,500 calories of energy value will hover between US$ 50 per tonne and US$ 60 per tonne between 2018 and 2022.
The rating agency further said that given domestic coal availability likely to increase, thermal coal imports may decline by 15-20 million tonnes annually over the next two-three years and government policies in large seaborne trade participants and persistent substitution to renewable energy are likely to have a significant influence on coal prices.
Ind-Ra believes investment in new coal projects is likely to remain subdued globally due to gloomy long-term demand prospects. Many top global suppliers may not invest in raising output, creating a strong floor for prices. It also pointed that higher-than-expected volume ramp-ups by large global miners and proliferation of renewables, major downward revision in royalties or taxes, and major decline in global economic activity may pose a downside risk to assumed prices.
Gross non-performing assets (GNPA) of Indian banks rose from 9.2% in September 2016 to 9.6% in March 2017. GNPA refers to the total value of loans on which interest and principal income has not been received by the bank for more than ninety days. For some banks, the ratio of GNPAs to total lending is more than 20%. This means more than Rs 20 out of every Rs 100 lent is at the risk of not coming back.
The RBI expects the average GNPA ratio to increase to 10.2% by March 2018. It indicated that if macroeconomic conditions worsen, this number could go up.
The problem of bad loans is indeed quite severe and when we compare it with other global peers it looks daunting.
Out of the ten major economies facing NPA problems, India is ranked seventh.
The overhang of bad debts has not only hit the bank's profitability, but has also restricted their loan book growth.
Notably, uncertainties with regard to Goods and Services Tax (GST) pulled down sales of passenger vehicles in June. Domestic passenger vehicle sales declined by 11.2% to 198,399 units in June from 223,454 units in the same month last year, according to data released by the Society of Indian Automobile Manufacturers (SIAM).
The overall automotive industry witnessed some volatility during the first quarter of FY18, as the market experienced uncertainty post the BS-IV transition issues and prior to GST implementation, and automakers, besides offering pre-GST discounts, made efforts to re-align inventories.
Nevertheless, as per Rahul Shah, Co-head of Research, the blip is expected to be temporary. With vehicle prices coming down post GST, low interest rates, attractive discounts and expectation of good monsoons will provide support to the industry.
Movers and Shakers During the Week
Source : Equitymaster
Some of the key corporate developments in the week gone by
TCS share price tumbled during the week as the IT major announced its June quarter results. TCS reported the biggest sequential profit decline in the last two years, missing street expectations due to a stronger rupee.
The information technology giant saw profit slid 10% sequentially to Rs 5,945 crore in the April-June period. Revenue growth remained muted as it declined 0.2% quarter-on-quarter to Rs 295.8 billion. Revenue in dollar terms, however, grew 3.1% to $4.6 billion.
Moving on to the news from the pharma sector. As per an article in The Economic Times, Cipla and Novartis are in early-stage discussions to jointly market asthma drug Xolair, just months after they ended a legal battle over another respiratory drug.
Xolair (omalizumab) is an injectable prescription medicine used to treat moderate to severe persistent asthma in patients whose symptoms are not controlled by inhaled corticosteroids.
One must note that Cipla lost its battle with Novartis in March, when the Delhi High Court stayed the company's request to sell copies of Novartis respiratory brand Onbrez (indacaterol).
Cipla had been battling Novartis since 2014 over selling its generic version of the drug to cater to what it said was an unmet need.
Novartis has been looking at licensing out its respiratory portfolio, which has lost the sheen globally in the past few years.
Meanwhile, Indian generic drug makers such as Lupin, Cipla, Zydus Cadila and Sun Pharmaceutical Industries are also eyeing the respiratory drug portfolio that the Swiss giant is seeking to divest.
In the news from IPO markets, the initial public offer of Salasar Techno Engineering was oversubscribed 5.07 times yesterday - the second day of bidding.
The issue is going to follow fixed price IPO wherein the issue price is fixed at Rs 108 per share. The company is raising funds to meet the working capital requirements of the company including margin money, for general corporate purpose and to meet the issue expenses.
Apart from the above, SBI Life Insurance Company is also set to come up with an IPO as the insurance regulator IRDA has approved the company's application this week.
To understand this terrain, you may want to download our report - Handbook of IPO investing, which has a special section on valuation of insurance companies. This will help you demystify the complexities of the industry before you attempt to invest in insurance IPOs.
Investors are tracking the developments on ONGC merger talks in the energy space. Owing to this, ONGC share price finished the day on a strong note (up 1.6%) on Wednesday.
Following up on Finance Minister Arun Jaitley's Budget announcement of creating an integrated oil company, ONGC had evaluated options of acquiring either HPCL or BPCL - the two-downstream oil refining and fuel marketing companies.
However, ONGC found the nation's second-biggest fuel retailer BPCL too expensive and is set to merge with HPCL by the end of this fiscal year.
Cement stocks are trading on a mixed note with Birla Corp and Heidelberg Cement leading the gains. As per an article in the Livemint, average cement prices are expected to rise by 6% year-on-year (YoY) and 7% on quarter-on-quarter (QoQ) basis across the country despite volume decline in the southern and central regions.
As per the report, the raw material cost is also likely to go up this year. Total costs per tonne are expected to be up by 7% YoY led by price increase in pet coke, diesel, slag and packing material, among others.
With the onset of monsoon, volume flow and prices are likely to remain muted.
The cement volumes in the southern and central regions are likely to be down YoY, owing to weak off-take in Tamil Nadu due to political matters and Uttar Pradesh, where sand mining issue continue to impact off-take. Volumes in the eastern region are likely to grow sharply by 20% YoY, led by strong demand in Bihar, Jharkhand and Odisha.
Tata Motors reported a 1.7% decline in global sales at 90,966 units last month, including Jaguar Land Rover (JLR). Tata Motors had sold 92,551 units in June 2016.
In the passenger vehicles category, global sales stood at 60,725 units last month as against 59,831 units a year ago - a growth of 1.5%.
Sales of luxury brand Jaguar Land Rover were up 4.7% at 49,422 units in June as compared to 47,197 units in the corresponding period of 2016. Tata Motors said sales of its commercial vehicles declined 7.57% to 30,241 units as against 32,720 units a year ago.
And here's an update from our friends at Daily Profit Hunter...
The Nifty 50 Index ended the week on a strong note. On Monday, it opened with 53-point gap up and continued to trade in an uptrend throughout the week. On Friday, the index witnessed minor profit booking and ended the week with 2.28% gains.
Last week, we mentioned the index was regaining strength as it closed above its 20-day exponential moving average (EMA) and the RSI indicator was again trading in bullish territory above 50. The index also broke above the 9,700 level, which was acting as a strong resistance since early June.
In the coming week, the 9,700 level might offer good support as per the change of polarity principle (previous resistance now support). The 20 EMA (which is also placed at 9,700) might act as a support on reactions if any. You can read the detailed market update here...
Nifty 50 Index Surged 2.30% for the Week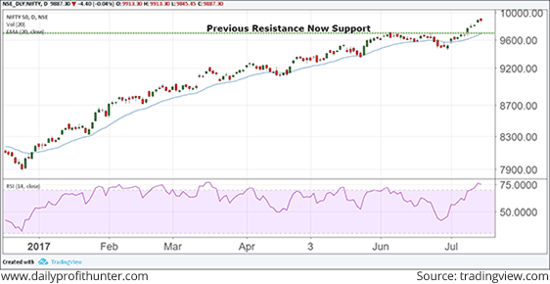 For information on how to pick stocks that have the potential to deliver big returns,
Read the latest Market Commentary
What else is happening in the markets today? Dig in...
Stock Market Updates
Mar 8, 2021 Closing
Indian share markets end on a flat note with the Sensex ending up by 35 points and the Nifty ending up by 18 points.
Mar 8, 2021 12:30 pm
BSE Sensex is trading up by 214 points, while the NSE Nifty is trading up by 76 points.
Mar 8, 2021 09:30 am
Indian share markets open higher. The BSE Sensex opened up by 363 points, while the Nifty is trading higher by 112 points.
Mar 8, 2021 09:40 AM
ONGC share price has hit a 52-week high. It is presently trading at Rs 121. BSE 500 Index is up by 0.7% at 20,123. Within the BSE 500, ONGC (up 5.2%) and BEML (up 13.1%) are among the top gainers, while top losers are DHFL and CORPORATION BANK.
Mar 8, 2021 09:38 AM
GRINDWELL NORTON share price has hit a 52-week high. It is presently trading at Rs 975. BSE 500 Index is up by 0.8% at 20,123. Within the BSE 500, GRINDWELL NORTON (up 5.5%) and BEML (up 11.8%) are among the top gainers, while top losers are DHFL and CORPORATION BANK.
Mar 8, 2021 09:36 AM
ASTRAL POLY TECHNICK share price has hit an all time high at Rs 2,332 (up 3.6%). The BSE CAPITAL GOODS Index is up by 1.4%. Among the top gainers in the BSE CAPITAL GOODS Index today are ASTRAL POLY TECHNICK (up 3.6%) and HONEYWELL AUTOMATION (up 2.5%). The top losers include KALPATARU POWER (down 0.8%).
View More Indian Share Market News
Most Popular
Feb 24, 2021
Last time the smallcap index crossed 19k a big correction followed. Here's what makes it different this time.
Feb 25, 2021
In this video, I'll show you how to get started on the path to daily trading profits.
Mar 5, 2021
This could be the biggest wealth creator of the decade.
Feb 26, 2021
In this episode of the Investor Hour, India's #1 trader, Vijay Bhambwani, talks to us about the stock market, his new targets for gold and silver, the best long-term investment opportunity, and a lot more.
More