Indian Stock Market News July 24, 2017
Nifty Hovers Near 10,000 Mark; Energy Stocks Witness Buying
After opening the day marginally higher, stock markets in India have continued their momentum. Presently, they are trading near their all-time high levels.
Indian indices are scaling new highs of late. And there's a flood of liquidity pouring into Indian stock markets in search of higher returns.
One of the key factors behind the above flow of liquidity is the downward trend in interest rates. And the demonetisation drive last November accelerated this trend. Indian banks were flushed with liquidity. At the same time, credit offtake was poor. This forced them to cut interest rates on deposits.
Interest rates are a key macroeconomic variable that influence the economy. From a recent premium edition of The 5 Minute WrapUp (subscription required)...
Interest rates are a key macroeconomic variable that have far-reaching consequences on economic growth, corporate profitability, and how people invest their money.

As a thumb rule, lower interest rates aid corporate profitability as businesses pay lower interest on their borrowings. On the other hand, declining interest rates mean lower earnings on fixed deposits for investors and savers.

Both of these effects of lower interest rates have a positive impact on stock markets.
One must note that the above rise in Indian stock markets has also led many stocks to trade at expensive valuations.
But even as the Equitymaster analysts grow increasingly wary of market valuations, their bottom-up approach continues to uncover new opportunities. Many of which most investors, especially the hordes of novices, have never heard of.
For instance, Richa's Hidden Treasure team has uncovered a batch of small caps that could lead to what Richa calls 'backdoor profits'. Download a copy of Richa's new report, Backdoor Profits - The Small-Cap Way to Big Returns, to know about these stocks.
Just Released: Multibagger Stocks Guide
(2017 Edition)
In this report, we reveal four proven strategies to picking multibagger stocks.
Well over a million copies of this report have already been claimed over the years.
Go ahead, grab your copy today. It's Free.
NO-SPAM PLEDGE
- We will NEVER rent, sell, or give away your e-mail address to anyone for any reason. You can unsubscribe from The 5 Minute WrapUp with a few clicks. Please read our
Privacy Policy
&
Terms Of Use
.
Sectoral indices are trading on a positive note with stocks in the consumer durables sector, energy sector and FMCG sector witnessing maximum buying interest.
The BSE Sensex is trading up 191 points (up 0.6%) and the NSE Nifty is trading up 45 points (up 0.5%). The BSE Mid Cap index is trading up by 0.3%, while the BSE Small Cap index is trading up by 0.6%. The rupee is trading at 64.41 to the US$.
In the news from FMCG space, reports showed that ITC has hiked cigarette prices by 6-7% across all cigarette categories. Following the development, share price of ITC climbed over 2% in early trade today.
The above development comes in the wake of a hike in cess on cigarettes which the GST Council amended last week.
The Goods and Services Tax (GST) Council has decided to increase the cess on cigarettes to offset reduced tax revenue from the product following the GST rollout. Accordingly, the tax burden on cigarettes will go up by Rs 4.8-7.9 per 10 sticks, depending on their length and whether or not they have filters.
As per Finance Minister Arun Jaitley, the increase in cess is expected to help the government raise around Rs 50 billion of additional tax revenue which would have been pocketed by cigarette companies.
The stock of ITC had surged to a record high lately after the announcement that GST rates were reducing the tax on cigarettes by around 6-7% compared to that in the earlier regime. However, with the above development, the tax incidence will be the same as before and accordingly the rates will be at par with those under the older regime.
For investors, this comes as a reminder for considering the impact of regulatory risks such as the above while considering auto stocks for investment.
We, at Equitymaster, rigorously follow Equitymaster Risk Matrix (ERM®). The risks are objectively evaluated via the ERM® score. This helps us keep our analysis objective and casts aside all pre-conceived bias.
Speaking of GST, the Goods and Services Tax became the order of the day at the start of this month. And all these months we have been subjected to a relentless propaganda by the government and the supporters of the GST, on how it will change our world, only for good.
Our colleague Vivek Kaul, has studied the finer aspects of the GST and predicted what could go right and wrong.
Download his special report - The Good, the Sad and the Terrible (GST).
In the news from commodity markets, investors are keeping tabs on the OPEC meet which is scheduled for today.
As per the news, ministers from the OPEC and non-OPEC oil producers are going to meet in the Russian city of St Petersburg today to discuss the deal on production cuts, which was agreed upon earlier this year.
Sources familiar with the talks said the meeting may recommend a conditional cap on production from Nigeria and Libya - two OPEC members presently exempt from output cuts.
Owing to the above meeting and expectations for a production cut, crude oil is witnessing buying interest today.
While the above gains come as a welcome breather, crude oil has been witnessing losses lately on concerns regarding the rising output from OPEC.
Owing to the supply glut, crude oil prices have been remarkably silent over the last two years. Prices have remained within a tight range, rarely dropping below US$40 or rising above US$60. Volatility has crashed. And if you are trading crude oil, it's critical to understand why this has occurred.
One of the issues of Vivek Kaul's Inner Circle (requires subscription) explains what has triggered the above taming in crude oil prices.
To keep a tab on the movements in crude oil and other commodities, you can read the stock market commentary from the Daily Profit Hunter team. Their commentary tracks the developments in the global economy as well as stock, currency and commodity markets.
On the domestic front, rising oil prices do not bode well for the Indian economy. This we say is because India is hugely dependent on petroleum imports. In fact, the share of petroleum imports for India has only increased over the years, as can be seen from the chart below:
India's Growing Dependence on Petroleum Imports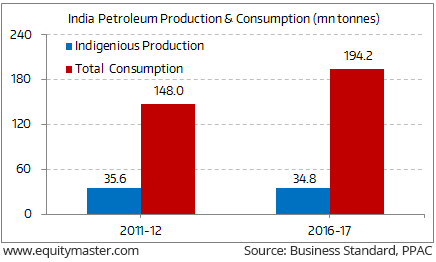 India is the world's third-largest oil consumer. And energy consumption in India is set to grow as our economy remains one of the few 'bright spots' in a slowing, aging world economy. And India could face a potent risk with a rise in crude oil prices.
The only way out for India is to reduce its dependence on oil imports and achieve fuel-sufficiency.
For information on how to pick stocks that have the potential to deliver big returns,
Read the latest Market Commentary
What else is happening in the markets today? Dig in...
Views on News
Feb 26, 2021
PersonalFN analyses the features of ITI Mid-Cap Fund and explains the potential this fund has to offer to its investors.
Feb 26, 2021
In today's video, I'll discuss why thew stock market went up on Wednesday, 24 February 2021, when the NSE had to shut trading due to a technical glitch.
Feb 26, 2021
You my personal trading checklist and you will be well on your way to making it big as a trader.
Feb 25, 2021
In this video, I'll show you how to get started on the path to daily trading profits.
Feb 25, 2021
Timely review of your investment portfolio is the key, to enable stable returns and work towards your envisioned financial goals during various market phases.
More Views on News
Most Popular
Feb 24, 2021
Last time the smallcap index crossed 19k a big correction followed. Here's what makes it different this time.
Feb 15, 2021
In this video, I'll cover your queries on intraday trading and also share my view on how to decide stop losses and target prices.
Feb 16, 2021
A look at what India's top equity mutual funds bought and sold in January 2021.
Feb 16, 2021
Do you enjoy reading Tesla and Bitcoin stories? Here's a not so famous small-cap stock to profit from the rise of EVs.
More