Indian Stock Market News July 29, 2017
Global Markets Remain Buoyant
Global financial markets ended the week in the green with most of the indices ending in the positive territory. Barring Germany and Japan, all the indices were gainers in the week gone by. The buoyancy was led by the US Federal Reserve's decision to keep its benchmark interest rate unchanged at a time of low inflation, which remains persistently below the Fed's target level.
The Fed noted that inflation has stayed undesirably low, even though the job market keeps strengthening, with the unemployment rate just 4.4%. The central bank decided to leave its key rate unchanged in a range of 1% to 1.25% after having raised rates twice this year in March and June.
Meanwhile on the commodities front, crude prices firmed up remarkably reaching two-month highs of US$ 49.6 a barrel and posting the strongest weekly gains this year. The traction in the crude was in response to steeper than expected fall in the US fuel inventories. Even the world's largest exporter and OPEC's de facto leader, Saudi Arabia has said that it planned to cap crude exports to 6.6 million barrels per day (bpd), about 1 million bpd below the level last year. This further strengthened the crude prices during the week.
Key World Markets During the Week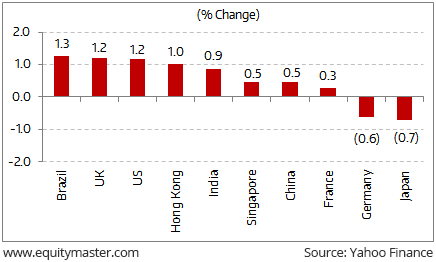 Back home, Indian stock markets continued to climb higher and ended the week on a record high levels. Most of the indices, barring auto and pharma posted gains in the week gone by. Banking, power and telecom were the biggest gainers.
BSE Indices During the Week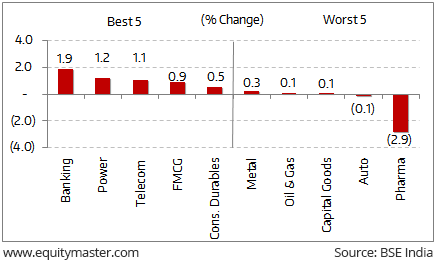 Now let us discuss some key economic and industry developments during the week gone by
The foreign direct investment (FDI) inflows into the country increased 23% YoY in the first two months of the current fiscal. The cumulative foreign direct investment in April-May was US$10.02 billion, or about Rs 645.24 billion, compared with US$8.12 billion, or about Rs 522.89 billion, a year earlier.
But economic slowdown in the country continues to manifest itself in the form sluggish credit demand. According to Reserve Bank of India data, credit off-take was down to a decade low of 5.1% in FY17 compared to 10.7% a year ago. This was despite a declining cost of borrowing. The data shows the economy might still be reeling from the aftershocks of notebandi.
However on a positive note, global credit rating agency Standard & Poor's (S&P) ratings expects large Indian corporates' revenues to witness growth of around 10% annually over the next two fiscal years. In its latest report, the agency has said that the credit quality of top corporates which is on the path of recovery is likely to improve over the next two years and will lead to revenue growth.
The report based on 'the analysis of top 100 companies according to market capitalisation' said that the corporates' profitability will also be supported by rising demand and moderate inflation.
It further noted that growth trends are reversing in India's corporate field, as commodity focused sectors set to grow faster than export-focused industries such as information technology and pharmaceuticals and heavy industries' progress is also likely to be more pronounced. However, S&P found that asset-light industries will face headwinds.
Movers and Shakers During the Week
Company
21-Jul-17
28-Jul-17
Change
52-wk High/Low
Top Gainers During the Week (BSE Group A)
Jaiprakash Power
5.44
7.46
37.1%
9 / 4
Lanco Infratech
0.93
1.16
24.7%
5 / 1
Yes Bank
1,578.85
1,844.05
16.8%
1,860 / 1,091
Mahindra Finance
353.95
401.9
13.5%
408 / 244
Gujarat State Petronet
173.65
193.1
11.2%
204 / 119
Top Losers During the Week (BSE Group A)
Dr Reddy's Lab
2,759.75
2,462.05
-10.8%
3,395 / 2,382
Lupin Ltd.
1,142.85
1,062.55
-7.0%
1,750 / 1,037
Divi's Laboratories
720.85
673
-6.6%
1,380 / 533
Indian Bank
328.85
308.55
-6.2%
365 / 152
United Spirits
2,708.50
2,556.40
-5.6%
2,773 / 1,775
Source : Equitymaster
Some of the key corporate developments in the week gone by
Reliance Industries posted a strong performance in the first quarter of FY18. Performance was robust across segments. Refining, the key segment of the company registered an 18% year on year growth. Petrochemical division also witnessed a 23% growth. The retail segment also registered a strong 74% growth year on year.
In a surprise development, Reliance bought a 24.9% stake in Balaji Telefilms at an investment of Rs 4.13 billion. The move is aimed at sourcing content for its Jio platform. With its 125 million user-base, Jio is expected to be the key growth driver for its future.
The entry of Reliance Jio Infocomm has led to a faster than expected consolidation with merger proposal of Telenor India and Bharti Airtel, acquisition of telecom business of Sistema Shyam Tele Services by Reliance Communications and the planned merger of two of the biggest telecom companies Vodafone India and Idea Cellular.
The pricing disruption in the Indian telecom market caused by the entry of a new operator has led to industry revenue declines and created further stress on sector profitability, cash flows and leverage.
Bharti Airtel reported its smallest profit in 18 quarters as a price war sparked by an upstart carrier weighed on earnings. The company's net profit fell 75% to 3.67 billion rupees (US$57.01 million) during the June quarter.
Coming to IT companies that are on buyback spree, Wipro also joined the bandwagon recently. Wipro announced a buyback of 343.75 million shares at Rs 320 each totaling Rs 110 billion. In terms of results, Wipro posted slightly better than expected growth numbers with revenues growing 0.3% sequentially.
However, HCL Technologies reported a 10.7% sequential fall in net profit to Rs 22.1 billion for the June 2017 quarter. Revenue for the quarter rose 0.8% QoQ to Rs 121.5 billion. This was 7.2% higher on YoY basis. The IT major expects revenues in FY18 to grow by 10.5-12.5% in constant currency terms. The company concluded its buyback programme during the quarter. The buyback entailed 35 million equity shares at a price of Rs 1,000 per share.
Just Released: Multibagger Stocks Guide
(2017 Edition)
In this report, we reveal four proven strategies to picking multibagger stocks.
Well over a million copies of this report have already been claimed over the years.
Go ahead, grab your copy today. It's Free.
NO-SPAM PLEDGE
- We will NEVER rent, sell, or give away your e-mail address to anyone for any reason. You can unsubscribe from The 5 Minute WrapUp with a few clicks. Please read our
Privacy Policy
&
Terms Of Use
.
ITC has hiked cigarette prices by 6-7% across all cigarette categories. The above development comes in the wake of a hike in cess on cigarettes which the GST Council amended recently. The Goods and Services Tax (GST) Council has decided to increase the cess on cigarettes to offset reduced tax revenue from the product following the GST rollout. Accordingly, the tax burden on cigarettes will go up by Rs 4.8-7.9 per 10 sticks, depending on their length and whether or not they have filters. GST rates had reduced the tax on cigarettes by around 6-7% compared to that in the earlier regime. However, with the above development, the tax incidence on cigarettes will be the same as before.
For investors, this comes as a reminder for considering the impact of regulatory risks such as the above while considering cigarette stocks for investment.
Pharma is another sector that has been bearing the brunt of the USFDA's regulatory whip. In the past three years, the USFDA raised numerous regulatory concerns resulting in import bans and suspension of new drug approvals from facilities of Indian pharma companies. But what has come as a breather is a sharp pick-up in new drug approvals in 2017. During the period January-July 2017, 129 approvals for generic drugs were made. This is 45% higher from 89 approvals made in the corresponding period last year.
Lupin received final approval for its Fluocinonide Topical Solution USP, 0.05% from the United States Food and Drug Administration (USFDA). The drug is a generic version of County Line Pharmaceuticals, LLC's Fluocinonide Topical Solution USP, 0.05%. It is indicated for the relief of the inflammatory and pruritic manifestations of corticosteroid-responsive dermatoses. Reportedly, Fluocinonide Topical Solution USP, 0.05% had US sales of US$32.4 million, as per IMS MAT March 2017.
Another company, Glenmark Pharmaceuticals has received final approval from the US health regulator for generic version of Desonide cream, used to treat a variety of skin conditions. The final approval was granted by USFDA for Desonide Cream, 0.05%, the generic version of Desonide Cream, 0.05% of Perrigo New York Inc.
According to IMS Health sales data for the 12 months to May 2017, Desonide Cream, 0.05%, achieved annual sales of approximately US$ 44.6 million. Notably, the company's current portfolio consists of 120 products authorised for distribution in the US marketplace and 65 Abbreviated New Drug Applications (ANDA) pending approval with the USFDA.
Axis Bank reported a 16% year-on-year (y-o-y) fall in net profit to Rs 13.06 billion in the June 2017 quarter on the back of flat net interest income (NII). Net interest income (NII) grew marginally by 2.2% to Rs 46.16 billion from Rs 45.17 billion last year. But asset quality continued to slide. Gross non-performing assets surged 130.6% to Rs 220.31 billion from Rs 95.53 billion a year ago. As a percentage of total loans, gross NPAs were at 5.03% as compared to 5.04% in the previous quarter and 2.54% in the year-ago quarter.
However, Yes Bank reported a 32% rise in quarterly profit helped by higher interest and fee income. Net profit rose to Rs 9.7 billion (US$150 million) in the June 2017 quarter, from Rs 7.3 billion a year earlier. In terms of asset quality Gross NPA's for the quarter also jumped by 62% yoy to Rs 13.6 billion in Q1FY18 versus Rs 8.4 billion in Q1FY17. In percentage to total advances GNPA's marginally edged up by 18 bps to 0.97% in QFY18 as against 0.79% in Q1FY17.
The recent run-up in share markets has prompted a spate of activity in the insurance sector. This we say as IDBI Federal Life Insurance, a joint venture between IDBI Bank, Federal Bank and Ageas is exploring a 100% stake sale.
Even SBI Life Insurance, a joint venture between the State Bank of India (SBI) and BNP Paribas Cardif, has also filed its draft red herring prospectus with the Securities and Exchange Board of India (SEBI).
And here's an update from our friends at Daily Profit Hunter...
The Nifty 50 Index ends its July expiry this week. Let's have a look how the index performed during the expiry.
The index traded on a strong note during the expiry. It opened gap down on the first day of the expiry and hit a low of 9,449. But the selling was temporary as the index recovered later that day and went on to hit a fresh life high in the second week of the expiry. The bulls did not stop and the index kept hitting new life highs to achieve the landmark figure of 10,000 in the last week of the expiry. Finally, it ended the expiry 5.44% up.
In our previous rollover report, we mentioned that it would be quite difficult for the bears to penetrate the 9,400 level as indicated by the strong open interest (OI) outstanding in the 9,400 put. As a result, the index reversed up from 9,449.
But as indicated, the bulls also needed to push the index above its 20-day exponential moving average (EMA) as well as the RSI indicator above 50 to regain strength, which they did in the first week of the expiry. This lead bulls to dominate the expiry and the index hit the 10,000 mark in no time.
So will the bulls continue to dominate in the August series as well? Watch out for our next rollover report in Profit Hunter newsletter in the Market Notes section. You can read the detailed market update here...
Nifty 50 Index Ends July Expiry Above 10,000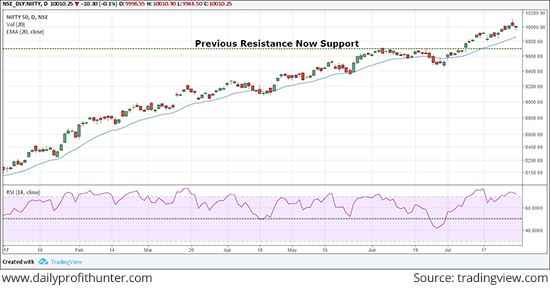 For information on how to pick stocks that have the potential to deliver big returns,
Read the latest Market Commentary
What else is happening in the markets today? Dig in...
Views on News
Feb 26, 2021
PersonalFN analyses the features of ITI Mid-Cap Fund and explains the potential this fund has to offer to its investors.
Feb 26, 2021
In today's video, I'll discuss why thew stock market went up on Wednesday, 24 February 2021, when the NSE had to shut trading due to a technical glitch.
Feb 26, 2021
You my personal trading checklist and you will be well on your way to making it big as a trader.
Feb 25, 2021
In this video, I'll show you how to get started on the path to daily trading profits.
Feb 25, 2021
Timely review of your investment portfolio is the key, to enable stable returns and work towards your envisioned financial goals during various market phases.
More Views on News
Most Popular
Feb 24, 2021
Last time the smallcap index crossed 19k a big correction followed. Here's what makes it different this time.
Feb 15, 2021
In this video, I'll cover your queries on intraday trading and also share my view on how to decide stop losses and target prices.
Feb 16, 2021
A look at what India's top equity mutual funds bought and sold in January 2021.
Feb 16, 2021
Do you enjoy reading Tesla and Bitcoin stories? Here's a not so famous small-cap stock to profit from the rise of EVs.
More