Sensex Today Trades Lower | Hindalco & Hero MotoCorp Top Losers | Hindware Home Innovation Plunges 13%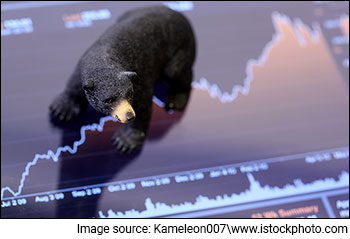 Asian stocks sank on Friday, with Chinese shares leading losses on persistent concerns over the property market, while data showing a rise in US inflation did little to improve sentiment.
The Nikkei is trading 0.8% higher while the Hang Seng index is down 0.6%. The Shanghai Composite is trading down by 1.2%.
US stocks ended flat on Thursday following the July inflation data. The Dow Jones Industrial Average and the tech heavy Nasdaq Composite ended marginally higher.
Here's a table showing how US stocks performed on Thursday:
| Stock/Index | LTP | Change ($) | Change (%) | Day High | Day Low | 52-Week High | 52-Week Low |
| --- | --- | --- | --- | --- | --- | --- | --- |
| Alphabet | 130.21 | 0.06 | 0.05% | 132.65 | 130.04 | 134.07 | 83.45 |
| Apple | 177.97 | -0.22 | -0.12% | 180.75 | 177.6 | 198.23 | 124.17 |
| Meta | 305.74 | 0.53 | 0.17% | 312.34 | 303.87 | 326.2 | 88.09 |
| Tesla | 245.34 | 3.15 | 1.30% | 251.8 | 243 | 314.67 | 101.81 |
| Netflix | 429.98 | 1.08 | 0.25% | 438.12 | 428.69 | 485 | 211.73 |
| Amazon | 138.56 | 0.71 | 0.52% | 140.41 | 137.49 | 146.57 | 81.43 |
| Microsoft | 322.93 | 0.7 | 0.22% | 328.26 | 321.18 | 366.78 | 213.43 |
| Dow Jones | 35,176.20 | 52.8 | 0.15% | 35,578.58 | 35,107.60 | 35,679.13 | 28,660.94 |
| Nasdaq | 13,738.00 | 16 | 0.12% | 13,947.16 | 13,686.52 | 14,446.55 | 10,088.83 |
Data Source: Equitymaster
Back home, Indian share markets are trading on a negative note following the trend on SGX Nifty.
At present, the BSE Sensex is trading lower by 250 points. Meanwhile, the NSE Nifty is trading down by 75 points.
Titan and Maruti Suzuki are among the top gainers today.
--- Advertisement ---
Investment in securities market are subject to market risks. Read all the related documents carefully before investing

Access details of this investing opportunity fast

EV is an emerging opportunity of this decade.

And most investors think the best way to ride this opportunity is through stocks of EV making companies.

Well, our research suggests that's not a recommended strategy.

Click Here to Know More
(Information available only till 11:59pm tonight)
Details of our SEBI Research Analyst registration are mentioned on our website - www.equitymaster.com
---------------------------------------------
Hindalco and Hero MotoCorp on the other hand are among the top losers today.
Broader markets are trading on a positive note. The BSE Mid Cap index and the BSE Small Cap index is trading higher by 0.2%.
Sectoral indices are trading on a mixed note with stocks in the realty sector and telecom sector witnessing most buying. While stocks in the FMCG sector and metal sector are witnessing selling pressure.
Shares of Coforge and Raymond hit their 52-week high today.
The rupee is trading at Rs 81.76 against the US dollar.
In commodity markets, gold prices are trading marginally lower at Rs 58,790 per 10 grams today.
Meanwhile, silver prices are trading marginally lower at Rs 69,876 per 1 kg.
Now track the biggest movers of the stock market using stocks to watch today section. This should help you keep updated with the latest developments...
Speaking of stock markets, Paint stocks are getting a lot of attention in the market these days.
Asian Paints dominates this sector but what about the other stocks?
Can any one of them become the next big multibagger paint stock?
And what do the charts say about these stocks?
In the below video chartist Brijesh Bhatia answers all these questions.
--- This is Third Party Advertisement ---
Mutual Fund investments are subject to market risks, read all scheme related documents carefully.

[MEGA] Webinar Invitation -

Navigating markets in 2024 - Fund Managers' Year End Perspective.

Date: Dec 6th Time: 6pm Venue: Your Computer

What's Next for equity, debt & gold asset classes?

Join Chirag Mehta, CIO and Fund Managers of Quantum AMC as they discuss asset class outlook & what one should expect from the markets in the new-year.

Register Free for this Exclusive Webinar
----------------------------------------
Mazagon Dock net profit surges 40%
State-run Mazagon Dock Shipbuilders (MDL), on Thursday, reported a 39.8% year-on-year (YoY) increase in net profit at Rs 314.3 bn for the June 2023 quarter.
In the corresponding quarter last year, Mazagon Dock Shipbuilders posted a net profit of Rs 2.2 bn.
The total revenue stood at Rs 21.7 bn during the period under review, which falls 2.6% against Rs 22.3 bn in the corresponding period of the preceding fiscal.
At the operating level, EBITDA declined 1.2% to Rs 1.7 bn in the first quarter of this fiscal over Rs 1.7 bn in the corresponding period in the previous fiscal.
EBITDA margin stood at 7.9% in the reporting quarter compared to 7.8% in the corresponding period in the previous fiscal. EBITDA is earnings before interest, tax, depreciation, and amortisation.
So far in 2023, the defence shipbuilding company has logged gains of over 121.3%, here's Why Mazagon Dock Share Price is Rising.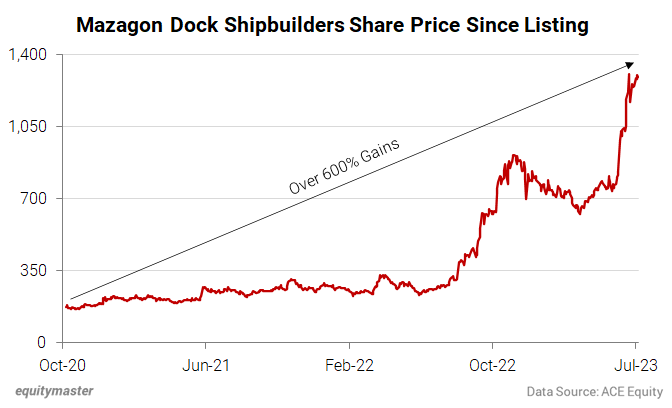 Mazagon dock shipbuilders is one of the Top 5 Cash-Rich Midcap Stocks to Add to Your Watchlist.
Equitymaster Conference 2024: View Your Invitation
Hero MotoCorp Q1 net profit up 32%
Aided by higher prices, improvement in operating performance and reversal-of-incentivisation benefits, Hero MotoCorp on Thursday reported a 32% year-on-year (YoY) rise in its first quarter standalone net profit at Rs 8.3 bn as compared to Rs 6.2 bn a year ago.
The company's revenue increased 4.5% to Rs 87.7 bn in Q1FY24, as against Rs 8,392.54 crore in the year-ago period.
Lower commodity costs, price hikes, positive operating leverage and a richer product mix also helped the company boost its bottom line.
The country's largest two-wheeler maker posted robust financials despite a dip in volumes. The company's total sales, including exports, declined by 3% to 13.53 lakh units during the April to June period vis-a-vis 13.90 lakh units in the same period last year.
Domestic sales were marginally down by 0.8% on a YoY, while exports slumped by 43%.
The company's earnings before interest, taxes, depreciation and amortisation (EBITDA) for Q1FY24 stood at Rs 12.1 bn, up 28%.
Driven by softening of commodity costs, accelerated savings programs, and judicious price increases, the EBITDA margin for the quarter stood at 13.8%, reflecting an improvement of 2.5%.
The underlying EBITDA margin for the ICE business stands at 14.5%, excluding the impact of the EV business.
EBITDA margin is a measure of a company's operating profit as a percentage of its revenue. Profit before tax and exceptional items for the quarter were at Rs 12.6 bn, a growth of 52% over Rs 8.2 bn reported in the previous quarter.
Consolidated revenue from operations stood at Rs 88.5 bn, a growth of 5% over the previous year, and PAT at Rs 7 bn, a growth of 20% over the previous year.
Note that the electric vehicle (EV) megatrend is a once-in-a-century revolution happening right in front of us.
The revolution has taken the auto sector by storm. All segments of the sector are ripe for disruption, and India's top EV stocks are set to benefit from this shift.
To know more, check out Why Hero MotoCorp is Underperforming in the Market?
To know what's moving the Indian stock markets today, check out the most recent share market updates here.
For information on how to pick stocks that have the potential to deliver big returns,
Read the latest Market Commentary