Indian Stock Market News August 19, 2017
Global Markets Remain Volatile Ahead of US Growth Concerns
Benchmark indices in US corrected marginally by 0.8% during the week. Minutes of Federal Reserve's July meeting are out and the situation looks to be in favor of the emerging markets.
Minutes indicated that policymakers were concerned about the recent decline in inflation and few were even of the opinion to halt interest rates hikes until there was further clarity on its trajectory. Further, concerns over Mr Trumps ability to introduce pro-growth policies also dragged the benchmark index.
Moving on to European markets, benchmark indices in Germany and France posted gains of 1.3% and 1.1% during the week. The indices would have ended on a much higher note if not for the terror attack which took place in Barcelona on Thursday.
Whereas, markets in Asia ended on a mixed note. Benchmark index in China and Hong Kong posted gains of 1.9% and 0.6% during the week. China's steel output at 72 million tonnes in the month of July is the highest ever, easily beating the previous record of 70.65 million tonnes in March 2016. Power generation also came in at the highest level since May 2014. Economic growth in China has been better-than expected during the first half of this year. While, indices in Singapore and Japan witnessed a mild correction of 0.9% and 1.3% respectively.
Key World Markets During the Week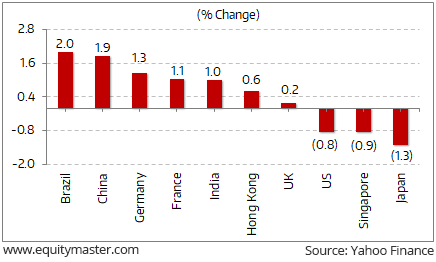 Back home, BSE Sensex gained 1% during the week. While, BSE Small Cap and BSE Mid Cap index posted hefty gains of 3.9% and 3.3% during the week. Vishal Sikka's resignation as CEO of Infosys dragged the benchmark index on Friday as the index corrected by 0.8%. Infosys sank by 9.6% in yesterday's trade, its biggest fall since April 2013.
BSE Indices During the Week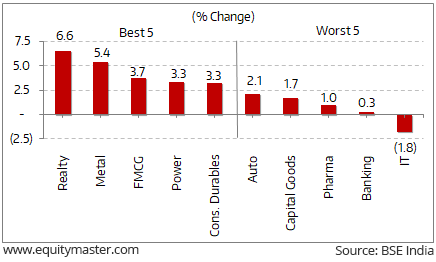 Now let us discuss some key economic and industry developments during the week gone by
The International Monetary Fund (IMF) warns China over its ballooning debt crisis. The IMF said that China's massive debt is on a dangerous path, raising the risk of a sharp slowdown in growth.
The report by IMF stated that while China's near-term growth outlook has firmed up, it is at the cost of further large and continuous increases in private and public debt, and thus increasing downside risks in the medium term. It also warned that the country's debt load could soar from around 235% of gross domestic product (GDP) last year to more than 290% in 2022.
China is staring at rapid domestic credit growth. Also, as per ratings agency Moody's, China's structural reforms are not enough to arrest its rising debt.
Moody's Investors Service has downgraded China's sovereign ratings by one notch to A1. The agency expects the financial strength of the world's second-largest economy to erode in coming years as growth falters and debt continues to rise.
Just Released: Multibagger Stocks Guide
(2017 Edition)
In this report, we reveal four proven strategies to picking multibagger stocks.
Well over a million copies of this report have already been claimed over the years.
Go ahead, grab your copy today. It's Free.
NO-SPAM PLEDGE
- We will NEVER rent, sell, or give away your e-mail address to anyone for any reason. You can unsubscribe from The 5 Minute WrapUp with a few clicks. Please read our
Privacy Policy
&
Terms Of Use
.
Many economists are also of the view that central bank stimulus measures are masking the deeper problems of industrial overcapacity and high levels of corporate debt in China.
A recent issue of Vivek Kaul's Inner Circle (requires subscription) takes a closer look at the Chinese economy and explores how America and China are on the verge of swapping their economic ideologies.
Public Sector Banks (PSBs) have reported a significant jump in the number of willful defaulters. A willful default occurs when a defaulting borrower doesn't honor an obligation, despite having the capacity to pay.
The outstanding loans of such willful defaulters rose to Rs 923 billion at the end of financial year 2016-17, as against Rs 766 billion at the end of March 2016, registering a jump of 20.4%.
At the same time, there has been close to 10% increase in number of willful defaulters on annual basis. The number of willful defaulters increased to 8,915 at the end of March as against 8,167 in the previous fiscal, according to data collated by the Finance Ministry.
During 2016-17, twenty-seven public sector banks, including SBI and its five associates wrote off Rs 816 billion crore, the highest in the last five fiscals. The amount was 41% higher than that in the previous fiscal.
Gross NPAs of the public-sector banks rose to Rs 6.4 trillion at the end of March 2017 as against Rs 5 trillion a year ago. In order to check incidences of willful default, Reserve Bank of India has tightened the norms and made it clear that promoter of the defaulting company cannot escape from his responsibility.
India is going through a severe bad loan problem. Major banks have reported poor numbers in the recent earnings season.
The problem of bad loans is indeed quite severe and when we compare it with other global peers it looks daunting. Out of the ten major economies facing NPA problems, India is ranked seventh.
The overhang of bad debts has not only hit the bank's profitability, but has also restricted their corporate loan growth.
Movers and Shakers During the Week
Source: Equitymaster
Some of the key corporate developments in the week gone by
Infosys share price crashed by 9.6% yesterday as the company's CEO and MD Vishal Sikka announced his resignation with immediate effect.
With the above development, U B Pravin Rao has been appointed Interim Chief Executive Officer and Managing Director reporting to Sikka under the overall supervision and control of the company's board.
The board of directors of Infosys have accepted the resignation and said that Sikka would continue as Executive Vice-chairman.
One shall note that Infy's fate has gone through a transformation after Vishal Sikka took over as CEO and Managing Director in August 2014.
As we wrote in one of our editions of The 5 Minute WrapUp...
When Sikka took over on 1st August 2014, there was a lot of uncertainty around the business. Many people in senior management roles did not know what the long-term strategy was. Many project managers felt stuck in their jobs. The company had lost the vibrant culture of its past. This was reflected in the deal momentum to an extent. There was a very real concern that Infosys was not able to communicate the value that it could deliver to its clients.

Things have changed significantly since then. The company has a clear (but ambitious) plan for 2020. The rough targets are: Revenues of US$ 20 billion, operating (i.e. EBIT) margin of 30% and revenue/employee of US$ 80,000.

To make this a reality, Sikka has appointed the right people in the right positions. He himself decided to reside in Palo Alto instead of Bengaluru, to be closer to Silicon Valley clients. He also decided to be personally involved in all deals of value US$ 50 million and above, as well as in all acquisitions.
The board of directors too in their press release yesterday blamed Mr Murthy as the prime reason behind Dr Vishal Sikka's resignation as CEO. Here are the transcripts from the press release:
"FACT: Mr. Murthy's has made repeatedly made inappropriate demands which are inconsistent with his stated desire for stronger governance
Illustratively:
Mr. Murthy has demanded that the Board adopt certain changes in policy, else he will attack board members in the public, which threat was carried out when the Board did not acquiesce;
He has demanded that the Board appoint specific individuals onto the Board under similar threat, without appropriate disclosure and without regard to basic determinants of appropriateness or fit of the candidate for the role as a Board member;
He has demanded operational and management changes under the threat of media attacks;
Notwithstanding that the remuneration package of senior management was approved overwhelmingly by shareholders (including members of the promoter group), Mr. Murthy preferred his dictat to prevail with no place or tolerance for the outcomes of shareholder democracy.
Mr. Murthy wanted the demands to be adhered to without attribution to him".
The board has certainly come out strong against Mr Murthy and it indeed seems that Infosys has lost one of its important leaders.
As per a leading financial daily, Reliance Jio Infocomm added as many as 4.3 million active subscribers in June.
This was far beyond the combined number of subscribers for telecom operators Bharti Airtel, Vodafone India, and Idea Cellular. Combined numbers of active subscribers for these telecom companies during June stood at a modest 1.3 million.
Reliance Jio wants to leave no tables unturned to make its 4G venture a success.
The company wants to hit the ground running as reflected in the mouth-watering offer used as a bait to attract the maximum subscribers. The offer not only includes low cost Lyf phones, but lifetime free voice calls as well as ultra-cheap data plans and tariffs. As per the company presentation, the mobile phone data will be priced as low as Rs 50 per gigabyte (GB) which is not only the lowest in the country but also globally.
While this huge price disruption will no doubt benefit the mobile phone users, we are not quite sure whether the pricing math will be sustainable for telecom companies in the long run.
Sun Pharma reported its results for the quarter ended June 2017. The company reported a consolidated loss of Rs 4.3 billion (after taxes, share of profit of associates and JVs) for the quarter ended 30 June on account of a one-time loss of Rs 9.5 billion on antitrust litigation related to a product Modafinil.
The pharma major had reported a profit of Rs 20.3 billion in the same quarter last year.
Reportedly, the the antitrust litigation was pending in the US district court of Pennsylvanisa, where one of its subsidiaries entered into settlements with certain plaintiffs (Apotex Corporation and retail purchasers) whereby the company agreed to pay an aggregate of US$ 147 million.
One must note that, generic drugmakers have seen their US businesses deteriorate as regulators have stepped up product approvals, ushering in new competition and prompting a steady erosion in prices.
The list of pharma sector woes (subscription required) is long. But it doesn't make sense to paint all pharma stocks with the same brush. The leaders of the industry will certainly survive this phase. And just like IT, there are interesting, niche pharma stocks that are worth your attention.
TVS Motor surged during the week after the company earmarked a capex of Rs 4.5 billion for the current fiscal for various activities including expansion of production capacity to around 4.5 million units per annum.
The company aims to increase annual production capacity across its three manufacturing plants in the country from the present around 4 million units to 4.5 million units. The two-wheeler major also aims to introduce various refreshes of its existing product portfolio in the period leading up to the festive season.
Tata Global Beverages too was in the news this week after the company's premium natural mineral water brand 'Himalayan', is planning to enter the USA market in a phased manner. The company will enter through an agreement signed by its subsidiary with Talking Rain Beverage Company.
This agreement will give Himalayan the benefit of Talking Rain's extensive go to market and execution capabilities in the US, which synergize well with TGB's product expertise and marketing capability.
The premium end of the water market in the country is growing rapidly and Himalayan is well positioned to leverage the growth in this segment. This will make it the first premium Indian FMCG brand to target the broader American audience.
The benchmark index is trading at a price to earnings multiple of 23.6 times. Valuations seem to be a bit stretched. Unless earnings pick up in the coming quarters, a correction to the index seems likely. In such times, it's important to be extremely disciplined about the businesses you buy. Compromising on quality could prove fatal.
And here's an update from our friends at Daily Profit Hunter...
The Nifty 50 Index traded on a positive note during the week. On Monday, it opened the session gap up and traded with a positive bias until Thursday. Finally, on Friday, the index witnessed a gap down and witnessed some selling pressure but ended the weekly session 1.29% up.
In an earlier note, we mentioned that if the index recovers above the channel's support line and the 50-day exponential moving average (EMA), the bulls might be back in action. And as a result the Nifty ended the week positive.
So if the index continues to sustain above the channel's support line and 50 EMA, we would see higher levels. But on the flip side, if it break below the channel's support line and 50 EMA, the bulls need to be caution. You can read the detailed market update here...
Nifty 50 Index Traded on a Positive Note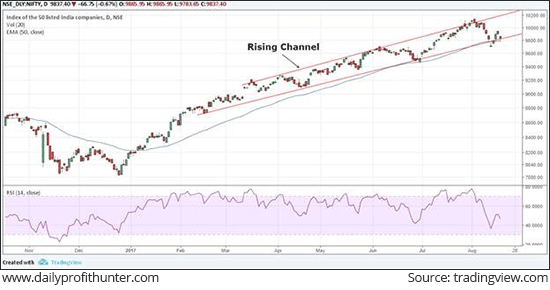 For information on how to pick stocks that have the potential to deliver big returns,
Read the latest Market Commentary
Views on News
Mar 22, 2018
Certain blue chips hold the potential of delivering returns comparable to small-cap stocks. With these stocks, you can get the best of both worlds.
Nov 29, 2017
Stocks that could beat Sensex returns in the long term.
Jun 10, 2017
Forty Indian investing gurus, as worthy of imitation as the legendary Peter Lynch, can help you get rich in the stock market.
May 23, 2018
The bad loans ratio of the bank which was at 6.9% before the merger, has jumped to 10.9% as on March 2018.
May 23, 2018
Warren Buffett called his investment in a textile company a '200-billion-dollar blunder'. If you took him seriously and pledged never to invest in a textile company - you could be making a big mistake. Here's a textile company that's all about technology and reinvention, and that could gain in the long term irrespective of the macro factors.
More Views on News
Most Popular
May 16, 2018
The markets seem confused. They're neither going up nor down. What should investors do? Consider Safe Stocks. Here's the top 5 Safe Stocks in the market today.
May 17, 2018
A mutual fund regulation could cause small cap prices to tank - If you haven't been paying attention to your small caps - now is the time to catch the opportunities that start pouring in.
May 17, 2018
Home loans continue to grow, despite falling sales. What explains this phenomenon?
May 10, 2018
Can Interglobe Aviation Safely Fly Out of Turbulence?
May 17, 2018
The stock of Vakrangee helps us understand why it's a bad idea to chase high-flying stocks.
More