Indian Stock Market News August 20, 2019
Sensex Slips 150 Points; Yes Bank & IndusInd Bank Top Losers
Share markets in India have erased early morning gains and are presently trading marginally lower.
Barring automobile sector and IT sector, all sectoral indices are trading on a negative note with stocks in the metal sector and realty sector witnessing maximum selling pressure.
The BSE Sensex is trading down by 139 points while the NSE Nifty is trading down by 57 points. The BSE Mid Cap index is trading down by 0.9% and the BSE Small Cap index is trading down by 0.7%.
The rupee is trading at 71.64 against the US$.
--- Advertisement ---
Ex-Swiss Investment Banker Reveals His Biggest Investment Strategy in 4 Free Video Classes

Rahul Shah, ex-Swiss investment banker and Co-Head of Research at Equitymaster, is hosting a series of 4 free video classes for his readers, where he will reveal the details of something he's been working on for years…

The Double Income Project…

Rahul will show his readers, step-by-step, how to dramatically increase their income, potentially even double it…in what he believes is the earliest amount of time possible. a few short years.

For instance, if you make Rs 50,000 a month…Rahul's goal is to show you how to take it to Rs 100,000 in the long run.

Or if you make Rs 100,000…Rahul will show you how you could potentially increase it to Rs 200,000 in the long run.

This is different from anything Rahul Shah has ever done before – there's nothing to pay, no service to subscribe to and no forms to fill to attend these classes.

Just click here to sign up for the free video classes.
------------------------------
In news from the finance sector, Dewan Housing Finance Corporation (DHFL) on Monday said it has defaulted on its financial repayment obligations worth Rs 15.7 billion with regard to issuance of bonds and commercial papers.
Shares of the company slipped over 7% in early trade today on back of the above news.
In a regulatory filing, the company said that the defaults involve three cases regarding interest payment on non-convertible debentures and commercial papers (CPs).
The non-banking financial company (NBFC) said it has defaulted on Rs 469.2 million towards interest amount on secured NCDs (9.92% and 9.40%) issued through a public issue for multiple tenors of amount involving interest of Rs 3,637.7 million and principal amount of Rs 10,599.1 million. Defaults of Rs 1 billion occurred on CPs.
The Double Income Project: The Lazy Man's Guide to Doubling Your Income in The Long Term
Note that the beleaguered NBFC has not been able to fulfil its obligations towards debt repayment in the recent past and there have been several cases of defaults on commercial papers and bonds.
Reports state that the company is estimated to be sitting on a debt-pile of over Rs 900 billion.
Yesterday, stock of the company climbed more than 10% in the afternoon session after lenders agreed on a three-level resolution plan that includes conversion of debt to equity and issuance of nonconvertible debentures.
The restructuring plan being worked out by lenders also includes conversion of some loans into non-convertible debentures, instruments that will be long term in nature and give the company some breathing space on repayments.
Mutual funds that have exposure to the company have also written to the markets regulator, seeking permission to sign an inter-creditor agreement (ICA) with lenders to join the resolution process in keeping with the central bank's June restructuring guidelines.
--- Advertisement ---
Watch this Video Now And You Will Stop Worrying About Money...

If you are concerned about money, then you MUST watch this exclusive video right now.

Because in this video, Richa Agarwal, Head of Small Cap Research, talks about stocks that have made a select group of people Crorepatis.

They invested in just one stock and ended up becoming Crorepatis in the long run.

In this video, Richa also reveals her unique formula to identify such potential RARE stocks.

Plus, she also discusses her special report, 'One Stock Crorepati: How to Get Rich With This Little-Known Indian Stock'.

This video is now available for your viewing...

This video could be taken down any time soon. So, hurry…

Click here to watch the video right away…
------------------------------
DHFL share price is presently trading down by 6%.
Speaking of non-banking financial companies (NBFCs), note that NBFCs were flush with funds from banks, insurance companies, and asset management companies i.e. mutual funds in 2016.
And with these funds and without the necessary restrictions, NBFCs become reckless in deploying the funds.
You can see this clear as day in the chart below...
One Chart that Predicted the NBFC and Mutual Fund Crisis Back in 2016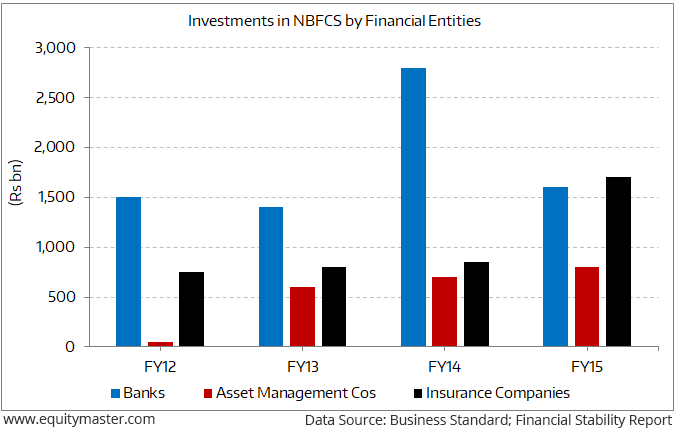 Here's what Tanushree Banerjee wrote about this in one of the editions of The 5 Minute WrapUp...
Let's look back at 2016...

Banks, mutual funds, and insurance companies were competing with each other to lend to NBFCs.

And why not?

Not only were the fast growing NBFCs hungry for funds, they also offered attractive yields.

The NBFCs took more risk than banks by lending without collaterals. But they charged higher interest rates; which meant their margins remained far higher than that of banks.

It's no wonder the NBFCs caught everyone's fancy. In fact, between 2013 and 2016, the top NBFCs saw their valuation multiples move up three to eight times.
As per Tanushree, the problem in the NBFC sector is far from over. But she believes the good quality NBFCs, and housing finance companies will continue to flourish and you can make the most of the opportunity by buying the safest NBFCs.
Moving on to news from the IT sector, Wipro has entered into a strategic partnership with the Indian Institute of Science (IISc), India's premier public establishment for research and higher education in science and engineering, to conduct advanced applied research in autonomous systems, robotics and 5G space.
Reportedly, the two organizations have jointly set up the Wipro IISc Research and Innovation Network (WIRIN), a hybrid industry academia collaboration unit, which will drive idea discovery, research and innovation in technology and product design.
Meanwhile, Tech Mahindra's corporate social responsibility (CSR) arm - Tech Mahindra Foundation (TMF) has collaborated with the Loomba Foundation, a United Nations (UN) accredited global charity supporting widows and their children.
The collaboration will facilitate employment-oriented skill training for widows and their children in India with focus on Jammu, Kashmir and Ladakh.
TMF will support the training needs of the students selected by the Loomba Foundation at its state-of-the-art academies in digital technologies and healthcare.
Wipro share price is trading up by 0.8%, while Tech Mahindra share price is trading down by 0.6%.
To know more, you can read Wipro's latest result analysis and Tech Mahindra's latest result analysis on our website.
And to know what's moving the Indian stock markets today, check out the most recent share market updates here.
For information on how to pick stocks that have the potential to deliver big returns,
Read the latest Market Commentary
Stock Market Updates
Sep 20, 2019 09:23 AM
ASTRAL POLY TECHNICK share price has plunged by 16% and its current market price is Rs 1,164. The BSE CAPITAL GOODS is down by 0.2%. The top gainers in the BSE CAPITAL GOODS Index are DILIP BUILDCON LTD (up 1.2%) and HEG (up 0.7%). The top losers is ASTRAL POLY TECHNICK (down 15.9%)..
Sep 20, 2019 09:23 AM
ZEE ENTERTAINMENT share price has plunged by 6% and its current market price is Rs 309. The BSE 500 is up by 0.1%. The top gainers in the BSE 500 Index are HEIDELBERG CEMENT (up 5.7%) and TATA COMM. (up 5.0%). The top losers are ZEE ENTERTAINMENT (down 5.6%) and ZYDUS WELLNESS (down 5.8%).
Sep 20, 2019 09:19 AM
ZYDUS WELLNESS share price has plunged by 6% and its current market price is Rs 1,766. The BSE 500 is up by 0.3%. The top gainers in the BSE 500 Index are TATA COMM. (up 5.0%) and GUJARAT FLUORO (up 5.0%). The top losers are ZYDUS WELLNESS (down 5.8%) and ENDURANCE TECHNOLOGIES LTD (down 5.0%).
Sep 20, 2019 09:19 AM
TAKE SOLUTIONS share price has plunged by 5% and its current market price is Rs 123. The BSE IT is up by 0.1%. The top gainers in the BSE IT Index are FIRSTSOURCE SOL. (up 1.6%) and PERSISTENT SYSTEMS (up 1.3%). The top losers is TAKE SOLUTIONS (down 5.3%)..
Sep 20, 2019 09:19 AM
ISGEC HEAVY ENG. share price has plunged by 5% and its current market price is Rs 396. The BSE CAPITAL GOODS is up by 0.5%. The top gainers in the BSE CAPITAL GOODS Index are BHARAT ELECTRONICS (up 1.5%) and SUZLON ENERGY (up 1.0%). The top losers is ISGEC HEAVY ENG. (down 5.5%)..
Sep 20, 2019 Pre-Open
Top cues to track in today's stock market session.
View More Indian Share Market News
Most Popular
Sep 12, 2019
News headlines predict gloom and doom for India these days. You should ignore them.
Sep 10, 2019
Usually, the typical horizon period for my smallcap recommendations is 3 to 5 years. But if you ask me, this could be one business that you could own and pass on to future generations.
Sep 16, 2019
The stock market today is throwing up a great opportunity to pile on quality stocks.
Sep 11, 2019
How financial inclusion provides a big runway for this stock recommendation.
Sep 13, 2019
These 10 auto stocks should be in your watchlist for the next 32 months. Paste them on your workstation NOW.
More