Indian Stock Market News August 22, 2019
Sensex Continues Trading Lower; BSE Realty Tanks Over 5%
Stock markets in India are presently trading on a negative note. The BSE Sensex is trading down by 271 points and the NSE Nifty is trading down by 82 points. Meanwhile, the BSE Mid Cap index and the BSE Small Cap index are trading down by 0.8% and 1.6% respectively.
Among the sectoral indices, realty stocks and oil & gas stocks are witnessing maximum selling pressure.
In the news from the NBFC sector. As per an article in a leading financial daily, India is stamping out shadow financiers at the fastest pace in recent years.
The NBFC sector has been battling a prolonged funding crunch due to rising wariness toward it in the nation's credit markets.
--- Advertisement ---
To Readers Who Plan on Quitting Work Someday…

Please read this only if you want to quit your regular jobs someday…and be independent of your income.

If that's not you – please ignore the rest of this message.

Because we have a simple goal in mind…to guide readers towards using the Double Income strategy.

A strategy that, over time, has the potential to bring in as much, or even more than one's regular income, every month.

And if you're interested, Rahul Shah is hosting 4 video classes between 17th and 24th September – to teach his readers how to use this strategy.

Sign up here.

Oh, and one more thing – these classes are completely free for Equitymaster readers.

But we have limited seats available – if you're interested please sign up as soon as possible.

Once your seat is blocked – you won't run the risk of missing out, and you can decide whether to attend or not.

Click here to sign up – it is completely free, and there are no forms to fill up.
------------------------------
Reportedly, the central bank canceled registrations of 1,851 non-bank finance companies in the year ended March 31, more than 8 times those in the previous year.
The number of lenders dropped to about 9,700, the lowest in at least a decade, as a result. Firms may be failing to secure the minimum funds needed to operate due to the cash crunch.
The perils in the sector highlighted by missed repayments on dues by Dewan Housing Finance Corp and Reliance Home Finance Ltd in recent months have heightened risk-off sentiment and worsened the lenders' access to domestic money markets.
RBI has also tightened regulations this year by putting in place rules requiring shadow lenders to appoint a chief risk officer and proposing stringent liquidity requirements.
The Double Income Project: Free Registration
Speaking of NBFCs, note that they were flush with funds from banks, insurance companies, and asset management companies i.e. mutual funds in 2016.
And with these funds and without the necessary restrictions, NBFCs become reckless in deploying the funds.
You can see this clear as day in the chart below...
One Chart that Predicted the NBFC and Mutual Fund Crisis Back in 2016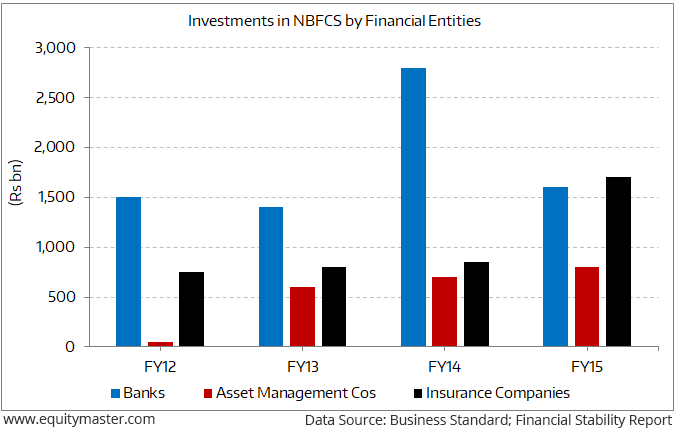 Here's what Tanushree Banerjee wrote about this in one of the editions of The 5 Minute WrapUp...
Let's look back at 2016...

Banks, mutual funds, and insurance companies were competing with each other to lend to NBFCs.

And why not?

Not only were the fast growing NBFCs hungry for funds, they also offered attractive yields.

The NBFCs took more risk than banks by lending without collaterals. But they charged higher interest rates; which meant their margins remained far higher than that of banks.

It's no wonder the NBFCs caught everyone's fancy. In fact, between 2013 and 2016, the top NBFCs saw their valuation multiples move up three to eight times.
As per Tanushree, the problem in the NBFC sector is far from over. But she believes the good quality NBFCs, and housing finance companies will continue to flourish and you can make the most of the opportunity by buying the safest NBFCs.
--- Advertisement ---
Rs 4 Trillion Opportunity?

In this One Stock Crorepati Video, Richa Agarwal, Research Analyst and Senior Editor, reveals details of a 'crorepati' stock.

In short, it's a little-known Indian company, which is now tapping into a Rs 4 trillion industry.

You see, right now, few people are aware of this 'crorepati' stock's involvement in a massive Rs 4 trillion industry.

But word will soon spread and it might not remain a secret for long…

After that, you may have to pay a much higher price for this very same stock.

That's why we urge you to watch this video right now where Richa Agarwal reveals the details of this stock.

This video could be pulled out anytime…So don't delay it for any reason and make sure you watch it right now.

Click here to know the details of the Crorepati stock…
------------------------------
Moving on to the news from the global economy. The International Monetary Fund has warned against governments trying to weaken their currencies through monetary easing or market interventions, arguing in a blog post that this would hurt the functioning of the international monetary system and make all nations worse off.
The post, which comes as global central bankers are gathering this week to discuss monetary policy issues in Jackson Hole, Wyoming, said that policy proposals to use monetary easing and direct purchases of other countries' currencies are unlikely to work.
US President Donald Trump has stepped up his complaints about a strong dollar hurting US exports in recent days as a key index of the dollar's value against other currencies rose amid a stock market recovery.
On Wednesday he revived his Twitter campaign for the Federal Reserve to cut US interest rates.
The IMF researchers said that one problem for the limitations of impacts of US currency fluctuations on the trade balance is that many US imports from China and other countries are invoiced in dollars, not local currencies.
The IMF blog emphasized that global external imbalances are not grossly misaligned and repeated the fund's view that China's external position, which includes the value of the yuan, was broadly in line with fundamentals in 2018.
The US Treasury has declared China a currency manipulator and requested that the IMF work with it to "correct" the situation.
Given the depth of the market for the dollar and the euro, actions such as buying foreign currencies to weaken the dollar or taxing capital inflows are likely to be ineffective.
What is more, they have negative implications for the orderly working of the international monetary system.
Even countervailing bilateral tariffs aimed at offsetting an undervalued currency is unlikely to reduce aggregate trade imbalances because they mainly would divert trade to other countries, the IMF researchers stated.
Speaking of currencies, Vijay Bhambwani, the editor of Weekly Cash Alerts, shared his outlook on how US-China trade war is impacting the emerging market currencies in the video below.
He also talks about the US presidential cycle's impact on USDINR. Tune in.
To know what's moving the Indian stock markets today, check out the most recent share market updates here.
For information on how to pick stocks that have the potential to deliver big returns,
Read the latest Market Commentary
Stock Market Updates
Sep 18, 2019 12:30 pm
The BSE Sensex is trading up by 47 points, while the NSE Nifty is trading up by 14 points.
Sep 18, 2019 12:13 PM
MMTC LTD share price has plunged by 5% and its current market price is Rs 21. The BSE 500 is up by 0.2%. The top gainers in the BSE 500 Index are PRESTIGE ESTATES (up 7.5%) and ITI LTD (up 5.2%). The top losers are MMTC LTD (down 5.3%) and INDIA TOURISM DEV. (down 6.7%).
Sep 18, 2019 11:15 AM
HEXAWARE TECHNOLOGIES share price has surged by 5% and its current market price is Rs 394. The BSE IT is up by 0.2%. The top gainers in the BSE IT Index is HEXAWARE TECHNOLOGIES (up 5.3%). The top losers are CYIENT (down 0.1%) and WIPRO (down 0.1%).
Sep 18, 2019 10:05 AM
HEG share price has plunged by 5% and its current market price is Rs 1,295. The BSE CAPITAL GOODS is up by 0.2%. The top gainers in the BSE CAPITAL GOODS Index are AIA ENGINEERING (up 1.1%) and ELGI EQUIPMENTS (up 1.0%). The top losers is HEG (down 5.3%)..
Sep 18, 2019 10:03 AM
PRESTIGE ESTATES share price has surged by 5% and its current market price is Rs 290. The BSE REALTY is up by 0.3%. The top gainers in the BSE REALTY Index is PRESTIGE ESTATES (up 5.1%). The top losers are OMAXE LTD (down 0.1%) and INDIABULLS REAL EST (down 0.4%).
Sep 18, 2019 09:55 AM
JAMNA AUTO share price has plunged by 6% and its current market price is Rs 38. The BSE 500 is up by 0.1%. The top gainers in the BSE 500 Index are ITI LTD (up 5.3%) and JINDAL SAW LTD (up 5.1%). The top losers are JAMNA AUTO (down 5.9%) and V-MART RETAIL (down 5.3%).
View More Indian Share Market News
Most Popular
Sep 5, 2019
Everyone dreams of owning a business. Here is your chance.
Sep 5, 2019
The stock market had a four-year bull run starting September 2013. Are we seeing a similar pattern now?
Sep 12, 2019
News headlines predict gloom and doom for India these days. You should ignore them.
Sep 10, 2019
Usually, the typical horizon period for my smallcap recommendations is 3 to 5 years. But if you ask me, this could be one business that you could own and pass on to future generations.
Sep 11, 2019
How financial inclusion provides a big runway for this stock recommendation.
More