Indian Stock Market News August 24, 2017
Global Markets Turn Cautious Ahead of Central Banker's Meet
Benchmark indices in US registered good gains over the week, however, they gave back some of the gains as comments from US president, Donald Trump threatening a government shutdown rattled global markets. The US benchmark index ended the week marginally higher by 0.6%.
Global markets however, moved focus away from political uncertainty in the US to the Jackson Hole meeting. The annual three-day meeting of top central bankers and economists hosted by the Federal Reserve Bank of Kansas City in Jackson Hole, Wyoming, is set to kick off later in the day.
The focus will be on speeches from Federal Reserve Chair Janet Yellen and European Central Bank President Mario Draghi on Friday. Their comments will be closely watched for fresh policy signals from the world's two most powerful central banks
Moving on to European markets, benchmark indices in Germany and France posted marginal gains of 0.5% and 0.3% during the week. Market participants are closely tracking the manufacturing data as well as developments from the Jackson Hole symposium.
Financial markets in Asia ended on a mixed note. Benchmark indices in Singapore and Hong Kong and China posted gains of 0.6% ,1.7% and 0.1% during the week. While, the benchmark index in Japan witnessed a mild correction of 0.6%.
Key World Markets During the Week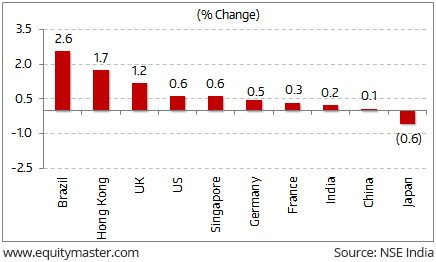 Back home, BSE Sensex gained a marginal 0.2% during the week. While, BSE Small Cap and BSE Mid Cap index posted hefty gains of 3.6% and 4.0% during the week. Vishal Sikka's resignation as CEO of Infosys last week continued to drag the benchmark index. However, the indices ended the week in positive territory on the back of strong performance by the pharma sector. BSE Healthcare index was up by 2.2% over the week.
BSE Indices During the Week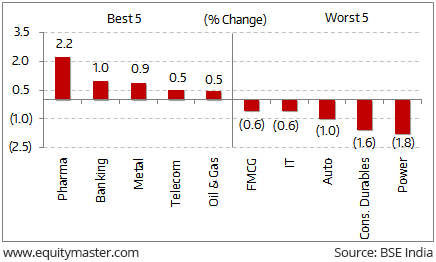 Now let us discuss some key economic and industry developments during the week gone by
The Supreme Court of India gave a clarification that the liquor ban on highways did not apply to licensed establishments falling within municipal areas.
One shall note that overall, the liquor industry continues to flourish in India.
The industry has a large customer base with repetitive demand. It brings in a huge chunk of revenue for state governments. And various tailwinds such as rising incomes, a young population, and changing lifestyles bode well for the industry's future.
However, of late, the sector seems to be in a bit of a stupor. A complex regulatory environment coupled with a few other factors are taking the sector from bad to worse.
One major threat to liquor companies was the recent order passed by the Supreme Court of India. The apex court has ordered liquor vendors within a 500-metre radius of national and state highways to shut down from 1 April 2017.
The repercussions of the above development led shutting down many bars and restaurants. This will also reduce the revenues of state governments. It is also said to affect the travel and tourism sector, which includes bars and restaurants. And it will mean job losses for the employees of these establishments.
Most hurt were the liquor companies themselves. The ban meant less orders (at least for some quarters ahead, if not long).
These factors have weighed the growth of liquor industry and liquor stocks of late. And one must consider the regulatory risks when researching liquor stocks
In news from the GST space, the government has already collected over Rs 420 billion as taxes so far in the first monthly filing under the new Goods and Services Tax (GST) regime.
The revenues from the new regime are expected to swell further as the filing cycle closes this later this week.
From the total revenue, over Rs 150 billion came in through the Integrated-GST, which is levied on the state movement of goods. While another Rs 50 billion came in through the way of cess on demerit goods like cars and tobacco. The remaining Rs 220 billion came in through the Central and State GST, which would be split equally between the central and state governments.
So far around 1 million tax payers have filed returns under the GST regime and a further 2 million have logged in and saved return forms.
GST unifies more than a dozen central and state levies including excise duty, service tax and VAT, and the revenue generated is to be split equally between the Centre and states.
In July last year, Rs 317 billion of excise duty was collected and Rs 196 billion of service tax.
A total of 6 million businesses are expected to file returns and pay taxes for July.
In our view, GST is a complicated topic, the exact implications of which will be obvious over next few years. Our colleague Vivek Kaul has studied the finer aspects of the GST and predicted what could go right and wrong.
To know more, download his special report - The Good, the Sad and the Terrible (GST).
In the news from the automobile sector, the Cabinet is likely to consider an ordinance to increase the cess on mid-size and large cars and sports utility vehicles to 25% from 15% earlier under the Goods and Services Tax (GST) regime.
The GST Council had earlier this month approved a proposal to change the GST compensation law to raise the ceiling of the cess that can be levied on motor vehicles.
The development will mean imposing a cess of less than 25% and should partially alleviate the fears of car makers about an increase in the cess forcing them to raise prices after having just dropped them following the rollout of the Goods and Services Tax (GST) on July 1.
Automobile manufacturers may face some hiccups on the back of above development. Also, executives from auto industry say they may re-evaluate their business plans owing to the above development. Meanwhile, we'll keep you posted on the recent developments from this space.
Just Released: Multibagger Stocks Guide
(2017 Edition)
In this report, we reveal four proven strategies to picking multibagger stocks.
Well over a million copies of this report have already been claimed over the years.
Go ahead, grab your copy today. It's Free.
NO-SPAM PLEDGE
- We will NEVER rent, sell, or give away your e-mail address to anyone for any reason. You can unsubscribe from The 5 Minute WrapUp with a few clicks. Please read our
Privacy Policy
&
Terms Of Use
.
In news from economy, Foreign direct investment (FDI) in India zoomed 37% during the first quarter (April-June) of fiscal year 2017-18 to touch $10.4 billion. As per the data released by the Department of Industrial Policy and Promotion (DIPP), the country had attracted FDI of US$7.59 billion during same quarter previous year.
The main sectors which attracted the highest foreign inflows include services, telecom, trading, computer hardware and software and automobile. Besides, bulk of the FDI came in from Singapore followed by Mauritius, Netherlands and Japan.
It added that since the launch of 'Make in India' initiative (October 2014 - June this year), foreign inflows surged 64% to US$110.12 billion from US$67.26 billion in the same period last year.
To attract foreign inflow, the government has announced several measures including liberalisation of FDI policy and improvement in business climate.
Foreign investments are considered crucial for India as it needs around US$1 trillion for overhauling its infrastructure sector such as ports, airports and highways to boost growth. A strong inflow of foreign investments will help improve the country's balance of payments situation and strengthen the rupee value against other global currencies, especially the US dollar.
n short, having a steady flow of FDI inflows would help India to achieve necessary investments that will help accelerate economic growth and development.
In addition, the inflows act as a catalyst for domestic industrial development. Since 2014, the Modi led government has laid a great emphasis on welcoming global best practices to be employed in India.
In the news from banking sector, the government is looking to set up a new mechanism to speed up decisions regarding possible mergers of public sector banks (PSUs).
As per the news, this new mechanism will be in line with the alternative mechanism that has been adopted for strategic divestments.
One shall note that earlier this year, four state banks viz. Syndicate Bank, Canara Bank, Vijaya Bank, and Dena Bank made presentations to the finance ministry on their merger plans.
However, does it really make sense to merge public sector banks?
We don't think so. While it's true that only the fit ones should be allowed to survive, merging smaller PSU banks at this stage will make the situation even worse. Not only the merger will create cultural and autonomy issues to deal with, but will fail to address the problem of bad assets. It could even make the stronger bank suffer.
As Vivek Kaul, editor of Vivek Kaul's Diary, states that the merger of two public sector banks, will give us a bigger inefficient bank. As he writes, 'In this scenario, if banks are merged without the bad loan problem being solved, we will have a situation where problems of two banks are basically passed on to one bank. That doesn't make the situation any better.'
Perhaps it may make more sense to merge the PSU banks once the clean-up exercise is done.
Movers and Shakers During the Week
Source: Equitymaster
Some of the key corporate developments in the week gone by
Infosys Ltd. approved 130 billion rupees (US$2 billion) share repurchase to improve returns for stakeholders of the Indian software exporter a day after Chief Executive Officer Vishal Sikka quit amid heightened tensions between the board and founders led by ex-Chairman N R Narayana Murthy.
Infosys voted to buy back as many as 113 million shares at Rs 1,150 (US$17.94) apiece at a meeting on Saturday in Bangalore.
The company's first buyback comes as cash and investments swelled to about US$6.1 billion at the end of June. The meeting to consider the move was scheduled before Sikka announced his decision to resign.
Investors, who have been asking the company to return part of its cash hoard, lost US$3.5 billion as Infosys's market value plunged last Friday following Sikka's resignation. The planned repurchase is at a 25% premium to Friday's close.
Infosys however ended the week on a positive sentiment amid speculation of co-founder Nandan Nilekani's return to the helm.
One must note that earlier this year, rival Cognizant Technology Solutions Corp. agreed to repurchase about US$3.4 billion of stock and Tata Consultancy Services Ltd. approved a 160 billion rupee-share repurchase.
Speaking of timeless stocks, the IT sector was much favored amongst investors since the turn of the decade. IT giants like TCS, Infosys were considered a safe bet at any price. With Infosys' CEO's resignation, it caps off a miserable 3 year run for IT stocks.
The top 4 IT companies have underperformed the benchmark. With the sector heavily dependent on US customers, Trump's protectionist policy announcements have further dampened the mood in this sector.
However, as per Rahul Shah, Co-head of Research, current valuations of top IT companies are at multi-year lows. But is this the new normal? As per him, the challenge is to find the companies better placed than others to adapt to this structural change.
Moving on to the news from IPO space. The initial public offer (IPO) of Apex Frozen Foods, which deals in aquaculture products, was subscribed over 2 times on Thursday, the last day of the share sale.
The Apex Frozen Foods IPO, which aims to raise up to Rs1.5 billion, received bids for 12,686,960 shares against the total issue size of 6,210,000.
The Apex Frozen Foods IPO comprises issue of 8.7 million shares, including 7.25 million new shares and an offer for sale of 1.45 million shares by promoters, at a price band of Rs171-175 apiece. The shares have a face value of Rs10 each.
Proceeds from the share sale will be utilised towards setting up a new shrimp processing unit with a capacity of 20,000 tonnes per annum in Andhra Pradesh and for general corporate purposes.
Do the company's fundamentals justify the price it is asking? Should you subscribe to it? Read on to find out (subscription required).
Idea Cellular has sought the telecom department's nod for its proposed US$23-billion merger with Vodafone India, which will create the country's largest telco by subscriber and revenue market share.
Vodafone and Idea have already received approval of anti-monopoly watchdog Competition Commission of India.
One must note that, the telecom department (DoT) typically takes 45-60 days for giving necessary approvals for merger, unless complications or clarifications are needed from merging parties.
Post-merger, UK's Vodafone Group will have 50% stake in the merged entity while Idea promoters Aditya Birla Group will have 21%. Under the terms, Aditya Birla Group will have the right to gradually increase its stake in the combined entity, while Vodafone will reduce its holdings, with both partners eventually owning equal stakes.
Notably, Indian telcos are facing a tough time matching up to rock bottom tariffs offered by newcomer Reliance Jio Infocomm, which disrupted the market with free voice and data offers for about six months after it started services in September last year.
Lupin was in focus during the week as it launched new products in the US market. The company also received an establishment inspection report (EIR) from the US Food and Drug Administration (USFDA) for its Aurangabad facility in Maharashtra. This closes all outstanding USFDA inspections at Lupin's Aurangabad facility.
In news from the oil and gas sector, Hindustan Petroleum Corp (HPCL) and were in focus in the week gone by, after ONGC's board gave 'in-principle' approval to acquire government's 51.1% stake in HPCL.
The government last month had approved the sale of its 51.1% stake in oil refiner HPCL to India's largest oil producer ONGC.
Prior to the merger, HPCL is likely to take over Mangalore Refinery and Petrochemicals (MRPL) to bring all the refining assets of ONGC under one unit. ONGC currently owns 71.6% of MRPL, while HPCL has 16.9% stake in it.
ONGC will not have to make an open offer to minority shareholders of HPCL as the government's holding is being transferred to another state-run firm and the ownership isn't changing.
Reportedly, the deal will be completed within a year and will see HPCL become a subsidiary of ONGC and remain a listed company post the acquisition.
Indian Oil Corporation (IOCstruck a deal with the Odisha government for tax benefits for its Pradip refinery.
Odisha government, which had withdrawn tax incentives to IOC's Rs 345 billion Pradip refinery as agreed to restore some of the tax breaks including a Rs 7-billion per annum of interest-free loan.
The interest free loan would be for a period of 15 years. The state had agreed to provide total deferment of VAT.
Indian Oil Corp (IOC) and the state government agreed to the revised terms at the meeting called at the behest of the oil minister Dharmendra Pradhan.
The Odisha government had on February 22 written to IOC, its single-biggest investor, saying it is withdrawing the promised 11-year deferment on payment of sales tax on Paradip refinery products sold in the state.
The withdrawal was to cost Rs 20 billion to IOC this year and was to progressively increase every year as more petrol, diesel and petrochemicals are sold within the state.
The company however, dragged the state government to court for walking back on its commitment and has not paid VAT on products sold in the state since commissioning of the refinery last year.
However, post the latest agreement, IOC will deposit applicable VAT or GST on products sold. While, the Odisha government will pay the viability gap fund in the form of interest-free loan in each quarter.
And here's an update from our friends at Daily Profit Hunter...
The Nifty 50 Index traded on a positive note during the week. On Monday, it opened the session gap up but slipped immediately to end the session 83 points down. The index then traded in a narrow range until the final hour of Wednesday trading session when it witnessed buying interest. The index traded with a positive bias on the final day of the week as well and ended the weekly session up 0.20%.
As mentioned in an earlier note, the channel's support line and the 50-day exponential moving average (EMA) are acting as a strong support for the index.
So if the index continues to sustain above the channel's support line and 50 EMA, we would see higher levels. But on the flipside, if it breaks below the channel's support line and 50 EMA, the bulls will need to be cautious. You can read the detailed market update here...
Nifty Index Ends in the Green
For information on how to pick stocks that have the potential to deliver big returns,
Read the latest Market Commentary