Indian Stock Market News September 11, 2017
Strong Start to the Week; Capital Goods & Power Stocks Rally
Indian share markets continued to trade strong in the afternoon session amid strong global markets. At the closing bell, the BSE Sensex closed higher by 195 points and the NSE Nifty finished up 71 points. The S&P BSE Mid Cap finished up by 0.7% while & S&P BSE Small Cap too finished up by 0.8%. Gains were largely seen in capital goods stocks, power stocks and bank stocks.
IndusInd Bank share price and Bharat Financial Inclusion Ltd share price surged 5.1% and 3.3% after it was reported that the companies signed a confidentiality agreement for the proposed merger between them. Reportedly, Bharat Financial will be run as a subsidiary of IndusInd for a year and then it may be merged with the bank.
Asian stock markets finished broadly higher today with shares in Japan leading the region. The Nikkei 225 is up 1.41% while Hong Kong's Hang Seng is up 1.04% and China's Shanghai Composite is up 0.33%. European markets are broadly higher today with shares in France leading the region. The CAC 40 is up 1.17% while Germany's DAX is up 1.11% and London's FTSE 100 is up 0.68%.
The rupee was trading at Rs 63.88 against the US$ in the afternoon session. Oil prices were trading at US$ 47.84 at the time of writing.
As per a leading financial daily, Union Finance Minister Arun Jaitley has said that it is a big challenge for banks to recover money from big defaulters and has blamed these big defaulters for high non-performing assets (NPAs) in the Indian banking system.
He noted that wherever small borrowers are taking loans from banks, there is smaller NPA. He also explained that NPAs are negligible in the banks where smaller amount of loans taken for agricultural and smaller businesses and even in MUDRA scheme, the NPAs are on a minuscule scale.
The Minister has stated that banks have always played an important role in promoting economic growth of a country. Therefore, he said that it is important for banks to maintain their credibility. Adding further, he said that banks offer loans for different purposes but if the banks's capacity to offer the loans gets affected because some big defaulter, the growth, not only of rural sector, but of the entire country gets affected.
Just Released: Multibagger Stocks Guide
(2017 Edition)
In this report, we reveal four proven strategies to picking multibagger stocks.
Well over a million copies of this report have already been claimed over the years.
Go ahead, grab your copy today. It's Free.
NO-SPAM PLEDGE
- We will NEVER rent, sell, or give away your e-mail address to anyone for any reason. You can unsubscribe from The 5 Minute WrapUp with a few clicks. Please read our
Privacy Policy
&
Terms Of Use
.
Jaitley further said that for the first time, the central government is taking steps to take these big defaulters to insolvency so that the recovery can be made and that money can be utilised for the growth of the rural sector.
Automobile stocks finished the day on a strong note with Maruti Suzuki share price and Maharashtra Scooters share price leading the gains.
Sales of passenger vehicles in the domestic market went up by a strong 13.76% to 29.4335 units last month as carmakers stocked dealerships ahead of the festive season. Sales of commercial vehicle grew by 2.51% to 51451 units during the month under review.
Good monsoons lifted consumer sentiments in rural areas buoying two-wheeler sales. As many as 1891062 two-wheelers were sold in August. This is an increase of 14.69% over the year-ago period.
Vehicle sales across categories increased by 14.5% to 2.3 million units in August.
Changing Preference of First Time Car Buyers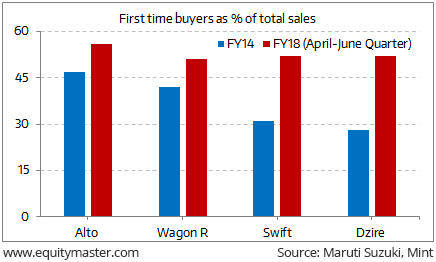 The Indian auto industry is witnessing a rapid change in consumer preference. And the change is becoming more evident in the case of first-time buyers. Maruti Suzuki is a market leader in the domestic passenger vehicle segment with seven of its models featuring in the top 10 selling brands in July month. The sales data of the company reveals some interesting insights about first-time car buyers.
Historically, first-time buyers preferred small hatchbacks such as the Maruti 800, the Alto, and WagonR. But the new generation of first-time buyers is moving up the ladder to premium cars. It's similar to what has happened in other consumer segments such as mobile phones and consumer electronic
Owning a car is a status symbol, but buying a new, larger, smarter vehicle is one step further down the aspirational road. With this, premiumization will be an important growth driver for the auto industry in coming years.
In news from pharma sector, Lupin share price finished trading on an encouraging note (up 1.2%) after it was reported that the company has received final approval for its Doxycycline Hyclate Tablet USP, 100 mg from the United States Food and Drug Administration (USFDA) to market a generic version of Pfizer Inc.'s Vibra-Tabs 100 mg.
Doxycycline Hyclate Tablet USP, 100 mg had US sales of US$149.9 million as per IMS MAT June 2017. It is indicated in the treatment of infections caused by various microorganisms and as an adjunctive therapy in severe acne.
Meanwhile, Panacea Biotec Ltd said it has signed an agreement with Canada's Apotex Inc. to launch Prasugrel 5mg and 10mg tablets, used for the treatment of certain coronary diseases, in the US. Panacea Biotec share price finished up by 13%.
In another development, Glenmark Pharma has received final approval from the US health regulator for generic version of Rythmol SR capsules. The capsules are used in treatment for illness associated with rapid heartbeats.
According to IMS Health sales data for the 12 months to July 2017, Rythmol SR capsules achieved annual sales of approximately US$ 69.2 million. The company's current portfolio consists of 123 products authorised for distribution in the US marketplace and 63 Abbreviated New Drug Applications pending approval with the USFDA.
Glenmark Pharma share price finished the day down by 1.7% on the BSE.
And here's a note from Profit Hunter:
The Nifty 50 Index reclaims the 10,000 mark again to end today's session up 71 points. Indusind Bank is the top gainer in the index - up 6%. Let's have a look at its chart.
The stock bottomed out at Rs 799 in February 2016. It traded in a strong uptrend to hit a life high of Rs 1,256 in September 2016. The stock then gave up nearly 50% of its gains as the government announced demonetisation in November 2016. But the up move resumed and the stock once again traded in a strong uptrend.
Today, the stock is up 6% to hit a new life-time high of Rs 1,804 with strong volumes. It soared after the bank entered into an agreement with Bharat Financial Inclusion for a potential merger.
So let's see if the merger news brings more upside for the stock or if it will find some selling from its life high.
Indusind Bank Hits a New Life High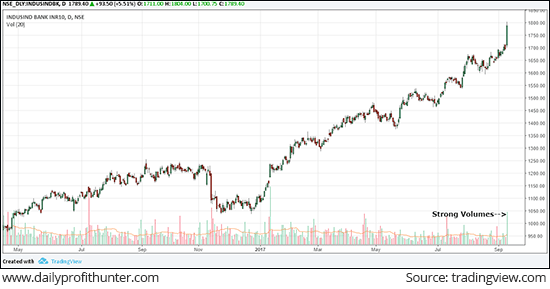 For information on how to pick stocks that have the potential to deliver big returns,
Read the latest Market Commentary