Indian Stock Market News September 14, 2018
Sensex Ends 373 Points Higher; Realty & Power Stocks Witness Buying
After opening the day marginally higher, Indian share markets continued their momentum and ended their day on a positive note. All sectoral indices were trading in green with stocks in the realty sector, metal sector and power sector leading the gains.
At the closing bell, the BSE Sensex stood higher by 373 points (up 1%) and the NSE Nifty closed higher by 145 points (up 1.3%). The BSE Mid Cap index ended the day up by 1.9%, while the BSE Small Cap index ended the day up by 1.8%.
Asian stock markets finished on a positive note as of the most recent closing prices. The Hang Seng was up 1% and the Nikkei was trading up by 1.2%. The Shanghai Composite stood lower by 0.2%.
The rupee was trading at 71.97 to the US$ at the time of writing.
Stocks from the sugar space were witnessing buying interest today on news of government's approval of hiking 25% hike in the price of ethanol produced directly from sugarcane juice for blending in petrol.
Rana Sugars share price, Uttam Sugar Mills share price, Simbhaoli Sugars share price and Kesar Enterprise share price were some of the stocks that rose up to 20% on the back of the above announcement.
Vedanta share price was also in focus today as the company announced discovery of natural gas in a Krishna Godavari basin block in the Bay of Bengal.
In the news from macroeconomic space, India's fuel demand rose 0.8% in August as compared to the same month last year.
As per the data from the Petroleum Planning and Analysis Cell (PPAC) of the oil ministry, consumption of fuel, which is a proxy for oil demand, totalled 16.6 million tonnes.
Sales of gasoline, or petrol, were 7.8% higher from a year earlier at 2.36 million tonnes.
--- Advertisement ---


The 3 Most Exciting Stocks We've EVER Seen...

My colleague Richa Agarwal - the successful Research Analyst who heads Hidden Treasure - has just uncovered perhaps the 3 Most exciting stocks we've ever seen.
Why exciting? Well, these 3 stocks are expected to see massive growth in the coming years.


The first of these consistently pays dividends to its investors...
The second one is the key supplier to some of the biggest and well-known companies in the segment it caters to...
The third one is generating solid profits year-after-year...
And yet...these three stocks are trading at very lucrative valuations right now.

Yes! Richa believes that early investors stand a chance to potentially win BIG as these companies are still hidden from the public eyes.

See the whole story here.
------------------------------
Cooking gas or liquefied petroleum gas (LPG) sales increased 2.8% to 2.11 million tonnes, while naphtha sales surged 1.1% to 1.09 million tonnes.
Sales of bitumen, which is used for making roads, were up 18.9%, while fuel oil use edged up 8.3% in August.
In the news from currency markets, a member of the prime minister's economic advisory panel said that India needs to be extremely vigilant to check weakness in the rupee and the task was to minimize volatility and avoid contagion to other macro policies.
Market participants are now keeping tabs on tomorrow's meet where Prime Minister Narendra Modi is set to meet officials on Saturday to decide ways to address the currency's weakness and rising fuel prices.
Note that the rupee is witnessing sharp selling pressure lately. Subhash Chandra Garg, economic affairs secretary has said that the government and the Reserve Bank of India (RBI) would do everything to ensure that the rupee does not slide to unreasonable levels.
Finance ministry officials however have said that reducing the fiscal deficit may be difficult as India is heading into election year.
But the government has said it could consider raising import duties on some electronic items and ease rules for foreign investors. New Delhi is also open to issuing Non-Resident India (NRI) bonds or opening a forex swap window for oil marketing companies, to stem rupee's fall if it became unreasonable.
The rupee has been witnessing selling pressure against the US dollar since the start of this calendar year. This is evident from the chart below, which shows the quantum of US dollars a 100-rupee note can buy and how this rate has been declining over the past few months:
Indian Rupee in a Steep Decline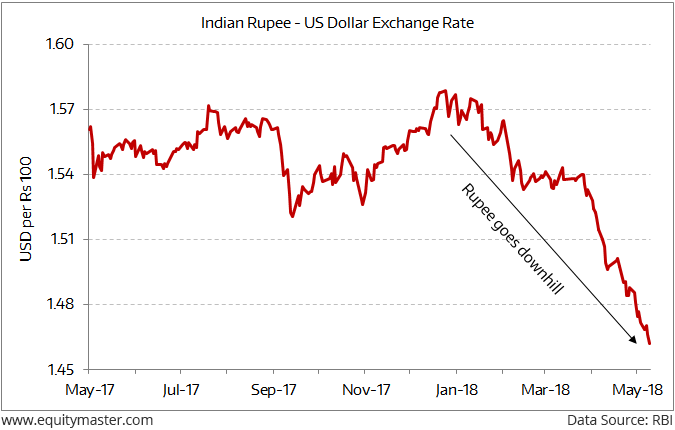 What does the fall in rupee mean for the Indian economy?
A depreciation in rupee means importers buying goods and services at a higher rate that earlier. This doesn't bode well for a developing economy that relies heavily on imports.
Also, India imports most of its oil requirements. So, a fall in rupee leads to a consequent rise in the import bill. The depreciation of the rupee will also add to crude oil's rising cost.
On the corporate side, companies who have taken foreign loans from abroad will be impacted. The repayment obligations in terms of principal and interest will rise, leading to a dent in the cash flows and financials.
Further, companies who import a majority of their raw material requirements will get impacted provided they have not hedged their foreign currency exposure.
Looking at the brighter side, rupee depreciation brings a cheer on the exports front.
A depreciating rupee will provide a much-needed cushion to falling exports. However, a falling rupee will not be the only factor to boost exports. There are certain structural issues too which the government needs to address.
Ankit Shah has explained how the depreciation in rupee is linked to foreign investor outflows and forex reserves in one of his editions of Equitymaster Insider. You can read the entire article here (requires subscription).
Also, companies which import raw material witness pressure on their margins and profitably. Here's an excerpt of what Kunal wrote in a recent edition of The 5 Minute WrapUp:
So, this looks quite negative on the face of it. So, it's not surprising that markets get volatile when the currency depreciates.

Look at Indian rupee against the dollar from 1990. It has deprecated at a compounded annual rate of 5%.

Yes, the dollar has been on a winning streak from the beginning.

And despite that... the BSE Sensex has returned 14% compounded annually since 1990.

Thus, the falling rupee can bring volatility to the market in the short-term. But in the long-term, our market should be fine.

This is exactly what I keep in mind when picking stocks for Smart Money Secrets subscribers. I cut out the noise of short-term disruptions and look at the long-term picture beyond.
To know what's moving the Indian stock markets today, check out the most recent share market updates here.
You can listen to this week's stock market updates in our brand new podcast below. Tune in!
For information on how to pick stocks that have the potential to deliver big returns,
Read the latest Market Commentary
Stock Market Updates
Feb 19, 2019 04:54 PM
Here's a list of most active small-cap stocks today. It also includes information on BSE Smallcap index and the broader benchmark indices.
Feb 19, 2019 04:53 PM
Here's a list of 5 stocks that gained the most in the BSE Mid-Cap Index today. It also includes information on BSE Mid-Cap index and the broader benchmark indices.
Feb 19, 2019 03:08 PM
The BSE IT Index Down at 15,188 (down 2.0%). Among the top losers in the BSE IT Index today are GENESYS INTL., L&T TECHONOLOGY SERVICES and TCS. Meanwhile, the BSE Sensex has plunged 0.3% to 35,776.
Feb 19, 2019 03:04 PM
SHARDA CROPCHEM share price has surged by 18% and its current market price is Rs 381. The BSE 500 is up by 0.1%. The top gainers in the BSE 500 Index are SHARDA CROPCHEM (up 18.0%) and EMAMI LTD (up 15.0%). The top losers are OMAXE LTD and ASIAN PAINTS .
Feb 19, 2019 02:46 PM
INDIABULLS VENTURES share price has plunged by 5% and its current market price is Rs 274. The BSE 500 is up by 0.6%. The top gainers in the BSE 500 Index are EMAMI LTD (up 15.9%) and WELSPUN CORP (up 9.0%). The top losers are INDIABULLS VENTURES (down 5.2%) and IFB INDUSTRIES LTD (down 5.1%).
Feb 19, 2019 12:30 pm
The BSE Sensex is trading up by 136 points, while the NSE Nifty is trading up by 37 points.
View More Indian Share Market News
Most Popular
Feb 7, 2019
Managements of companies can create or ruin their fortunes. Why is management quality such an important factor in valuing businesses? Read on to find out...
Feb 13, 2019
The real estate sector is ready to make a comeback. This is the stock to consider buying.
Feb 8, 2019
This is the trick to following super investors and not losing money.
Feb 14, 2019
Don't let the dark clouds hovering over small caps scare you into hiding; it will rain gold as sentiments recover. Indeed, there is a blood bath. And if you are a first time investor, the correction is deep enough to scare you out of markets.
Feb 14, 2019
During this tough period in the market, a contrarian approach holds huge potential upside for this Smart Money Secrets stock.
More