Indian Stock Market News September 20, 2019
Markets will remain closed on 21st October 2019, due to Assembly Elections in Maharashtra.
Sensex Zooms Over 1,900 Points after Government Slashes Corporate Tax Rates
Share markets in India jumped sharply after FM Nirmala Sitharaman announced a slew of measures in her media briefing ahead of the GST Council meet.
The BSE Sensex is trading up by 1,936 points, up 5.4%, while the NSE Nifty is trading up by 564 points.
Shares of Maruti Suzuki and HDFC Bank jumped 10%, while IndusInd Bank, ICICI Bank, and Hero MotoCorp surged 5-7%.
--- Advertisement ---
[Only For Indian Citizens] India is Set to Regain Its Lost Riches

India was the world's richest country nearly 2,000 years ago.

And if you are like us who believe that India is on track to regain its status as one among the greatest countries on earth…

Then, we encourage you to join other true Indians in the first-ever mega summit "REBIRTH OF INDIA" for FREE.

Click Here to Claim Your FREE Pass for this MEGA Summit…
------------------------------
On the sectoral front, gains are largely seen in the automobile sector, banking sector, and capital goods sector.
Speaking of stock markets in general, the market is typically focused on the most recent star performers.
You will often find the likes of HUL or HDFC Bank being the market darlings for never having a disappointing quarter.
But it is rare to find companies that thrive through most of their survival period.
Tanushree Banerjee shares few of her thoughts on this. Here's an excerpt of what she wrote in a recent edition of The 5 Minute WrapUp...
It is rare to find companies that survive for decades. It's even rarer to find ones that thrive through most of their survival period.

So, if you do not wish to pay steep valuations for the market darlings, you need to look for the companies with history and consistency on their side.

And they shouldn't be too conspicuous to the market either.

I am talking of companies like Hawkins and City Union Bank. They have a track record of paying dividends for decades.

The dividends such companies pay are especially helpful at a time when globally interest rates are headed lower.
--- Advertisement ---
The 'Profit Accelerator' That Helped Wipro Multiply 2,000 Times Since 1991

Do you know what a 'profit accelerator' is?

It is one of 3 traits that the most profitable stocks have…

For instance, back in 1991 Wipro underwent a huge transformation…

This was the 'profit accelerator' the company needed.

Over the next 3 decades, the stock price of Wipro multiplied over 2,000 times.

Amazing, isn't it?

If you're wondering what exactly a 'profit accelerator' is, you'll find a full explanation of that and the other 2 traits that make a 100X potential stock, in this note.
------------------------------
And, as seen in the chart below, 'risk-free returns' from debt seem to have gone missing.
Inflation Adjusted Risk Free Returns Are Negligible Globally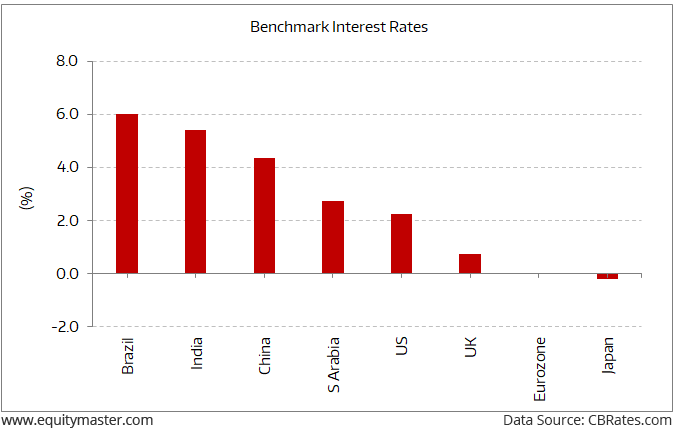 So, should you ignore the big bluechips while chasing dividend stocks?
As per Tanushree, big money is made over the long term, not by making more in the good years but by losing less in the bad years.
In news from the economy, finance minister Nirmala Sitharaman slashed basic corporate tax for the domestic companies to 22% from 30% without exemptions, while for new manufacturing companies it has been cut down to 15% from 25%.
She added that enhanced surcharge announced in Budget shall not apply on capital gains arising on sale of any securities including derivatives in the hands of foreign portfolio investors.
For buybacks, listed companies announcing share buybacks before 5 July will be exempt from buyback tax.
Here are the key takeaways from the press conference:
Companies enjoying tax holidays can avail concessional rates after the exemption period
Minimum alternate tax (MAT) reduced to 15 percent from 18.5 percent for companies continuing to avail exemptions and incentives
Revenue foregone for reduction on corporate tax and other measures pegged at Rs 1.45 lakh crore per year.
Note that the government has been announcing a series of measures to boost growth that had fallen to six-year low of 5% in the June quarter.
Last week, the government had announced a series of measures to revive the housing sector and boost exports. The GST Council is scheduled to meet today in Goa amid demands from the industry for a fiscal stimulus.
Moving on to news from the media sector, Zee Entertainment (ZEE) share price is in focus today. Stock of the company continued its losing streak and plunged nearly 10% to hit a five-year low of Rs 277.
Selling pressure was seen after The Economic Times reported that debt woes of Essel group promoters may worsen as mutual funds argue among themselves on whether to give more time to Subhash Chandra's private firms to repay debt.
However, as per a mutual fund executive familiar with details, Chandra has secured a six-month extension from lenders to repay debt given its inability to pay back more than half of its dues by 30 September as agreed earlier.
A standstill agreement with mutual funds and NBFCs that was inked in February has now been extended to 31 March.
As part of the initial agreement, Essel group had agreed to sell assets to repay all dues to lenders by the September deadline. Essel owed a total of Rs 75 billion to the lenders and has repaid Rs 33.6 billion to them.
In July, the Essel group had agreed to sell an 11% stake in Zee for Rs 42.2 billion to Invesco Oppenheimer Developing Markets Fund. Earlier this month, the sale of 8.7% stake was concluded, and the group repaid Rs 33.6 billion to mutual funds from the proceeds.
An official spokesperson for Essel group said, "the group is in constant dialogue with the consortium of lenders. The overall asset divestment approach is in steady progress and the group remains focused on the repayment process."
How this all pans out remains to be seen. Meanwhile, we will keep you updated on the latest developments from this space.
To know what's moving the Indian stock markets today, check out the most recent share market updates here.
For information on how to pick stocks that have the potential to deliver big returns,
Read the latest Market Commentary
Stock Market Updates
Oct 18, 2019 Closing
Indian share markets end on a positive note with the Sensex up by 246 points, while the Nifty closed up by 76 points.
Oct 18, 2019 03:34 PM
SIEMENS share price has hit an all time high at Rs 1,656 (up 1.6%). The BSE CAPITAL GOODS Index is up by 2.2%. Among the top gainers in the BSE CAPITAL GOODS Index today are SIEMENS (up 1.6%) and HONEYWELL AUTOMATION (up 0.8%). The top losers include LAKSHMI MACHINE (down 0.6%).
Oct 18, 2019 03:32 PM
BLISS GVS PHARMA share price has surged by 13% and its current market price is Rs 136. The BSE 500 is up by 0.9%. The top gainers in the BSE 500 Index are BLISS GVS PHARMA (up 13.1%) and PNB HOUSING FINANCE LTD (up 18.6%). The top losers are SHOPPERS STOP (down 0.1%) and NAVNEET EDUCATION (down 0.1%).
Oct 18, 2019 03:30 PM
TVS MOTORS share price has surged by 5% and its current market price is Rs 460. The BSE AUTO is up by 1.0%. The top gainers in the BSE AUTO Index are TVS MOTORS (up 5.1%) and BALKRISHNA INDUSTRIES (up 5.5%). The top losers are M&M (down 0.2%) and BAJAJ AUTO (down 0.4%).
Oct 18, 2019 03:27 PM
PRESTIGE ESTATES share price has surged by 5% and its current market price is Rs 302. The BSE REALTY is up by 2.0%. The top gainers in the BSE REALTY Index are PRESTIGE ESTATES (up 5.4%) and OBEROI REALTY (up 5.7%). The top losers are MAHINDRA LIFESPACE (down 1.2%) and SOBHA LIMITED (down 1.2%).
Oct 18, 2019 03:26 PM
SHIPPING CORP. share price has surged by 10% and its current market price is Rs 47. The BSE 500 is up by 0.9%. The top gainers in the BSE 500 Index are SHIPPING CORP. (up 10.1%) and PNB HOUSING FINANCE LTD (up 17.2%). The top losers are SUN PHARMA and SHOPPERS STOP (down 0.1%).
View More Indian Share Market News
Most Popular
Oct 14, 2019
This is once in a decade opportunity to make a killing from smallcap rebound.
Oct 11, 2019
Discounts are not just limited to E-tailers. You can buy stocks at 50% off too. Here are two stocks to buy now.
Oct 18, 2019
Equitymaster's smallcap guru and editor of Hidden Treasure, Richa Agarwal, talks to us about the rebound in the stock market, and the best stocks to profit from it. Listen in...
Oct 10, 2019
There are rare periods in markets when you get good quality stocks at attractive valuations. Is this one such period?
Oct 11, 2019
Now is the time to put money in these 5 stocks to take advantage of the recovery in the economy and the markets.
More