Sensex Today Trades Flat | Auto Stocks Shine | IOB Jumps 4%, Glenmark Pharma Drops 3%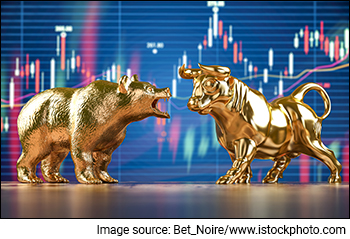 Asian shares opened mixed on Friday with global markets still reverberating from the shockwaves that have followed the Federal Reserve's 'hawkish pause' on Wednesday.
The Nikkei is trading 0.3% lower while the Hang Seng index is up 1.2%. The Shanghai Composite is trading up by 0.8%.
US stocks fell on Thursday as Treasury yields popped to multiyear highs and investors grew worried that lawmakers would be unable to prevent a shutdown.
Here's a table showing how US stocks performed on Thursday:
| Stock/Index | LTP | Change ($) | Change (%) | Day High | Day Low | 52-Week High | 52-Week Low |
| --- | --- | --- | --- | --- | --- | --- | --- |
| Alphabet | 131.36 | -3.23 | -2.40% | 133.19 | 131.09 | 139.93 | 83.45 |
| Apple | 173.93 | -1.56 | -0.89% | 176.3 | 173.86 | 198.23 | 124.17 |
| Meta | 295.73 | -3.94 | -1.31% | 300.26 | 293.27 | 326.2 | 88.09 |
| Tesla | 255.7 | -6.89 | -2.62% | 260.86 | 254.21 | 301.29 | 101.81 |
| Netflix | 384.15 | -2.15 | -0.56% | 395.9 | 383.42 | 485 | 211.73 |
| Amazon | 129.33 | -5.96 | -4.41% | 132.24 | 129.31 | 145.86 | 81.43 |
| Microsoft | 319.53 | -1.24 | -0.39% | 325.35 | 315 | 366.78 | 213.43 |
| Dow Jones | 34,070.40 | -370.5 | -1.08% | 34,378.30 | 34,058.72 | 35,679.13 | 28,660.94 |
| Nasdaq | 13,224.00 | -245.1 | -1.82% | 13,362.23 | 13,222.56 | 14,446.55 | 10,088.83 |
Data Source: Equitymaster
Back home, Indian share markets are trading on a negative note.
At present, the BSE Sensex is trading lower by 19 points. Meanwhile, the NSE Nifty is trading down by 22 points.
--- Advertisement ---
Investment in securities market are subject to market risks. Read all the related documents carefully before investing

An Investment Opportunity at a Very Nascent Stage

Recently, our co-head of research, Tanushree Banerjee has found an excellent investment opportunity in the EV space that is still at a very nascent stage.

This is your best chance to get on the ground floor of this opportunity before the broader market catches up.

Full Details Here
Details of our SEBI Research Analyst registration are mentioned on our website - www.equitymaster.com
---------------------------------------------
SBI and Axis Bank are among the top gainers today.
Cipla and Wipro on the other hand are among the top losers today.
The BSE Mid Cap index and the BSE Small Cap index is trading flat.
Sectoral indices are trading on a mixed note with stocks in the realty sector and energy sector are witnessing buying. While stocks in FMCG sector and metal sector witnessing selling pressure.
Shares of CSB Bank and Union Bank hit their 52-week high today.
The rupee is trading at Rs 82.97 against the US dollar.
In commodity markets, gold prices are trading flat at Rs 58,833 per 10 grams today.
Meanwhile, silver prices are trading 0.2% lower at Rs 73,185 per 1 kg.
Now track the biggest movers of the stock market using stocks to watch today section. This should help you keep updated with the latest developments...
Speaking of stock markets, Bharat Heavy Electricals Ltd or BHEL as it is popularly known as, is one of the hottest stocks in the market right now.
The stock has doubled in the last one year alone, with a majority of the gain coming post April 2023.
In fact, the stock is up an impressive 6x since the lows of March 2020, when it had crashed to Rs 20 per share.
What now though? Is the risk-reward equation still in favour of investors or has the stock gone out of reach?
Co-head of research, Rahul Shah answers all the questions in below video.
Join us: And hear investing experts share their ideas
Vedanta To Raise Rs 25 Billion via NCDs
Vedanta board on Thursday approved raising of Rs 25 bn through the issuance of non-convertible debentures on a private placement basis.
A decision in this regard was taken at the meeting of the Committee of Directors of the company.
The Committee of Directors on Thursday considered and approved for raising, on a private placement basis, up to 2,50,000 secured, unrated, unlisted, redeemable, non-convertible debentures of face value Rs 1,00,000 each aggregating up to Rs 25 billion (bn) in one or more tranche(s).
A subsidiary of Vedanta Resources, has operations in oil and gas, zinc, lead, silver, copper, iron ore, steel, and aluminium and power across India, South Africa and Namibia.
The mining operator's parent company, Vedanta Resources, faces repayments of bonds worth nearly US$ 2 billion in the financial year 2025. Including these bonds, the company is facing debt repayment worth US$ 3.6 billion in the next financial year, according to media reports.
Vedanta is one of the top semiconductor stocks in India.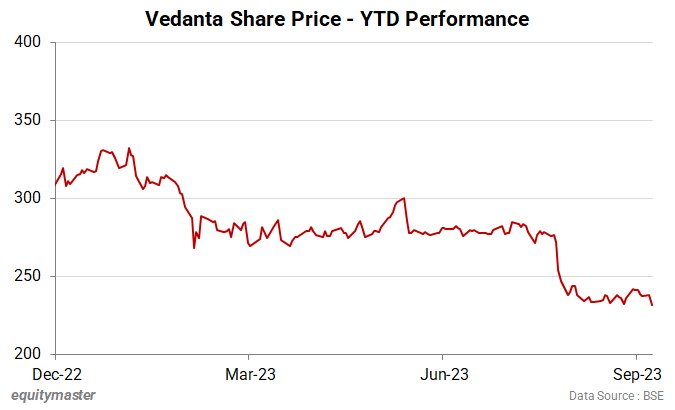 The Indian semiconductor industry stands at the cusp of transformation, poised for significant growth and influence on the global stage.
For more, check out our editorial India's Semiconductor Dream: Is It Becoming a Reality?
Indigo, British Airways Signs Codeshare Pact
Domestic carrier IndiGo and international carrier British Airways announced a new codeshare agreement to boost India-UK connections.
Through this codeshare, British Airways will add more routes to the existing IndiGo network to improve travel connectivity between India and the UK.
British Airways from, 12 October, will add additional routes of Thiruvananthapuram to London's Heathrow via Mumbai, Rajkot to Heathrow via Mumbai and Vadodara to Heathrow via Mumbai.
The IndiGo network already has connections from India to the UK from Amritsar to London's Heathrow via New Delhi; Kochi to Heathrow via Mumbai; Ahmedabad to Heathrow via Mumbai; Goa to Heathrow via Mumbai and Kolkata to Heathrow via Mumbai.
This agreement allows the customers to connect to their destination on a single ticket to and from Heathrow.
All British Airways passengers will be able to enjoy a complimentary meal and UK baggage allowance of two check-in bags of 23 kg per person via codeshare for flights to India on the connecting IndiGo flight as well.
Code sharing is a partnership between two airlines that allows an airline to place its two-letter identification code on the flight schedules of another airline.
This means that flights can be marketed by one airline and operated by another.
A word of caution sounds about right at this point in time. If you're considering investing in airline stocks, make sure you do your due diligence. It's a risky sector.
If you get either the stock or your timing wrong, you could face serious losses. But if you buy the right stock at the right time, you could find yourself with a multibagger stock.
For more details, check out our detailed editorial on Indigo.
To know what's moving the Indian stock markets today, check out the most recent share market updates here.
For information on how to pick stocks that have the potential to deliver big returns,
Read the latest Market Commentary