Indian Stock Market News September 29, 2017
Global Markets Steady over Positive Macro Data
Global financial markets ended the week on a positive yet cautious note, as the digested a host of macroeconomic data coming in from Europe and Asia. New orders for US-made capital goods increased more than expected in August and shipments maintained their upward trend, pointing to underlying strength in the economy. The data, coupled with comments from Fed Chair Janet Yellen on Tuesday boosted anticipation the Federal Reserve would raise US interest rates in December. US markets ended the week marginally higher by 0.1%.
European stocks were mixed as market participants closely tracked the inflation numbers from across the euro zone. Preliminary numbers in France showed inflation slightly higher in September at 1.1%year-on-year. For the entire euro zone, inflation data came in below expectations at 1.5%in September. Such number is still below the European Central Bank (ECB) target of close to but below 2%. UK and French markets were up by 0.9% and 0.4% respectively this week, while German indices were up by 1.3% over the week.
Except for Japan, Asian markets were trading in the negative territory. In Japan, core consumer price index (CPI), which includes oil products but excludes volatile fresh food prices, rose 0.7% YoY in August. This was the eighth straight month of gains in the index, and followed a 0.5% rise in July.
Industrial output also rose higher-than-expected 2.1% in August from the previous month. The rise here was seen as manufacturers of construction equipment, autos, and electronic parts produced more goods.
The data-led optimism that consumer inflation will accelerate toward Bank of Japan's (BoJ) 2% target.
Japanese Indices ended the week up by 0.3%, while indices in Chinese and Hong Kong were down by 0.1% and 1.2% over the week.
Key World Markets During the Week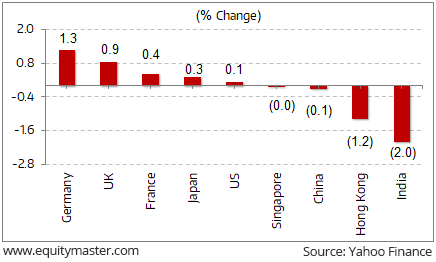 Back home, Indian share markets faltered under the dual pressure of geopolitical tensions and its own economic growth problems. Latest data coming in from the GST space, as well as a tepid GDP growth rate turned sentiments negative. Indian indices witnessed selling pressure on the back of a slowing GDP growth rate, rising oil prices and a depreciating rupee. While the indices remain overvalued, earnings growth is yet to catch up. It remains to be seen if the latest correction is just a minor blip, or the beginning of a larger correction. The Indian stock market ended the week lower by 2%.
BSE Indices During the Week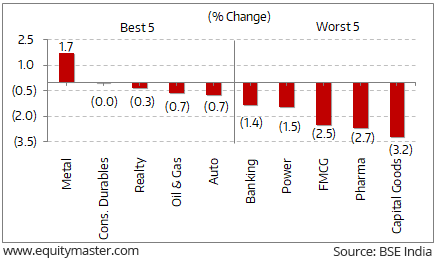 Now let us discuss some key economic and industry developments during the week gone by
In news about the economy. Market participants cheered the government's decision to stick to the fiscal deficit target.
The government announced that it will stick to its budgeted market borrowing target for the fiscal year ending in March 2018, but didn't rule out the possibility of selling additional bonds to fund any new spending.
The finance ministry on Thursday released borrowing calendar for the second half of FY18, indicating a gross borrowing of Rs 2.08 trillion, which is in line with the target laid out in the Budget.
The government said that it is in talks with The Reserve Bank of India (RBI) for additional dividend.In the last annual budget, the government had kept the target for gross market borrowings of Rs 5.8 trillion. Of this, Rs 3.7 trillion was raised in the first half of the year.
The government will also utilize additional funds from central public-sector enterprises (CPSEs), who will outlay capital expenditure of over Rs 3.7 trillion this financial year. An additional Rs 250 billion will be spent by CPSEs like the National Highways Authority of India and firms in sectors such as steel, power and petroleum.
One of the important yardstick to measure the financial health of an economy is Fiscal deficit. It is the difference between the government revenues and expenditure. The difference is generally bridged by debt. The present government is committed to reduce the gap. The long term fiscal deficit target is 3% of the Gross domestic product (GDP). This simply means relatively less expenditure. Hence, less government spending.
In last one decade India is making serious efforts to reduce the fiscal deficit level. Ever since, the new government came in it has been in favor of fiscal consolidation and meet the long term fiscal deficit target of 3% by FY17-18.
This means, once again, the government needs to fight dual challenge. First, maintaining its stance on fiscal consolidation and sticking it fiscal deficit target of 3% of GDP for FY17-18. Second, it must relax the deficit target for reviving the economy from the shock of demonetisation and the implementation of the goods and service tax (GST).
In news from telecom sector, Union Minister for Communications Manoj Sinha has said that Indian telecom industryis expected to cross US$38 billion revenue mark by the end of 2017, registering a compound annual growth rate (CAGR) of 5.2% during the period 2014 to 2017.
This is in view of the exponential growth of smartphones and mobile data usage. He also expects the telecom market to generate revenue of Rs 6.6 trillion by 2020 with the National Telecom Policy 2018.
The minister stated that in the past four years, investment into the sector has increased by approximately 220%. He noted that operators have rolled out more than 0.2 million mobile tower sites in the last 15 months with a new site coming up every three minutes.
He also highlighted that the country is currently the second largest telecommunication market in the world with an over 1.2 billion subscriber base and around 450 million internet users.
Sinha further said that the industry is expected to generate four million direct and indirect employment during the period, adding that the government has put the spotlight formally on technology in the past few years. He also pointed out that the government has already started stakeholders' consultations on the new telecom policy and noted that the government is taking a number of steps for further augmentation of the ease of doing business.
The red flag in the telecom industry is being raised by none other than the country's largest lender, State Bank of India. As per the chairman of the bank, the telecom sector is undergoing a lot of stress and the bank is extra provisioning for this.
Also, the TRAI recently reduced the interconnect usage charge (IUC) from 14 paise per minute to six paise per minute. IUC are charges paid by operator companies for voice calls terminating from a different operator's network.
The 57% reduction in IUC is the steepest drop till date. TRAI has proposed phasing it out the IUC by 2020. This is another blow for industry players, as India has one of the lowest IUC rates in the world.
The above IUC rate cut is expected to have a negative impact on domestic telecom players. As we wrote in a recent edition of The 5 Minute WrapUp...
The IUC rate cut is expected to adversely impact established players like Bharti Airtel and Idea Cellular. What this means is that these companies would no longer be able to enjoy additional revenues from having a large subscriber base thereby impacting their profitability and debt servicing capability. At the same time this development would entail significant cost savings for entrant Reliance Jio.
Moving on to the news from the economy. India Ratings and Research (Ind-Ra) an arm of global rating agency Fitch has cut India's gross domestic product (GDP) growth forecast to 6.7% from earlier expected 7.4% in the current fiscal.
As per the report, lower forecast comes on the back of the disruptive impact of demonetisation and the new goods and services tax (GST) which will be slower than the 7.1% growth reported in fiscal 2017.
The agency revised its outlook following continued slowdown in the first two quarters of 2017. The GDP growth had reached a three-year low of 5.7% in the quarter that ended in June. In the first quarter of 2017, growth had slowed to 5.7% from 7.9% in the same period last year.
In news from economy, falling one place in the World Economic Forum's (WEF) latest Global Competitiveness Index, India has been ranked at 40th spot out of 137 countries surveyed, while Switzerland, the US and Singapore were ranked as the top three countries.
Just Released: Multibagger Stocks Guide
(2017 Edition)
In this report, we reveal four proven strategies to picking multibagger stocks.
Well over a million copies of this report have already been claimed over the years.
Go ahead, grab your copy today. It's Free.
NO-SPAM PLEDGE
- We will NEVER rent, sell, or give away your e-mail address to anyone for any reason. You can unsubscribe from The 5 Minute WrapUp with a few clicks. Please read our
Privacy Policy
&
Terms Of Use
.
Though, India has slipped from the 39th position to 40th, but WEF remained positive about India, saying that the country stabilises this year after its big leap forward of the previous two years. It also noted improvement across key competitiveness pillars like infrastructure, higher education & training and technological readiness.
The WEF's report found improvement in ICT (information and communications technologies) indicators, particularly Internet bandwidth per user, mobile phone and broadband subscriptions, and Internet access in schools.
The report added that the quality of institutions has increased further, especially in terms of efficiency of public spending, while noting concerns of private sector for doing business in India on the back of most problematic factor- corruption. Among the BRICS, India came 3rd, below China and Russia.
The government revealed that the GST revenue collections in August stood at Rs 906.7 billion as on September 25 versus Rs 950 billion in July.
The total CGST collection in August was at Rs 144 billion, while the government received Rs 210.7 billion as SGST revenues and Rs 47,377 through IGST. The GST compensation cess added Rs 78.2 billion to the government's kitty.
For August, only 3.7 million taxpayers out of a total 6.8 million registered taxpayers filed their GST. Compliance for the month stood at 55%, down from around 65% last month.
Last month, finance minister Arun Jaitley had said that India's GST collections of Rs 922.8 billion for July was above the government's tax collection target for the month.
The tax mobilisation for July stood at 64.4% of the 5.96 million taxpayers registered with the new Goods and Services Tax (GST). Arun Jaitley had said that the mobilisation number would likely go up after all taxes are accounted for.
As we have been saying, GST is a much-needed economic reform. It should eventually expand India's narrow tax base and increase government revenues. But only growth will determine how well the Indian economy has adapted to GST.
Our colleague Vivek Kaul, has studied the finer aspects of the GST and predicted what could go right and wrong.
Download his special report - The Good, the Sad and the Terrible (GST).
Movers and Shakers During the Week
Source: Equitymaster.com
Some of the key corporate developments in the week gone by
GAIL India was in focus after the Petroleum and Natural Gas Regulatory Board (PNGRB) put up a consultation document on unified pipeline tariff proposing a 60% hike in tariff by the company.
Notably, the aforementioned proposal has already been approved by the Cabinet Committee on Economic Affairs (CCEA) and petroleum ministry has to decide based on PNGRB recommendations.
Earlier, GAIL had proposed to the central government to move to a unified tariff system for sale of natural gas. This move will help reduce the landing price of piped cooking gas and will also boost demand for the same, the reports noted.
Reportedly, the unified tariff may do away with levy of multiple tariffs for use of multiple natural gas pipelines and therefore, shall promotes equitable distribution of gas and facilities, uniform gas based economic development across the country, increased share of natural gas in energy mix etc.
Moving on to the news from banking sector. Ahead of the monetary policy rate decision, State Bank of India has cut base rate by 5 basis points (bps) to 8.95%.
This comes after a couple of other public sector banks including Bank of Baroda and Andhra Bank earlier announced a reduction in their base rates.
Bank of Baroda revised its base rate downwards by 35 bps to 9.15% with effect from 1 October. While, Andhra Bank reduced the rates to 9.55%, down by 15 bps from 9.7%.
However, SBI did not revise the marginal cost based lending rate (MCLR), impacting the lending rates on new loans since April 2016.
SBI's one-year MCLR continues to be at 8%, while for three and six-month loans it stands at 7.9% and 7.95%, respectively. The three-year MCLR is at 8.15%.
The reduction in the base rate will benefit home loan borrowers before April 2016 who have not switched over to the MCLR. The cut in the base rate comes close on the heels of a reduction in interest rate on SBI's savings account to 3.5% from 4%.
One shall note that, RBI will announce its decision on key policy interest rates on 4 October after a two-day meeting by the monetary policy committee on Tuesday and Wednesday.
In news from stocks in the oil and gas sector. According to a leading financial daily, the government plans to sell stake in ONGC oilfields to private firms.
Nearly 25 years after ONGC's prime discovered oilfields were privatised, the government is planning to allow private firms to take majority stake in the state-owned firm's producing oil and gas fields such as Mumbai High. The Oil Ministry plans to approach the Cabinet soon for allowing private firms to take participating interest (PI) in a nomination block, sources privy to the development said. The policy currently allows giving out of PI or a stake to a private company only in the blocks or areas awarded in open auctions under New Exploration Licensing Policy (NELP) since 1999. However only exploration acreage was auctioned under global bidding in such rounds.
ONGC produces 87% of its 25.53 million tonnes of oil from fields given to it on nomination basis. As uch as 95% of 23.3 billion cubic meters of annual gas production comes from nomination blocks.
The nomination fields include Mumbai High, India's biggest oil field, and Bassein gas field, the nation's biggest natural gas producer.
Oil and Natural Gas Corporation Ltd (ONGC) is looking to sell its holding in Indian Oil Corporation (IOC) and GAIL to fund the Rs 330 billion acquisition of Hindustan Petroleum Corporation Ltd (HPCL). ONGC holds 13.8% stake in IOC and 4.9% in GAIL as of 30 June.
Reportedly, HPCL will remain a separate listed entity even after the completion of the acquisition but will become a subsidiary of ONGC.
Prior to the merger, HPCL is likely to take over Mangalore Refinery and Petrochemicals Ltd (MRPL) to bring all the refining assets of ONGC under one unit. ONGC currently owns 71.6% of MRPL while HPCL has 17% stake in it.
Notably, ONGC will not have to make an open offer to minority shareholders of HPCL for the deal. Post the acquisition, HPCL will add 23.8 million tonnes of annual oil refining capacity to ONGC's portfolio, making it the third-largest refiner in the country after IOC and Reliance Industries.
As per an article in Livemint, oil marketing companies are drawing up plans to expand their presence in renewable energy space. The initiatives are geared towards setting up infrastructure for electric vehicles.
As per the news, Indian Oil Corporation Ltd (IOC) is exploring opportunities for setting up battery charging stations and battery replacement facilities for electric vehicles in its petrol pumps.
Also, HPCL and BPCL are planning to strengthen their presence in the renewables space.
The above developments come as the Indian government is targeting to have all cars propelled by electric engine by 2030.
However, the above target for electric engine is more daunting than in many advanced countries.
According to the industry, the 2030 target would require eight to ten times the global stock of such vehicles. India would need to sell more than 10 million electric cars in 2030, compared to 5,000 electric vehicles India had on the road in 2016.
As you can see from the chart below, India is barely visible compared to other developed countries when it comes to battery cars.
So if the government is serious about such ambitious targets, it should offer the necessary infrastructure support and do its bit for a smooth transition.
That said, electric vehicles could very well create the next wave of multibaggers in the auto industry.
In news from FMCG sector, as per an article in The Livemint, Hindustan Unilever Ltd (HUL) said India's rural growth is yet to recover, highlighting demonetisation and the goods and services tax (GST) as part of a "challenging environment" in the last few quarters.
HUL saw net profit grow 6% and 8% in the quarters ending June 2017 and March 2017 respectively, although profits were flat in the quarter ending December 2016 when demonetisation or the ban of high value currency notes was announced. HUL has said that GST will continue to affect earnings in the coming quarters.
Also, Patanjali seems to have disrupted the FMCG pecking order. The share of Indian households that use the Patanjali brand is estimated at 38%. That's huge for a company barely a decade and a half old. Especially if you consider Patanjali's competition.
In 2016-17, the company posted revenues of more than Rs 100 billion. It has surged past behemoths such as ITC, Nestle India, Britannia Industries, and Dabur to become the second largest pure play FMCG company...second only to HUL. The sentiments also remained negative as Advertisement Standards Council of India the apex body to regulate advertisements to promote fair competition, rejected Hindustan Unilever's objection to the Emami campaign for its Fair & Handsome mens fairness brand variants.
And here's an update from our friends at Daily Profit Hunter...
The Nifty 50 index opened flat on Monday but immediately slipped lower. It closed well below the rising trendline drawn from May 2017 at 9,872.
The selling pressure sustained until F&O expiry on Thursday as the index dragged all the way down to a low of 9,687.
The index is currently forming bullish divergence on 75-minute chart which means that a pullback rally is possible. However, the uptrend has clearly been broken for the time being which means we can see lower levels if index closes below 9,700 anytime during next month. You can read the detailed market update here...
Indian Indices Witness Selling Pressure
For information on how to pick stocks that have the potential to deliver big returns,
Read the latest Market Commentary