Indian Stock Market News September 29, 2017
Markets will remain closed on 19th & 20th October 2017.
We wish all our readers a very Happy Diwali!
Sensex Up Over 130 Points; Realty Stocks Witness Buying
After opening the day firm, stock markets in India have continued their momentum. Sectoral indices are trading on a positive note with stocks in the realty sector and oil & gas sector witnessing maximum buying interest.
The BSE Sensex is trading up 137 points (up 0.4%) and the NSE Nifty is trading up 46 points (up 0.5%). The BSE Mid Cap index is trading up by 1.1%, while the BSE Small Cap index is trading up by 1.2%. The rupee is trading at 65.43 to the US$.
In the news from Japan, economic data showed that core inflation accelerated in August. Also, industrial output rose more than expected and demand for labour remained at its strongest in over 40 years.
Nationwide core consumer price index (CPI), which includes oil products but excludes volatile fresh food prices, rose 0.7% YoY in August. This was the eighth straight month of gains in the index, and followed a 0.5% rise in July.
Industrial output also rose a larger-than-expected 2.1% in August from the previous month. The rise here was seen as manufacturers of construction equipment, autos, and electronic parts produced more goods.
As for labour demand, data showed the jobs-application ratio held steady at 1.52% in August and thus remained at the strongest level since 1974.
The data led optimism that consumer inflation will accelerate toward Bank of Japan's (BoJ) 2% target.
While the above data bodes well for Japan, one shall note that the rise in core consumer prices is tepid. Companies in Japan are still hesitant to pass along rising labor and raw material costs to households.
Also, the BoJ has pushed back the timing for reaching its price target six times since it deployed its massive stimulus programme in 2013. It now hopes consumer inflation to hit its 2% target by March 2020, as signs of strength in the economy and a tight job market boost wages and give households more purchasing power, thereby allowing firms to hike prices.
There also remain many issues that can hamper Japan's economic growth going forward. The economy is flooded with excessive money printing, too much debt, too much government intervention, and stock market manipulation.
The BoJ's moves are in line with the easy money policies that central banks have adopted around the world. However, with the recent changes at central banks, it seems that the end of easy money is near.
In the news from commodity markets, gold is witnessing selling pressure today. Most of the losses are seen as the Fed signaled an interest rate hike by the end of this year. Also, the rise in dollar and the proposed US tax reforms have weighed on gold this week.
The precious metal is trading at its six-week low and is set for its biggest monthly fall this year.
Gold Witness Losses During the Week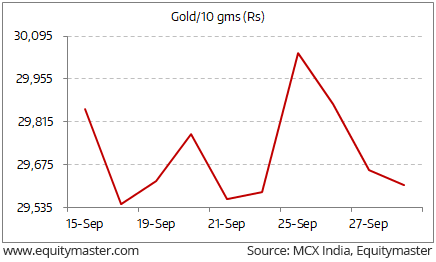 To keep a tab on the movements in gold and other commodities, you can read the stock market commentary from the Daily Profit Hunter team. Their commentary tracks the developments in the global economy as well as stock, currency, and commodity markets.
For information on how to pick stocks that have the potential to deliver big returns,
Read the latest Market Commentary